Not sure what to serve with tacos? You're in the right place! With dips, veggies, rice, and more, these tasty sides give you plenty to choose from.
If you're wondering what to serve with tacos tonight, you're in the right place! We all love tacos, but in my book, the sides (and the drinks!) are an equally important part of taco night. Any side for tacos, from chips and guac to dressed greens, will add varied textures and flavors to the meal, making it more satisfying and more fun to eat.
You'll find 21 of my favorite side dishes for tacos below. They're all fresh and healthy, with plenty of vegan and gluten-free options mixed in for everyone to enjoy. With recipes for dips, veggies, grains, and more, you'll never have to wonder what to serve with tacos again!
Salsa Recipes to Serve with Tacos
Tomatillo Salsa
What's Taco Tuesday without chips and salsa? Serve this recipe for dipping with chips, or top it onto tacos for extra zesty flavor!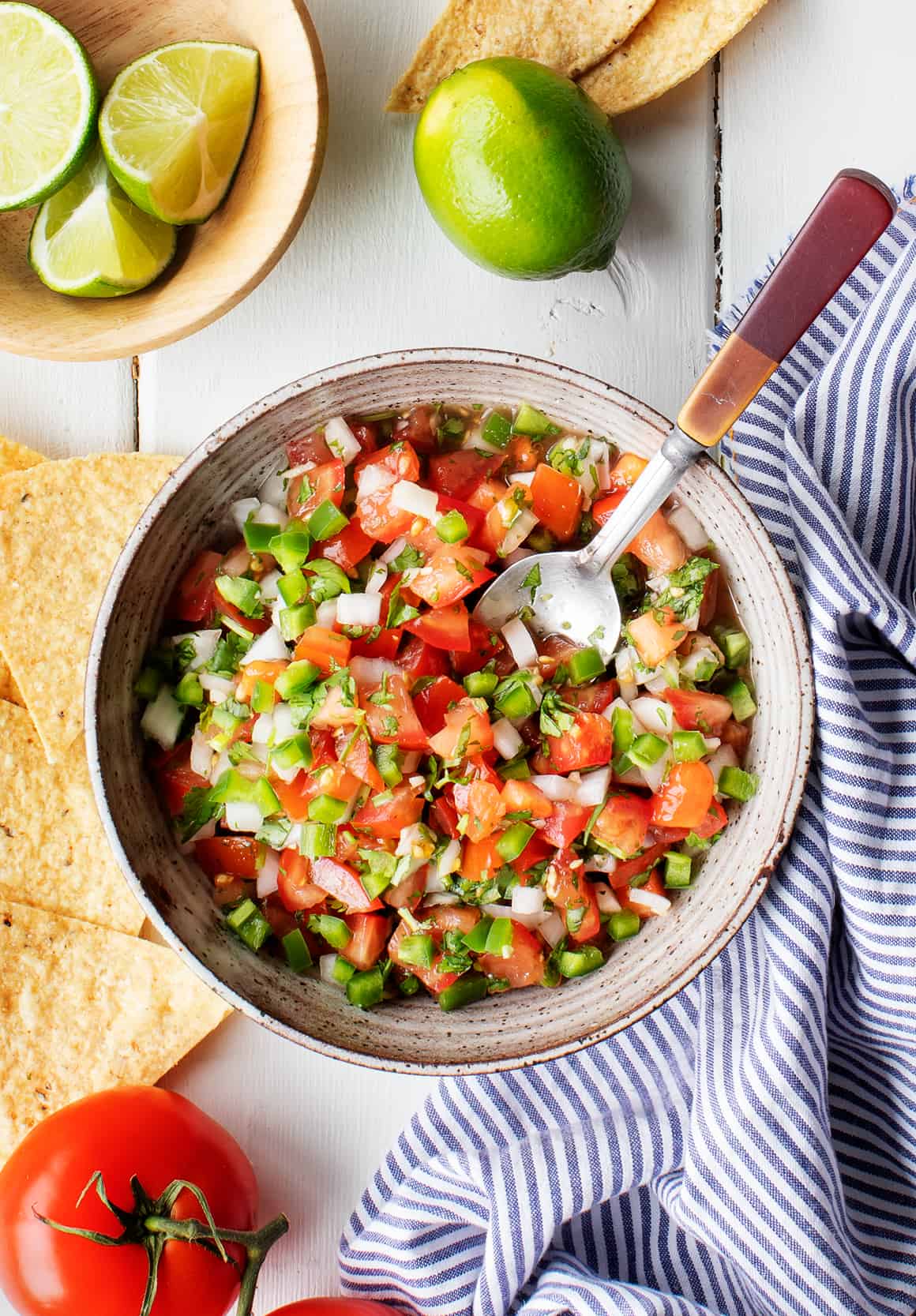 Pico de Gallo
This traditional fresh salsa is all about the tomatoes, so use the best ones you can find! Along with lime juice and zest, they make it juicy, tangy, and bright.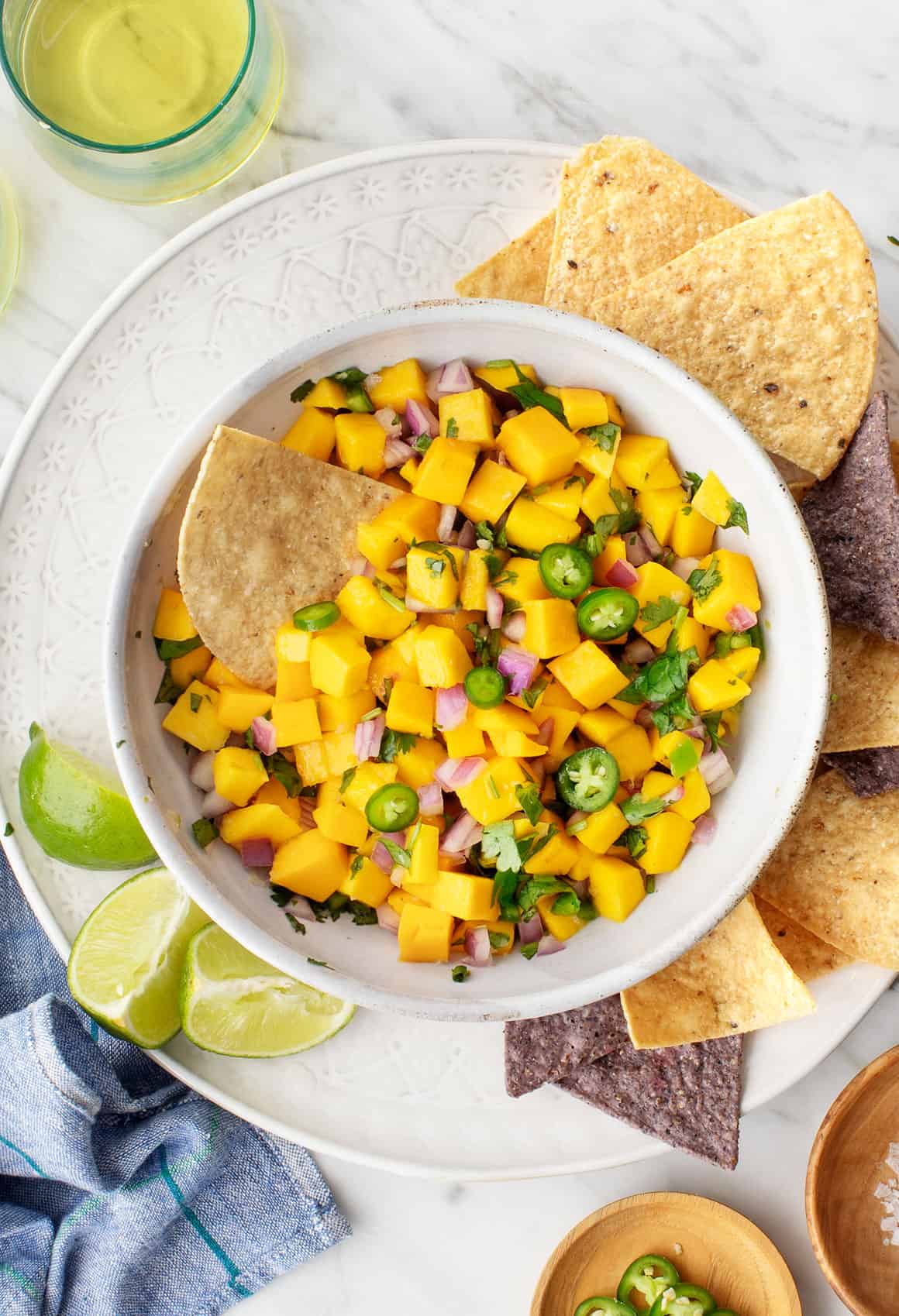 Mango Salsa
Luckily for us, this 7-ingredient salsa comes together in 5 minutes flat! For a fun variation, use pickled jalapeños instead of fresh chiles or pickled red onions instead of raw ones.
Pineapple Salsa
It's sweet, it's spicy, and it's so darn fun! I like to chop the pineapple, red onion, and jalapeño really finely so that I can get a little of everything in each bite.
Kiwi Avocado Salsa Verde
If you're looking for sides for tacos that are completely out of the box, try this salsa verde! Kiwi gives it a surprising sweet twist, while avocado adds a delicious creamy contrast to the other fresh ingredients.
Other Dips to Serve with Tacos
Best Guacamole
'Nuff said.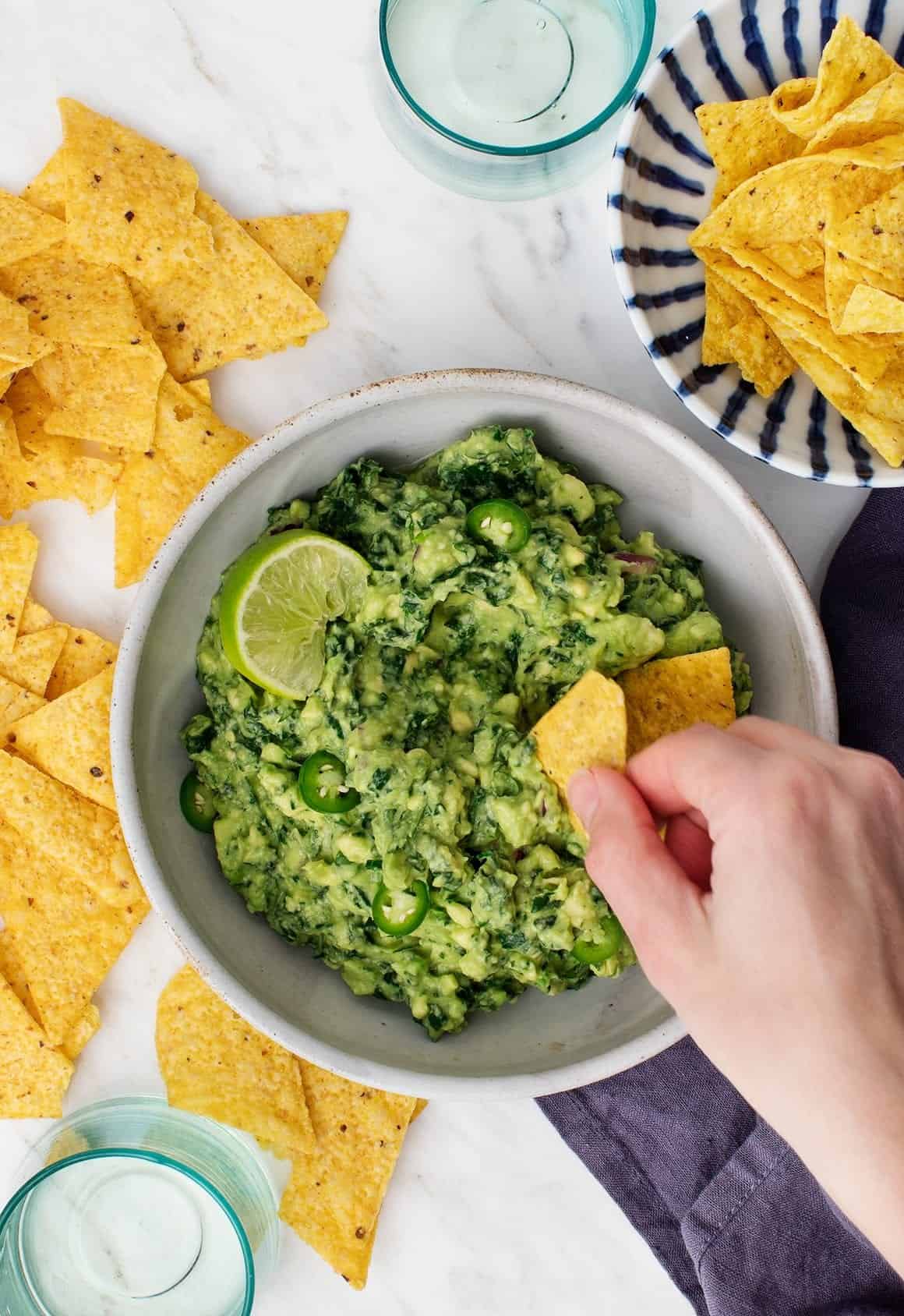 Kale Guacamole
This extra green, extra healthy guac is just as creamy and zesty as the classic kind. Finely chopped steamed kale blends seamlessly into the dip – even guac purists will love it!
Vegan Cheese
You don't need dairy to make an addictive queso dip! Simple ingredients like potatoes, sweet potatoes, and cashews blend into a gooey, tangy dip that's just as good as the real thing.
Vegan Seven Layer Dip
When I was growing up, I could never get enough of my mom's taco dip at family gatherings. This recipe is a lightened-up ode to hers, made with refried beans, seasoned quinoa, guac, fresh veggies, and a tangy cashew sour cream. It's a great side dish for tacos, but Jack and I have also been known to eat the whole thing for dinner on its own!
Veggie Sides for Tacos
Healthy Taco Salad
If you're wondering what to serve with tacos, you can never go wrong with a simple salad. Toss your favorite greens with cilantro lime dressing, or make a heartier taco salad with avocado, crunchy veggies, black beans, and savory vegan taco "meat."
Grilled Vegetables
Drizzle them with cilantro lime dressing or chipotle sauce, and they'll be just as tasty as the tacos themselves!
Grilled Avocados
Who needs guac when you can have grilled avocados? Stuff the creamy, lightly charred halves with a tart veggie "ceviche," or serve them simply with a drizzle of olive oil and a sprinkle of salt.
Cucumber Gazpacho
This cool, creamy soup is essentially salsa verde in gazpacho form, so naturally, it's a great choice to serve with tacos. Top it with fresh herbs, charred corn, or even pico de gallo to take it over the top!
Corn and Rice Sides for Tacos
Cilantro Lime Rice
Chances are, when you think of Mexican side dishes, rice is one of the first things that comes to mind. This bright, fresh cilantro lime rice is my go-to side to serve with tacos, taquitos, and enchiladas. Make it with white or brown rice, or swap in cauliflower or broccoli rice to lighten it up!
Mexican Street Corn Salad
My riff on the classic Mexican dish esquites, this creamy, zesty sweet corn salad is perfect with tacos.
Elote-Style Grilled Corn on the Cob
A creamy chile-lime sauce, crumbled feta, and a dusting of chili powder take grilled corn on the cob to a whole new level.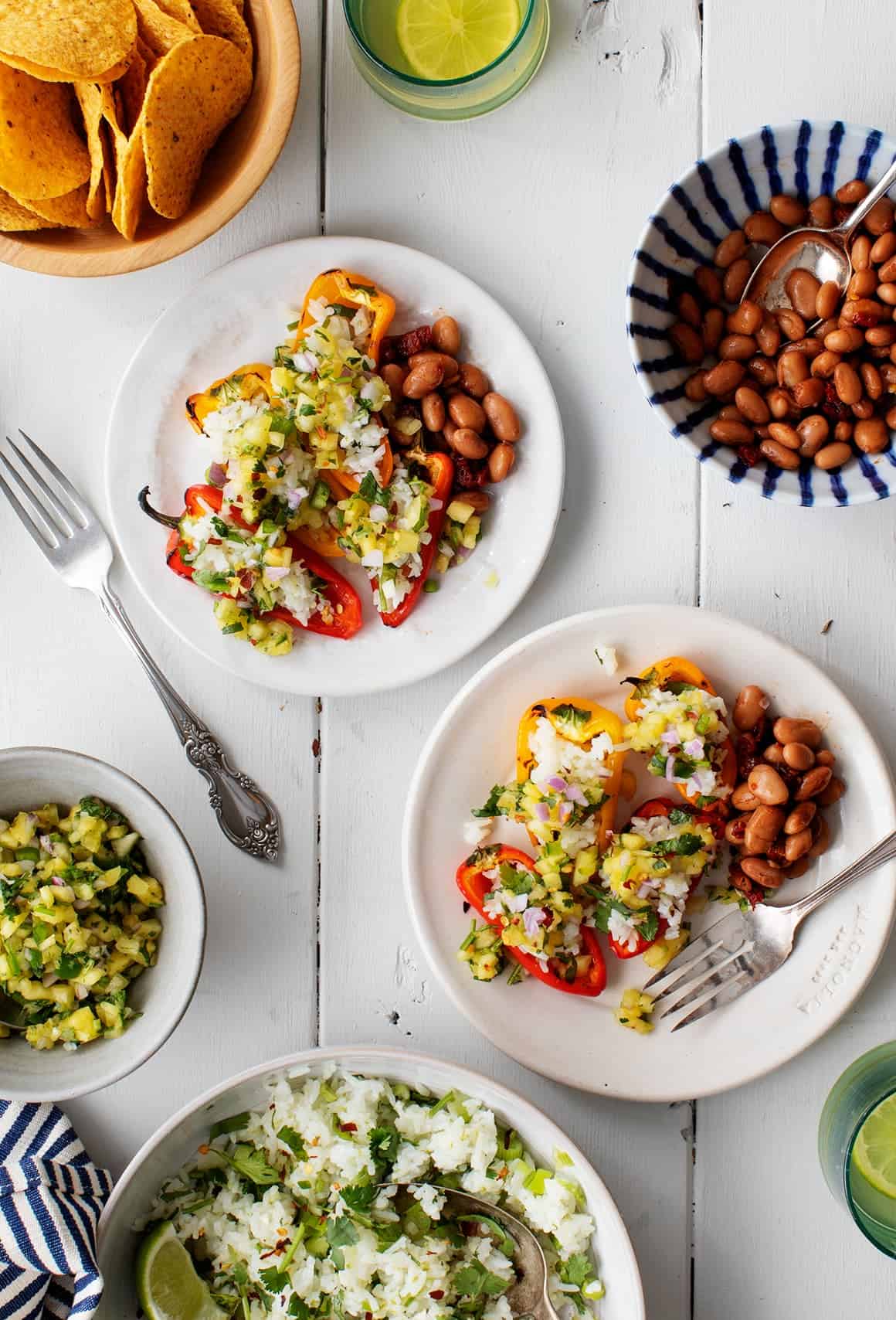 Stuffed Mini Peppers
How cute are these little guys?! I load up grilled mini sweet peppers with cilantro lime rice and pineapple salsa to make a fresh, fun side for tacos.
Drinks
Classic Margaritas
It couldn't be Taco Tuesday without them!
Watermelon Margaritas
Thanks to plenty of blended watermelon, there's no added sweetener in these vibrant summer cocktails. I like to infuse my tequila with jalapeño to give them a spicy kick!
Jalapeño Margarita
Speaking of spice, this jalapeño margarita is all about the heat! Sweeten it naturally by using freshly squeezed orange juice instead of simple syrup or agave.
Paloma
Stuck in a margarita rut? Try a paloma instead! Made with fresh grapefruit juice, sparkling water, and a homemade simple syrup, my recipe for this classic tequila cocktail is sweet, sour, and refreshing.
Sides for Tacos: Cilantro Lime Rice
This cilantro lime rice is one of our favorite sides for tacos and other Mexican recipes!
Ingredients
1

cup

long-grain jasmine rice

,

rinsed well and drained

1½

cups

water

3

teaspoons

extra-virgin olive oil

,

divided

1

small garlic clove

,

finely minced

2

scallions

,

finely chopped

1

teaspoon

lime zest

¼ to ½

teaspoon

sea salt

1½

tablespoons

lime juice

½

cup

finely chopped cilantro

pinch

of red pepper flakes or ¼ diced jalapeño

,

optional
Instructions
Combine the rice, water, and 1 teaspoon of olive oil in a medium saucepan. Bring to a boil, cover, and reduce to a simmer. Simmer for 20 minutes (or check the time listed on the package of your rice).

Uncover, fluff with a fork, then add the garlic, scallions, and lime zest and stir to combine. Let cool for 1 minute then add the remaining 2 teaspoons of olive oil, ¼ teaspoon salt, lime juice, cilantro, and red pepper flakes or jalapeño, if using. Stir to combine and season to taste.