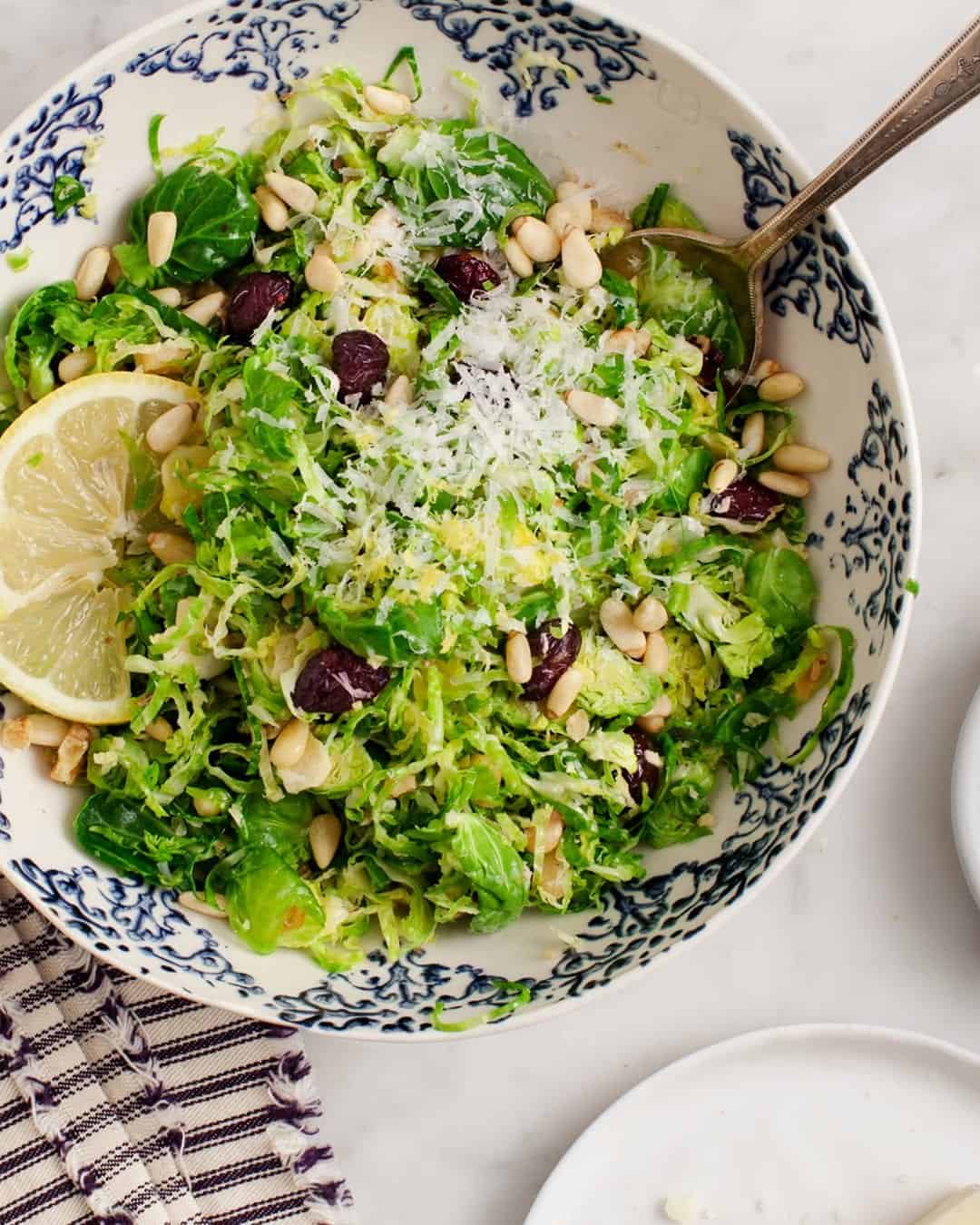 I just woke up to a snowy white Saturday morning, which means that it's the perfect day for… salad! Ok, maybe I'm the weird one that just loves salad no matter what's going on around me. If you're craving something warm and cozy, go make a mug of this cacao hot chocolate then come back here if you're looking for an easy Brussels sprout salad to make for weekend holiday festivities. This one will be your go to throw-together winter salad that you'll crave when you want a break from cookies and other indulgent treats.
The Brussels sprout salad recipe comes from our book and after making it multiple times Thanksgiving weekend, I just had to share it here because it's such a breeze to put together. You can make it hours in advance and even though it's made with so FEW ingredients, it's so delicious.
Quick tip: look for pre-shredded Brussels sprouts (I've seen them in many stores recently). I don't often buy pre-cut vegetables in bags, but I won't tell if you won't tell.
Also, a reminder that our cookbook makes a great holiday gift! It's packed with tons more easy and delicious recipes like this one 🙂 Click here to read more about it!
Salad Cheers!
Shredded Brussels Sprout & Cranberry Salad
An easy and delicious shredded Brussels sprout salad made with just 7 ingredients! The perfect salad to make ahead for holiday gatherings or pack for lunch.
Ingredients
4 cups Brussels sprouts
¼ cup extra-virgin olive oil, plus extra for drizzling
¼ cup fresh lemon juice
½ cup pine nuts, toasted
⅓ cup dried cranberries
⅓ cup grated pecorino cheese (optional)
⅓ cup chopped chives
Sea salt and freshly ground black pepper
Instructions
Thinly slice the Brussels sprouts using a mandoline if you have one. Place them into a medium bowl and toss with the olive oil, lemon juice, pine nuts, cranberries, pecorino cheese, chives, and pinches of salt and pepper.
Let the salad sit at room temperature for 15 minutes, then taste and adjust the seasonings. Finish with an additional drizzle of olive oil if you like.