Who needs takeout when you can make delicious sesame tofu at home? Nutty, savory, and sweet, it's a healthy dinner that cooks up in a flash.
Over the last few weeks, Jack and I have had this crispy sesame tofu recipe on repeat. It comes from The Skinnytaste Air Fryer Cookbook by Gina Homolka, and we've been having fun making it in our new air fryer. A thick crust of black and white sesame seeds coats slabs of tofu, and a simple sesame sauce infuses them with sweet and tangy flavor. It's just as fun and flavorful as takeout, but it's so much healthier.
If you have an air fryer, I highly recommend you try this recipe. If you don't, not to worry! I'm also sharing instructions for cooking the tofu in the oven.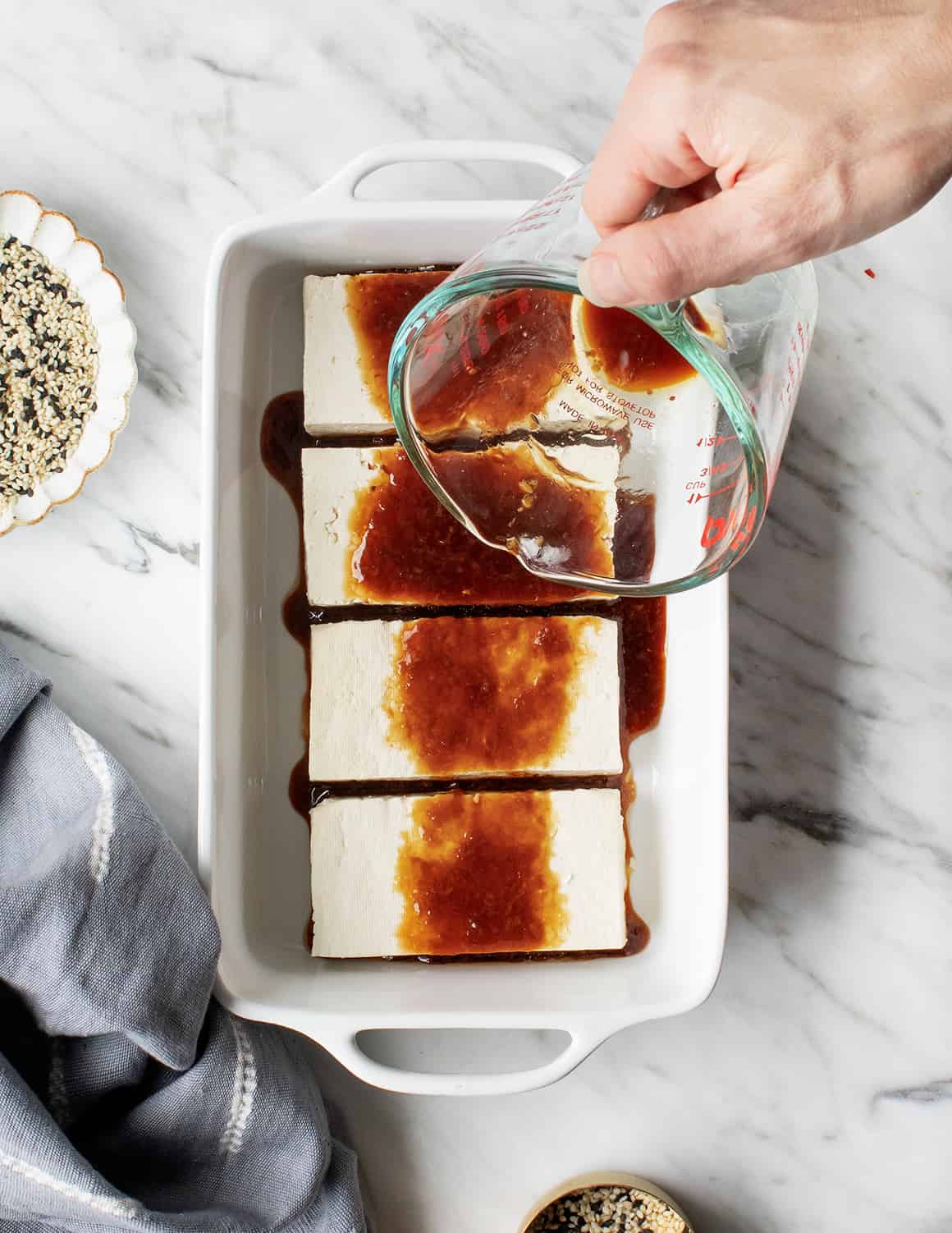 Sesame Tofu Marinade
Tofu can get a bad rap for being bland, and that's because it is! In order for tofu to transform into delicious recipes, you have to season it well. Here, a simple marinade infuses the sesame tofu with flavor. It's savory, tangy, and easy to mix together, and it makes this recipe really tasty. Here's what's in it:
Soy sauce, for salty, savory flavor (use tamari if gluten-free)
Rice vinegar, for brightness
Sesame oil, for richness and toasty, nutty flavor
Ginger and garlic, to freshen it up
Brown sugar, to add a sweet counterpoint to the other tangy, salty ingredients
Instead of reaching for a large bowl for your marinade, choose a small, shallow dish so that the sides of each tofu slab will be well-coated. Gina recommends marinating your tofu for at least an hour or overnight, but (shhh!!!) I only let mine sit for about 20 minutes, and it came out delicious. Of course, the longer you marinate it, the more flavorful it will be.
When you're ready to cook, dip each block of tofu into an egg wash and dredge it in the sesame seeds. Then, cook it in the air fryer or oven, and enjoy! Find the full recipe with air fryer and oven instructions at the bottom of this post.

Sesame Tofu Recipe Variations
Cooking method: I'm a huge fan of baking tofu, but if you want it to be truly crispy, frying it is the way to go. I love how quickly the air fryer makes a crispy coating for the tofu in this recipe. You cook the pieces for just 5 minutes on each side, and they come out perfectly golden brown and crisp. The process is quick and easy, and it uses far less oil than deep or pan frying tofu would. But if you don't have an air fryer, that's ok! You can also make this sesame tofu recipe in a regular oven, and it'll still be nutty and delicious.
Make it vegan: Skip the egg wash that binds the sesame seeds to the tofu. The final coating won't be quite as thick, but it'll still be tasty!
Make it gluten-free: Make the marinade with wheat-free tamari instead of soy sauce.
Do I Need A Tofu Press?
If you want to make the crispiest tofu possible, I recommend pressing your tofu before you cook it. I used to press tofu using my cast-iron skillet and a kitchen towel, but after testing the best tofu presses, I am now a convert! My favorite is the Tofuture Tofu Press, which I found was the easiest to use and store, and it left me with perfectly pressed tofu each time. I also like how this press has a container that holds the excess liquid, making cleanup easy. After pressing my tofu, I just pour the water into the sink!
You can get it on Amazon for $25.95. Want to check out a few other tofu presses first? Read my guide to the best tofu presses here!
Crispy Sesame Tofu Serving Suggestions
This recipe would be a great choice for a healthy, protein-rich weeknight dinner. To make it a full meal, serve the tofu over a bed of cilantro lime rice or seasoned white or brown rice. For a lighter meal, use cauliflower rice or broccoli rice instead.
This crispy sesame tofu is also delicious with steamed or roasted veggies. I paired ours with steamed snap peas and edamame, but blanched or roasted asparagus, roasted broccoli, or roasted Brussels sprouts would also be good.
Then, top it all with spicy sriracha mayo! You'll find my recipe below.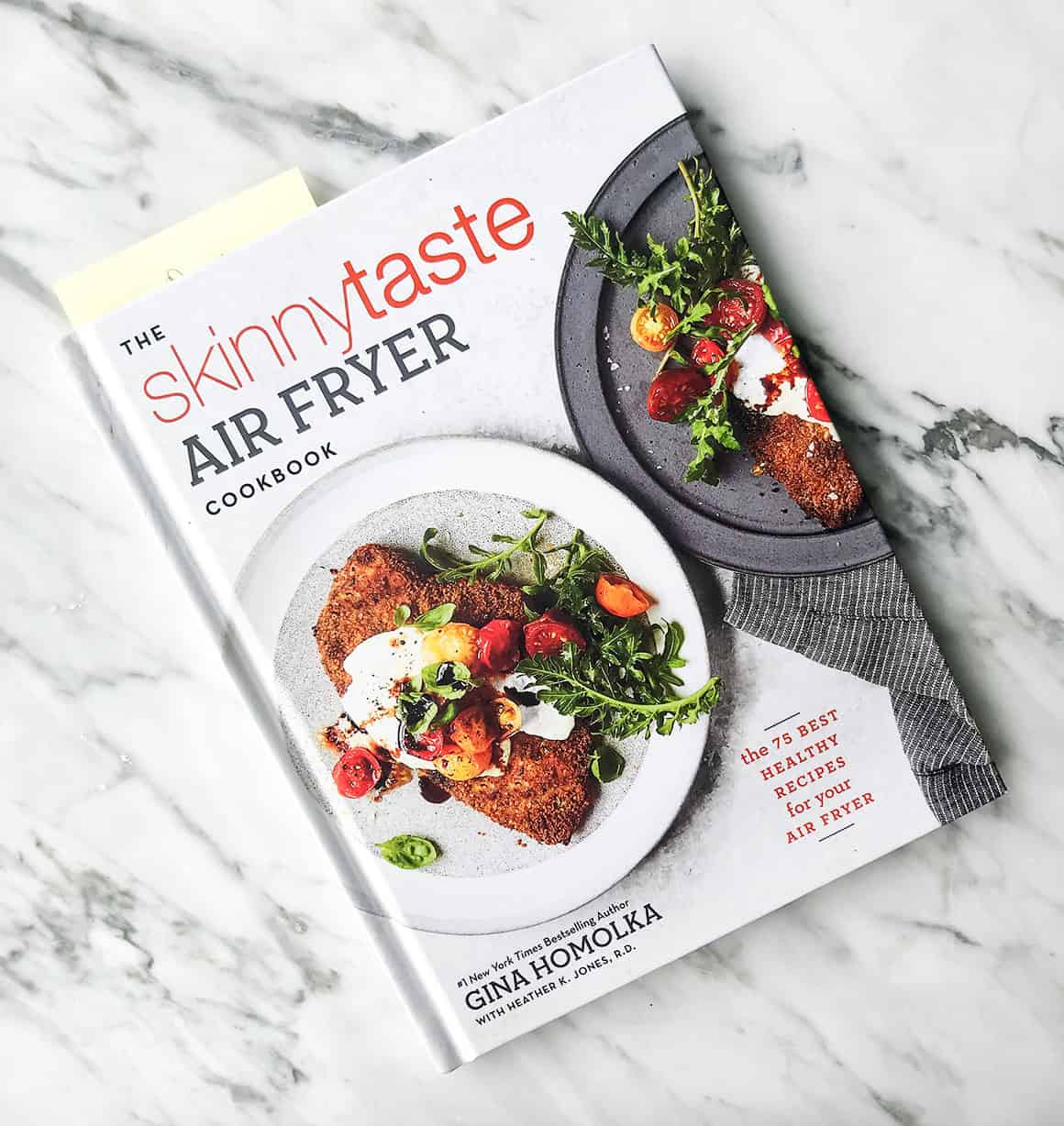 More Plant-Based Dinner Ideas
If you love this sesame tofu recipe, check out The Skinnytaste Air Fryer Cookbook! Then, try one of these Asian-inspired recipes next:
For more easy dinner ideas, see this post! And if you're looking for more vegan recipes, you'll find 85+ here.
Crispy Sesame Tofu
This sesame tofu recipe is easy to make in the air fryer or oven, and it's crispy, nutty, and delicious! It comes from The Skinnytaste Air Fryer Cookbook by Gina Homolka.
Ingredients
7

ounces

extra-firm tofu

,

drained and cut into 4 (1/2-inch thick) slices

2

tablespoons

soy sauce or tamari

1

teaspoon

toasted sesame oil

1

teaspoon

rice vinegar

1

teaspoon

light brown sugar

1

garlic clove

,

grated

1/2

teaspoon

grated fresh ginger

1/3

cup

white and black sesame seeds

1

egg

olive oil spray
Sriracha mayo
4

teaspoons

mayonnaise

1

teaspoon

Sriracha sauce
For serving
1

cup

snap peas

,

steamed and chopped

1/3

cup

frozen edamame

,

steamed

1

scallion

,

chopped

tamari

,

for drizzling
Instructions
Place the tofu slices on a kitchen towel or paper towels. Place another towel on top and lightly press to remove most of the water from the tofu. Transfer to a shallow dish big enough for the tofu to lie in a single layer.

In a small bowl, whisk together the soy sauce, sesame oil, vinegar, brown sugar, garlic, and ginger. Drizzle half of the marinade over the tofu, then gently flip and drizzle the rest on the other side. Marinate in the refrigerator for 20 minutes to 1 hour.

Preheat an air fryer to 400°F or preheat a regular oven to 350°F.

Place the sesame seeds on a small plate. In a small bowl, beat the egg. Remove each tofu slice from the marinade, allowing the excess to drip off, then dip in the egg. Using a fork, dip in the sesame seeds, coating each side. Transfer to a plate. Spray one side with olive oil, then gently flip and spray the other side. (Discard the excess marinade.)

To make the tofu in an air fryer: Working in batches, arrange a single layer of the tofu in the air fryer basket. Cook for about 10 minutes, flipping halfway, until toasted and crisp.

To bake the tofu in the oven: Place the tofu on a parchment-lined baking sheet and bake 30 minutes, flipping halfway through.

Make the sriracha mayo. In a small bowl, mix together the mayo and sriracha.

Serve the tofu steaks with rice, snap peas, edamame, scallions, sriracha mayo, and tamari, for drizzling.
Notes
Make this recipe vegan by omitting the egg. The crispy coating doesn't come out quite as thick, but we found the tofu to be crispy and delicious, nonetheless.