These vegetarian sesame-ginger chickpea cakes make impressive healthy homemade appetizers. Cilantro lime yogurt sauce adds creamy texture & tons of flavor.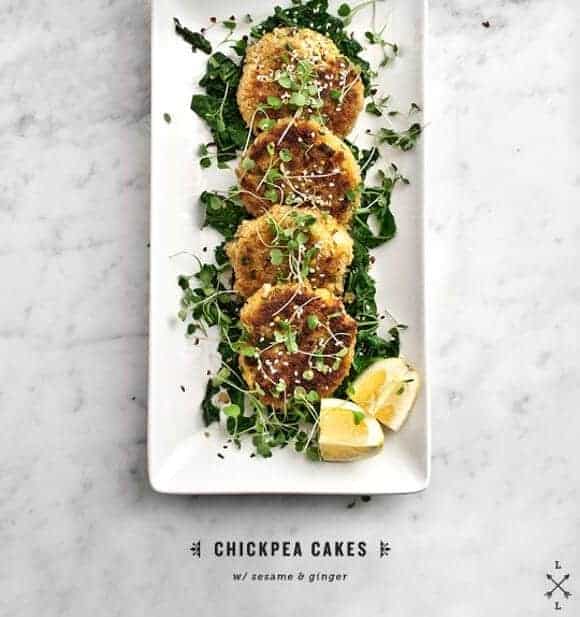 As promised, here is the vegetarian followup to the tuna cakes I posted last week. I used most of the same ingredients (because I happened to have them all leftover)… the end result was pretty different, but delicious just the same. Of course, I really have a soft spot in my heart for panko-crusted anything…
With this, I wanted to share a couple of handy tips:
1. Fresh ginger – keep it in the freezer, and grate it as you need it. No thawing required… by the time you grate, it'll be thawed enough. I love to cook with ginger, and this way I can easily keep it on hand.
2. Chickpeas – I love the dried kind so much better than canned, but they take forever and a day (literally, a day) to soak and cook. I've tried making big batches to keep on hand in my fridge, but they always go bad before I get around to using them up. Turns out – they actually freeze really well. After you cook them, let them drain and cool completely. The next day or so, pop them in the freezer. To thaw them quickly, place them in a bowl and drizzle the faucet over them for a few minutes. I love being able to thaw just a few at a time for lunch salads or quick dinners.
adapted from Ottelenghi's tuna cake recipe
Sesame-Ginger Chickpea Cakes
Ingredients
For the chickpea cakes:
3 tablespoons extra-virgin olive oil, divided
1 shallot, chopped
1 tablespoon soy sauce
1 garlic clove, minced
1 cup cooked chickpeas, slightly mashed with a fork
2 scallions, white and green parts, chopped
½ tablespoon grated fresh ginger
1 teaspoon sesame oil
2 eggs, gently whisked
½ teaspoon dried coriander
¼ cup chopped cilantro
1 cup panko breadcrumbs
A few pinches sesame seeds
Sea salt and fresh black pepper
For the yogurt sauce:
Heaping ½ cup plain yogurt
1 tablespoon extra-virgin olive oil
1 teaspoon agave or honey
1 teaspoon minced onion or a few pinches onion powder
½ garlic clove, minced
1 tablespoon fresh lime juice, plus some zest
½ teaspoon brown mustard seeds
¼ cup chopped cilantro
Sea salt
Instructions
Heat 1 tablespoon of the olive oil in a small pan. Add the shallots and cook for a few minutes on medium heat until translucent. Turn off the heat and add the soy sauce and garlic. Stir together in the hot pan for another minute. Set aside.
In a medium bowl, combine the chickpeas, scallions, ginger, sesame oil, eggs, coriander, cilantro, and cooked shallots. Form into small or medium sized patties (6 medium, or 8 small). I find it easiest to try to pack them into a ball and then gently press down to flatten. They will fall apart easily, so just try to pat them together as best as you can. Place them in the fridge while you mix the sauce together, at least 15-30 minutes.
Make the yogurt sauce: In a small bowl, stir together the yogurt, olive oil, agave, onion, garlic, lime juice, mustard seeds, cilantro, and a pinch of salt. Taste and adjust seasonings. Chill until ready to serve.
Spread the panko on a plate or flat surface and mix in a few pinches of salt, pepper, and sesame seeds. Roll each patty in the panko mix, covering liberally, and set each aside.
Heat the remaining 2 tablespoons of olive oil in a large skillet (be sure the bottom of your skillet is completely coated with the oil so your cakes don't come out dry). When the oil is very hot, add the patties. Cook for 1-2 minutes on each side, or until golden brown. Serve with the yogurt sauce.