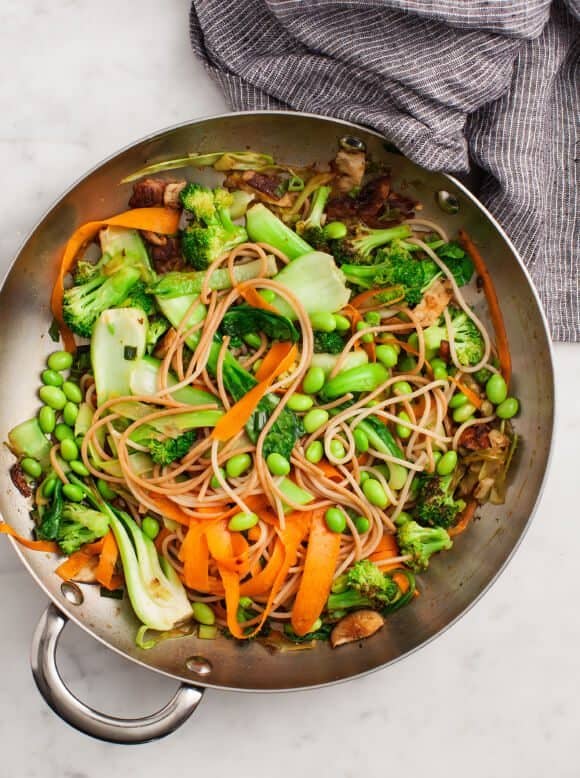 Stir fry is probably the first healthy-ish meal I learned to make, although it looked nothing like this. When I was in college, I'd stock up on frozen vegetables because I was broke and they were 4 for $1. Then I'd mix them with instant brown rice and drown it all in soy sauce. It was "healthy" for healthy's sake, and I'd try to convince myself it was delicious while everyone around me ate pizza.
Since then, my stir fry game has improved dramatically. Aside from the frozen edamame, the vegetables here are fresh – beautiful baby bok choy, shiitake mushrooms, broccoli, and broccoli STEMS. I use a vegetable peeler to slice thin ribbons off the broccoli stalk and toss them into the pan with everything else. Delicious. College budget or not, it's so fun to figure out resourceful ways to use every part of a vegetable.

Another thing missing from my college stir fry was a good sauce. This one – made from tamari, ginger, rice vinegar, fresh lime and sesame oil – is light, tangy, and delicious. Make extra if you want to have a quick weeknight stir fry ready to go – the sauce will keep well in the fridge for a few weeks.

If you love this stir fry, this cauliflower turmeric rice or these cashew broccoli soba noodles would be right up your alley!
Sesame Broccoli and Shiitake Stir Fry
This easy stir-fry is packed with veggies and is vegan and gluten-free. It takes only a few minutes to make, so it's great for weeknights.
Ingredients
1 tablespoon sunflower oil (or any high-heat oil)
4 ounces shiitake mushrooms, stems removed, sliced
½ small head broccoli, florets chopped, stems peeled into strips
2 scallions, chopped
2 baby bok choy, sliced vertically into quarters
½ cup edamame (or protein of choice)
1 carrot, peeled into thin strips
4 ounces brown rice pasta *(see note)
2 teaspoons sesame seeds
sambal or sriracha, for serving
sauce:
1 ½ tablespoons tamari
2 tablespoons rice vinegar
1 teaspoon fresh lime juice, plus extra lime slices for serving
½ teaspoon honey (or maple syrup if vegan)
½ teaspoon minced ginger
1 small garlic clove, minced
½ teaspoon sesame oil
Instructions
Chop and prep all of your vegetables and have them ready before you start cooking. Make the sauce by stirring together the tamari, rice vinegar, lime juice, honey, ginger, garlic, and sesame oil. Set aside.
In a pot of salted boiling water, cook the noodles according to the package directions until al dente. Drain, rinse and set aside (or leave them in cold water or toss with a little oil to prevent clumping).
Heat the oil in a large skillet over medium heat. Add the shiitake mushrooms and broccoli, stir to coat then let cook 1 to 2 minutes until the mushrooms begin to soften and the broccoli begins to brown. Give the pan a good shake and stir, then add the scallions, bok choy, and edamame. Cook, stirring occasionally for another 2 minutes, until the bok choy and broccoli are tender but still vibrant.
Add the carrots and noodles and toss. Add the sauce, toss again. Add a squeeze of lime. Taste and adjust seasonings. Sprinkle with sesame seeds. Serve with extra lime slices and sambal or sriracha on the side.