Learn how to sauté broccoli like a pro! This easy sautéed broccoli recipe is a light, healthy side dish or delicious addition to pastas, bowls, and more.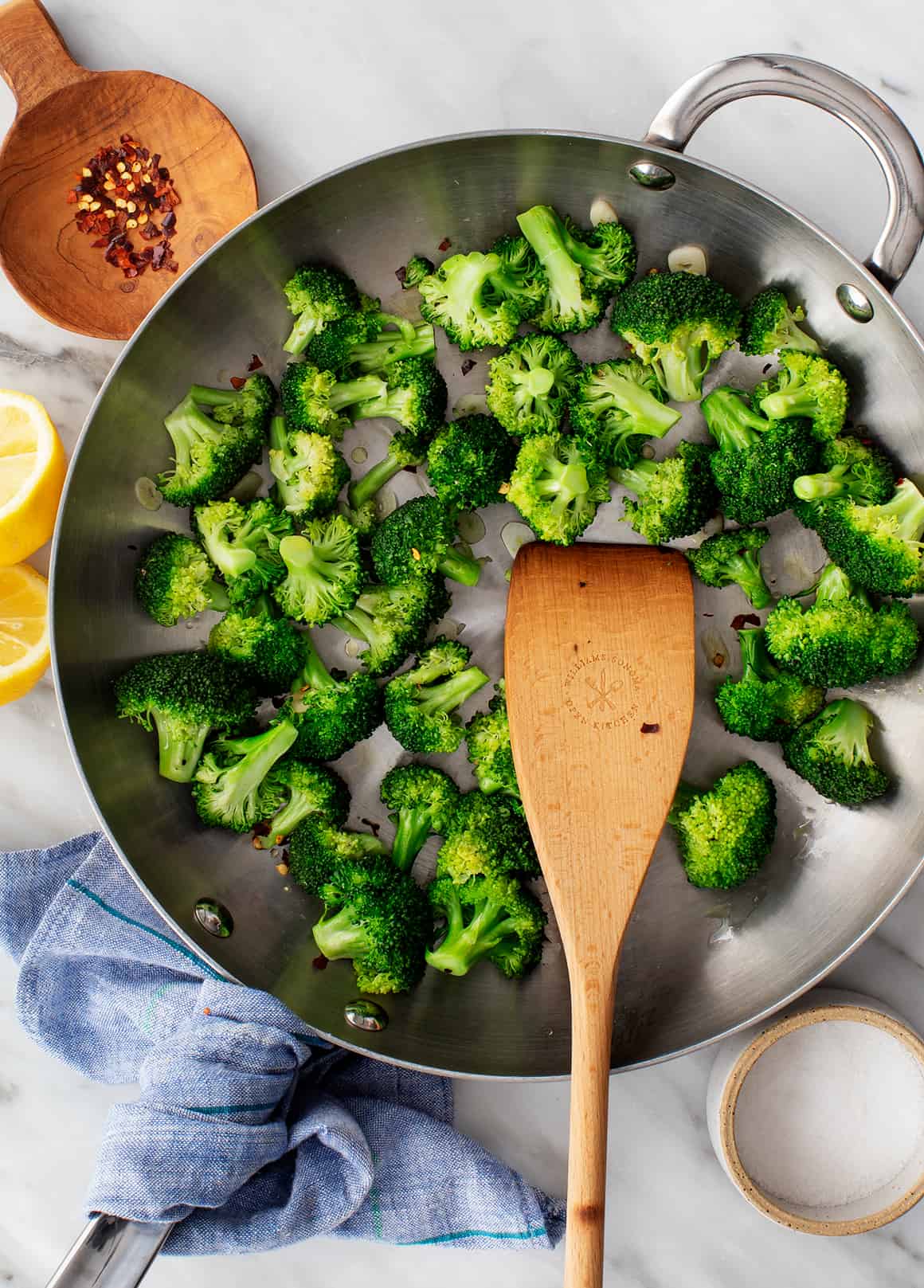 I'll say it: I don't cook sautéed broccoli often enough. I don't know why, but whenever I have broccoli on hand, my first impulse is to roast it. But a few weeks back, I was making this butternut squash pasta for dinner, and I needed a quick and easy side dish to pair with it. I chopped up a bunch of broccoli and cooked it on the stove with lemon juice, olive oil, and garlic. The broccoli florets came out vibrant green and tender, while the stalks kept a nice al dente bite. It was so simple, flavorful, and refreshing that I've had this sautéed broccoli recipe on repeat ever since!
How to Sauté Broccoli
If you've never sautéed broccoli before, you'll be surprised by how simple it is. The whole process takes under 10 minutes! Here's how it goes:
First, sauté. It sounds silly, but my method for how to sauté broccoli actually involves two steps: sautéing and steaming. You'll start by heating a glug of olive oil in a large skillet over medium heat. Toss in the broccoli florets and thinly sliced garlic, and season them with salt and pepper. Cook for 3-4 minutes.
Then, steam! This step helps sautéed broccoli cook and soften all the way through. Add two tablespoons of water to the pan, and quickly cover it. Cook, covered, for 2 to 4 minutes more, until the broccoli is tender but still bright green.
Finally, season. Remove the cooked broccoli from the heat, and season it with a big squeeze of lemon juice and more salt and pepper to taste. If you like, sprinkle on some red pepper flakes, too. Enjoy!
Sautéed Broccoli Serving Suggestions
When I make sautéed broccoli, I often enjoy it as a side dish. It's light and refreshing, with a nice crisp-tender bite. It pairs well with almost everything, so serve it with whatever protein, pasta, or soup you like. The lemon and garlic in this recipe give the sautéed broccoli a bright, fresh flavor, but if you want to punch it up more, drizzle on some vegan ranch, tahini dressing, or lemon vinaigrette. Some everything bagel seasoning or grated Parmesan cheese would be a yummy topping too.
I also encourage you to use sautéed broccoli as a component in larger recipes. If I'm not serving it as a side dish, these are my favorite ways to use it:
In a frittata. Toss it into a full-sized veggie frittata or my mini frittata muffins.
In pasta. Stir it into pesto pasta, spaghetti aglio e olio, or this creamy vegan pasta recipe. And does anyone else love sautéed broccoli with mac and cheese? Try it with this classic mac and cheese or my vegan mac and cheese recipe.
In a bowl. Any simply cooked vegetable is at home in a bowl, and sautéed broccoli is no exception. Add it to these sesame soba noodles, this veggie bowl, or this buddha bowl, or make a bowl of your own! Start with cooked quinoa, farro, wheat berries, or brown rice, add a protein like roasted chickpeas, lentils, baked tofu, or tempeh, and pile in the broccoli. Finish it off with a punchy sauce like tahini sauce, cilantro lime dressing, or romesco sauce.
How do you like to eat sautéed broccoli? Let me know in the comments!
More Favorite Vegetable Basics
If you love this sautéed broccoli recipe, try cooking one of these vegetables next: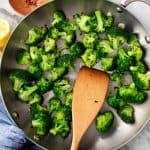 Sautéed Broccoli
This easy sautéed broccoli has a delicious crisp-tender texture and bright, fresh flavor. Serve it as a side dish, toss it with pasta, or add it to a stir fry! You'll find even more serving suggestions in the post above.
Instructions
Heat the oil in a large skillet over medium heat. Add the broccoli, garlic, salt, and several grinds of pepper and sauté for 3 to 4 minutes. Add 2 tablespoons water, cover, and cook until the broccoli is tender, 2 to 4 more minutes.

Turn off the heat and add a squeeze of lemon juice and a pinch of red pepper flakes, if using. Season to taste with more salt and pepper.