A big, bountiful salad is the best way to celebrate delicious seasonal produce! Here are 37 stunning salad recipes I love to make again and again.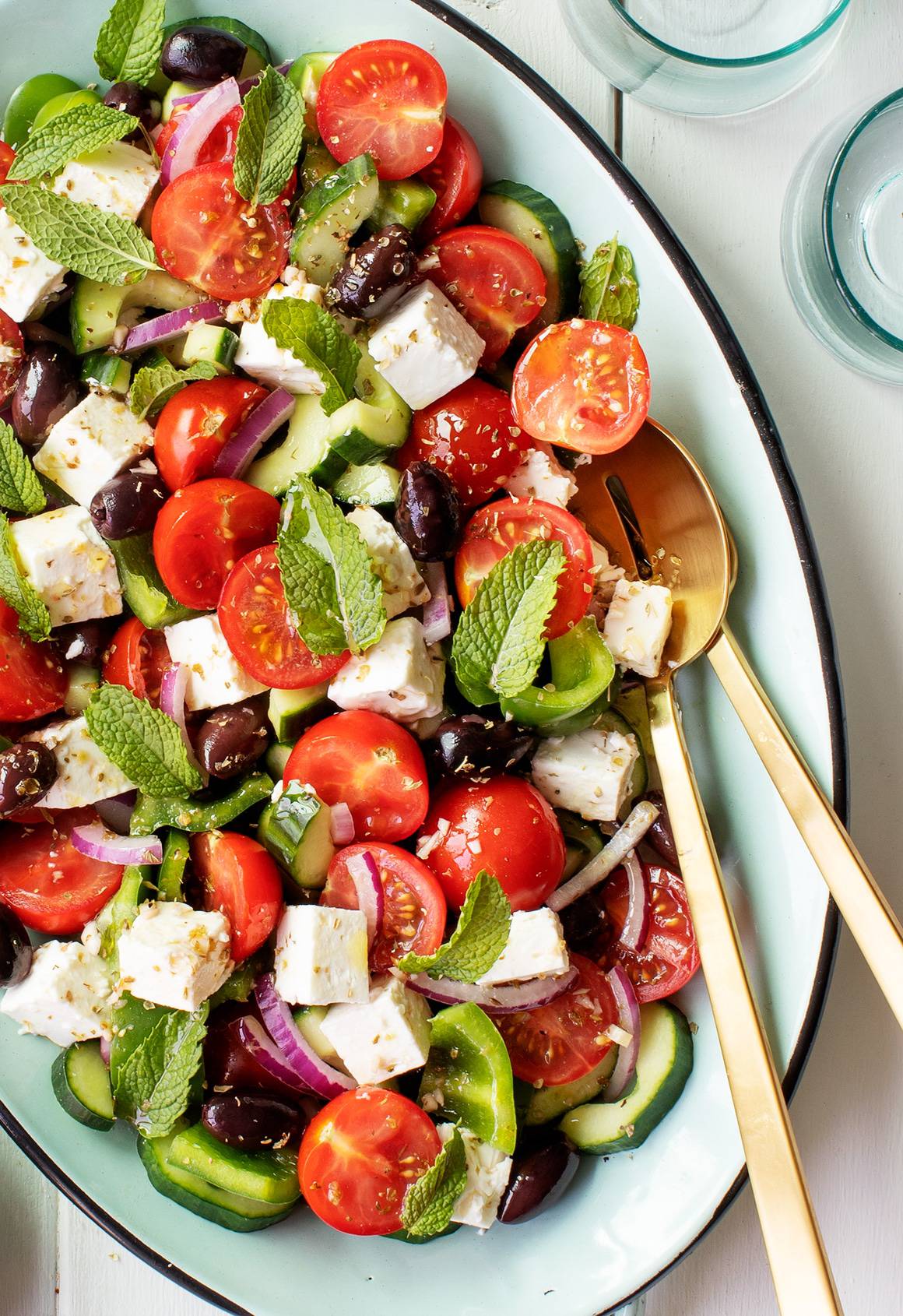 Salad recipes are my favorite way to showcase vibrant, in-season produce – fruits and veggies that are so good on their own that you don't need to do much to make them into a delicious meal. On cold winter nights, I like to brighten up our dinner table with a big, colorful mix of root veggies and hearty greens. On beautiful, warm days when I'd rather be outside than in the kitchen, summer salads are the perfect solution: they're simple to toss together, but they're totally delicious nonetheless.
Whether you want to add more plant-based meals to your diet or are simply looking to change up your salad game, you'll find tons of inspiration in the salad recipes below. With everything from green salads to pasta salads and beyond, these recipes are perfect for passing at potlucks, serving as dinner sides, and enjoying as full meals on their own.
Slaw Salad Recipes
Slaws are some of the best make-ahead salad recipes out there. Typically made with hearty vegetables like cabbage, kale, or broccoli, they're sturdy enough to be dressed ahead of time. I like to accent the veggie base with a punchy dressing, herbs, and even fruit for maximum flavor.
Make this salad for your next picnic, and it'll be a guaranteed hit. A tahini miso dressing gives it a creamy umami coating, while peaches add juicy pops of sweetness. I finish it with toasted pepitas for crunch.
You won't miss the bacon in this lightened-up take on classic broccoli salad. Smoky roasted nuts take its place, adding delectable savory bites. A lightly creamy, sweet & tangy dressing takes the whole thing over the top.
3. Shredded Brussels Sprout Salad
As soon as the temperature starts to dip in the fall, I look forward to making this salad. Made with just 7 ingredients, it's a breeze to put together, but a bright lemon dressing, Parmesan cheese, pine nuts, and dried cranberries make it zippy, fresh, and satisfying.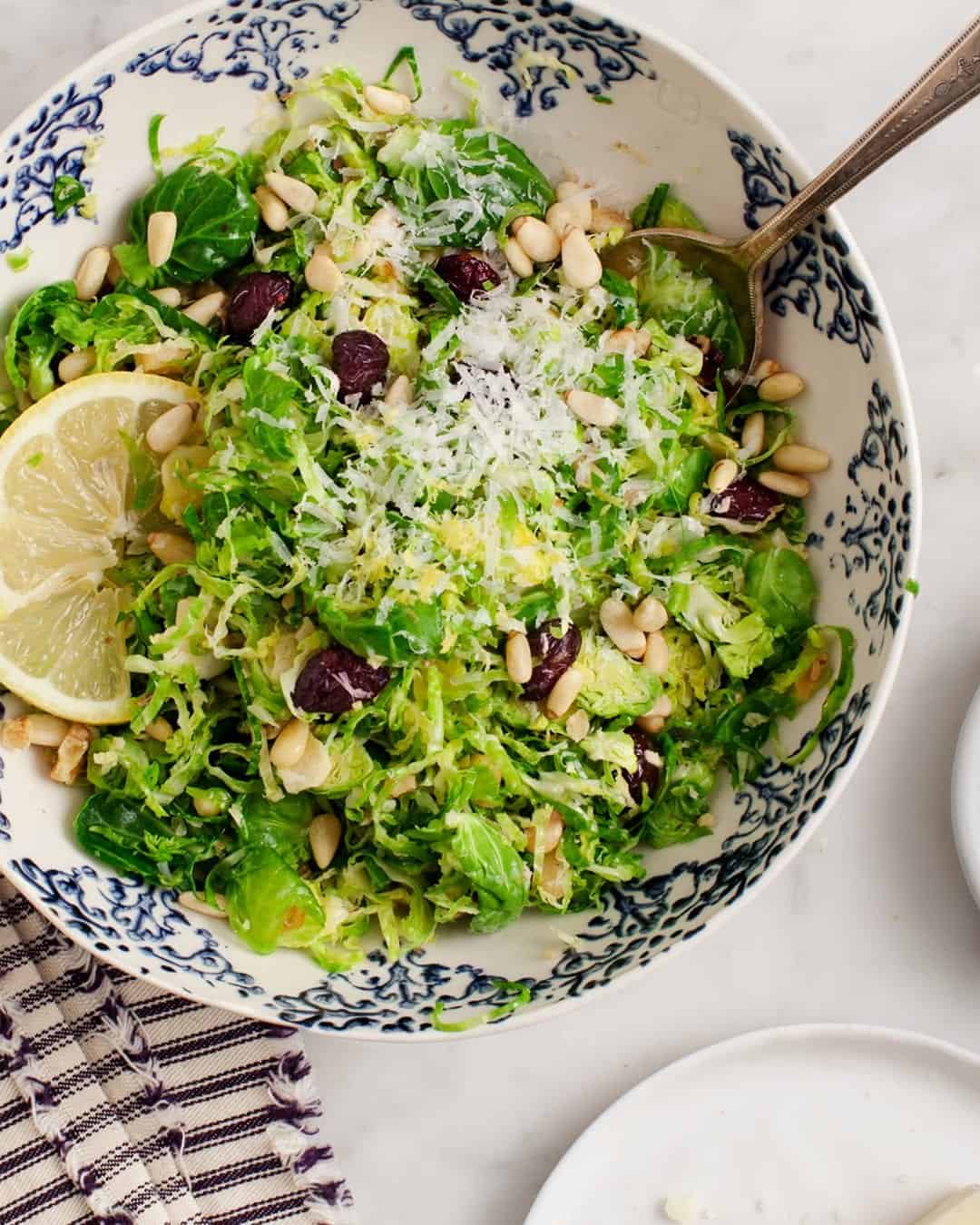 Pasta Salad Recipes
You couldn't make a list of salad recipes without including this category! Pasta salads are the ultimate summer picnic food or party dish any time of year – they're great to make ahead, they can double as a side and a main dish, and they're a hearty showcase for the season's best produce.
As its name suggests, this one is a breeze to make. Just whisk together the zippy lemon dressing at the bottom of a big bowl, add the other ingredients, and toss to create a heavenly tangy/creamy/crunchy/fresh summer combo.
Diced mango adds a surprising sweet twist to this colorful orzo, red onion, bell pepper, herb, and cucumber salad.
My veggie-packed take on a deli-style pasta salad! I swap spiralized summer squash for half the noodles and a creamy tahini dressing for a mayo-based one. It's a healthier version of the grocery counter classic, but it's just as good.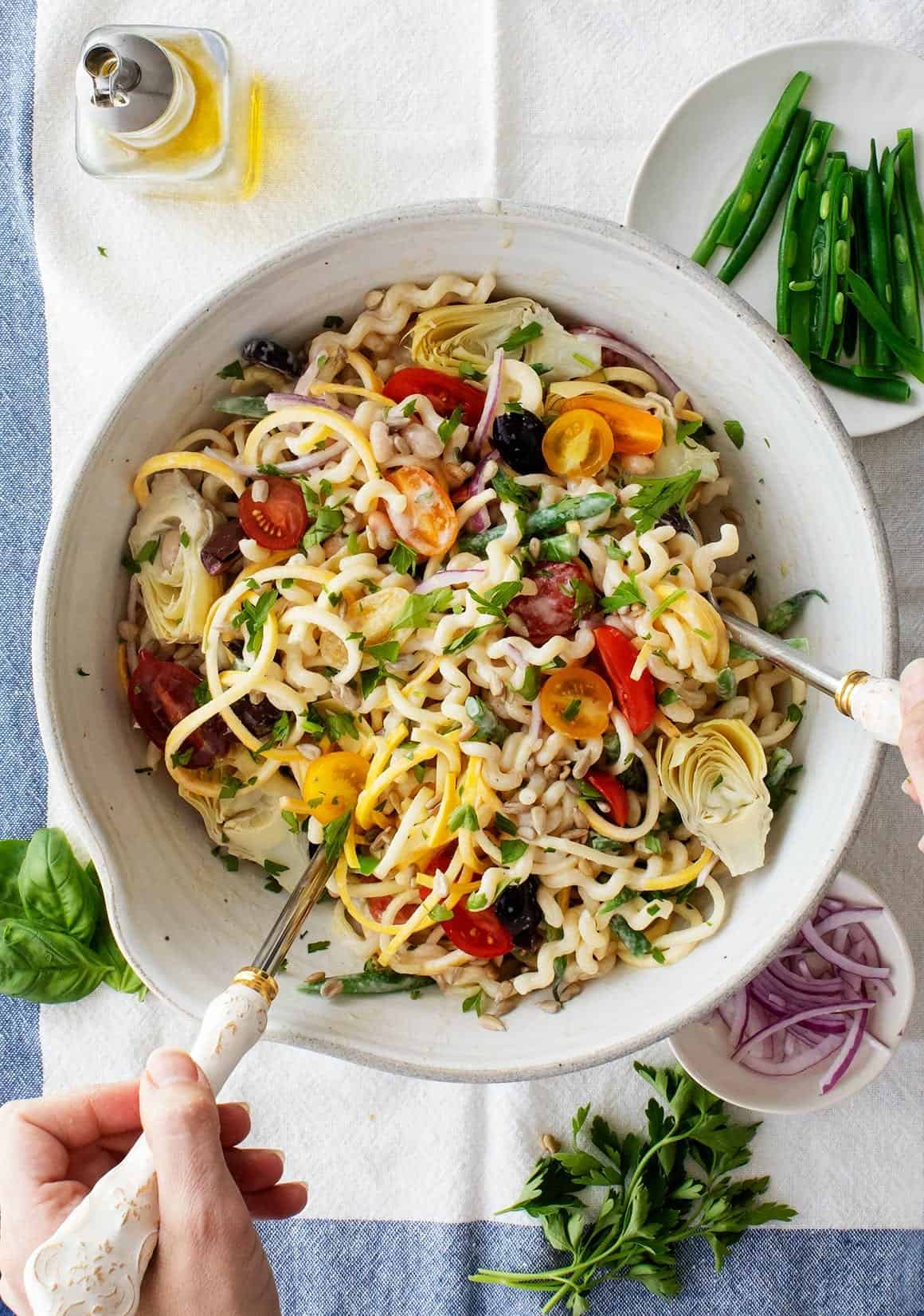 Sun-dried tomatoes add delicious umami bites to this super green combination of summer veggies, basil, pasta, and pine nuts.
8. Cherry Tomato Couscous Salad
A mix of jammy roasted cherry tomatoes and juicy fresh ones makes this guy one of my favorite summer salads. With spiced roasted chickpeas, tangy feta, and big pearls of couscous, it's hearty enough to be a meal on its own.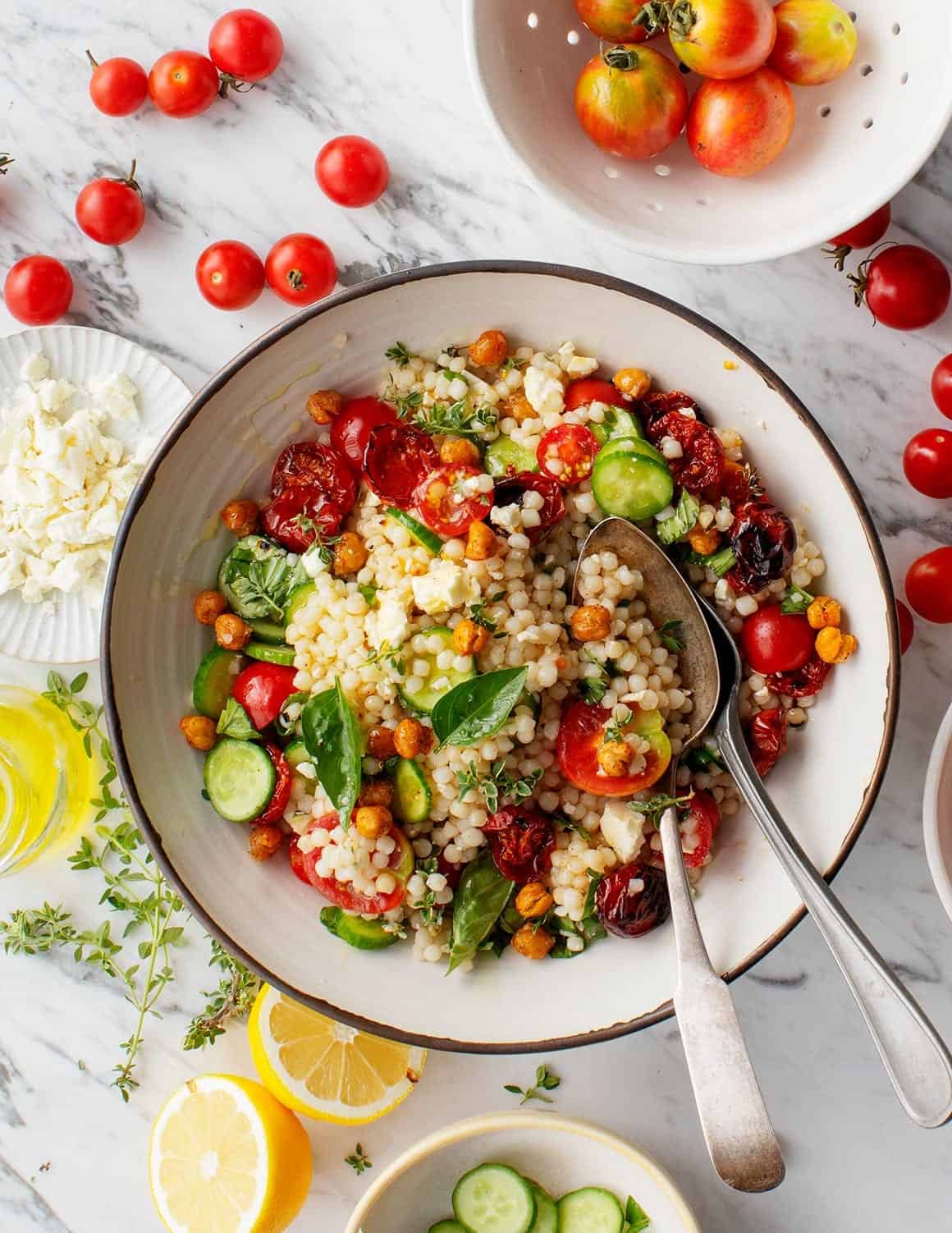 Not your average pasta salad! Tossed in a tangy sesame-ginger dressing and piled with green veggies and avocado, this soba noodle salad is a light, refreshing summer meal.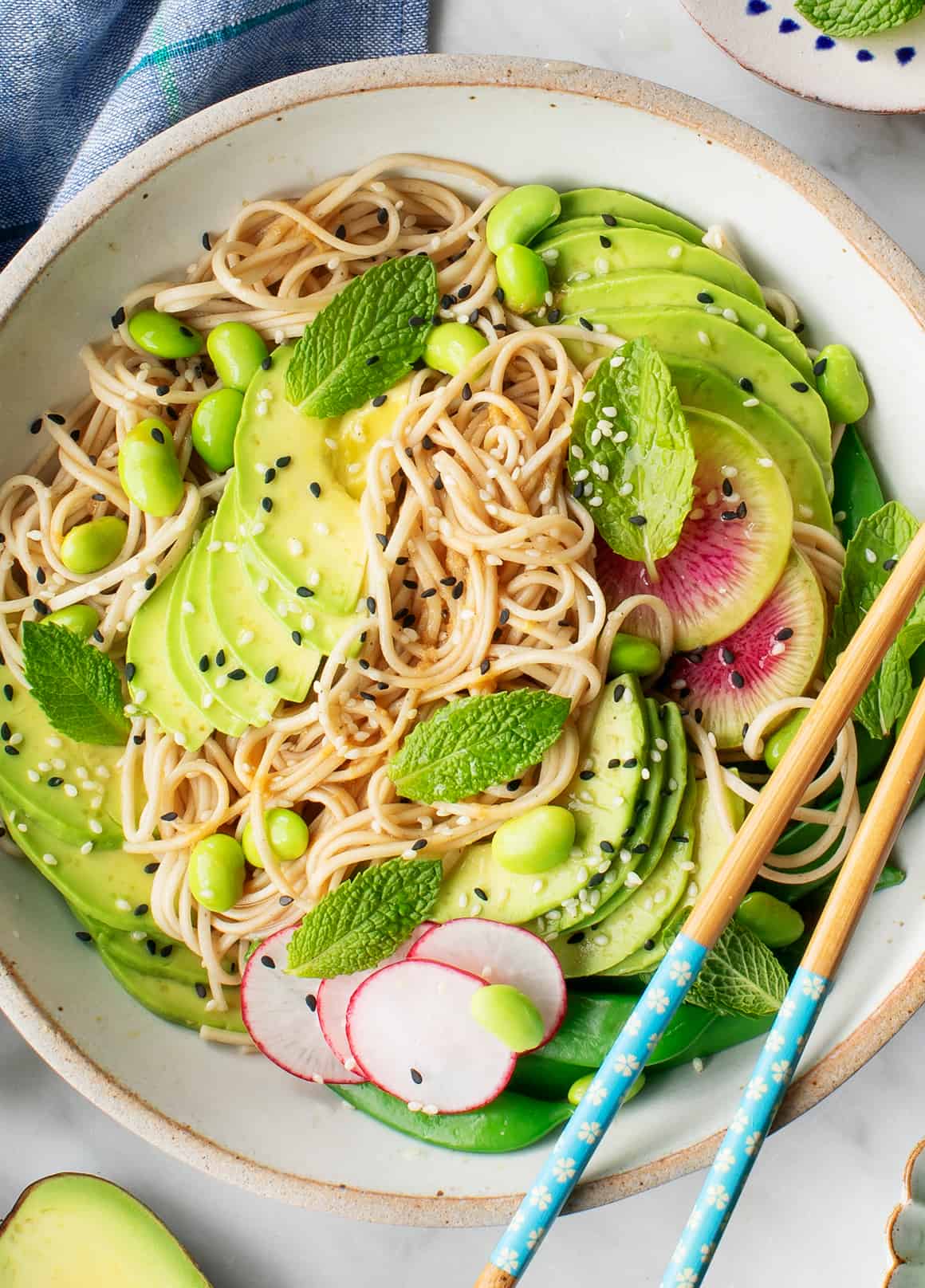 Green Salad Recipes
A big green salad is one of my go-to meals all year round. In the summer, the lettuces I find at the farmers market are so soft & sweet that a big green summer salad is really a treat. In the winter, I use a bright, bold dressing to punch up hearty greens like kale. I'll often make these recipes for lunch, but you could also toss them together to serve as a side dish at your next cookout or dinner party.
Savory shiitake walnut taco "meat" is the star of this salad, and zippy cilantro lime dressing gives it a fresh finishing touch. Enjoy this salad as a meal on its own, or serve it as a starter with fajitas or tacos.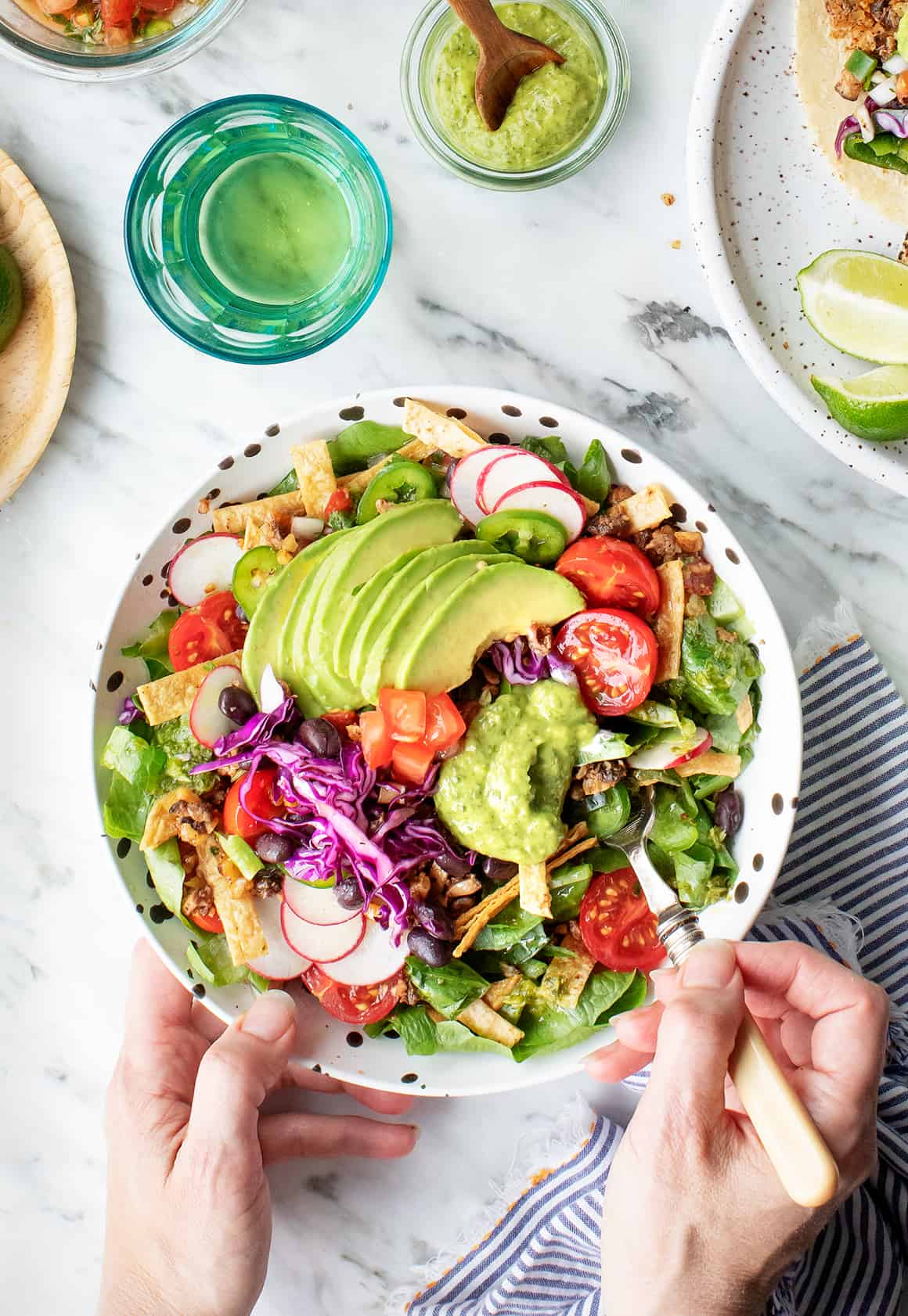 11. Vegan Cobb Salad with Coconut Bacon
This plant-based riff on a classic Cobb salad swaps baked tofu for chicken breast and smoky toasted coconut for bacon. A creamy, tangy dressing ties it all together.
12. Grilled Romaine Vegan Caesar Wedges
One of my favorite green salads of all time! Crisp romaine gets lightly charred, then drizzled with an irresistibly tangy cashew vegan caesar dressing. This one is on page 111 of our new cookbook, Love & Lemons Every Day.

13. Kale Salad with Carrot Ginger Dressing
This vibrant kale salad is a treat year-round. I pile it high with a rainbow of crunchy veggies, toasted seeds, creamy avocado, and savory roasted chickpeas. Doused in a tangy carrot ginger dressing, it's hearty enough to be a meal on its own.
Tomato Summer Salads
If there's one veggie (or fruit, if you're looking to get technical) that's the star of summer, the tomato is definitely it. Here are some of my favorite summer salad recipes that put tomatoes front & center.
I love how big cubes of feta, juicy tomatoes, olives, herbs, bell peppers, and cucumber tumble together in this stunning summer salad with a homemade Greek salad dressing. You only need 7 ingredients and a few minutes to put together this juicy/crisp/tangy/savory combo. What are you waiting for?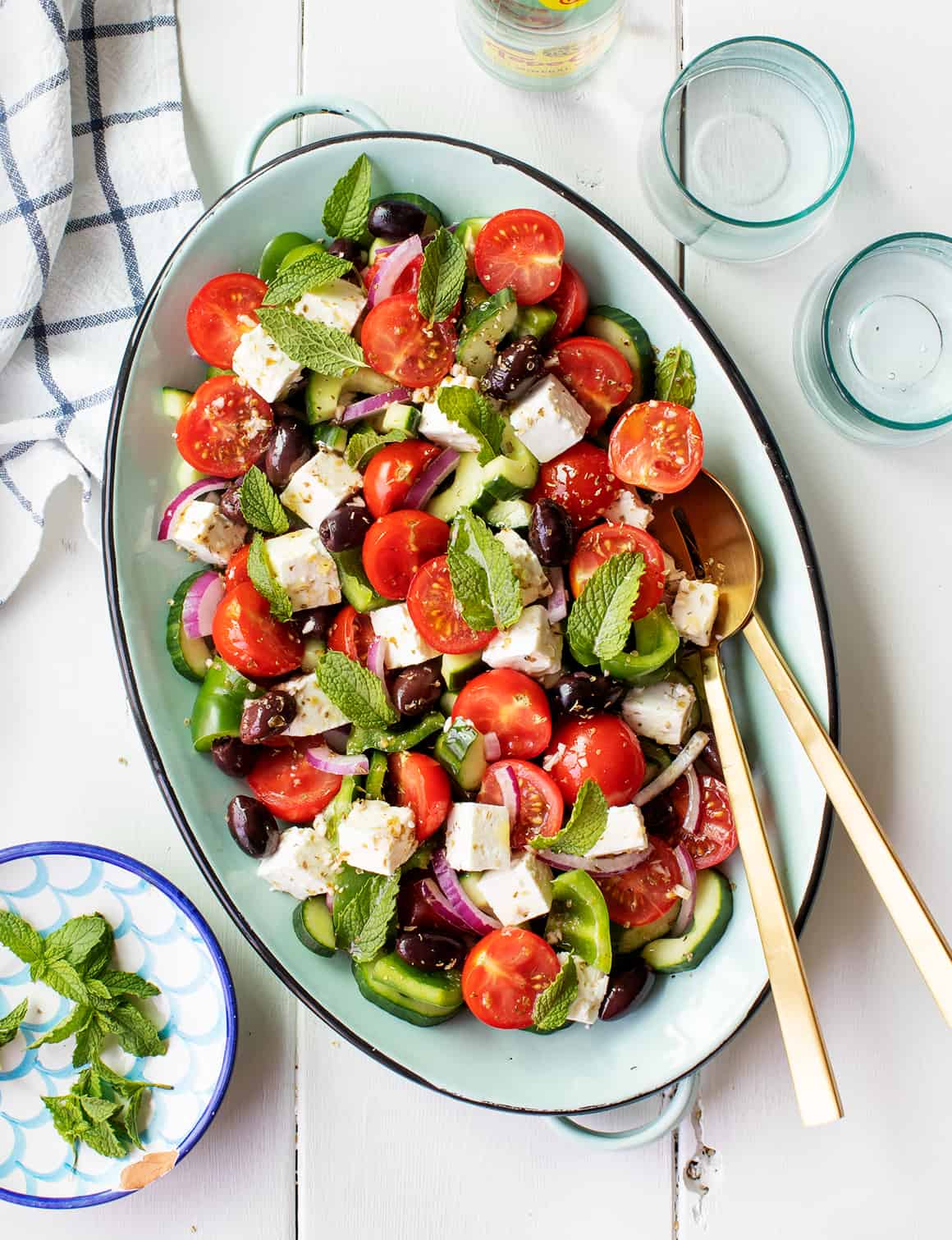 15. Spicy Watermelon Tomato Salad
Fresh chiles add some heat to the sweet, juicy mix of tomatoes & watermelon in this recipe.
16. Eggplant & Roasted Tomato Farro Salad
Roasting cherry tomatoes gives them an intense sweet & savory flavor that's fantastic alongside eggplant, arugula, and nutty farro.
17. Heirloom Tomato Fattoush
Once you start bringing home those juicy farmers market heirloom tomatoes, make this salad! It's my non-traditional take on fattoush, a bread salad made with toasted pita. This one has a layer of lemony yogurt and is topped with crispy chickpeas, and lots of fresh herbs. Find it on on page 125 of Love & Lemons Every Day.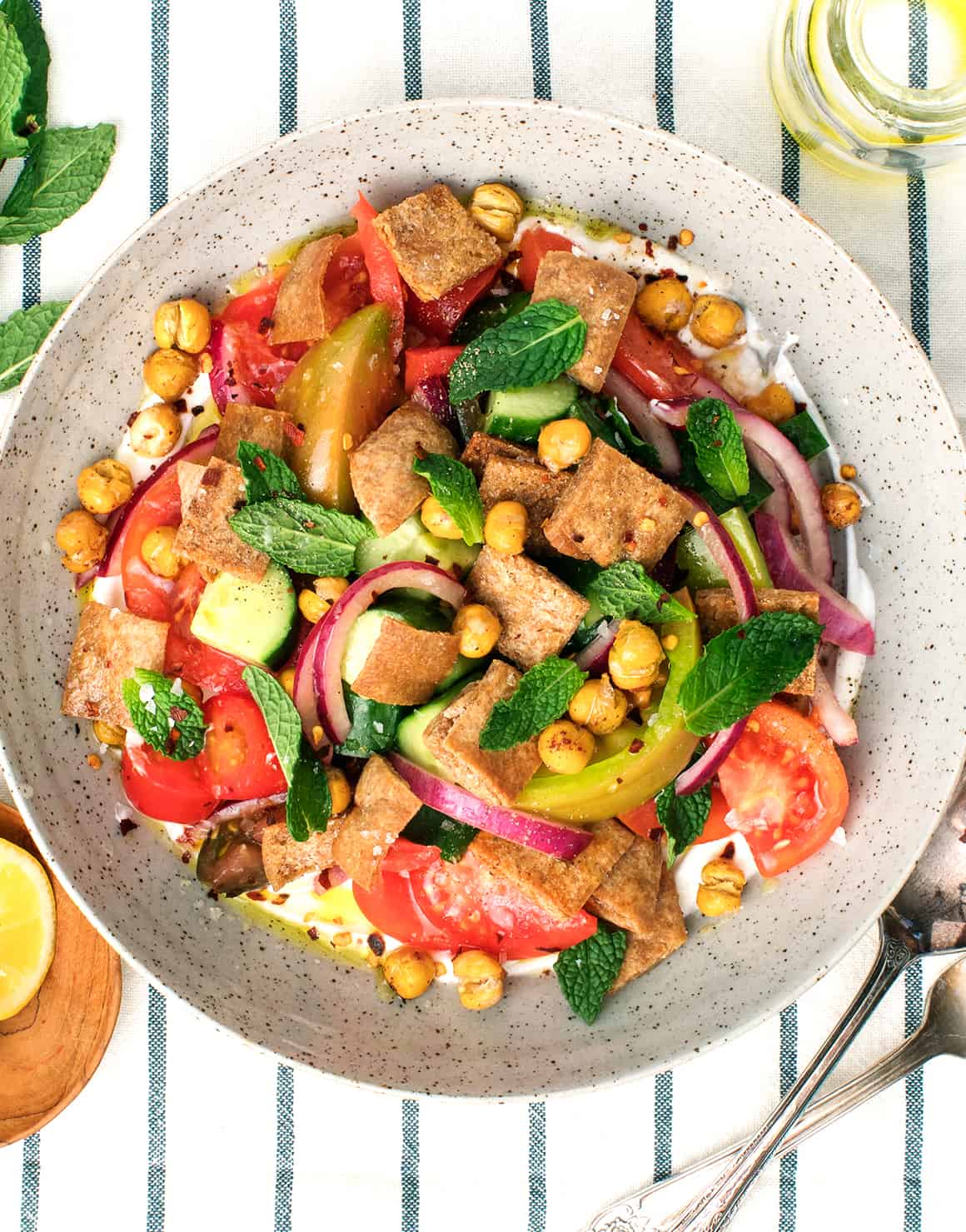 The secret to this salad is marinating the tomatoes in a splash of olive oil & sherry vinegar. They become rich & tangy – the perfect contrast for fresh basil, avocado, and a little orzo pasta.
If it ain't broke, don't fix it. Check out this recipe to find my best tips for making a classic Caprese summer salad.
Corn Summer Salad Recipes
If tomatoes are #1 in the summer, corn comes in as a close #2. Grilled, steamed, or fresh off the cob, it's the perfect addition to all sorts of summer salads.
This fresh corn salad features all my summer favorites: grilled sweet corn, juicy peaches, and lots of fresh basil! To highlight the crisp, fresh ingredients, I toss it with a zesty chile lime dressing.
If you've ever had Mexican street corn, you know that the combination of charred corn, crumbly Cotija, creamy mayo, and cilantro is a hard one to beat. I like to spice mine up with sriracha or adobo sauce, too!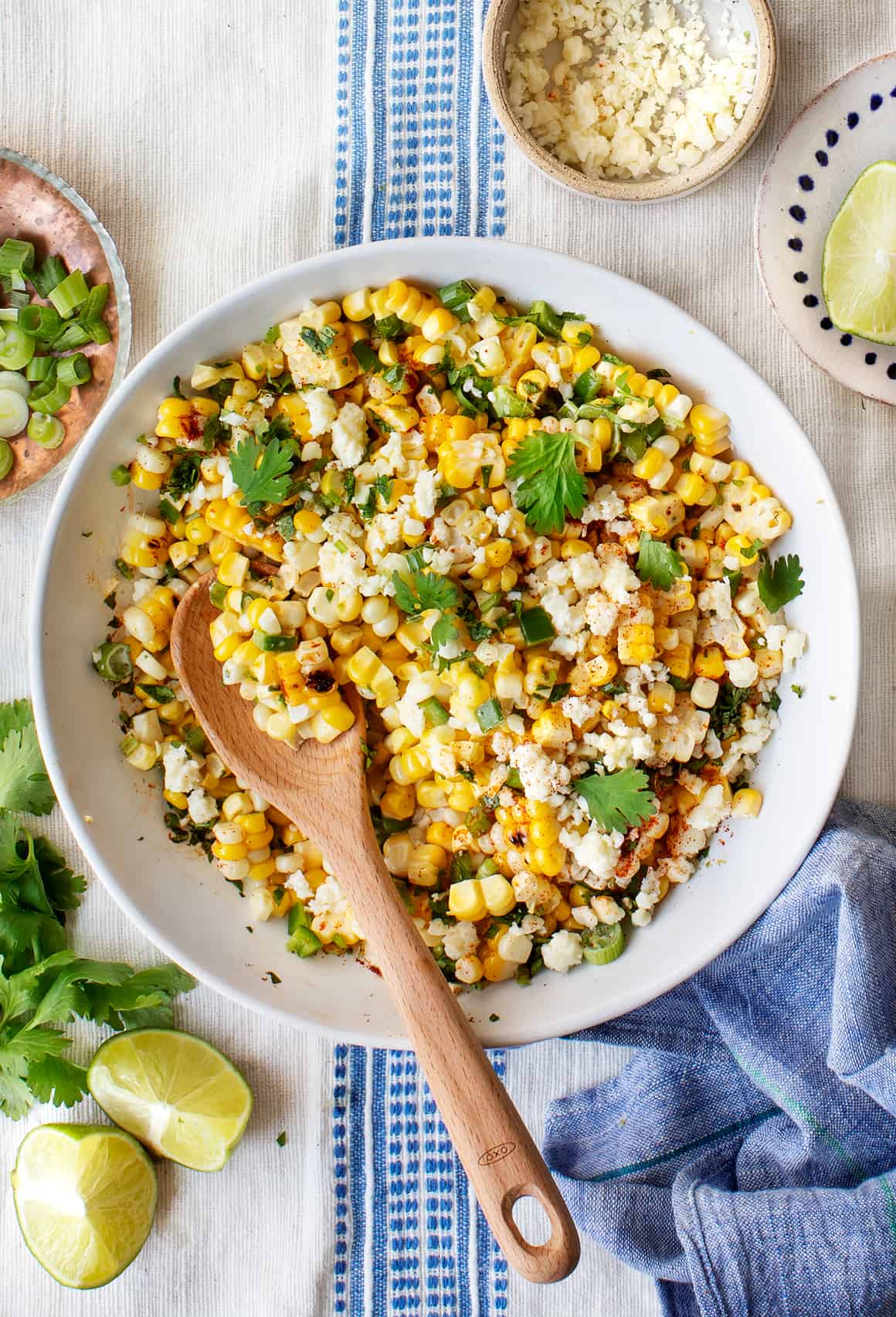 Summer Panzanellas
Panzanellas are hands down my favorite summer salads. You just can't beat big cubes of bread tossed with juicy summer produce and a good tangy vinaigrette. You can always serve these salads as a side, but they're great main dish options as well.
22. Sweet Corn & Arugula Panzanella
Panzanellas may be Italian bread salads, but this recipe's not all about the bread. Crisp, juicy sweet corn is front and center, playing perfectly off a tangy dressing and bitter greens. I use the corn raw, so this panzanella is super simple to toss together.
Grilled peppers add a lovely sweetness to this veggie-packed summer salad. Along with the veggies, creamy fresh mozzarella makes it extra yummy.
I like to call this one an "everything summer salad." It's bursting with juicy peaches, tomatoes, crisp corn, and fresh basil – the best that summer has to offer.
When you've made zucchini bread, zucchini cake, baked zucchini, and zucchini pizza, and you STILL have zucchini, make this panzanella. The grilled squash is a great jammy contrast to crisp cucumbers and bursty cherry tomatoes.
Potato Salad Recipes
It's taken me a while to get on board with potato salad, but over the last few years of experimenting with bold dressings and different mix-ins, I've become totally hooked. Here are a few of my favorites.
This lightened-up rendition of classic potato salad has a luscious Greek yogurt dressing with just a bit of mayo mixed in. It's the perfect make-ahead salad, as the flavor deepens as it sits in the fridge.
27. Grilled Potato Salad with Scallion Vinaigrette
If you're grilling veggie burgers, make this summer salad right along with them. Not only are the potatoes grilled here, but the blueberries are too! A yummy grilled scallion vinaigrette, fresh herbs, and pickled onions accent this fun sweet/charred pairing.
28. Chimichurri Potato Salad
I toss this potato salad in a tangy, herbaceous chimichurri instead of a creamy dressing. It's a fan favorite from Love & Lemons Every Day – find it on page 119.
29. Purple Potato & Green Bean Salad
This summery bean salad is incredibly versatile. Dress it up with a soft-boiled egg or chickpeas to make it a meal, or serve the mix of potatoes, green beans, and lemony dressing as a simple grilling side.
Fruity Summer Salads
Of course, your summer salads should feature the wonderful fresh vegetables we have at this time of year, but it'd be remiss not to take advantage of the fantastic fruits that abound too! Stone fruits, berries, and melon are all delicious sweet additions to summer salad recipes.
Skip the tomatoes the next time you're making tabbouleh, and use dried tart cherries instead! They add great chewy texture and sweet/tart flavor to this fresh dish.
Or…use strawberries! Like tomatoes, they're juicy & sweet. Another nontraditional ingredient – feta – adds a great salty contrast to the berries in this recipe.
This poke-inspired summer salad features juicy cubes of watermelon and crunchy macadamia nuts along with conventional poke fixings like cucumber, ginger & avocado. I toss it all in a tangy tamari-lime dressing to make a super fresh, fun summer dish.
33. Peach & Plum Caprese Salad
Sure, we all love tomatoes & basil, but peaches & basil are just as good.
Another fruity caprese combo! This time, I use strawberries as well as cherry tomatoes, and I gussy it up with a balsamic reduction, avocado, and toasted pecans for a sweet, nutty crunch.
Fruit salads are a party essential, and we absolutely love this fresh lemon-ginger one. I like to use a star cookie cutter to cut the melon for festive flare!
36. Watermelon Salad with Feta and Mint
Make this ultra-refreshing salad on hot summer days! Creamy avocado, tangy feta, and bright lime wonderfully accent cool, juicy melon and cucumber. A handful of fresh herbs is the perfect finishing touch.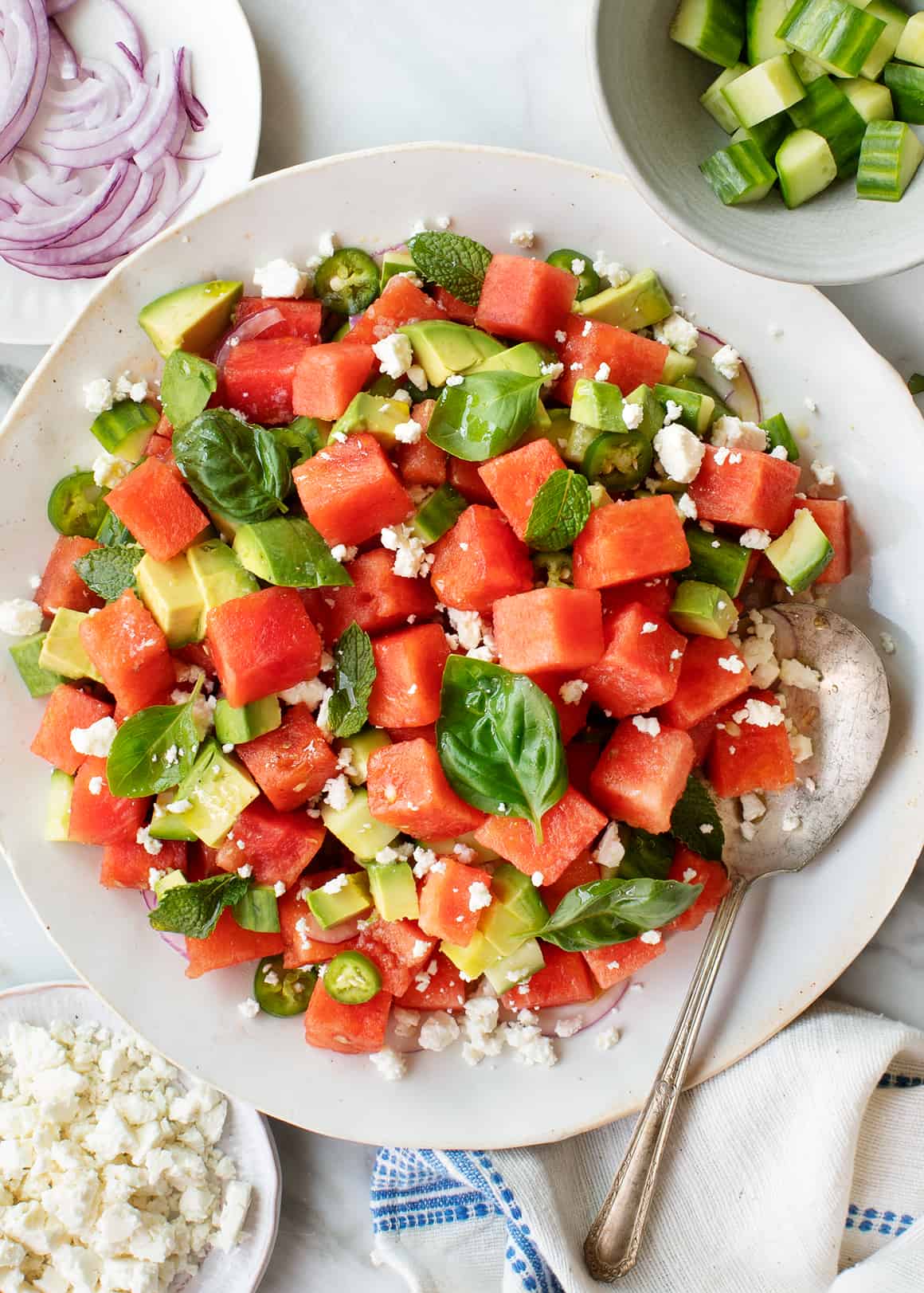 37. Mediterranean Chickpea Salad
Chopped Medjool dates and aromatic cumin add a surprising sweet twist to this hearty chickpea salad. Topped with roasted red peppers, grape tomatoes, and a big sprinkle of goat cheese, it's a good salad to pack for lunch, but it's also a guaranteed hit at any gathering.
If you love these salad recipes, check out my favorite appetizers, soup recipes, dinner recipes, and top vegan recipes next!
Best Salad Recipes: Easy Greek Salad
One of our favorite salad recipes! This easy Greek salad recipe is a flavorful, refreshing side dish!
Instructions
In a small bowl, whisk together the olive oil, vinegar, garlic, oregano, mustard, salt, and several grinds of pepper.

On a large platter, arrange the cucumber, green pepper, cherry tomatoes, feta cheese, red onions, and olives. Drizzle with the dressing and very gently toss. Sprinkle with a few generous pinches of oregano and top with the mint leaves. Season to taste and serve.