This oven roasted vegetables recipe is a delicious, healthy side dish! It's endlessly customizable - adapt it to use whatever veggies you have on hand.
I eat some variation on this roasted vegetables recipe at least once a week. Not only is it delicious (I can't get enough of those crisp, browned edges!), but it's practical, too. It takes right around 30 minutes to make, so it's an easy way to add veggies to any meal. Plus, it's adaptable. You can make it with whatever vegetables you have in the fridge!
I've fallen in love with this particular combination of roasted vegetables over the last few weeks. It has an addictive mix of textures and flavors. The squash is sweet and creamy, the Brussels sprouts are crispy, the radishes have a peppery bite. But more importantly, it's pretty. I mean, just look at those colors! The vibrant pink, purple, orange, and green will brighten up any winter day.
Roasted Vegetables Recipe Ingredients
In this roasted vegetables recipe, I call for these veggies:
Brussels sprouts – Their crisp leaves contrast nicely with the creamy squash and tender root vegetables.
Scarlet turnips – Regular turnips are ok too!
Cauliflower – I love how its white color plays off the browned roasted vegetables.
Radishes – I use purple daikon, but red radishes would also be lovely.
Carrots and squash – For sweet flavor and brilliant orange color.
Red onion – It adds delicious depth of flavor to this roasted vegetables recipe.
Don't have these exact veggies on hand? Don't worry! You can make this roasted vegetables recipe with any veggies you like. Use just 2 or 3 of these veggies, or add broccoli, sweet potatoes, green beans, or beets. The important thing is that you know the individual roasting times for the veggies you pick (more on that below).
Otherwise, you just need olive oil, sea salt, and fresh black pepper. That's it!
Find the complete recipe with measurements below.
How to Roast Vegetables
The process for roasting any vegetable is essentially the same: wash it and pat it dry, chop it, and toss it with olive oil, salt, and pepper. Then, bake until it's golden brown and tender! Sounds simple, right?
Well, there's a catch. Different vegetables cook at different rates. As a result, when you make mixed roasted vegetables, you can't just toss them all together on the baking sheet.
In the picture above, you'll see that I arrange the vegetables in bands. I group them according to their cooking times so that I can easily slide them off the baking sheet as they're ready.
This is why it's essential that you know the cooking times for the individual vegetables you're roasting. With this mix of veggies, I remove the radishes from the oven first, after 10 to 15 minutes. 5 minutes later, I take out the carrots, followed by the Brussels sprouts, turnips, cauliflower, and onions.
When the last set of vegetables is tender and browned, I toss all the roasted veggies together, season to taste, and eat!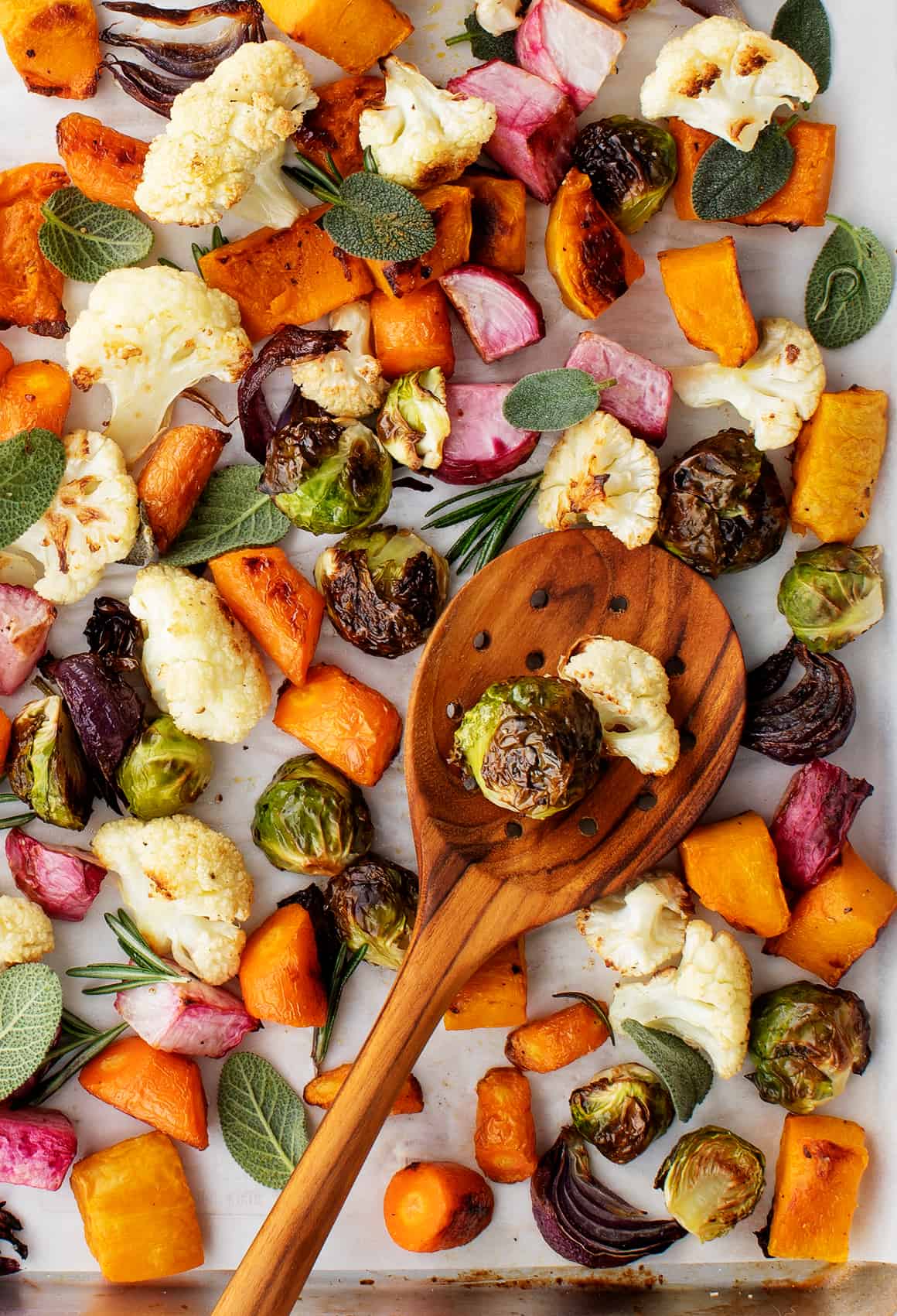 Oven Roasted Vegetables Tips
Use 2 baking sheets if you need to. In order for the vegetables to brown in the oven, they need space. Arrange them in a single layer, with no pieces overlapping. (You'll actually want them spread further out than the veggies in these photos! I had to squeeze them together for the picture.) If it's not possible for you to space out the veggies on a single baking sheet, just use 2! Rotate the pans halfway through the baking time so that the vegetables brown evenly in the oven.
Reheat the veggies right before you eat. Because you'll be removing different vegetables from the oven at different times, they won't all be piping hot when you toss them together. After I combine them, I like to pop them back in the oven for a few minutes. That way, the veggies are nice and hot when I eat!
Not sure about the timing? Use visual indicators. If you're uncertain about whether or not a vegetable is ready, judge based on its appearance. It should be crisp and browned around the edges, and you should be able to easily pierce it with a fork.
Serving Suggestions
When you need a quick and easy side dish, serve these oven roasted vegetables as they are, seasoned simply with salt and pepper. But if you have the time, amp them up with fresh herbs and a punchy dressing! In the fall and winter, I love to roast them with rosemary and sage and toss them with my apple cider vinaigrette. For a final burst of bright flavor, I serve them with lemon wedges for squeezing.
No matter how you season them, these roasted vegetables are a perfect side dish for just about anything! If you need ideas, pair them with any protein you like, or with one of these dinner recipes:
Enjoy!
Roasted Vegetables
These oven roasted vegetables are such a delicious side dish! Season them simply, with salt and pepper, or toss them with fresh herbs, lemon juice, and my apple cider vinaigrette.
Ingredients
2

cups

cubed butternut squash

2

cups

halved Brussels sprouts

2

cups

cauliflower florets

2

carrots

,

cut into 1-inch pieces

1 to 2

turnips

,

cut into 1-inch pieces

1

small red onion

,

cut into wedges

1

cup

halved red radishes or cubed daikon radish

Extra-virgin olive oil

,

for drizzling

Sea salt and freshly ground black pepper

2

tablespoons

chopped rosemary or 12 chopped sage leaves

,

optional

Apple Cider Vinegar Dressing,

optional

Lemon wedges

,

for serving, optional
Instructions
Preheat the oven to 425°F and line 2 large baking sheets with parchment paper.

Choose any vegetables you like from the list above and place them in separate rows on the baking sheets, grouping vegetables with similar cooking times together. See the notes below for the approximate roasting times for each vegetable pictured. Drizzle with olive oil and sprinkle with salt and pepper. Roast until tender and golden brown around the edges, tossing halfway through.

If you're roasting two sheets in the oven at the same time, switch racks halfway through so that the vegetables on both sheets brown evenly. Remove the vegetables from the sheets as they're done.

Vegetables can be served hot or warm. If you'd like to serve them piping hot, toss them all back into the oven to warm up for a few minutes before serving.

Mix the vegetables together and transfer to a serving platter. Season to taste with salt, pepper and squeezes of lemon. Sprinkle with rosemary and drizzle with apple cider vinegar dressing, if using. Serve with lemon wedges, if desired.