In one version or another, we've probably eaten this salad five times in the last couple of weeks. I know everyone's sort of hooked on sweet potatoes at the moment, and I guess I'm no different…
Two things I love most about sweet potatoes are: 1. They take less strength and finger-losing risk than butternut squash… and 2. once you pop them in the oven, the house almost instantly smells like Thanksgiving.
Now that it's been a little bit colder here, this has been the perfect soul-warming kind of meal to cozy up to with a bottle of red wine.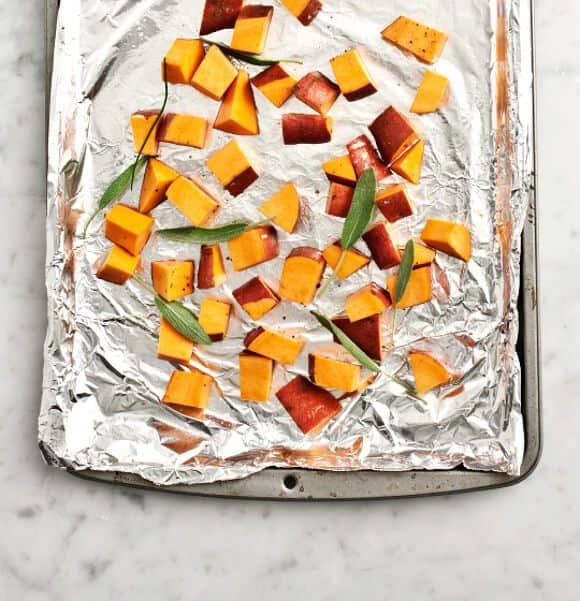 roasted sweet potato grain salad
Ingredients
1.5 cups cooked wheat berries (about ¾ cup uncooked)
2 cups of mixed greens (baby kale, spinach, arugula, etc.)
1 large sweet potato, chopped into cubes
⅓ cup dried cranberries
⅓ cup crumbled feta
¼ cup toasted pumpkin seeds (toast on a small skillet for 30 seconds or so)
pinch of red pepper flakes
dressing:
2 tablespoons olive oil
1 clove minced garlic
2 teaspoons honey
1 teaspoon apple cider vinegar
¼ teaspoon cinnamon
4 sage leaves, finely chopped
salt & pepper
Instructions
cook the wheatberries: (you can do this ahead of time): I cook these like pasta, not like rice, so the ratio of water doesn't matter, you just need to make sure the water covers them. Fill a pot with water, salt the water, add the wheatberries. Bring to a boil, then reduce heat and simmer for about 1 hour (sometimes longer). About halfway through check to make sure there is still water covering the wheatberries. If most of your water has been absorbed but your wheatberries are still crunchy, add more water and continue simmering. They are done when they have a soft but still have a firm, not mushy, bite.
roast the sweet potatoes: Preheat your oven to 400 degrees. Chop the sweet potato into bite sized cubes. Drizzle with some olive oil, salt and pepper, and roast in the oven for 20-30 minutes, or until they start to edges start to turn darker and roasty. (note, in the photo I have some sage on my baking sheet, you can roast your sage so it gets a little crispy, but take it off before the sweet potatoes are done).
assemble the salad:
Stir the dressing ingredients together, set aside.
Place greens in a large bowl. Place the warm wheat berries and hot sweet potatoes over them so they wilt slightly from the heat. Add the dressing, as much or little as you like. Toss. Add in the rest of the ingredients, gently toss again. Taste and adjust seasonings.