Sweet winter squash are topped with a crisp and tangy fall apple-jalapeño-lime salsa. Serve for a unique Thanksgiving side or a healthy vegan and GF main!
My mom is in town visiting this week. Usually she comes bearing a pile of recipe clippings that she's been collecting for weeks leading up to the trip. I've been stuck in a bit of a "same-ingredient" rut lately, so I was really looking forward to someone else just telling me what to make. But this time she showed up empty-handed and said, "I'm here to eat what you make – you know, all of those recipes you post that I never get to eat because I'm not close enough to stop by for dinner."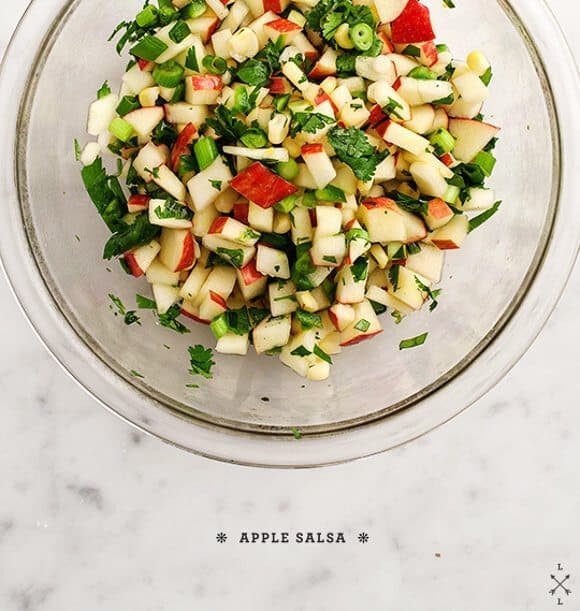 So I sat down and pulled together some ideas… made a list, and we headed to the store. Right as we walked in she came up with the idea for a fall salsa. With apples. So I went with it, not really having any clue how apples and cilantro would taste together. But we mixed this up, and it was so so good! The apple really soaks up the lime juice and took on the onion flavor from the scallions. It's a perfect spin on a salsa for fall. (Or as Jack is calling it, "fall-sa")
We ate it spooned over roasted acorn squash slices and grilled salmon. I just love how I would have never thought to put this combo together, but I'll totally be making it again and again.
Roasted Squash with Apple Salsa
Ingredients
For the squash:
2 (or more) acorn or delicata squash, seeds and guts removed, sliced ½″ thick
Extra-virgin olive oil, for drizzling
Honey, for drizzling
Sea salt and fresh black pepper
For the salsa (yield about 3 cups):
2 cups diced apple (about 1 large apple)
½ cup scallions, chopped
¼ cup corn kernels (I used frozen)
½ jalapeño pepper, seeded and minced
¼ cup fresh lime juice
¼ cup chopped fresh cilantro
Honey, for drizzling
Sea salt and fresh black pepper
Instructions
Toss the squash slices with the olive oil, honey, salt and pepper. Roast in a 400 degree oven for 30-40 minutes, until slices are golden brown and the skin has become tender.
Meanwhile, make the salsa: In a medium bowl, mix the apple, scallions, corn, jalapeño, lime juice, cilantro, a drizzle of honey, and pinches of salt and pepper. Taste and adjust seasonings and refrigerate for 30 minutes for the flavors to develop. Serve over the roasted squash slices.