This easy roasted radishes recipe is a perfect spring side dish! The vibrant radishes have a delicious mild flavor and crisp-tender bite.
For how much I love radishes, this roasted radishes recipe is way overdue. I have about 53 radish recipes on the site, and of those, 52(!) use raw radishes. Obviously, raw radishes have a lot going for them. Peppery, crunchy, and vibrant pink, they're perfect for amping up salads, sandwiches, and bowls. But what about cooking radishes?
These numbers don't show it, but I often roast radishes at home. Unlike their raw counterparts, roasted radishes taste lightly sweet and mellow, with just a hint of their original spice. They have an irresistible crisp-tender bite, and they're delicious on their own or with grains, pasta, polenta, and more.
Even if you're not a radish fan, I hope you try this recipe. Often, by preparing a familiar vegetable in a new way, you'll discover that you like it more than you first thought. With any luck, this easy roasted radishes recipe will show you that you love radishes just as much as I do.
Roasted Radishes Recipe Tips
Roast them cut side down. Roasting radishes is simple: cut them in half, toss them with olive oil, salt, and pepper, and bake! But before you pop them in the oven, make sure you arrange the cut radishes with the flat side down. It promotes even cooking and helps the edges crisp up as they roast.
Cook them how you like them. I take my roasted radishes out of the oven well before they're fork tender, after 10 to 15 minutes. This way, they retain some crunch and a crisp-tender bite. If you prefer softer radishes, keep cooking until they reach your desired texture, up to 25 minutes.
Don't toss the tops! Did you know that radish greens are just as delicious as the radishes themselves? If you're lucky enough to find a bunch of radishes with good greens attached, eat them! Sauté them and toss them with the roasted radishes, or blend them into pesto to dollop on top. Find my best tips for storing and cooking them here.
Roasted Radishes Serving Suggestions
Served with a squeeze of lemon juice, these roasted radishes make a lovely side dish on their own. However, they're also a great addition to larger dishes like salads and bowls. Here are a few of my favorite ways to use them:
How do you like to serve this roasted root vegetable? Let me know in the comments!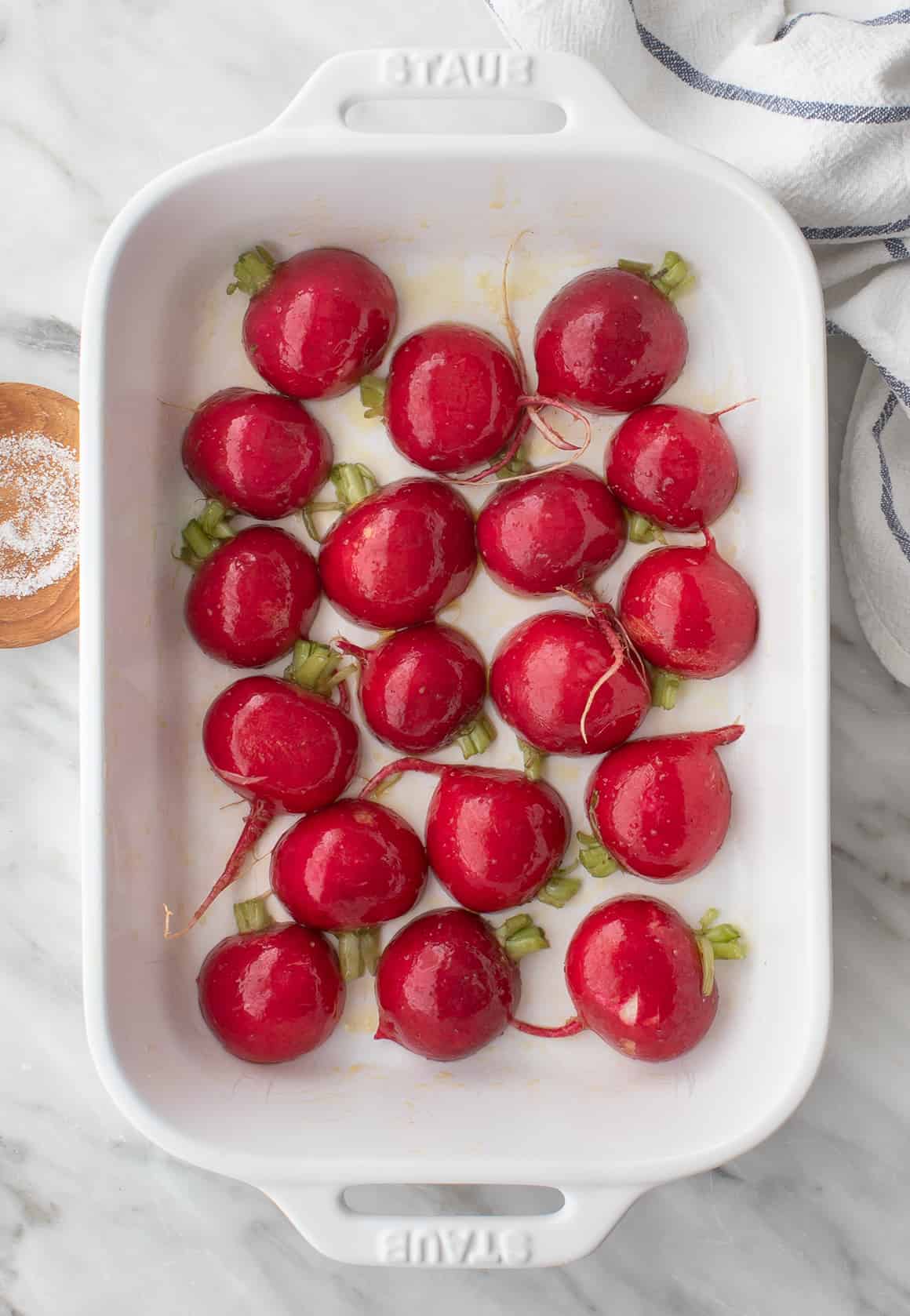 More Favorite Roasted Veggies
If you love this roasted radishes recipe, try roasting one of these veggies next:
Roasted Radishes
These roasted radishes have a delicious mellow flavor and crisp-tender bite. Serve them on their own as a side dish or top them with radish green pesto. Find more serving suggestions in the post above!
Instructions
Preheat the oven to 450°F. Slice the radishes in half and place them in a roasting dish (or on a baking sheet with parchment paper). Toss with drizzles of olive oil and pinches of salt and pepper and place cut-side down.

Roast 10 to 15 minutes or until they reach your desired doneness. I like my radishes to have a bit of a crunchy bite. If you prefer softer radishes, roast them longer.