This easy roasted kabocha squash recipe is a delicious fall side dish! Sesame seeds, scallions, and a nutty sesame ginger dressing top the sweet squash.
Last fall, my brother-in-law, Josh, made the most amazing roasted kabocha squash for Thanksgiving. He cut it into wedges and cooked it with the skin still on. When it came out of the oven, the dense, bright orange flesh was smooth and creamy, with a sweet, nutty, and caramelized flavor. "What did you do to this?" I asked. "I just roasted it," he said.
Also known as Japanese pumpkin, kabocha squash is a wonderfully versatile winter squash variety. In Japanese cooking, it's often simmered in a flavorful dashi stock to make Kabocha no Nimono or fried and served as part of vegetable tempura. In Korea, it's cooked into porridge and mashed into salad. Previously, I've blended it into pasta sauce and simmered it into soup.
But it wasn't until I tried Josh's Thanksgiving side dish that I really fell in love with roasted kabocha squash. It's so simple to prepare, and it has such a rich flavor. Earlier this fall, I started topping it with sesame seeds, scallions, and my sesame ginger dressing to make a composed side dish, and I'm still obsessed with the combination. I hope you love it too!
How to Roast Kabocha Squash
If you're not a fan of chopping and peeling winter squash, I don't blame you. It's not my favorite thing to do either! I do have good news, though: there's no need to peel kabocha squash, as the skin is entirely edible. If your squash is particularly nubbly, you may want to trim away any brown, dry spots, but feel free to leave on the orange or green skin.
I also have a trick to make the squash easier to cut. Instead of attempting to slice it raw, I pop the whole, unpeeled squash in the oven for 10 minutes. This pre-bake makes it so much easier (and safer!) to slice.
After you pre-bake the squash, use a sharp knife to slice it in half lengthwise and scoop out the seeds.
Then, cut the seeded halves into 1 1/2-inch wedges.
Spread them in an even layer on a parchment-lined baking sheet and toss with generous drizzles of olive oil, salt, and pepper.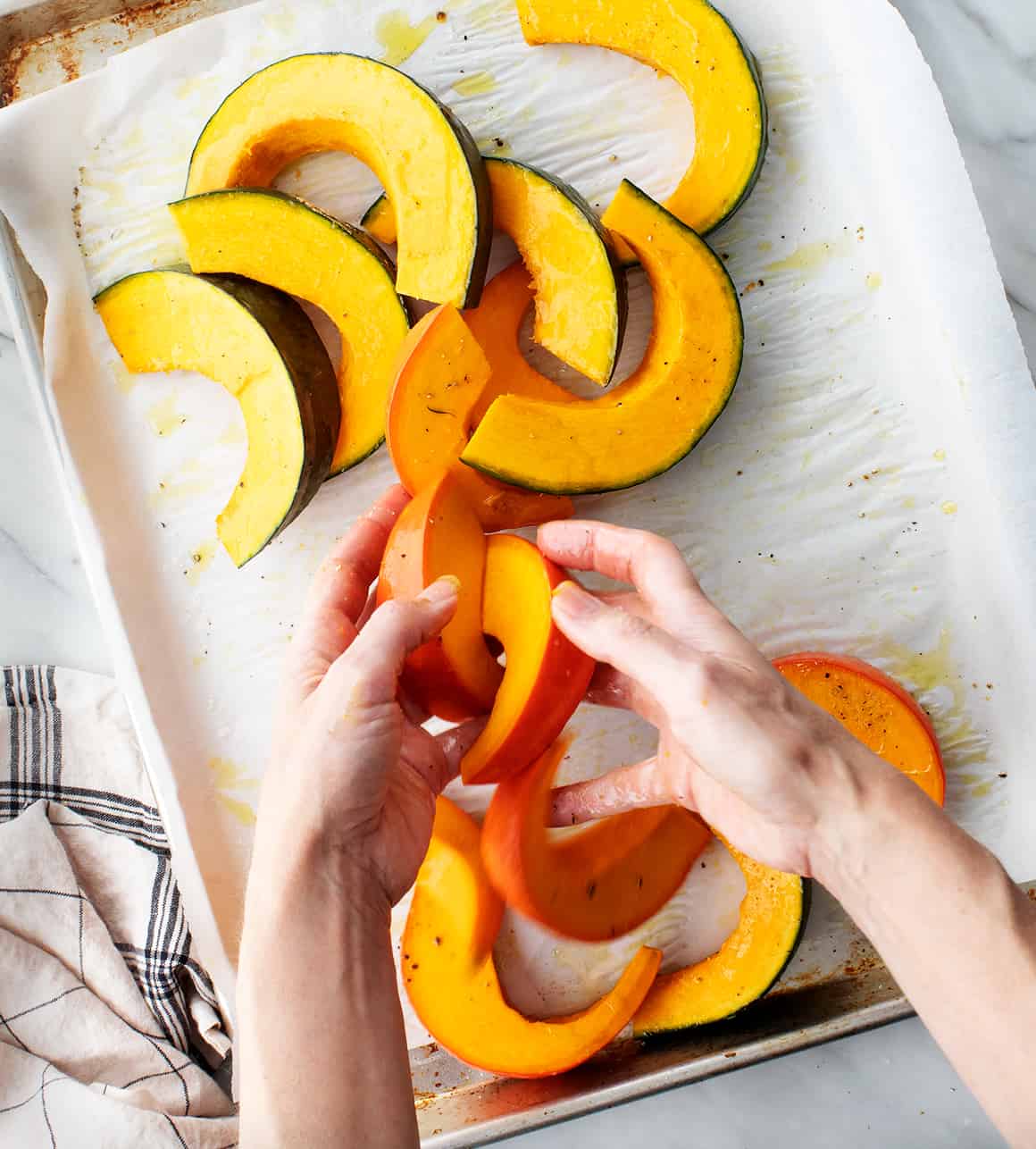 Transfer to a 425°F oven and roast the squash until it's tender and golden brown, flipping halfway. That's it!
Kabocha Squash Recipe Tips
Save the seeds! Like pumpkin seeds, kabocha squash seeds are entirely edible. When roasted, they're a delicious, protein-rich appetizer or snack. After you remove the seeds from the squash, pull off any orange, stringy flesh, rinse and dry the seeds, and toss them with a bit of olive oil and sea salt. Roast at 300°F for 35-45 minutes, stirring halfway, until golden brown and crisp. Yum!
Don't skimp on the oil. When roasted, different kabocha squash can vary in texture. Some are super-soft and creamy, sort of like a baked sweet potato, while others are a bit more dry and chalky. To prevent these squash from becoming too dry in the oven, make sure to coat them generously with oil. I use about 2 tablespoons for one medium kabocha squash.
Roasted Kabocha Squash Serving Suggestions
My favorite way to eat roasted kabocha squash is with sprinkles of sesame seeds, sliced scallions, and sesame ginger dressing. If I happen to have some on hand, I also add microgreens for a colorful finishing touch. Together, they create a simple side dish with a delicious mix of sweet, nutty, and savory flavors. Serve it with a bowl of miso soup and steamed rice, crispy sesame tofu, or whatever protein you like.
Not in the mood for sesame ginger? This roasted kabocha squash would be fantastic with one of these sauces instead:
Enjoy!
More Favorite Winter Squash Recipes
If you love this roasted kabocha squash, try making one of these winter squash recipes next:
Roasted Kabocha Squash
This roasted kabocha squash recipe is a delicious fall or winter side dish! Topped with sesame seeds, scallions, and my sesame ginger dressing, it's filled with sweet, savory, and nutty flavor.
Instructions
Preheat the oven to 425°F and warm the squash (whole) in the oven for 10 minutes, so that it's easier to slice.

Line 2 baking sheets with parchment paper.

Slice the squash in half lengthwise, scoop out the ribbing and seeds, and then slice into 1½-inch slices. Divide the slices among the baking sheets, drizzle with the olive oil, sprinkle with salt and pepper, and roast for 25 to 30 minutes, flipping halfway, until golden brown and tender. (Note: the skin should be tender and it's edible too.)

Arrange the roasted squash on a shallow platter. Drizzle with the dressing, and sprinkle with the scallions, sesame seeds, and microgreens. Season to taste with more salt and pepper and serve.