Learn how to make perfect roasted eggplant! Tender in the middle and caramelized on the edges, it's delicious as a side dish, in pastas, and more.
This roasted eggplant recipe is so tasty that you might find yourself devouring it straight off the baking sheet. Yes, eggplant skeptics – even you. The thing about cooking eggplant is that it's easy to get wrong. Underdo it, and it's spongy and tough. Overdo it, and it turns to mush. But get it just right, and eggplant is one of the most flavorful vegetables out there.
This roasted eggplant recipe is a super simple way to get eggplant right. It comes out of the oven beautifully caramelized and golden brown around the edges and melt-in-your-mouth tender in the middle. It's pretty much foolproof, especially with my tips and tricks below, and it's really versatile. Serve it as a side dish with fresh herbs and lemon, add it to a salad, or toss it with pasta. Once you have this roasted eggplant recipe in your back pocket, you'll never run out of ways to use it.
Roasted Eggplant Recipe Tips
This roasted eggplant recipe couldn't be simpler: chop up an eggplant, toss it with olive oil and salt, and roast it in the oven until it's tender and golden brown. Easy, right? Yes!
But before you start cooking, here are a few extra tips to help you nail this roasted eggplant recipe every time:
Cut the eggplant into evenly sized pieces. Undercooked eggplant and overcooked eggplant are no one's friends. To steer clear of them, cut your eggplant into evenly sized pieces. That way, they'll all cook at a similar rate in the oven. You don't want small pieces to burn before larger ones are tender!
Spread it in a single layer. Roasted eggplant is best when it's lightly crisp and caramelized around the edges. In order for the pieces to brown in the oven, you need to leave a little space around each one. If they're clumped together or heaped on top of one another, they'll steam and soften without browning.
Don't skimp on the oil. Raw eggplant is like a sponge: it can guzzle up oil like no other veggie can. In order to coat all the pieces in oil before roasting, you'll need a decent amount, at least 2 tablespoons for 1 1/2 pounds of eggplant. Don't skimp on it! The oil helps the eggplant brown and soften in the oven, and it enhances the eggplant's rich flavor.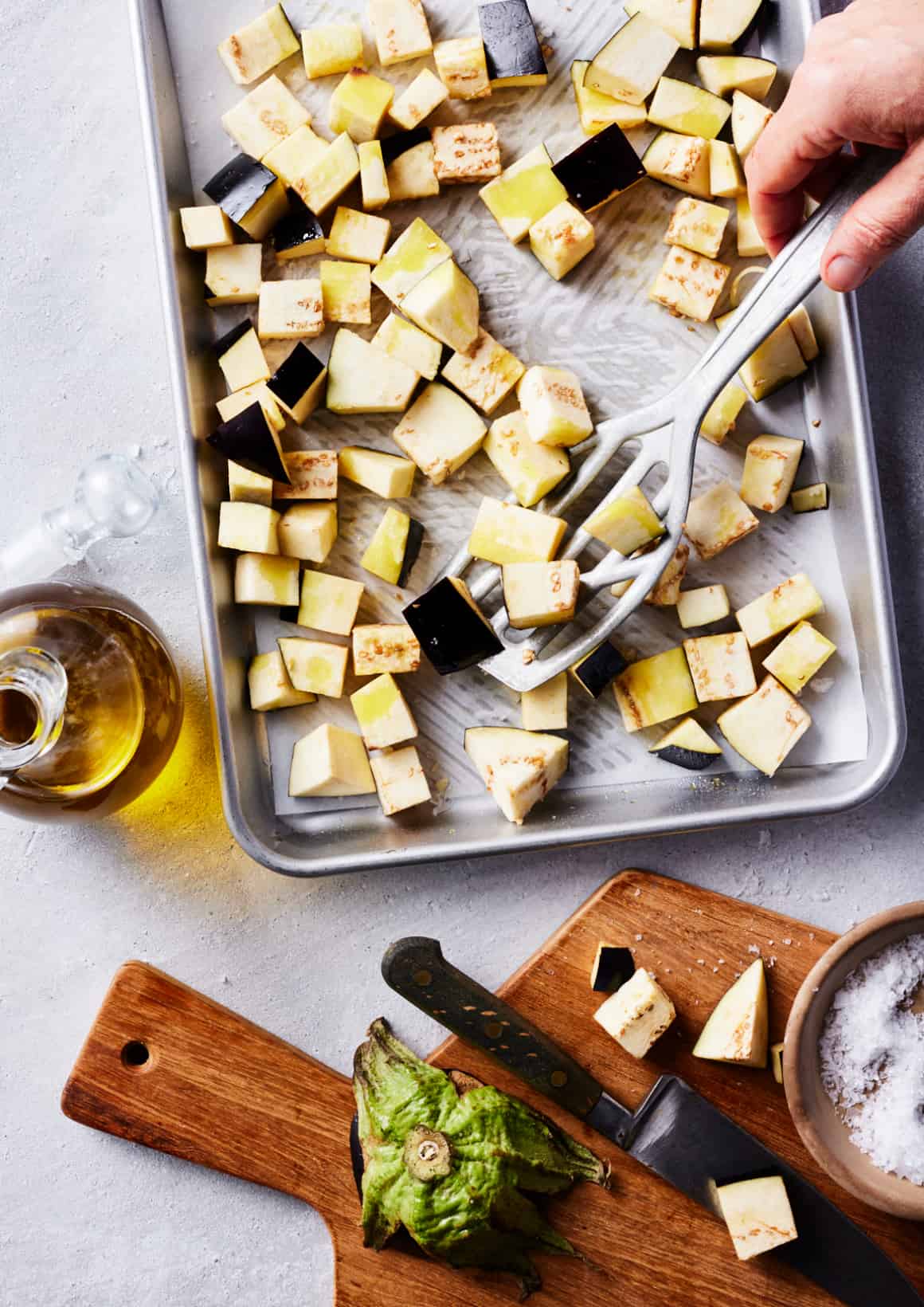 How to Serve Roasted Eggplant
This oven roasted eggplant is a fantastic veggie side dish. Serve it as it is, simply seasoned with olive oil and salt, or dress it up more with one of these suggestions:
Toss it with Italian dressing, shaved Parmesan cheese (or vegan Parmesan!), and fresh basil.
Squeeze it with lemon juice and garnish it with freshly cracked black pepper, crumbled feta, and fresh mint leaves.
Serve it over a bed of homemade labneh and top it with a drizzle of olive oil and pinches of za'atar.
But that's not all you can do with roasted eggplant!
How do you like to serve roasted eggplant? Let me know in the comments!
More Favorite Eggplant Recipes
If you love this oven roasted eggplant recipe, try one of these favorite eggplant recipes next: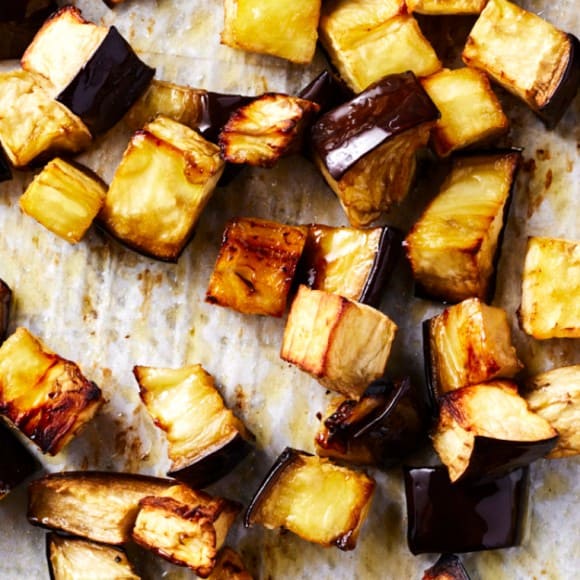 Oven Roasted Eggplant
Learn how to roast eggplant perfectly every time! This easy recipe is a delicious side dish or addition to pastas, salads, and more. Find our favorite serving suggestions in the post above.
Ingredients
1½

pounds

eggplant

,

about 1 large globe eggplant or 2 medium eggplants, chopped into ½-inch cubes

2

tablespoons

extra-virgin olive oil

½

teaspoon

sea salt
Instructions
Preheat the oven to 425°F and line a large baking sheet with parchment paper.

Place the eggplant on the baking sheet and toss with the olive oil and salt. Spread evenly on the baking sheet and roast for 25 to 35 minutes, or until tender and brown around the edges.