This roasted delicata squash recipe is the ultimate fall side! Creamy squash pairs with onions, apples & herbs to make an aromatic, sweet & tangy dish.
If you've never roasted delicata squash, get ready to fall in love! When winter squash starts popping up at farmers markets and in grocery stores each year, I'm excited to get my hands on any of it – acorn squash, butternut, sugar pie pumpkins, and more. But out of all of them, delicata is my favorite squash by far. For one, it's easy to work with. You can actually eat the skin, so there's no need to peel it! In fact, the contrast of the creamy flesh with the lightly chewy skin is so good that I think it's better with the peel on.
Then, of course, it's absolutely delicious. Nicknamed the "sweet potato squash," it has a sweet, velvety flesh that caramelizes beautifully in the oven. I love to eat roasted delicata squash on its own, straight off the baking sheet, but this year, I've been making this easy, delicious recipe with apples and sage on repeat. It's filled with cozy fall flavor, and it's make ahead-friendly, so it'd be a great choice for a Thanksgiving feast!
How to Cook Delicata Squash
To prep the squash, start by halving it lengthwise. Then, use a spoon to scoop out the seeds and the stringy flesh. Cut the seeded squash halves into thick slices – I aim for 1/2-inch half-moons. Toss the pieces with olive oil, salt, and pepper and spread them in a single layer on a rimmed baking sheet. Bake until they're golden brown on all sides. Unlike larger winter squash, which can take up to an hour to cook, cooking delicata squash takes no time at all! It'll be ready in about 20 to 25 minutes.
Use this method as the first step in this recipe or any of these other delicata squash recipes:
It's also delicious on its own as a simple veggie side!
A dish we enjoyed in Madison while visiting Sub-Zero and Wolf last month loosely inspired this recipe. Upon arrival, their chef cooked us a family-style feast made with freshly picked produce from their awe-inspiring garden. One dish in particular – made with delicata squash, apples, and a sort of tangy vinaigrette – stood out to me. It was beautiful, and I loved the contrast of the savory roasted squash with the crisp fall apples.
My Roasted Delicata Squash Recipe Ingredients
When I got home, I took that apple + squash idea with me to the market to make a dish of my own. This recipe was the result. It's aromatic, sweet & tangy – a new favorite in our house. Here's what I added to round out my apples and squash:
Roasted pearl onions add sweet, caramelized flavor.
Kale gives it beautiful flecks of green.
Sage and thyme make this dish taste like autumn! They add cozy, fresh notes.
A tangy apple cider-Dijon vinaigrette makes the whole thing pop.
And a sprinkle of toasted pepitas adds nuttiness and crunch.
Let's cook!
To make this recipe, start by roasting the squash and onions. Using our new Wolf oven's convection setting, which ensures consistent heat throughout the oven, my squash turned out perfect – tender on the inside and caramelized on the outside. If you have a convection setting, I recommend using it here. Otherwise, just bake until your squash is beautifully golden brown.
Next, toast the pepitas with a big pinch of salt. You can toast your pepitas in the oven, but I love toasting nuts and seeds over my gas cooktop because, well, it's faster. My old gas stove would burn them if I wasn't careful, (kitchen fires are the epic food blog fail!), but I love how precise our Wolf cooktop is.
When the squash and onions are ready, toss them with the kale, apples, herbs, and the tangy cider-Dijon dressing. Next, I like to pop the final dish back in the oven for a few minutes, just to wilt the kale a bit. Drizzle the remaining dressing on top just before serving, and enjoy!
Roasted Delicata Squash Serving Suggestions
Serve this recipe right away, or prep it a few hours in advance for holiday gatherings. See the recipe below for reheating instructions. If you're making it for an everyday dinner, pair it with a cooked protein of your choice, or toss in some roasted chickpeas to make it a full meal.
If you're adding it to a holiday spread, it would be great with lemony green beans, roasted beets, cauliflower mashed potatoes, a fall salad, or any of these Thanksgiving side dishes. Don't forget the apple pie or apple crumble for dessert!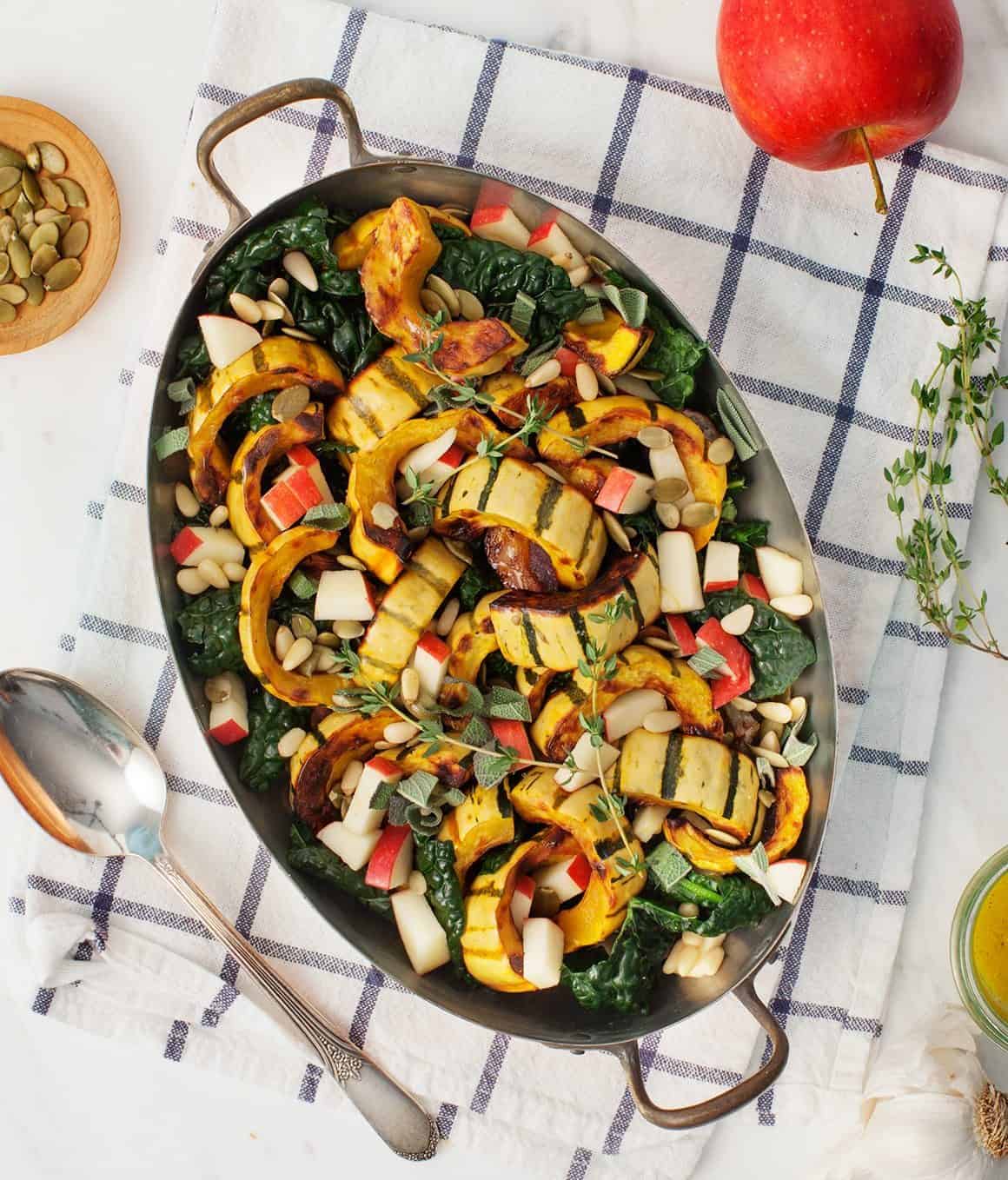 More Roasted Vegetable Recipes
If you love this roasted delicata squash, try one of these roasted vegetable recipes next:
Roasted Delicata Squash with Apples
This roasted delicata squash recipe is perfect for Thanksgiving! See the notes for a make-ahead option, or serve it straight out of the oven.
Recipe type:
Side dish, main dish
Ingredients
2 delicata squash, halved lengthwise and seeded, cut into ½-inch pieces
½ cup pearl onions, sliced in half
Extra virgin olive oil, for drizzling
2 tablespoons pepitas and/or pine nuts
2 cups torn lacinato kale (2 to 3 leaves)
6 sage leaves, chopped
Leaves from 3 thyme sprigs
1 small gala apple, diced
Sea salt and freshly ground black pepper
Dressing:
2 tablespoons extra-virgin olive oil
1 tablespoon apple cider vinegar
½ garlic clove, minced
¼ teaspoon Dijon mustard
⅛ teaspoon maple syrup
sea salt and freshly ground black pepper
Instructions
Preheat the oven to 425°F and line a baking sheet with parchment paper.
Place the squash and onions on the baking sheet and drizzle with olive oil and generous pinches of salt and pepper. Toss to coat and arrange on the sheet so that they're not touching. Roast until the squash is golden brown on all sides and until the onions are soft and browned, 25 to 30 minutes.
Make the dressing: In a small bowl, whisk together the olive oil, apple cider vinegar, garlic, mustard, maple syrup, and a pinch of salt and pepper. Set aside.
In a small pan over medium-low heat, toss the pepitas with a pinch of salt and cook until toasted, stirring frequently, for about 2 minutes. Set aside.
In a medium mixing bowl, combine the kale, sage, and thyme. Add the warm roasted squash and onions, the apples, half the pepitas, and half the dressing. Toss to coat. Transfer to an oven-safe serving dish. (If you're making this dish in advance stop here and follow the saving/reheating instructions in the notes below).
Place the serving dish into the oven for 8 to 10 minutes, or until the apples and kale are warm and the kale is just wilted. Just before serving, drizzle with the remaining dressing, and top with the remaining pepitas.
Notes
Make-ahead instructions:
Once the roasted vegetables are transferred to the serving dish, cool to room temp. Cover with foil and chill the dish until ready to reheat (Ideally, make this around 4 hours in advance). When ready to reheat, preheat the oven to 425°. Loosen the foil and bake, very loosely covered for 12 to 15 minutes or until everything is heated through. Just before serving, drizzle with the remaining dressing, and top with the remaining pepitas.
Special thanks to Sub-Zero and Wolf for partnering on this post!