I love the way apricots & briny olives play off each other in this bright cauliflower salad. It keeps well, so it's a great salad to pack for lunch.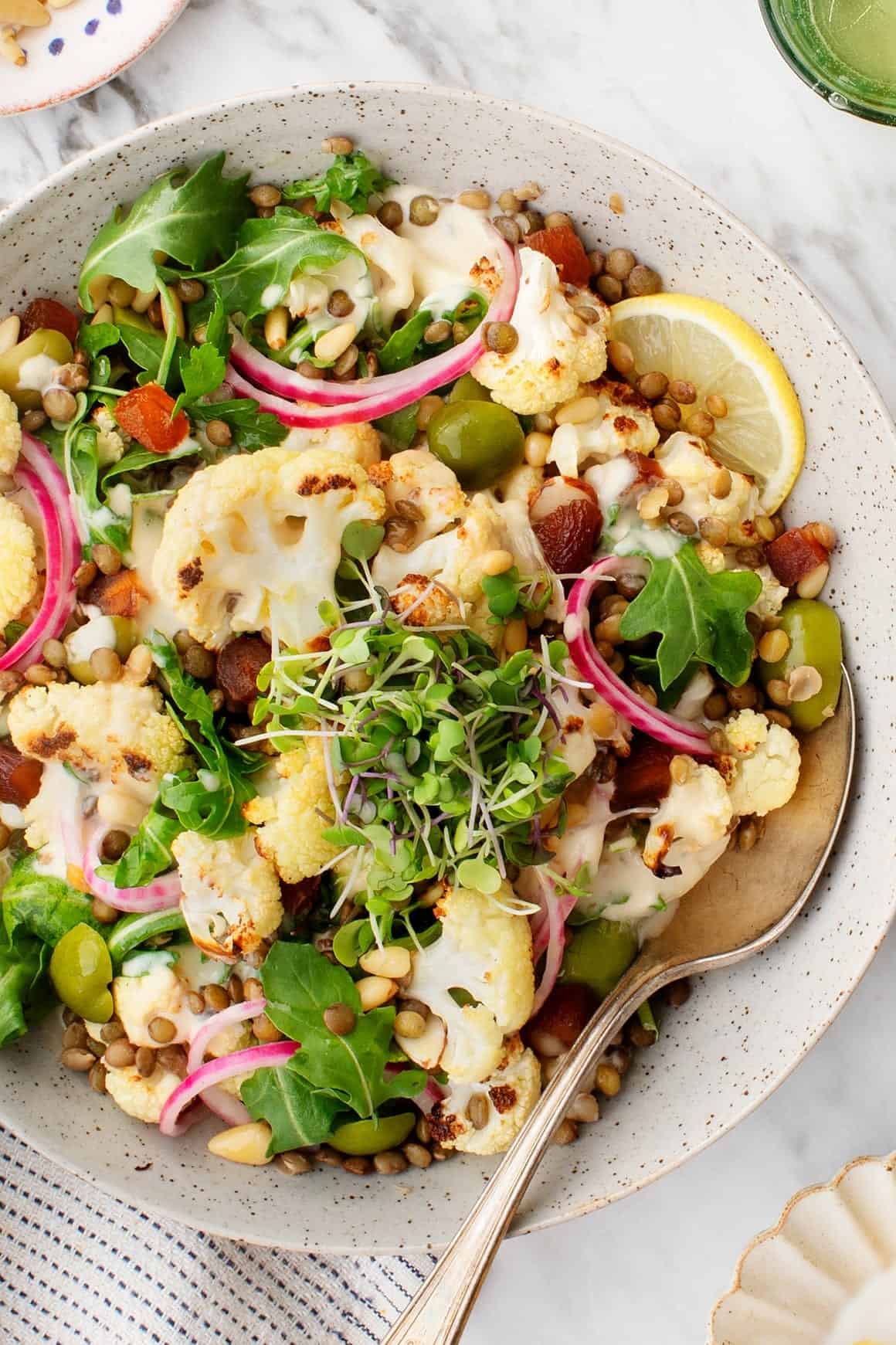 Well, I'll be honest – these 4:30 Chicago winter sunsets take some getting used to, so I made this roasted cauliflower salad full of bright colors and flavors to make up for it. 🙂 At least that's what I tell myself as I seriously consider getting one of those vitamin D lamps. Have any of you ever tried one?
Anyway, back to the cauliflower salad! I was going to save this recipe to post in January. You know, once everyone wants to get healthy and eat vegetables again… but then I realized – you're all here because you love vegetables, holidays or not!! This hearty cauliflower salad doubles as a holiday side dish (I'm bringing it to Christmas dinner) and as an every day veggie meal (I love it for lunch).
Cauliflower Salad Recipe Components
There are a few components to this recipe, all of which can be made in advance unless you want your cauliflower florets piping hot, in which case, you can roast that at the last minute. Personally, I think this salad is delicious at room temp, and I've also eaten it cold out of the fridge (like I said above – it's one of my favorite recipes to pack for lunch. Find more here!). Here's what's in it:
Seasoned French green lentils: Be sure to use French green lentils here. They have a more al dente texture than brown lentils, which, to me, get too mushy for salads. And because I find plain lentils to be very bland, I season them with lemon, olive oil, Dijon mustard, and a good bit of sea salt and pepper. The recipe below makes quite a bit more lentils than you'll need for this salad, but I like to make a big batch – they're handy to keep in the fridge for salads during the week. Also, it's hard to cook a teeny tiny pot of lentils.
Bright, briny things: Pickled red onion and olives (or capers) give a bright pop of flavor that contrasts with the nutty roasted cauliflower.
Creamy tahini salad dressing: Mix together tahini, lemon juice, olive oil, and sea salt… done.
Something crunchy: Pine nuts, sliced almonds, or if you're nut free: pepitas.
Something sweet: Diced, dried apricots or dates round out the nutty/earthy flavors of the cauliflower and lentils. Their sweetness also balances the tartness of the bright, briny things.
Something green: Peppery arugula, because it is a salad after all.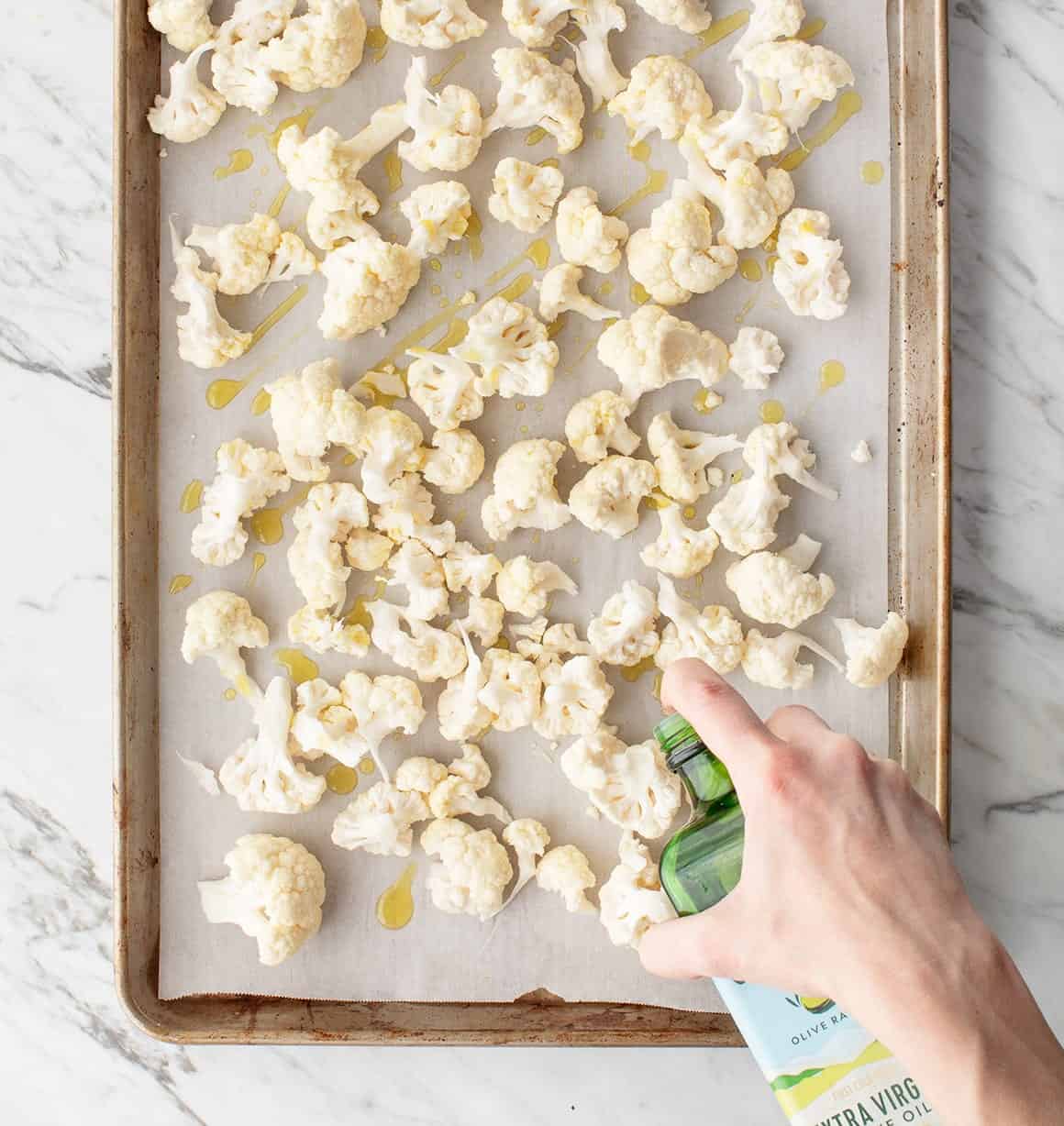 I hope this one brightens your day! xo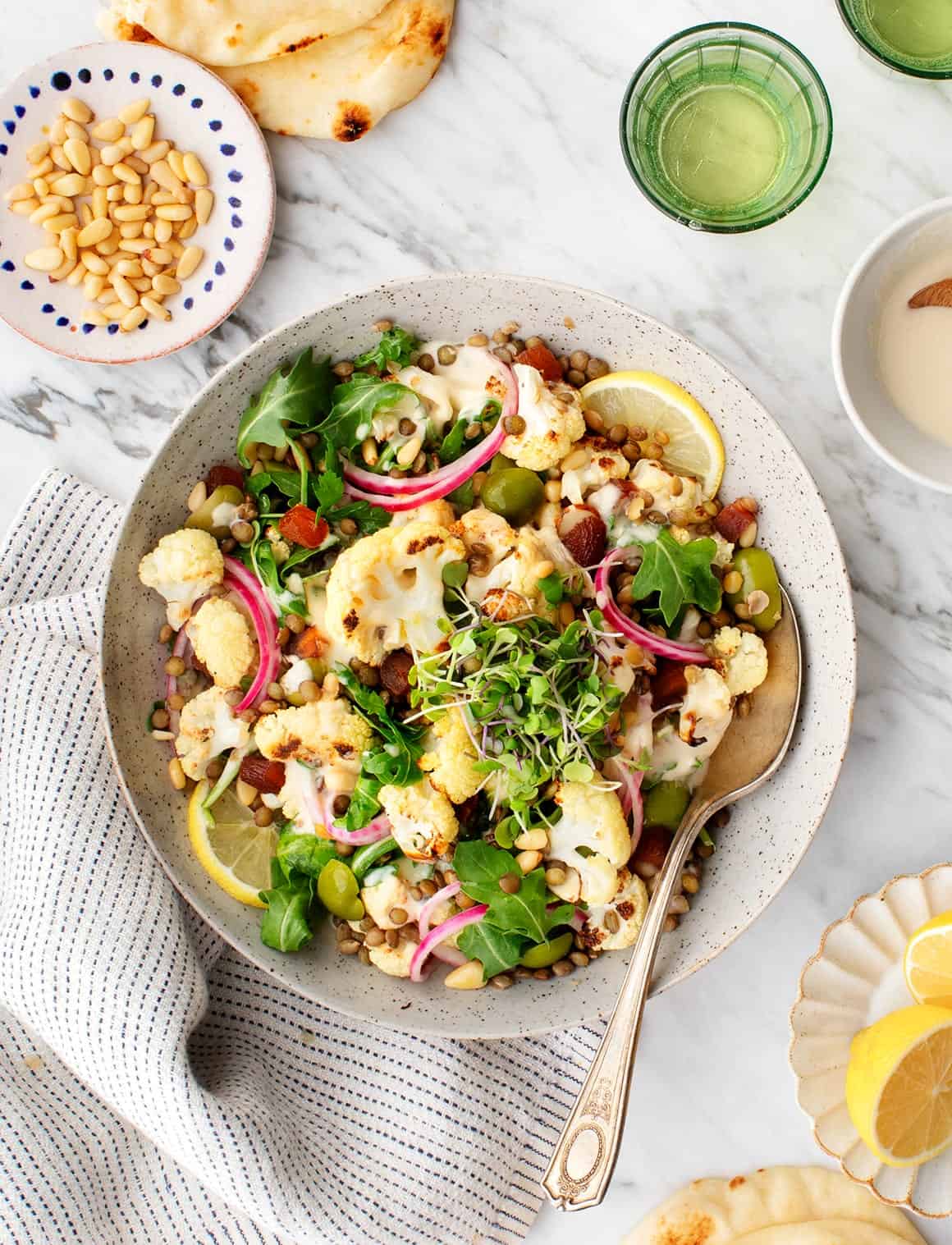 If you love this cauliflower salad recipe…
Try my rainbow kale salad, broccoli salad, creamy potato salad, roasted beet salad, or Brussels sprout salad next!
Roasted Cauliflower Salad
This cauliflower salad is hearty and bright - with pickled onions, arugula, dried apricots and a creamy tahini dressing. Vegan and gluten-free, it's a great make-ahead lunch or holiday side dish.
Serves:
4 as a side, 2-3 as a main
Ingredients
Seasoned Lentils (makes quite a bit extra)
1 cup uncooked French green lentils, rinsed
1½ cups water
3 tablespoons lemon juice
1 tablespoon extra-virgin olive oil
1 teaspoon sea salt
¼ teaspoon Dijon mustard
freshly ground black pepper
For the Salad
Florets from 1 small head of cauliflower
2 cups arugula
Extra-virgin olive oil, for drizzling
Lemon wedges, for squeezing and serving
¼ cup pickled onions (recipe below)
¼ cup pine nuts, sliced almonds, or pepitas
4 dried apricots or dates, diced
¼ cup chopped olives or 1 tablespoon capers
Microgreens, optional
Sea salt and freshly ground black pepper
Lemon Tahini Dressing
¼ cup tahini
3 tablespoons lemon juice
1 tablespoon extra-virgin olive oil
¼ teaspoon sea salt
Water, if needed for consistency
Instructions
Make the lentils: In a small saucepan, combine the lentils and water and bring to a boil. Cover, reduce the heat, and simmer, stirring occasionally, for 20 minutes or until tender but not mushy. Drain any excess water, let cool, and then transfer to a medium bowl. Stir in the lemon juice, olive oil, salt, mustard, and pepper and set aside.
Roast the cauliflower. Preheat the oven to 425°F and line a large baking sheet with parchment paper. Toss the cauliflower with drizzles of olive oil and pinches of salt and pepper and roast for 20 to 25 minutes, or until browned around the edges.
Meanwhile, make the dressing. In a small bowl, whisk together the tahini, lemon juice, olive oil, and salt. If necessary, add water, 1 tablespoon at time, to create a drizzleable consistency.
Make the salad: In a medium bowl, toss the arugula and roasted cauliflower with a drizzle with olive oil, a squeeze of lemon, and a pinch of salt. Spread onto a platter and drizzle ⅓ of the tahini sauce on top. Sprinkle on ½ cup of the lentils, the pickled onions, pine nuts, apricots, and olives. Drizzle with the remaining tahini dressing (or as much as you like) and top with microgreens, if using. Season to taste and serve.
Notes
Tip: Store remaining lentils in the fridge - I like to keep them on hand to add to any quick salad throughout the week.

Pickled Onions:
1/2 small red onion, very thinly sliced
1/4 cup white wine vinegar
big pinch of cane sugar
big pinch of sea salt
water, as needed

Combine all in a small tight-lidded jar. Add just enough water to cover the onions. Shake, then chill for at least 20 minutes.