These easy recipes will make you excited to cook (and excited to eat) rice! With curries, sushi, bowls, and more, we've got rice recipes for everyone.
In all the hype around cauliflower rice and quinoa, it's easy to forget the magic in good old rice. It may not be as trendy as other whole grains (or "grains," as the case may be), but I've always really loved rice recipes. Soft, fluffy, and hot off the stove, this humble pantry staple could become almost anything. Maybe it'll be rolled into sushi or added to a comforting soup. It might be stuffed into a burrito one day and transformed into fried rice the next. Still, there's a whole world of rice recipes to explore – Indian curries, Italian risotto, bibimbap, stir fry, and more.
Like many of you, Jack and I have been limiting our trips to the store over the last few weeks. As I've cooked my way through my pantry, I've had so much fun revisiting some of my favorite rice recipes. In case you're looking for ideas to use the rice in your cupboard, I'm sharing 25 easy rice recipes below. They include everything from curries to sushi to veggie burgers, and nearly all of them are flexible. Use whatever variety of rice you have on hand, and if you don't have a specific vegetable or herb, swap in what you do have. Now, let's cook rice!
Essential Rice Recipes and Side Dishes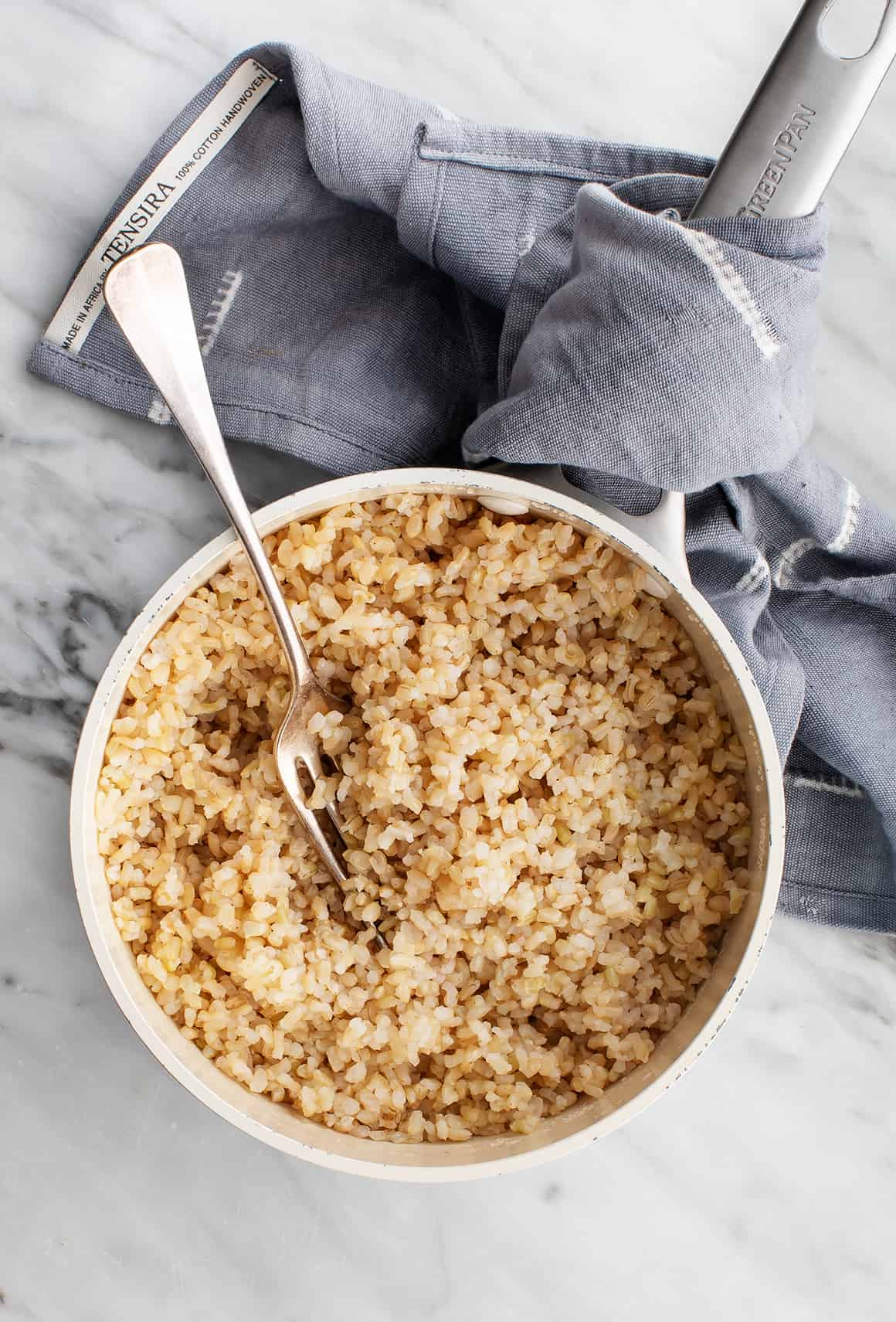 How to Cook Brown Rice
All the best rice recipes start with one thing: fluffy, tender rice. This guide will teach you how to cook perfect brown rice every time, no rice cooker needed!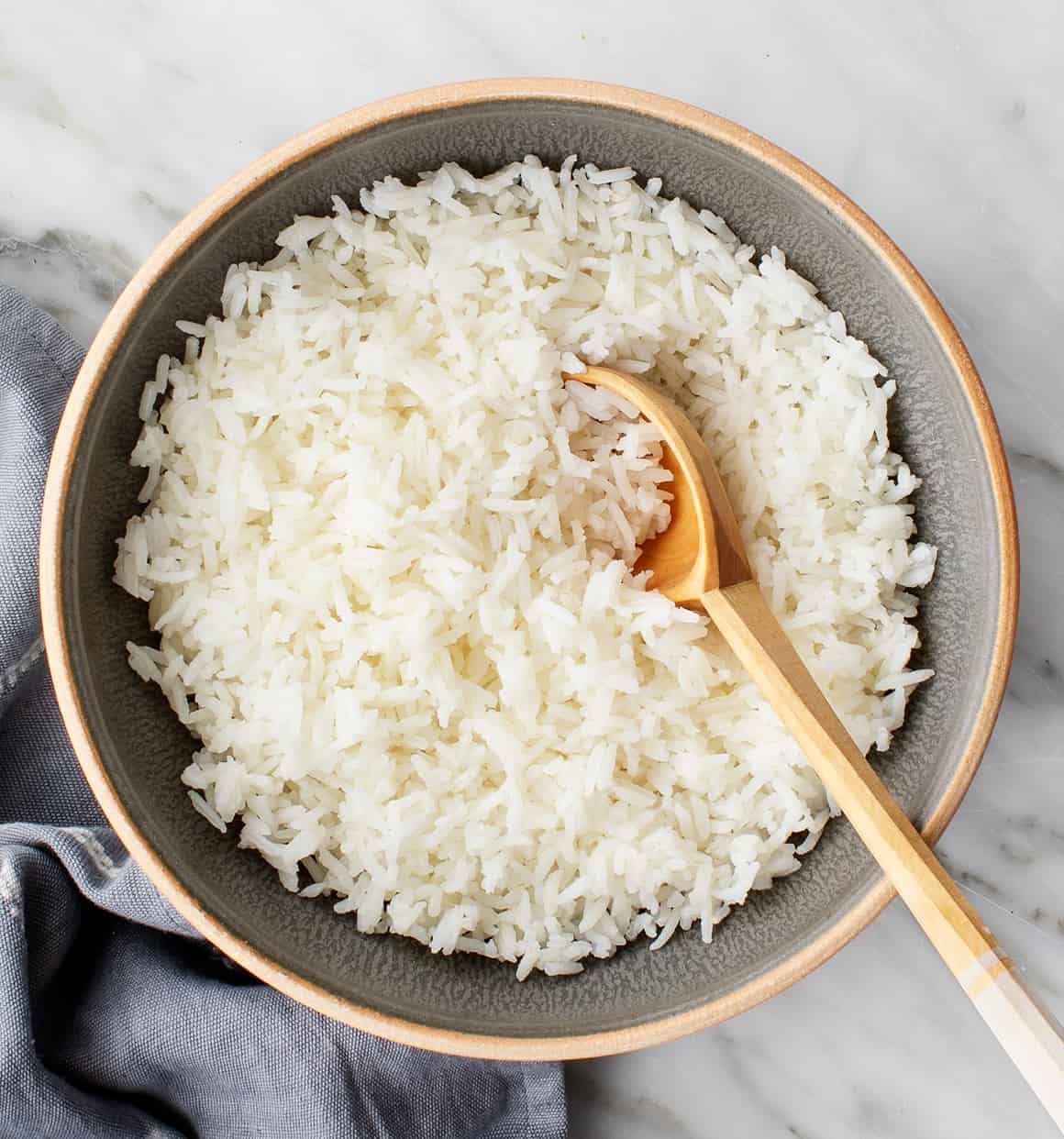 How to Cook White Rice
Learn how to cook any variety of white rice to add to your favorite rice recipes! Whether it's short grain or long grain, basmati rice or jasmine, it'll come out light and fluffy every time.
Cilantro Lime Rice
Move over, Chipotle! With this 7-ingredient recipe, we can make zesty, bright cilantro lime rice at home. Serve it as a side dish with Asian or Mexican-inspired recipes, stuff it into a burrito, or use it as the base of a homemade burrito bowl.
Rice Pilaf with Pomegranate Arils
The best part of this recipe is the dressing – it's a fragrant, zesty mix of citrus juices, olive oil, and warm spices. Beyond that, feel to make this rice salad your own! Top it with dried fruit instead of pomegranates, swap your favorite nut for the pistachios, or add a handful of roasted chickpeas for extra protein.
Curries, Soups, and Stews
Easy Coconut Curry
Warm rice is the perfect side dish for this quick and easy weeknight curry. The spiced coconut broth seeps into the rice, infusing it with bold flavor.
Chana Masala
My chana masala recipe is far from authentic – I use a simplified list of spices and stir in a big handful of fresh spinach. Still, it's hearty, comforting, and brimming with flavor. Best of all, it's ready in 30 minutes flat.
Creamy Wild Rice Soup
When I'm craving something that's comforting, yet nourishing, I make this wild rice soup. The nutty rice, loads of veggies, and a lightly creamy, savory broth make it equal parts cozy and fresh.
Coconut Soup with Sweet Potatoes and Kale, page 85 of Love and Lemons Every Day
A scoop of piping hot jasmine rice perfects this zesty, creamy coconut soup. If you can't find lemongrass, skip it, or add 2 tablespoons extra lime zest in its place.
Burritos and Wraps
Collard Green Wraps
Looking for a fun, veggie-centric meal? Blanch a big collard leaf and stuff it like a burrito! I like to load mine up with brown rice, black beans, roasted sweet potatoes, fajita veggies, and chipotle sauce, but you do you.
Broccoli Rice Black Bean Burritos, page 149 of Love and Lemons Every Day
We're all crazy for cauliflower rice, but I'm here to tell you that broccoli rice deserves just as much love. Mix this vibrant veggie rice with regular rice for texture and load it into burritos or bowls with avocado, black beans, pico de gallo, and a sprinkle of cheese.
Sushi
Avocado Cucumber Sushi Roll
If you've never rolled your own sushi, don't let it intimidate you! It's really fun, and even if your rolls don't look perfect, they'll still taste delicious. Make this simple sushi recipe with avocado and cucumber, or try adding mango for an unexpected sweet twist.
Maki Sushi
Stuffed with roasted shiitakes, avocado, cabbage, and cucumber, this veggie sushi is savory, creamy, crunchy, and fresh. I'd happily devour it plain (it's that good!), but a super-fresh, super-simple carrot ginger dipping sauce really takes it over the top.
Nori Wraps
These little nori wraps deliver the best parts of sushi (sweet/tangy rice, fresh flavor, and all the spicy mayo) with half the work. Just pile squares of nori with cooked rice and your favorite fixings, and enjoy!
Burger and Ball Rice Recipes
Best Veggie Burger
Sticky short grain brown rice is the secret ingredient that binds these hearty veggie burgers together. Make sure to use freshly cooked brown rice here – it needs to be hot off the stove to be sticky enough to do the trick.
Vegan Meatballs
Two of the biggest meat lovers I know – my dad and Jack – go back for seconds every time I make these veggie balls. Douse them in marinara sauce and pile them onto pasta, or stuff them into subs for a fun, hearty plant-based meal.
Chickpea Harissa Veggie Burgers, page 173 of Love and Lemons Every Day
Here's another recipe where freshly cooked short grain brown rice is key! It binds together these hearty, flavor-packed patties made with chickpeas, walnuts, and smoky homemade harissa.
Bowl Rice Recipes
Bibimbap
You won't miss the meat in this vegetarian version of Korean bibimbap! It gets plenty of texture, richness, and heat from the fiery gochujang sauce, seasoned veggies, and perfect sunny side up egg.
Coconut Rice with Brussels Sprouts, page 63 of The Love and Lemons Cookbook
My mom has had this recipe on repeat for years now, and honestly, I can't blame her. The rich coconut rice is easy to make, and it's a flavorful base for all sorts of fresh veggies. If you don't have Brussels sprouts on hand, top it with roasted asparagus, broccoli, butternut squash, or sautéed mushrooms instead.
Mojo Black Bean Bowls, page 199 of Love and Lemons Every Day
Each component in this recipe is delicious on its own – crispy roasted potatoes, spicy pepitas, zesty sautéed greens, and a punchy mojo sauce. Together, they create a combination that's totally irresistible.
Kimchi Brown Rice Bliss Bowls
Spicy kimchi, smoky marinated tempeh, and a creamy peanut sauce are the key ingredients in this fun, flavorful bowl. Add whatever veggies you have on hand, and dig in!
Tamago Kake Gohan
If you have rice, eggs, and soy sauce in your pantry, Tamago Kake Gohan is just minutes away. To make this traditional Japanese breakfast, stir an egg into a bowl of piping hot rice. As they combine, the rice cooks the egg, creating a creamy, risotto-like texture that you won't be able to get enough of.
Mango Ginger Rice Bowl
This easy bowl is one of the most refreshing rice recipes out there. It's filled with crisp veggies, pickled ginger, fresh basil, and a light, bright tamari-lime sauce.
Buddha Bowl
Use this recipe as a guide to create a yummy bowl with whatever's in your kitchen! Start with a base of rice (or quinoa, or farro), and top it with a protein, a pickle, plenty of veggies, and a flavorful sauce. Tahini sauce, tzatziki, or cilantro lime dressing would be fantastic here.
Adzuki Bean Bowls
No adzuki beans? No worries! These fresh, tasty bowls work equally well with black beans, edamame, or even baked tofu.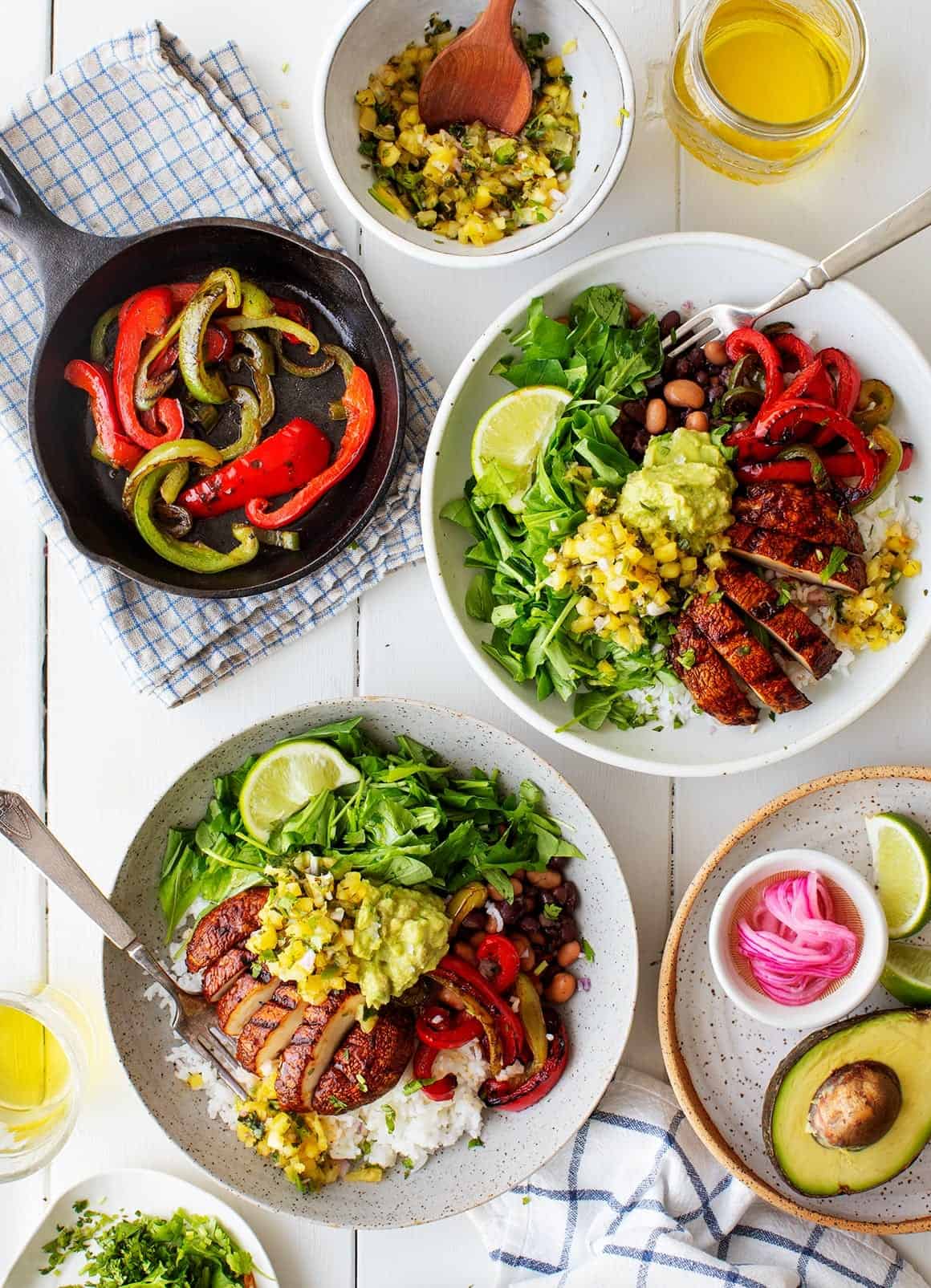 Portobello Burrito Bowl
Adobo-marinated mushrooms, chipotle-spiced beans, and fresh pineapple salsa create a delicious sweet/smoky contrast in these burrito bowls. This recipe is great as written, but don't hesitate to customize it. Try tomatillo or mango salsa instead of pineapple, top it with pickled red onions for a pop of pink, or add a big scoop of extra guac. You really can't go wrong here.
More Pantry Basics
If you love these rice recipes, check out these pantry-friendly guides next:
Rice Recipes: Jeweled Rice Pilaf
One of our favorite rice recipes! Make ahead tip: cook your rice in advance and store it in the fridge until you're ready to make the recipe.
Ingredients
2

teaspoons

extra-virgin olive oil

1

bunch scallions

,

white and green parts, chopped

3

cloves

garlic

,

minced

⅓

cup

toasted

,

chopped pistachios

½

cup

chopped parsley

½

cup

pomegranate arils

⅓

cup

fresh mint leaves

Sea salt and freshly ground black pepper

Roasted Chickpeas

,

optional
Dressing
2

tablespoons

extra-virgin olive oil

2

tablespoons

white wine vinegar

1

tablespoon

fresh orange juice

,

plus 1 teaspoon zest

1

tablespoon

fresh lemon juice

½

teaspoon

maple syrup

½

teaspoon

ground cumin

½

teaspoon

ground coriander

¼

teaspoon

cinnamon

½

teaspoon

sea salt

Freshly ground black pepper
Instructions
Make the dressing: In a small bowl, whisk together the olive oil, vinegar, orange juice, zest, lemon juice, maple syrup, cumin, coriander, cinnamon, salt, and a pinch of pepper. Set aside.

Heat the oil in a large skillet over medium heat. Add the scallions, garlic, pinches of salt, and pepper and cook for 1 minute until soft. Reduce heat to low and add the cooked rice, using the back of a wooden spoon to break up any clumps. Heat until warmed through. Turn off the heat and stir in the dressing, pistachios, parsley, and pomegranates. Top with mint leaves and roasted chickpeas, if using. Season to taste and serve.