This rice bowl is one of our go-to meals when we're craving something light. It's easy to make, and mango, ginger & basil make it wonderfully refreshing.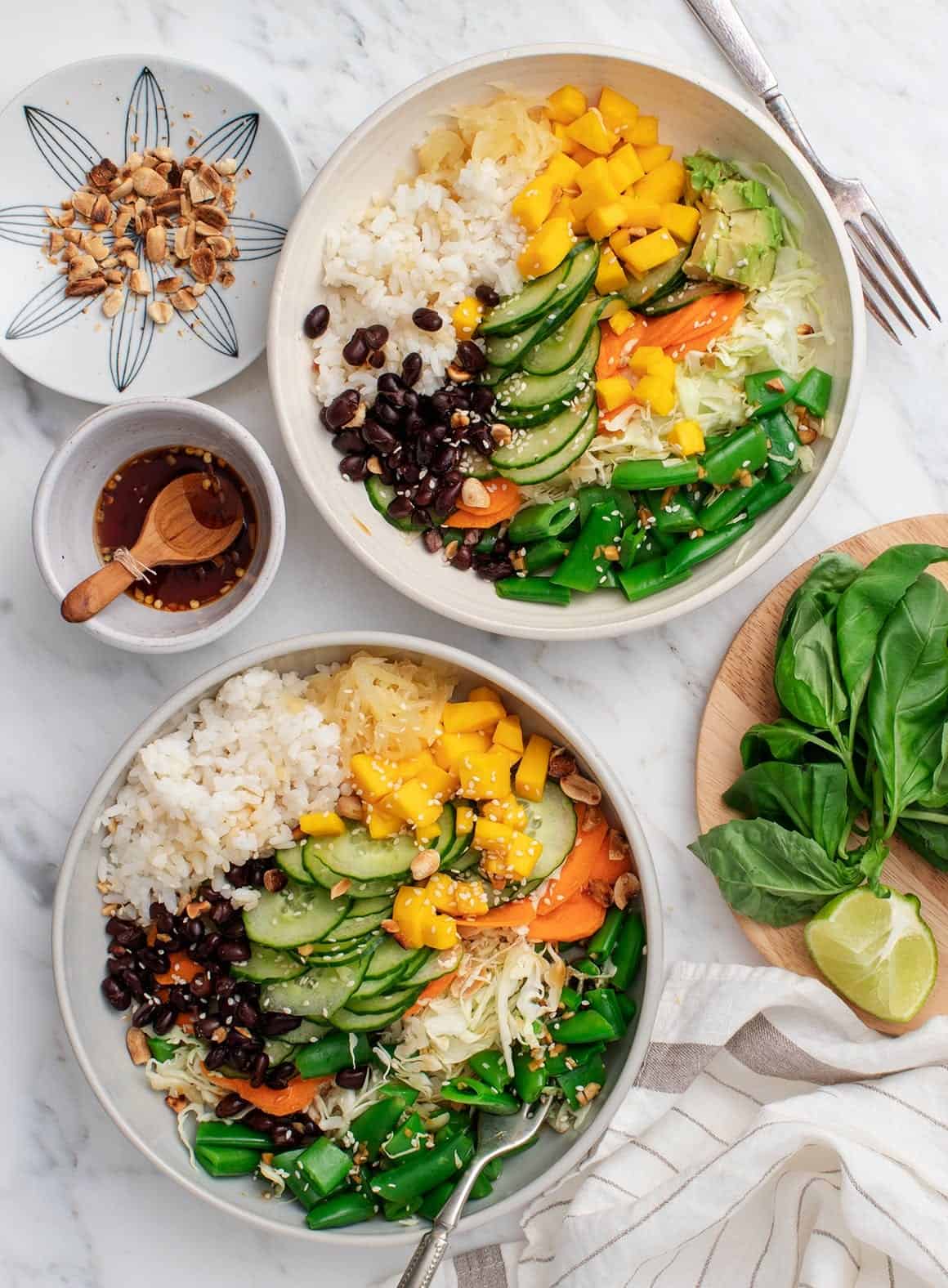 Welcome to another meal planning week! About a month ago, I wrote a 5-part series that was all about my basic approach to meal planning. This was the plan: I started the week with a set amount of groceries and ideas for 5 meals, each meal utilizing the ingredients from the day before. The "plan" was not set in stone, so that my dinners would be somewhat flexible if I got a new idea mid-way through the week. If you missed that series, check it out here 🙂
After getting such a wonderful response to that series, I thought, let's do it again! I chose this particular week because it's summer(!), which means that we've been spending more time outside, more evenings strolling our neighborhood, and more time eating out. I love to eat out, but after a while, I'm ready to start eating in again.
So here's the first recipe for the week: this super refreshing Mango Black Bean Ginger Rice Bowl – basically a burrito bowl with Asian-ish flavors.
What's in this rice bowl recipe?
If you're a fan of our cookbook, you'll recognize the sauce/dressing here – it's a light tamari-lime vinaigrette, similar to the one that I poured over the Brussels Sprouts with Coconut Rice on page 63. I'm crazy for this dressing because it's so simple but seriously flavorful – perfect for a bowl with many components.
Along with the sauce, I filled these bowls with mango, black beans, shredded cabbage, and a few crunchy veggies – blanched snap peas, sliced cucumbers, and carrots. The interesting pops of flavor come not only from that dressing, but also from pickled ginger, sliced basil, and a combo of toasted peanuts and sesame seeds. (If you're nut-free, skip the peanuts and just go for the sesame seeds).
For an even healthier variation, you could use brown rice, cauliflower rice, or cilantro lime rice as the base of your bowl.
This rice bowl is everything I want to eat in the summer: it's light, crispy, crunchy, and herby with a light sauce and a great pop of sweetness from the mango (use mango salsa for a fun variation!).
If you're looking for the rest of this 3-day meal plan, check out these nori wraps and these mango tacos, and then find the grocery list here.
Mango Ginger Rice Bowl
This refreshing rice bowl is one of my favorite healthy summer meals - basil, mango, and a light sauce add a punch of flavor to a hefty serving of crisp veggies.
Ingredients
2 handfuls snap peas, strings removed
1 to 2 cups cooked short grain white rice*
2 cups shredded green cabbage
1 small carrot, sliced into very thin coins
½ English cucumber, thinly sliced into coins
1 small ripe ataulfo mango, diced
½ cup cooked black beans, drained and rinsed
2 tablespoons pickled ginger
¼ cup thinly sliced fresh basil
¼ cup toasted peanuts, optional
Sprinkle of sesame seeds, optional
¼ to ½ avocado, optional
Dressing
2 tablespoons tamari, more for serving
2 tablespoons rice vinegar
2 tablespoons lime juice
2 garlic cloves, minced
2 teaspoons cane sugar
½ teaspoon sriracha, more for serving
Instructions
Make the dressing: In a small bowl, whisk together the tamari, vinegar, lime juice, garlic, cane sugar, and sriracha.
Bring a small pot of salted water to a boil and place a bowl of ice water nearby. Blanch the snap peas by placing them in the boiling water for 1½ minutes, then scoop them into the ice water to stop the cooking process. Once cooled, drain, pat dry, and chop.
Assemble the bowls with the rice, shredded cabbage, carrot, cucumber, mango, black beans, pickled ginger, and basil. Top with the toasted peanuts, sesame seeds, and avocado, if using. Drizzle bowls with half the dressing and serve the rest on the side along with tamari and sriracha, if desired.
Notes
*depending on how much rice you like in your bowls - I like ½ cup in mine, my husband Jack prefers 1 cup in his.

To make the next 2 recipes in this week's meal plan:
- make double the amount of rice
- save the remaining green cabbage
- save the remaining ½ cucumber
- get a total of 3 mangoes
- save 1 cup extra black beans (ie, the rest of the can)