If you hate to waste stale bread, this ribollita recipe is for you! It makes a delicious vegetarian Tuscan white bean soup thickened with cubes of bread.
Jack's new weekend hobby is bread-making. Over the last few weeks, he's made some really delicious focaccia and a few loaves of ciabatta which, I have to tell you, were super impressive. I previously had this idea that rustic crusty bread would require wood-fired ovens and other non-household equipment to make. It doesn't. The ingredients are simple, but it does require an afternoon's worth of babysitting. Knead, fold, wait, rest… repeat… like 15 more times.
After all of this hard work, when the last chunk of ciabatta went stale a few days later, I couldn't bear to toss it. While I commonly talk about my cooking inspiration coming from what I find at the farmer's market, there are times like this where the ideas come from not wanting to waste ingredients that someone made (or grew) with love.
The bread was way too hard for panzanella, so that was out. Luckily, there's a soup that loves rock-hard stale bread – ribollita.
Ribollita is a Tuscan white bean soup made from leftover vegetables and thickened with day-old (or in our case many days old) bread. My version starts with a base of onion, carrots, tomatoes, white beans, rosemary, and kale. I cube up the leftover bread and stir it in towards the end, making a thick and hearty Tuscan bean soup – perfect for a cold autumn night.
This ribollita recipe makes about 3 large servings, but next time I will double it. The leftovers were delicious for lunch the next day, and I only wished I had more…
And P.S. if any of you have bread-making tips, we're all ears…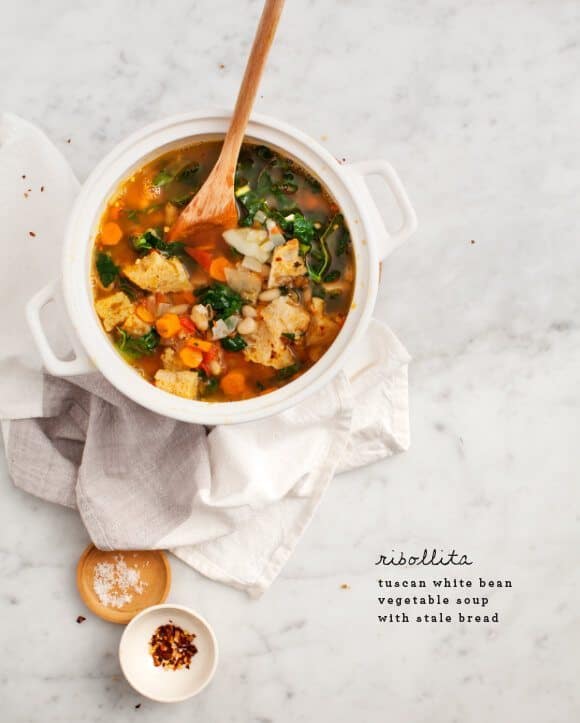 Ribollita - Tuscan White Bean Soup
Ingredients
2 tablespoons extra-virgin olive oil
1 small onion, chopped
3 carrots, chopped
1 tablespoon finely chopped rosemary
2 garlic cloves, minced
3 medium Roma or vine tomatoes, diced
½ teaspoon red pepper flakes
2 tablespoons white wine
1 (14-ounce) can cannellini beans, drained and rinsed
4 cups vegetable broth
3 large lacinato kale leaves, thinly sliced, coarse stems removed
4 thick slices stale ciabatta bread, cubed
balsamic vinegar, for drizzling
¼ cup shaved Parmesan cheese, optional
sea salt and freshly ground black pepper
Instructions
Heat the olive oil in a large pot over medium heat. Add the onion and pinches of salt and pepper and cook, stirring occasionally, until the onion is soft, about 4 minutes. Stir in the carrots, rosemary, and garlic. Cook for about 4 more minutes, reducing the heat if necessary to avoid burning the garlic.
Add the tomatoes, red pepper flakes, and another few pinches of salt and pepper. Cook, stirring often, for about 15 minutes or until the tomatoes are soft and juicy. Add the wine and let it cook off, about 1 minute.
Stir in the beans, and then add the vegetable broth. Simmer until the carrots are tender, 30 to 35 minutes, stirring occasionally.
Once the carrots are tender, stir in the kale, the cubed bread, and a drizzle of balsamic vinegar. Simmer for several more minutes until the kale is wilted.
Season to taste and serve hot in large bowls. Shave fresh Parmesan cheese on top, if desired.
Notes
Double this recipe to make a larger batch. Store leftovers in the fridge for up to two days.

Fresh tomatoes can be substituted for about 1 cup of canned diced tomatoes.