Make this fresh, fun orzo salad recipe for your next picnic! With lots of fresh herbs, juicy mango, and crisp veggies, it's summer food at its finest.
I first made this orzo salad recipe at my mom's house. When I dug through her fridge, I found crunchy veggies, summer herbs, and a big, juicy mango that I absolutely had to use. I caught sight of a box of orzo pasta and a can of chickpeas in her pantry, and I immediately thought – orzo salad! It would be hearty enough to serve for dinner, but light and refreshing for the heat wave that was happening that night. I tossed together crunchy cucumbers, red onion, fresh herbs, and mango and dished it up for my family. While we ate, they kept asking for this orzo salad recipe. Well, here it is!
Orzo Salad Recipe Ingredients
I use these key ingredients to fill this orzo salad recipe with fun flavor and texture:
Find the complete recipe with measurements below.
Orzo Salad Recipe Variations
Like most salads, this one is flexible, so have fun using what you have on hand to make a salad you love! Here are a few of my favorite variations:
Let me know what variations you try!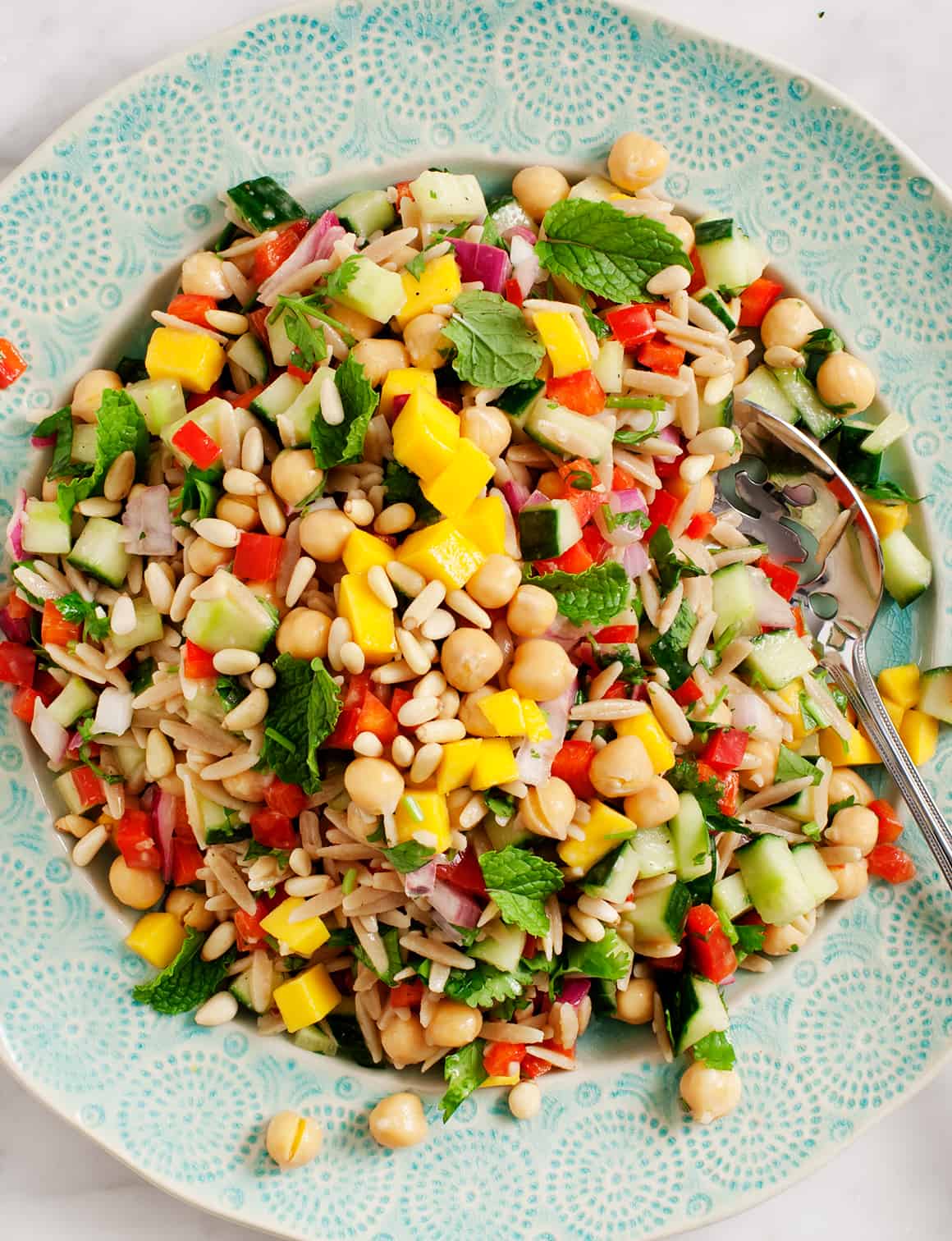 Orzo Pasta Salad Serving Suggestions
This orzo pasta salad recipe is pretty filling on its own – chickpeas and hearty whole wheat orzo make it a complete meal. It actually tastes better the second day, so pack it ahead for a picnic or a weekday lunch.
It's also a fantastic summer side dish! We love to serve it with classic picnic fare like corn on the cob, grilled veggies, and any of these hearty vegetarian main dishes:
Enjoy!
More Favorite Summer Salads
If you love this orzo salad recipe, try one of these delicious summer salads next:
And if you have leftover orzo, make stuffed peppers!
Rainbow Orzo Salad
This orzo salad is one of my go-to dishes to bring to a picnic. It's even better on the second day, and it's a wonderful combination of the best fresh veggies and herbs summer has to offer.
Recipe type:
Salad, side dish, main dish
Ingredients
1 red pepper, diced
1 ripe mango, cubed
1 small cucumber, chopped (1½ cups)
½ small red onion, diced (1/3 cup)
1 small garlic clove, minced
1 (14-ounce) can chickpeas, drained and rinsed
½ chopped fresh herbs (mint, basil, and/or cilantro)
½ cup uncooked orzo
Extra-virgin olive oil, for drizzling
1 packed cup arugula
¼ cup toasted pine nuts
for the dressing:
2 tablespoons tahini
2 tablespoons extra-virgin olive oil
2 tablespoons fresh lemon juice
1 tablespoon sherry or white wine vinegar
½ teaspoon cumin
½ teaspoon sweet paprika
2 tablespoons water
½ teaspoon sea salt, more to taste
freshly ground black pepper
Instructions
In a large bowl, combine the red pepper, mango, cucumber, red onion, garlic, chickpeas, herbs, salt, and several grinds of fresh black pepper.
Cook the orzo according to the package directions or until al dente. Drain, gently rinse, toss with a little olive oil oil and set aside to cool to room temp before adding to the salad.
Make the dressing. In a small bowl, stir together the tahini, olive oil, lemon juice, vinegar, cumin, sweet paprika, salt and pepper. Add a few tablespoons of water until it's a drizzle-able consistency.
Add the orzo, dressing, and arugula to the salad and toss to coat. Season to taste and top with toasted pine nuts.
Notes
Serve a slightly bigger group by doubling the amount of orzo (and make extra dressing). This salad is also delicious with crumbled feta cheese on top.

Store leftovers in the fridge for up to 2 days. It's a great make-ahead salad for lunch the next day.