Say goodbye to mushy, bland veggie burgers forever! This quinoa burger is tangy and spicy, with a delicious hearty texture and perfect crispy edges.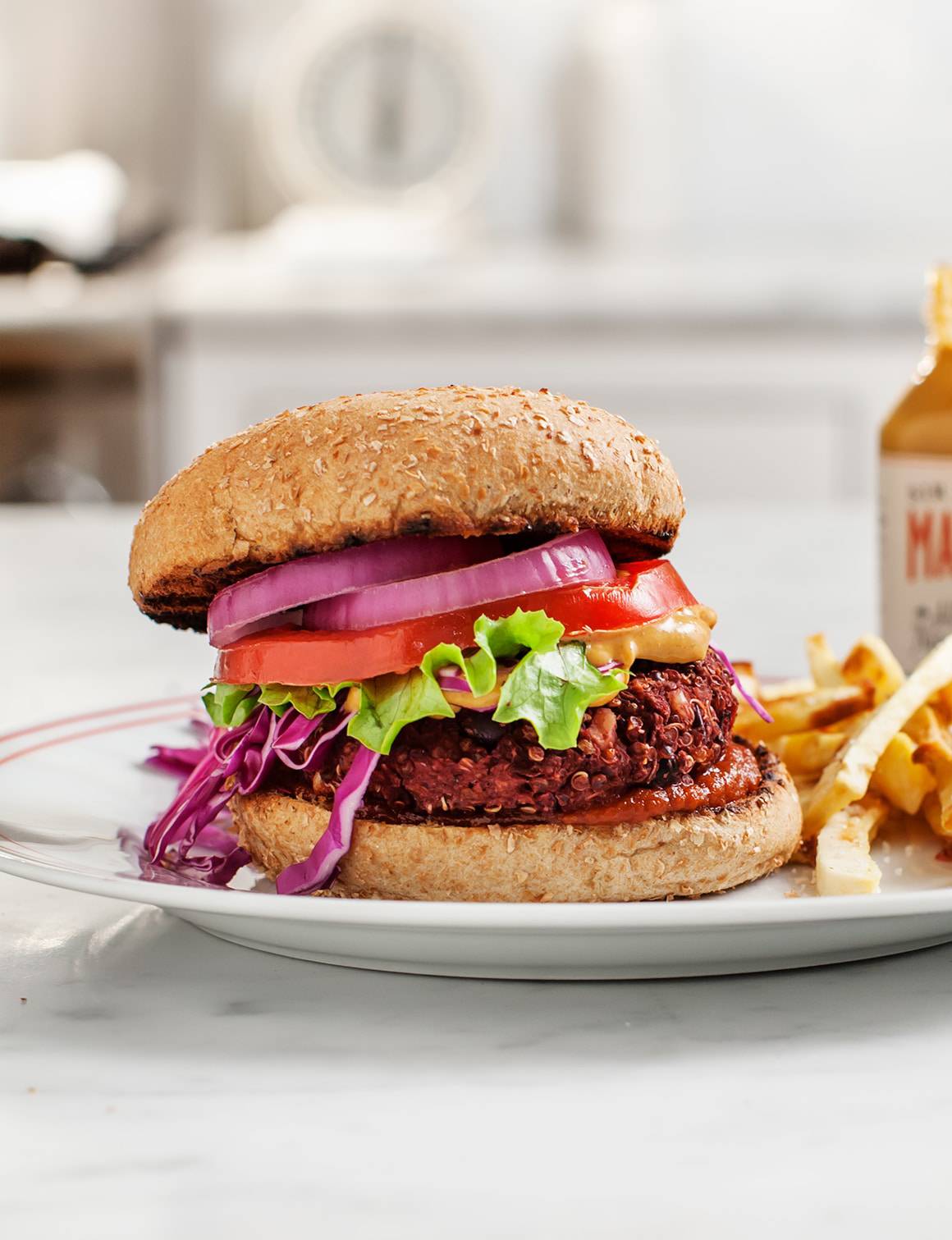 I'm not sure where to begin with this quinoa burger recipe. It has a wonderful meaty texture with lightly crisp edges, a spicy, tangy flavor, and a gorgeous red color. Plus, it's totally vegan and gluten-free! What's not to love?
I'm looking forward to making this quinoa burger for cookouts all summer long, and I hope you are too. On the off-chance that you have leftovers, pop them in the freezer! They reheat perfectly for quick weeknight dinners down the road.
Quinoa Burger Recipe Ingredients
I set some strict veggie burger criteria for this recipe: no eggs, no cheese, no oats. I really wanted to make it vegan and gluten-free so that everyone could enjoy it, but I didn't want to use oats instead of bread crumbs because they make for gummy burgers. If you haven't figured it out by now, quinoa was my solution! It gives these patties a better texture and a little more protein. I stir some into the patty mixture and press more onto the outside of the patties to create a crispy coating.
Here's what else is in them:
Black beans create the bulk of these burgers and help make them cohesive. Use canned, or cook your own.
Walnuts give the burgers a hearty bite and earthy flavor.
Shallot and garlic add sharp depth of flavor.
Balsamic vinegar and vegan Worcestershire sauce make them nice and tangy.
Cumin, cayenne, and coriander add complexity and a little heat.
Grated beet and tomato paste amp up the red color. The tomato paste also adds an intense savory flavor.
Flaxseed adds healthy omega-3 fats and ties it all together.
Find the complete recipe with measurements below.
Quinoa Burger Serving Suggestions
I encourage you to slather the quinoa patties with chipotle mayo or this chipotle sauce (vegan option included!). Otherwise, anything goes. Load them up with tomatoes, lettuce, red onion or pickled red onion, dill pickles, mustard, mayo, and ketchup, or add pickled jalapeños for extra heat. No matter what toppings you choose, serving them on homemade hamburger buns will make them even better.
To round out the meal, serve your quinoa burger with sweet potato fries, air fryer French fries, or parsnip fries. They're also fantastic with grilled veggies like zucchini, asparagus, or potatoes, corn on the cob, or a summer salad. Any of these salad recipes would be great:
For more salad ideas, check out this post!
More Favorite Sandwich and Veggie Burger Recipes
If you love this black bean quinoa burger recipe, try one of these sandwiches or veggie burgers next:
Looking for more quinoa recipes? Find my favorites here.
Quinoa Burger
This vegan quinoa burger recipe is tangy, nicely spiced, and full of satisfying texture from walnuts and black beans. Even meat eaters will love it!
Ingredients
1

tablespoon ground flax + 3 tablespoons water

2

teaspoons

extra-virgin olive oil

1

medium shallot

,

chopped (1/3 cup)

2

garlic cloves

,

chopped

2

teaspoons

ground cumin

2

teaspoons

ground coriander

Pinch

of cayenne

1

tablespoon

vegan Worcestershire

,

or soy sauce or tamari

1

tablespoon

balsamic vinegar

1

tablespoon

tomato paste

,

or ketchup

1

tablespoon

grated beet

,

(optional, for color)

1/4

cup

walnuts

1

cup

,

divided

3/4

cup

cooked red quinoa,

divided

heaping 1/4

teaspoon

sea salt and fresh black pepper
Instructions
Preheat oven to 375 with a metal baking sheet inside.

In a small bowl, stir the flax & water together and set aside.

Heat the oil in a medium skillet. Add the shallot, garlic, and pinches of salt and pepper and cook for a few minutes until translucent. Add the cumin and coriander, stir, and cook for 30 seconds more.

Add the Worcestershire, balsamic, tomato paste, grated beet, walnuts and the first 1/2 cup black beans, and 1/2 teaspoon salt. Stir and cook for another few minutes and turn heat off.

Let cool slightly, then add the contents from the pan to the food processor. Add the flax egg and pulse until everything is combined but not pureed.

Transfer the mixture to a bowl and stir in the remaining 1/2 cup of black beans (smash them a little as you stir), and 1/2 cup of the quinoa. (You can taste & adjust seasonings at this point). Stir until this is all very cohesive then divide into 4 segments and roll into balls.

Place the 4 balls on a plate and sprinkle them with the remaining 1/4 cup quinoa. Gently roll them so the quinoa coats the outside of the balls, then press each in the palm of your hand to form patties. Place on parchment paper (on a plate) and chill for 20 minutes.

Transfer the parchment w/ your patties onto the pre-heated baking sheet. Drizzle a little olive oil on top and bake for about 15 minutes. Flip and bake for an additional 10-12 minutes until the outside is not mushy.

Let cool slightly and serve with desired fixings.
This post is sponsored by Sir Kensington's.