A smooth, spiced pumpkin filling and sweet, nutty pecan crust make this pumpkin pie recipe the absolute best -  two slices for me, please!
Growing up, my favorite part of Thanksgiving was the pumpkin pie. All year, I'd look forward to that creamy, cinnamon-y, custardy filling. I loved pumpkin pie filling so much that I'd scoop it right out of its pie crust, leaving a triangle-shaped shell of pastry on my plate. I'd then pass it to my Dad (who ate everything my sister and I left behind), and ask for another slice.
As an adult, I often opt for apple crisp because I don't think Jack will eat all of my empty crusts (ok, actually, he might), but either way, that's not an issue anymore! Today, I'm here to tell you about the BEST pumpkin pie recipe, which uses a delectable brown sugar pecan crust in place of traditional crust. Toasty, nutty, and crisp, this crust contrasts perfectly with the creamy filling… and, of course, the flavors of pumpkin pie spice and pecans just belong together. This is pumpkin pie perfection and you won't want to leave a crumb behind!
The recipe comes from Jillian Harris and Tori Wesszer's gorgeous new book Fraiche Food, Full Hearts, which came out at the perfect time. Not only is it filled with delicious looking (mostly plant-based) recipes, but it's organized around celebrations. Right now I have my eye on their vegetarian Thanksgiving menu, which has a Mushroom Wellington recipe as the main course, and their Christmas menu, which includes Potato Garlic Cauliflower Mash, Sticky Apple Date Toffee Pudding, and Vegan Eggnog. Tori's recipes have a healthful slant (she's a registered dietician), and she also has a a beautiful blog, Fraiche Nutrition, that I recommend you check out!
Now let's make pie!
Best Pumpkin Pie Recipe Ingredients
Here's what you need to make this homemade pumpkin pie recipe:
Pumpkin puree – Use canned, or make your own.
Cashew cream – This homemade cream takes the place of evaporated milk, and it makes the pumpkin pie filling wonderfully rich.
Eggs – They give the filling richness and structure.
Spices – Cinnamon, nutmeg, ginger, allspice, and cloves combine to create an amazing homemade pumpkin pie spice for this recipe. They give the filling a warm, full, and well-balanced flavor.
Brown sugar – I'll never make pumpkin pie with granulated sugar again! Brown sugar adds a deeper, caramelized sweetness to both the crust and the filling.
Pecans – Toasty pecans + pumpkin are a match made in heaven. This gluten free pie crust is so delicious, you won't miss a traditional pie shell at all.
Oat flour – You can use store bought oat flour, or make your own by blending whole rolled oats in a food processor until they form a fine powder.
Butter or vegan butter – It acts as the binder for the nutty crust. Use whichever you keep on hand!
How to Make Pumpkin Pie
Ready to bake? Here's what you need to do:
First, make the crust. In a food processor, pulse the crust ingredients until they are finely ground and stick together when pressed between your fingers. Transfer the mixture to a 10-inch pie pan and press it evenly and firmly over the bottom and sides of the pan to form the crust.
Next, bake the crust in a 350-degree oven for 12 minutes, until it looks slightly cooked, but not brown. The crust may puff up a bit as it bakes, but don't worry! There's no need for pie weights here – it will deflate as it cools.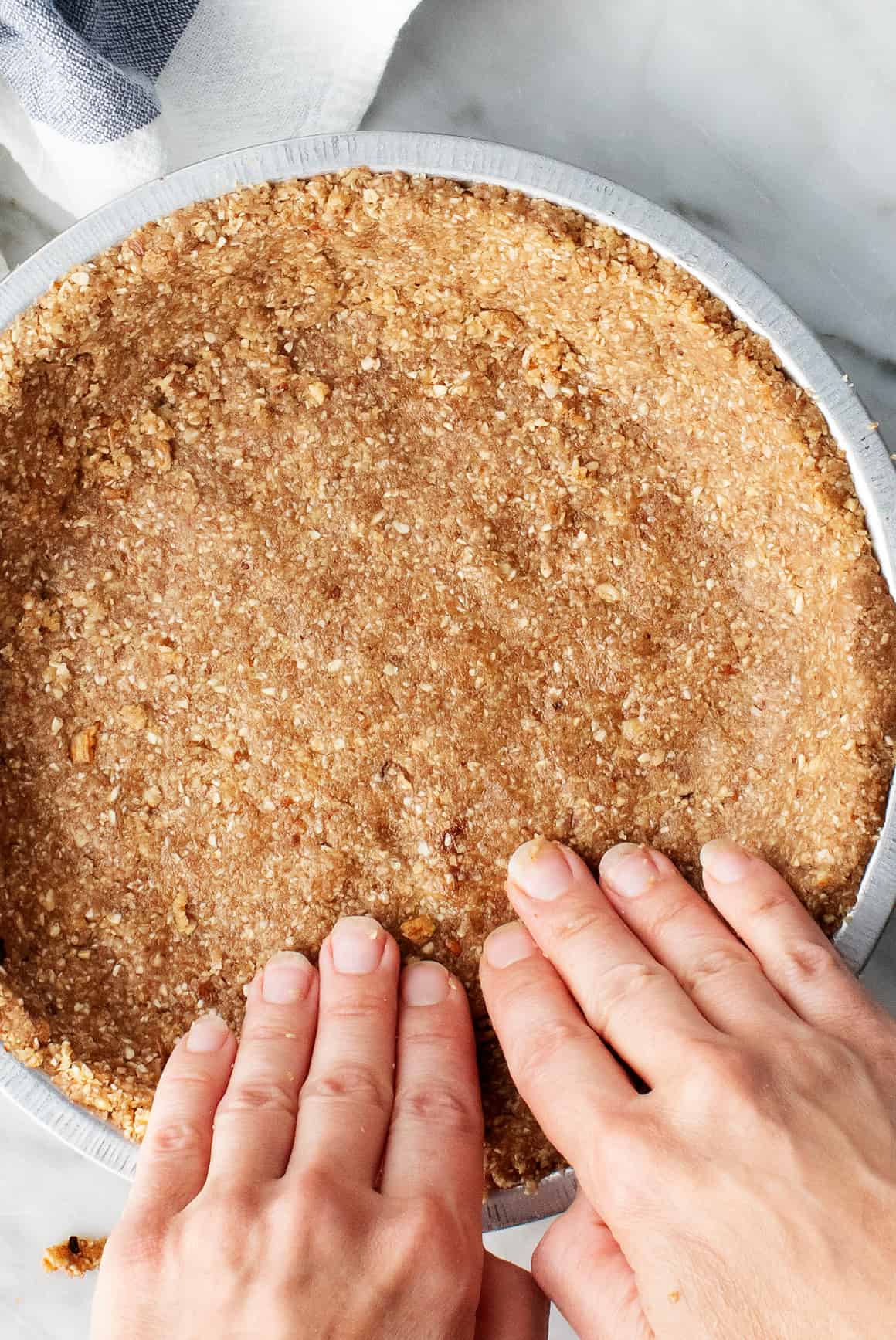 While the crust cools, whisk together the filling. Combine the pumpkin puree, spices, cashew cream, brown sugar, and eggs in a large bowl, and whisk until smooth.
Then, assemble and bake the pie! Pour the filling into the crust and bake until the center is set, 30 to 40 minutes. Allow it to cool completely before slicing. I recommend serving it with whipped cream or coconut cream. I also like to sprinkle mine with extra toasted pecans for crunch. 🙂
Enjoy!
Pumpkin Pie Recipe Tips
Let the crust cool before adding the filling. After the crust pre-bakes, allow it to cool slightly before pouring in the filling. It doesn't need to be completely cool, but a piping hot crust will start cooking the filling before it goes in the oven. Giving the crust a few minutes to cool will help the pie bake evenly.
Use a glass to make an even crust. To ensure that your crust has an even thickness, Jillian and Tori recommend smoothing it with the flat bottom of a glass. If the crust mixture sticks to your glass, cover it with a piece of parchment paper.
Make it ahead! Like all the best Thanksgiving recipes, you can make this pumpkin pie ahead of time. Just make the recipe from start to finish, allow the pie to cool, and store it in the fridge, covered, for up to 3 days. I made a double recipe when we took these photographs, and I can attest that it still tastes great on days 2 and 3 (and even on days 4 and 5).
Without question, I'll be making this pumpkin pie recipe for my family's Thanksgiving dinner, and I hope you do too! If you want more ideas for putting together a beautiful, plant-forward holiday meal, I heartily recommend you check out Fraiche Food, Full Hearts!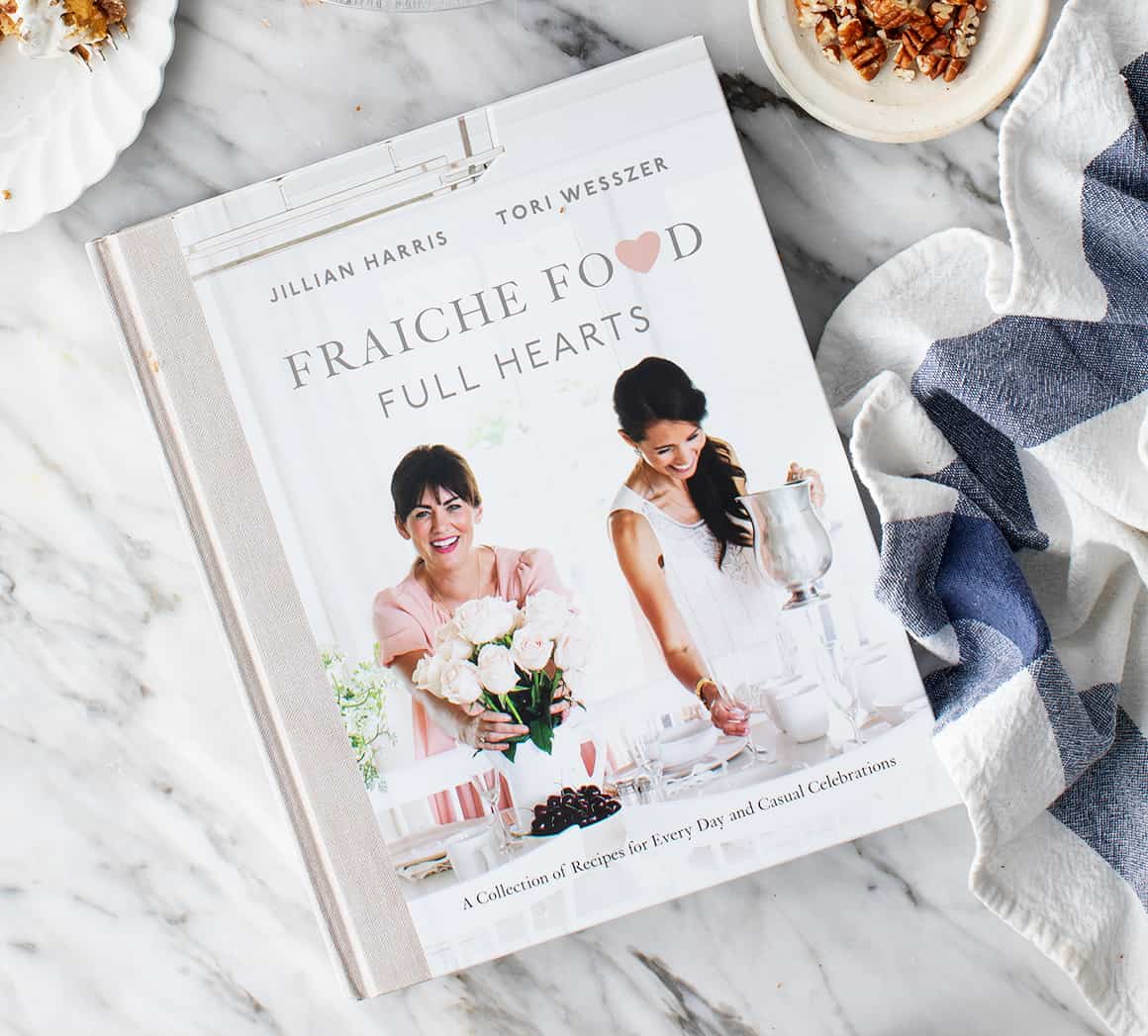 More Favorite Thanksgiving Recipes
If you're looking for more ideas for your Thanksgiving feast, try any of these favorite recipes:
Best Pumpkin Pie
The BEST pumpkin pie recipe! You'll love the smooth, spiced filling inside the homemade pecan crust. From
Fraiche Food, Full Hearts
. Reprinted with permission.
Ingredients
Cashew Cream (makes extra, you will use 1 1/2 cups below)
1 1/2

cups

raw cashews

,

soaked 4 hours or overnight*

1 1/2

cups

water
Pecan Crust
1

cup

pecan halves

,

toasted

1

cup

oat flour

1/4

cup

packed brown sugar

1/3

cup

butter or vegan butter

,

melted

1/2

teaspoon

cinnamon

pinch

of sea salt
Filling
Instructions
Make the cashew cream. Drain and rinse the soaked cashews. In a high-speed blender, blend the drained cashews and the water on high speed until very smooth, 2 to 3 minutes. Set aside.

Preheat the oven to 350°F.

Make the crust. In a food processor, combine the pecans, oat flour, brown sugar, melted butter, cinnamon, and salt. Pulse until the mixture is finely ground and sticks together well when pressed between your fingers.

Tip the pecan mixture into a 10-inch pie pan and, using the flat bottom of a glass, press it evenly and firmly onto the bottom and up the sides to form the crust.

Bake for 12 minutes, or until the crust looks slightly cooked but not brown. Set aside.

Make the filing. In a large bowl, combine the pumpkin puree, Cashew Cream, eggs, brown sugar, cinnamon, ginger, nutmeg, cloves, allspice, and salt. Whisk until smooth.

Pour the filling into the crust and bake until the center of the pie is set (a butter knife should come out clean), 30 to 40 minutes. Transfer to a rack and let cool completely. Store, covered, in the fridge for up to 3 days.
Notes
*You can skip soaking the cashews if using a Vitamix Blender.