What's better than a hot stack of pumpkin pancakes on a cool fall morning? These guys are soft, fluffy & deliciously spiced. So easy, and so yummy!
Let's make pumpkin pancakes!
I've been baking up a storm of pumpkin-ey things lately… mostly because when you open a can of pumpkin (or make your own pumpkin puree), there's always some left over. I think that's the true reason why people are so pumpkin-crazy in the fall. If you start with pumpkin pancakes, you might as well go ahead and make pumpkin cake… and then, well, maybe some pumpkin cookies. After all, you have to use it up! (She says while eating said cookie.)
Anyway, I've had so many requests for pumpkin pancakes, and this recipe is our favorite! They're super simple to mix together, and they're soft, fluffy, and deliciously spiced. What more could you want in a cozy fall breakfast? These are best the day they're made, but I enjoyed the frozen leftovers as well 🙂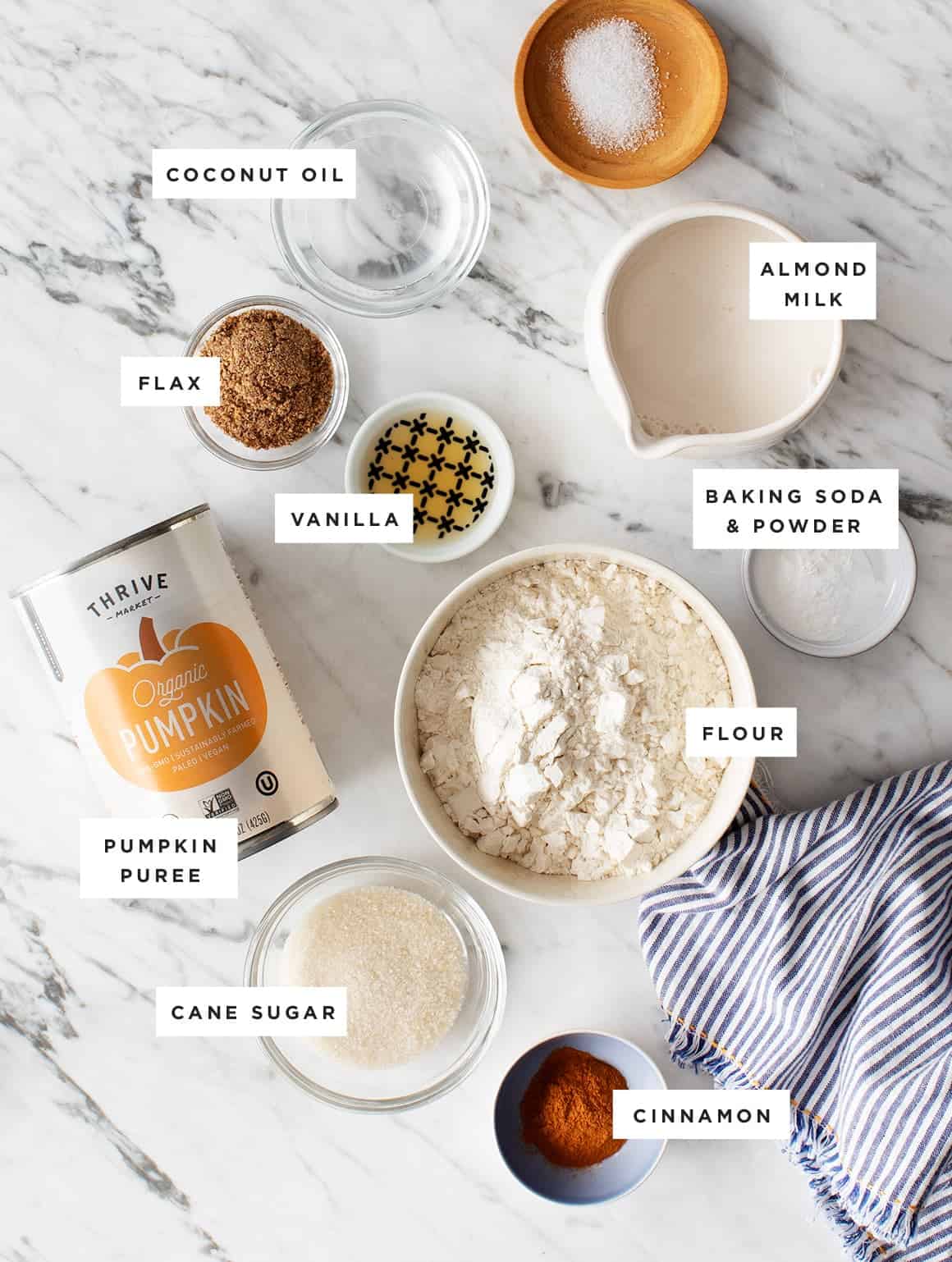 Pumpkin Pancake Recipe Ingredients
Because this recipe is vegan, it's totally egg-free. Pumpkin is the perfect natural egg replacer. It gives these pancakes moisture and lift, so they're nice and fluffy! Here's what else makes this pumpkin pancake recipe one of my fall favorites:
A little flax helps them bind. You could use egg if you don't have flax.
A touch of cane sugar sweetens them up.
Baking powder and baking soda make them thick and fluffy.
Cinnamon gives them that essential warm "pumpkin spice" flavor.
Coconut oil adds richness.
Almond milk adds moisture and loosens the batter. While I use almond milk because it's the type of milk that I keep on hand, cow's milk or oat milk will work just fine here too.
And vanilla gives them a deep, complex flavor.
Combine the wet & dry ingredients separately, and fold them together – careful not to overmix! At this point, the batter is ready to cook, so you're on your way to pumpkin pancake breakfast heaven.
Pumpkin Pancake Recipe Variations
Want to mix up your pancake game? Play with the spices here by adding a dash of pumpkin pie spice, cardamom, ginger, nutmeg, or allspice – anything "pumpkin spice" goes, so feel free to get creative in the spice department. If you do mix up the spices, I recommend keeping the cinnamon and adding a smaller amount of a second spice. I'd start with no more than 1/4 teaspoon for cardamom and nutmeg especially.
You could also fold 1/2 cup chocolate chips, blueberries, or toasted pecans right into the batter for extra texture and pops of flavor.
What's your favorite way to make pumpkin pancakes? Let me know in the comments!
What to Serve with Pumpkin Pancakes
I love these pancakes as they are, served simply with maple syrup. You could make them fancier by topping them with a dollop of nut butter or yogurt (Stonyfield's double cream plain yogurt was insanely delicious here). Or if you're vegan, coconut yogurt would be heavenly too. Sprinkle a few pecans on top and pour the coffee!
If you're making these as part of a bigger brunch, a frittata would be a great savory accompaniment.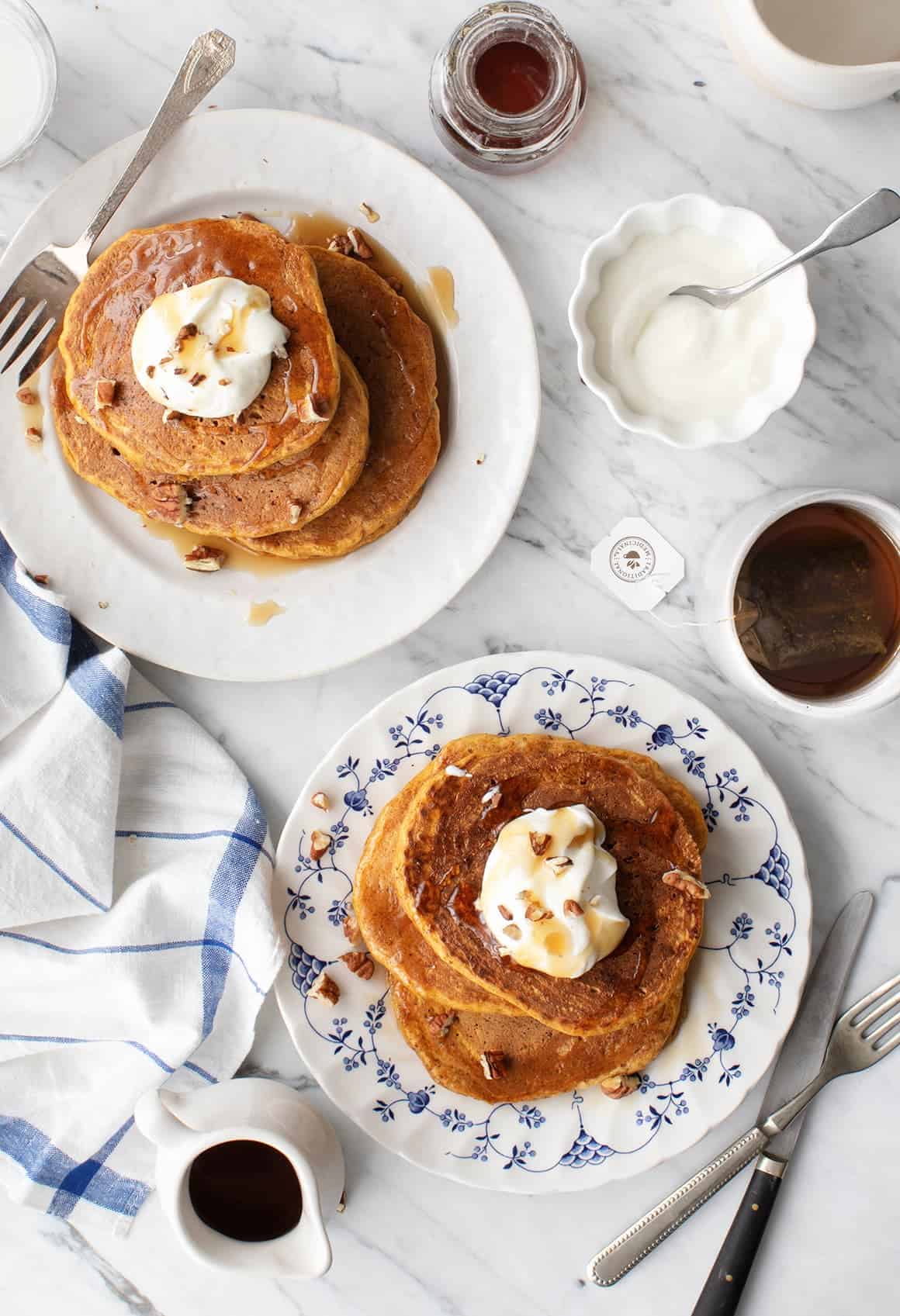 More Favorite Breakfast Recipes
If you love these pumpkin pancakes, try my banana pancakes or gluten-free vanilla pancakes next! And if you have leftover pumpkin puree, use it in a pumpkin pie or pumpkin bread.
Fluffy Pumpkin Pancakes
These pumpkin pancakes are a yummy treat for a cozy fall breakfast! Easy, freezer friendly, and deliciously spiced, they're perfect with maple syrup.
Ingredients
1 tablespoon ground flaxseed + 3 tablespoons water (or 1 egg)
1½ cups (180g) all-purpose flour* (see note below)
2 tablespoons cane sugar
2 teaspoons baking powder
½ teaspoon baking soda
heaping 1 teaspoon cinnamon
heaping ¼ teaspoon sea salt
½ cup canned pumpkin puree
1 cup plus 3 tablespoons almond milk, at room temperature
2 tablespoon melted coconut oil, plus more for brushing
1½ teaspoons vanilla extract
For serving:
maple syrup (not optional)
Yogurt or vegan yogurt (optional)
Pecans (optional)
Instructions
In a small bowl, combine the flaxseed and water and set aside for 5 minutes to thicken.
In a large bowl, combine the flour, cane sugar, baking powder, baking soda, cinnamon, and salt.
In a medium bowl, whisk together the pumpkin, almond milk, coconut oil, vanilla, and the flaxseed mixture.
Pour the wet ingredients into the bowl with the dry ingredients and stir until just combined. A few lumps are ok, do not overmix. The mixture will be thick, but if it's too thick, gently stir in a little more almond milk.
Heat a nonstick skillet or griddle to medium heat. Brush the skillet with a little coconut oil and use a ⅓-cup measuring cup to pour the batter onto the pan. Use the back of the cup to gently spread the batter a little more. Cook the pancakes for 2 minutes per side, turning the heat to low as needed so that the middles cook without burning the outsides. I usually start with medium heat, and move to low heat as my pan starts to hold residual heat after each batch.
Serve with maple syrup, yogurt, and pecans, as desired.
Notes
*Use the spoon and level method when measuring flour so that the flour in your measuring cups doesn't get too packed-down. Too much flour will result in a thicker batter and denser pancakes. (Alternatively, you could weigh it to measure 180g)