This pumpkin French toast is the perfect fall breakfast! Cinnamon fills it with warm, spiced flavor, and a drizzle of maple syrup takes it over the top.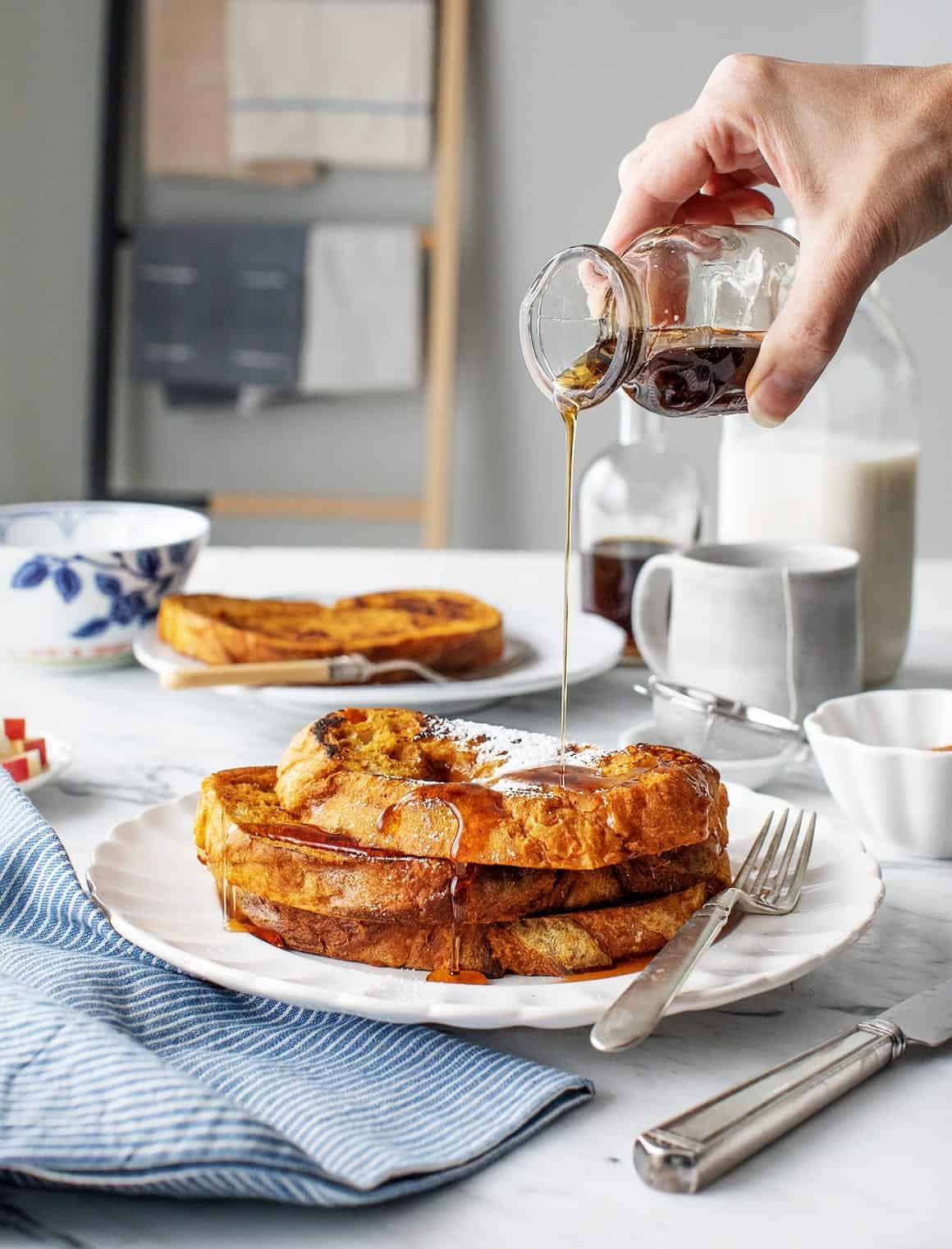 This pumpkin French toast is the perfect fall breakfast! It's crisp and golden brown on the outside, moist and tender in the middle, and packed with pumpkin flavor the whole way through. It's super easy to make, so you could whip it up on a weekday, but I especially love it on the weekends, when I can sit back, relax, and savor it.
Just like it does in baking recipes, pumpkin puree makes a great egg replacer in this recipe, creating a rich, custard-like mixture to coat the thick slices of bread. As a result, this pumpkin French toast is totally vegan, but I think you'll love it whether you're vegan or not! No offense to classic French toast, but in the fall, this pumpkin French toast recipe is my #1 breakfast pick.
Pumpkin French Toast Recipe Ingredients
Here's what you'll need to make this delicious pumpkin French toast:
Bread – Whenever you're making French toast, the quality of your bread is key. Look for a nice loaf of sourdough, ciabatta, or French bread, and slice it into thick slabs. Day-old bread is ideal, as it will really soak up the pumpkin mixture. Whatever you do, steer clear of thinly sliced sandwich bread.
Pumpkin, of course! Use canned purée, or make your own.
Almond milk – It loosens the rich pumpkin spice mixture. If you don't have almond milk on hand, my homemade oat milk (or cow's milk) would be a fine substitute.
Cinnamon and nutmeg – For warm pumpkin spice flavor. A dash of pumpkin pie spice would be great here too!
Maple syrup – Add a tablespoon to the custardy pumpkin mixture. Then, serve the French toast with more syrup on top!
Sea salt – Don't skip it! It makes the sweet, spiced flavors pop.
In a mixing bowl, stir together the pumpkin puree, almond milk, spices, maple syrup, and salt. Then, pour the mixture over your slabs of bread. Use your hands to slather it all over, and cook!
Find the complete recipe with measurements below.
Pumpkin French Toast Serving Suggestions
I love to serve this pumpkin French toast simply, with a big drizzle of maple syrup, but it's also fantastic with all sorts of seasonal toppings. Add toasted almonds or pecans, Greek yogurt, diced fresh apples, or the stewed apples from this apple crumble recipe. For a more decadent breakfast, pile it with whipped cream or coconut whipped cream and a dusting of powdered sugar.
Enjoy this recipe as a meal on its own, or pair it with something savory for a heartier brunch. I often serve it alongside sunny-side-up eggs, a breakfast casserole, or a veggie frittata. For more delicious brunch ideas, check out this post!
More Favorite Pumpkin Recipes
If you love this pumpkin French toast, try one of these tasty pumpkin recipes next:
Craving something savory? Make this Curried Pumpkin Soup!
Pumpkin French Toast
This pumpkin French toast is the ultimate fall breakfast! Pumpkin puree replaces the eggs that you'd find in
traditional French toast
, so this recipe is totally vegan. Use gluten-free bread to make it gluten-free.
Ingredients
8 slices day-old ciabatta or sourdough bread, sliced ¾-inch thick
¾ cup almond milk
½ cup pumpkin puree
1 tablespoon maple syrup, plus more for serving
1 teaspoon cinnamon
¼ teaspoon nutmeg
⅛ teaspoon sea salt
coconut oil, for brushing
Optional toppings: toasted almonds, pecans, diced apple, powdered sugar
Instructions
In a medium bowl, whisk together the almond milk, pumpkin puree, maple syrup, cinnamon, nutmeg, and salt.
Place the bread slices on a large platter or baking dish and drizzle with the pumpkin mixture. Use your hands to spread the mixture, coating all sides of the bread.
Heat a non-stick skillet to medium heat and brush with coconut oil. Add the bread slices and cook until golden brown, about 2 minutes per side. Reduce the heat to low as needed to cook thoroughly without burning. Serve with maple syrup and desired toppings.