If you love pumpkin, you HAVE to try this easy pumpkin bread recipe! Moist, warmly spiced, and filled with pumpkin flavor, it's the perfect fall treat.
Once I tried this pumpkin bread recipe, I finally understood what all the fall pumpkin hype was about. To be honest, I didn't get it for a long time. Why go crazy for pumpkin when apples, sweet potatoes, and hundreds of amazing squash varieties (spaghetti, delicata, acorn, and butternut, to name a few) are in peak season too? Enter: this pumpkin bread recipe. Super moist, warmly spiced, and filled with delicious pumpkin flavor, it totally won me over to team pumpkin.
I typically crave pumpkin bread at two times of day: in the morning for breakfast or in the afternoon with a coffee or tea. Because I wanted this recipe to be one I could feel good about enjoying first thing in the morning, I made it on the healthy side. Honestly, it's the best pumpkin bread I've had! It's lightly sweet, so the bold, spiced flavors really shine through. And though it's wonderfully moist, it's not too rich, so I have no problem polishing off a generous slice (or two). If pumpkin season means having this recipe on repeat for a while, I'm 100% on board.
Healthy Pumpkin Bread Recipe Ingredients
Here's what you'll need to make this healthy pumpkin bread recipe:
Pumpkin, of course! My loaf uses a full cup of pumpkin puree, which gives it the perfect moist texture and adds delicious pumpkin flavor.
Whole wheat pastry flour – My favorite flour for healthy baking! A mix of half all-purpose flour and regular whole wheat flour would work here too.
Extra-virgin olive oil – For moisture and richness. I often use olive oil when I bake, but feel free to swap in a neutral oil if you prefer.
Almond milk – Or whatever type of milk you keep on hand. Regular milk and my homemade oat milk are both great choices.
Baking powder, baking soda, and eggs – They help the loaf puff up as it bakes.
Cane sugar – For sweetness.
Cinnamon, nutmeg, and allspice – For warm, cozy fall flavor. A tablespoon of pumpkin pie spice would also do the trick!
Vanilla extract – It enhances the spices' warm flavor.
And sea salt – To make all the flavors pop!
Find the complete recipe with measurements below.
How to Make Pumpkin Bread
This pumpkin bread recipe is so easy to make! Here's how it goes:
First, make the batter. Whisk together the wet ingredients in one bowl and the dry ingredients in another.
Add the dry ingredients to the wet ingredients and mix until just combined. Don't overmix, or the pumpkin bread will be dense.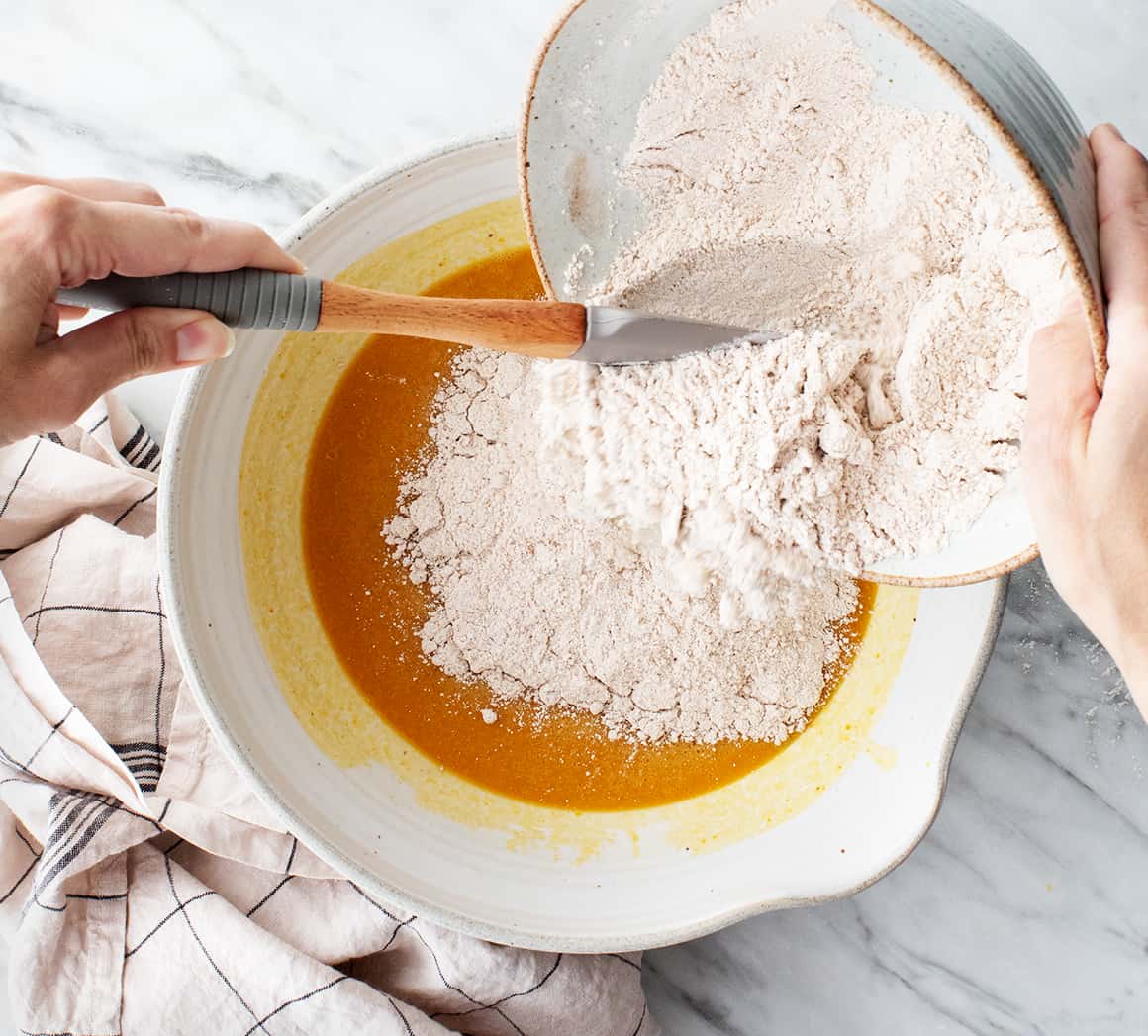 Then, bake. Pour the batter into a greased loaf pan and bake at 350°F until the top springs back to the touch or a toothpick inserted into the center comes out clean, about 45 minutes.
Allow the loaf to cool completely before slicing and serving.
Finally, enjoy! Devour a slice plain, or slather it with butter, honey butter, or almond butter. Leftover pumpkin bread will keep in an airtight container at room temperature for up to 3 days.
For longer storage, wrap slices in aluminum foil or plastic wrap, and freeze for up to 3 months. Allow the slices to thaw at room temperature, or unwrap and defrost them in the microwave for about 30 seconds.
Pumpkin Bread Recipe Variations
Do you like nuts, fruit, or chocolate in your pumpkin bread? Feel free to adapt this recipe to suit your tastes. Here are a few fun ways to change it up:
Add some crunch. Stir in 1/2 cup of your favorite chopped nuts, and sprinkle some on top. Pecans or walnuts would be especially good!
Make it fruity. Fold 1/2 cup dried cranberries, dried tart cherries, raisins, or chopped dates into the batter.
Go the chocolate route. Sometimes, you just need a slice of pumpkin bread that's studded with melty chocolate chips. If that's what you're craving, fold 1/2 cup dark chocolate chips into the batter, and scatter more on top for good measure.
Frost it. Craving a more decadent treat? Slather this loaf with my tangy cream cheese frosting!
Make it vegan. Substitute 4 tablespoons ground flaxseed and 6 tablespoons warm water for the eggs. This version isn't quite as puffy, but it's still delicious.
Let me know what variations you try!
And if you have pumpkin puree leftover, use it to make pumpkin pancakes, pumpkin waffles, or a pumpkin spice latte!
More Favorite Easy Baking Recipes
If you love this homemade pumpkin bread, try one of these easy baking recipes next:
Pumpkin Bread
This healthy pumpkin bread recipe is a delicious fall treat! It's super moist and warmly spiced with cinnamon, nutmeg, and allspice.
Instructions
Preheat the oven to 350°F and grease an 8x4-inch loaf pan.

In a medium bowl, whisk together the flour, cinnamon, nutmeg, allspice, baking powder, baking soda, and salt.

In a large bowl, whisk together the pumpkin puree, almond milk, sugar, olive oil, eggs, and vanilla until smooth.

Pour the dry ingredients into the bowl of wet ingredients and stir until just combined. Do not overmix. Spoon the batter into the prepared pan and bake for 45 to 50 minutes, or until the top springs back to the touch and a toothpick inserted comes clean.
Notes
*I like Bob's Red Mill Whole Wheat Pastry Flour. A mix of half all-purpose and half regular whole wheat flour works here too.
**Make this recipe vegan: In a small bowl, whisk together 4 tablespoons ground flaxseed and 6 tablespoons warm water. Let it sit for 5 minutes, until thickened, and use in place of the eggs.