These easy pumpkin bars are super moist, perfectly spiced, and slathered in tangy cream cheese frosting. What more could you want in a fall treat?
If you're looking for a fun, festive, and sweet-but-not-too-sweet treat to make for Halloween this weekend, this easy pumpkin bars recipe is just the thing for you! It's based on the pumpkin bread recipe that I make every fall. Like the bread, these bars are moist, tender, and filled with pumpkin spice flavor. UNlike the bread, they're topped in a rich, tangy cream cheese frosting, which really highlights the warm spices inside them. On cool fall afternoons, they're the perfect treat to pair with a coffee or tea. But heads up: these pumpkin bars are seriously addictive. Eat one, and you'll have finished a second (or third) before you know it!
Easy Pumpkin Bars Recipe Ingredients
Here's what you'll need to make this easy pumpkin bars recipe:
Ground flaxseed and water act as an egg replacer in this recipe – they thicken the batter and help it rise.
All-purpose flour and almond flour make these pumpkin bars super moist and tender. I love using this combo in baking – find it in my blueberry muffins and banana bread, too!
Pumpkin pie spice fills these bars with warm autumn flavor. I like to use this homemade pumpkin spice blend, but if you prefer, you could substitute 2 teaspoons cinnamon, 1/2 teaspoon nutmeg, and 1/2 teaspoon cardamom.
Baking powder and baking soda make them light and fluffy.
Coconut oil adds moisture and richness.
Maple syrup sweetens them up.
Vanilla extract deepens the flavor.
Pumpkin puree adds essential pumpkin flavor and moisture. Find it in a can, or make your own with this recipe! If you have leftover puree, use it to make pumpkin pancakes or French toast.
And a dash of salt highlights the sweet, spiced flavor. Yum!
Find the complete recipe with measurements below.
Combine the wet ingredients in one bowl and the dry ingredients in another. Then, pour the wet pumpkin mixture into the bowl of dry ingredients and mix until just combined. Spread the batter into a baking pan and bake in a preheated oven at 350º for about 20 minutes, until a toothpick inserted comes out clean.
Now for the hard part: letting the bars cool! It's tempting to slice them or frost them right away, but they must cool to room temperature before you add the frosting. If they're still warm, the frosting will melt!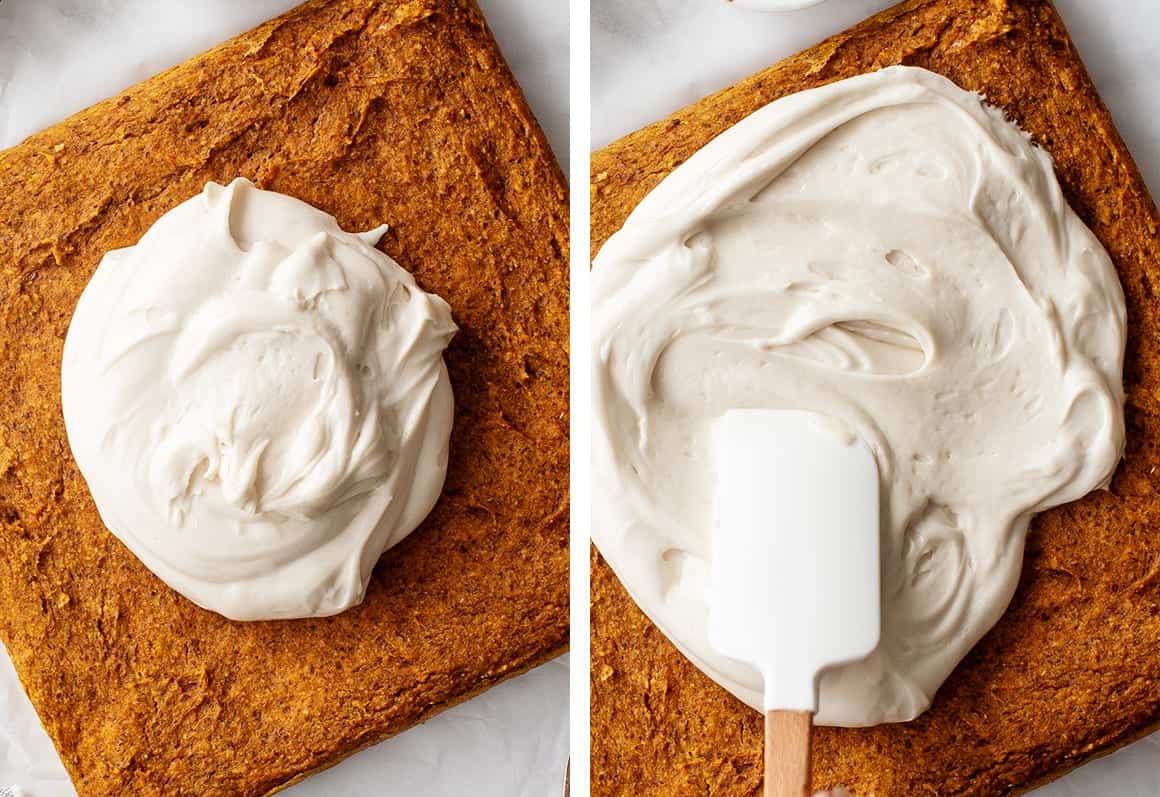 Pumpkin Bars Recipe Variations
Below, I list 2 options for the frosting. The first option (pictured here) is a traditional cream cheese frosting made with powdered sugar, cream cheese, and butter. (Vegan cream cheese and vegan butter work here too!)
The second option is a delicious cashew-maple frosting with a tangy touch of apple cider vinegar. It tastes great on these pumpkin bars, but it's a little thinner (like a thick glaze), and the color is a not-as-photogenic light brown. This option is a tad healthier, while the cream cheese frosting is more indulgent – so the choice is yours! If you have any leftover frosting, it would be fantastic on my carrot cake (see here for a vegan version).
I love chocolate with any pumpkin dessert, so I topped my bars with chocolate chips. Some chopped pecans would be a delicious seasonal topping as well.
Happy snacking! I'm off to finish the last bar that's still in my fridge 🙂
More Favorite Fall Desserts
If you love these pumpkin bars with cream cheese frosting, try one of these delicious fall desserts next:
Pumpkin Bars
These pumpkin bars with cream cheese frosting are the ultimate fall treat! They're moist, tender, and filled with pumpkin spice flavor.
Recipe type:
Dessert, snack
Ingredients
¼ cup ground flaxseed
¼ cup plus 2 tablespoons warm water
¾ cup (90g) all-purpose flour
¾ cup almond flour
1 tablespoon pumpkin pie spice*
2 teaspoons baking powder
½ teaspoon baking soda
½ teaspoon sea salt
1 cup canned pumpkin puree
2 tablespoons melted coconut oil
⅓ cup maple syrup
1 teaspoon vanilla extract
vegan chocolate chips, optional for sprinkling
frosting option 1: Vegan Cream Cheese (pictured):
4 ounces vegan cream cheese (I used Kite Hill plain)
2 cups powdered sugar
1½ tablespoons vegan butter, slightly softened
⅛ teaspoon vanilla extract
frosting option 2: Cashew Maple Frosting: (makes extra)
1 cup raw cashews
¼ cup maple syrup
3 tablespoons almond milk, more as needed
1 tablespoon coconut oil
1 teaspoon apple cider vinegar
1 teaspoon fresh lemon juice
½ teaspoon vanilla extract
⅛ teaspoon sea salt
Instructions
Preheat the oven to 350°F and lightly grease an 8x8-inch baking dish.
In a small bowl, combine the flaxseed and the water and set aside for 5 minutes to thicken.
In a large bowl, combine the all-purpose flour, almond flour, cinnamon, nutmeg, cardamom, baking powder, baking soda, and salt.
In a medium bowl, whisk together the pumpkin, coconut oil, maple syrup, vanilla, and the flaxseed mixture.
Pour the wet ingredients into the bowl of dry ingredients and stir until just combined. Spread into the baking dish (the batter will be thick) and bake for 20 to 23 minutes or until a toothpick comes out clean. Let the cake cool completely before frosting or slicing.
Frosting Option 1: For the cream cheese frosting: In a large bowl beat the cream cheese and softened butter with an electric mixer until smooth. Add the vanilla and powdered sugar, and mix until smooth.
Frosting Option 2: For the maple cashew frosting: In a high-speed blender, combine the cashews, maple syrup, almond milk, coconut oil, apple cider vinegar, lemon juice, vanilla, and sea salt. Blend until completely smooth. If necessary for blending, add more almond milk, 1 tablespoon at a time, adding as little as possible so that your frosting will not be too thin. Chill until ready to use.
Notes
note: if you're not vegan, you can use regular cream cheese and regular butter.

The cashew frosting (option 2, not pictured) while very delicious, will not look as white and fluffy on your cake. The consistency is bit thinner, more like a thick glaze.

*You can also use 2 teaspoons cinnamon, ½ teaspoon nutmeg, and ½ teaspoon cardamom in place of the pumpkin pie spice.