This whole oat porridge recipe transformed me from an oatmeal skeptic to a devoted fan! Creamy, hearty, and warming, it can be made sweet or savory.
It's no secret that I haven't been a huge fan of oatmeal. See, every morning in college, I cooked instant oats for breakfast. They were cheap, quick, and they filled me up, but after years of eating them day after day, I got sick of their mushy texture and bland taste. I thought that nothing could convince me to try oatmeal again, until I saw the Porridge section of Amy Chaplin's new book, Whole Food Cooking Every Day.
I've been a fan of Amy for years – she's the former executive chef of Angelica Kitchen (the NYC restaurant that first inspired me to eat more plant-based), and her first book, At Home in the Whole Food Kitchen, is one of my absolute favorite cookbooks. Her second book certainly lived up to expectations  – it's packed with gorgeous photos and recipes for plant-based breads, soups, sauces, and more! Each chapter consists of a few base recipes with variations, which is a format I LOVE (see here, here, and here). The book is filled with creative ideas, but the Porridge section looked so stunning and inventive that, despite my hot oatmeal aversion, I had to try her porridge recipes.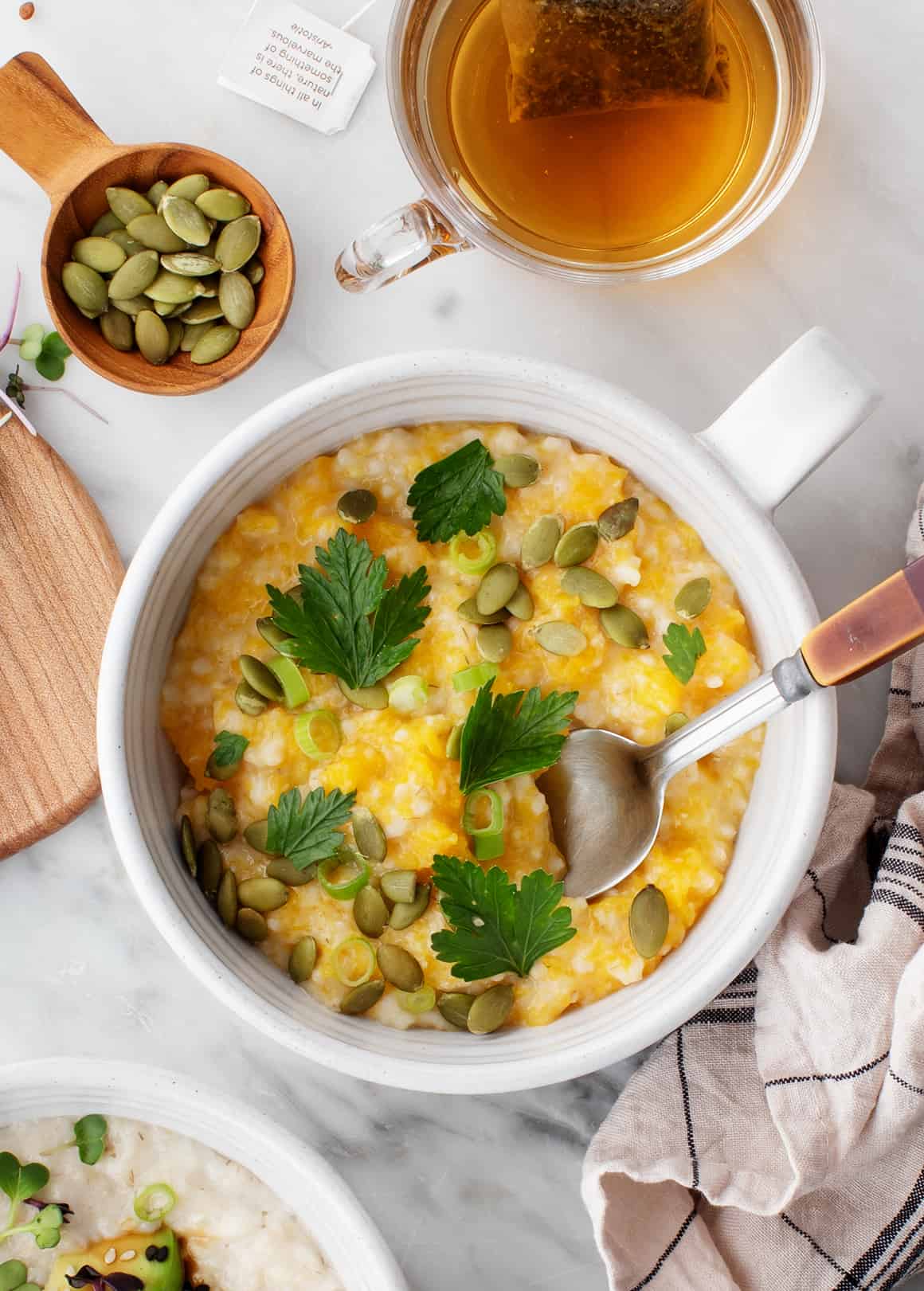 Porridge vs. Oatmeal
As Amy explains in the book, oatmeal is a type of porridge, but porridge doesn't just have to be made with oats, and it doesn't have to be sweet. She shares recipes for making it with grains ranging from black rice to millet. In addition to including a base recipe for each grain, she has endless ideas for sweet and savory toppings, plus insights on ingredients' nutritional value.
Putting my oatmeal qualms aside, I opted to try her whole oat porridge. Instead of using whole rolled oats or even steel cut oats, Amy uses whole oat groats, which I found in the bulk section of my grocery store. She starts by soaking them overnight and lightly blending them. When cooked, they create a satisfying, lusciously creamy porridge. Honestly, they've made me an oatmeal convert! Smooth, hearty, and delicious, her recipe makes the perfect porridge for warming up on cool fall mornings.
Porridge Recipe Variations
Once I made the base recipe, I tried two of Amy's suggested variations:
Butternut Squash and Ginger – For this variation, Amy adds cubed winter squash and ginger to the porridge oats as they simmer. Amy's recipe yields a simple, delicious breakfast with clean flavors. I amped mine up a bit with garlic and extra tamari. I also served it with a drizzle of toasted sesame oil in addition to the parsley, scallions, and herbs that Amy suggested.
Miso and Avocado – Miso & avocado make this one a super flavorful, velvety breakfast dish. Once you add the miso, the cereal will thin considerably. Continue cooking until it thickens, about 20 minutes, stirring frequently. Top with avocado, sesame seeds, scallions, and tamari, and enjoy!
I loved both of these savory variations, but if you prefer a sweeter breakfast, you can still use the base recipe! Top it with dried or fresh fruit, nuts and seeds, Greek yogurt, maple syrup, brown sugar, or a drizzle of coconut milk. Or, stir spices like cinnamon, nutmeg, or cardamom into the oat base.
This porridge keeps well in the fridge, so make a batch of one kind and enjoy it all week! Alternatively, prep the base recipe ahead of time, and make a bowl of porridge with different toppings each day. Reheat leftovers on the stove and stir in milk or water, as needed, to reach the perfect creamy consistency.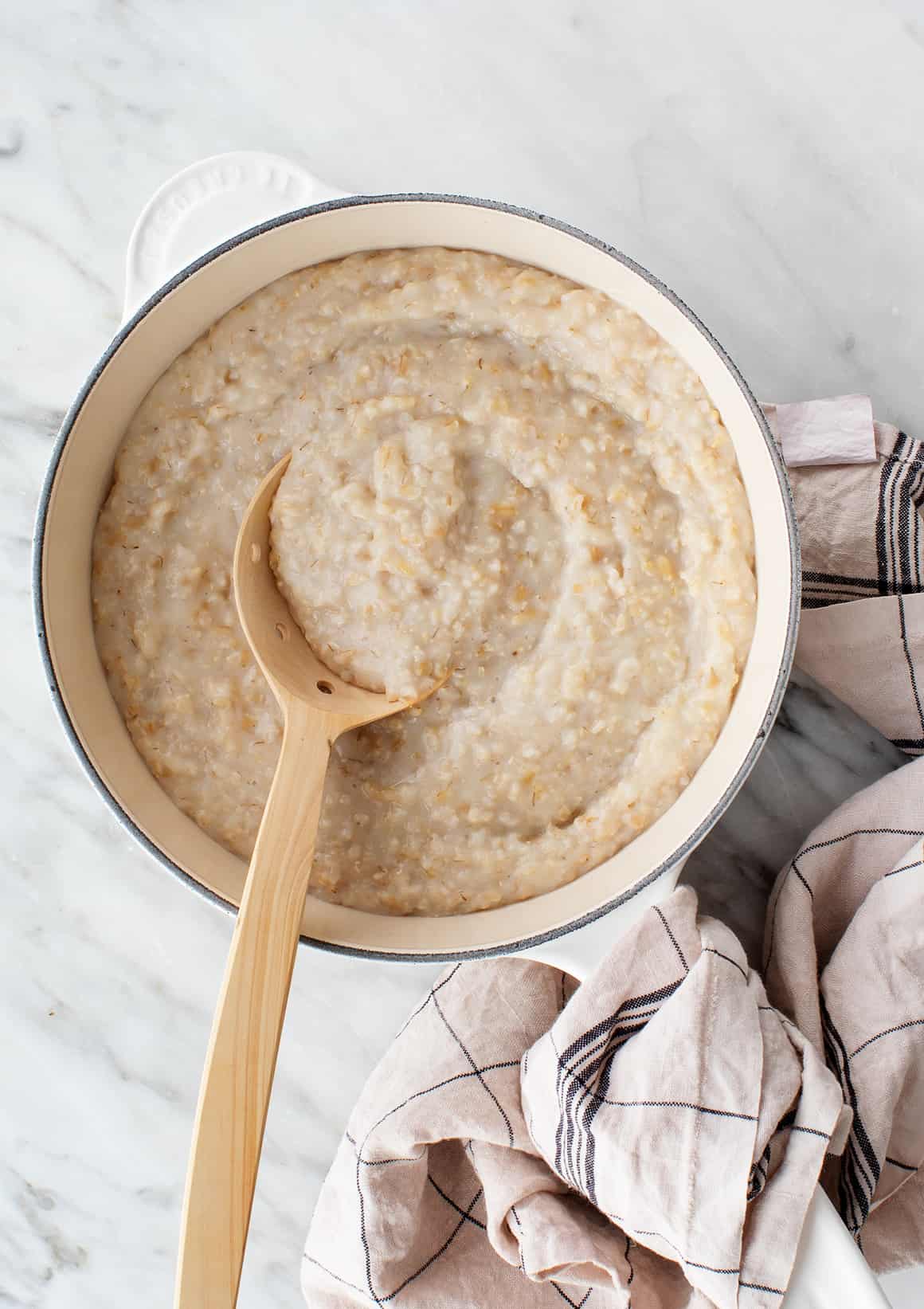 If you love this porridge recipe…
Try my chia pudding, oatmeal, overnight oats, or baked oatmeal next! Or check out this post with tons of healthy breakfast ideas!
Porridge
You'll LOVE this healthy breakfast porridge recipe! Made with whole oat groats, it's super creamy, hearty, and satisfying. Adapted from
Whole Food Cooking Every Day
by Amy Chaplin.
Ingredients
Whole Oat Porridge
1

cup

whole oat groats

, soaked overnight* (SEE NOTE)

4

cups

additional filtered water

Pinch

of sea salt
Variation 1: Butternut Squash & Ginger
Ingredients for 1 recipe Whole Oat Porridge

,

above

3 ½

cups

cubed butternut squash

1

tablespoon

tamari,

more for serving

4

teaspoons

grated fresh ginger

½

garlic clove,

grated

for serving: scallions,

toasted pepitas, parsley, toasted sesame oil
Variation 2: Miso & Avocado
Ingredients for 1 recipe Whole Oat Porridge

,

above

1

tablespoon

white miso paste
for serving: avocado,

tamari, scallions, sesame seeds, microgreens
Instructions
For the Whole Oat Porridge (base recipe): Drain and rinse the oat groats and transfer them to a blender. Add 4 cups fresh water salt and pulse until the grains are coarsely ground. Pour into a medium pot and bring to a boil over high heat, whisking frequently. Cover the pot, reduce the heat to low, and simmer for 30 minutes, stirring occasionally to prevent sticking, until the grains are soft and the porridge is creamy. Serve hot, with desired toppings.

For the Butternut Squash & Ginger Variation: Follow the directions for the oat porridge recipe above, adding the squash, ginger, and garlic to the pot along with the oat mixture and cook as directed until the porridge is creamy and the squash is soft. Add the tamari and adjust the seasoning to taste. Garnish with scallions, pepitas, parsley, and serve with sesame oil and tamari, for drizzling.

For the Miso & Avocado Variation: Follow the directions for the oat porridge recipe above. Once your porridge has thickened, turn the heat off and stir the miso paste into the hot porridge until it's dissolved. If your porridge becomes thinner at this point (like mine did), continue stirring over low heat until it thickens, 15 to 20 minutes. Serve with sliced avocado, tamari, scallions, sesame seeds, and microgreens.
Notes
*You CANNOT substitute rolled oats or steel cut oats for the oat groats in this recipe because the water ratio will be incorrect and your porridge will not thicken. If you want to use another type of oat, follow the cooking directions on the package of your oats.