This pomegranate salad is winter food at its finest. With nuts, feta & a tangy vinaigrette, it's a yummy jumble of bright, creamy & crunchy components.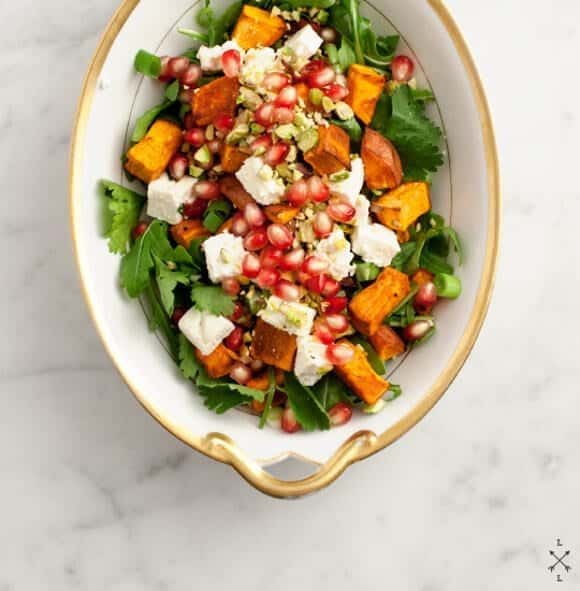 I hope you all had a very merry Christmas!
Aside from a short Christmas morning trip to the emergency vet (everyone's fine, false – yet expensive – alarm) we had a pretty relaxing day. We consumed tons of food, wine, cookies, more wine, and a few extra (unnecessary) rounds of dessert.
Pomegranate Salad Recipe Ingredients
With New Years right around the corner, the indulgences aren't over yet… but all the more reason to pack in veggies along the way. This winter salad is a variation of the sweet potato salad that I was obsessed with at the beginning of fall. I made it a little more festive for the holiday season by using red pomegranate arils and bright green pistachios. Here's what else is in it:
Roasted sweet potatoes add heartiness and toasty flavor to this yummy salad.
Cilantro and scallions fleck it with sharp, fresh notes.
Feta cheese adds pops of tangy flavor and creamy texture.
Salad greens give it extra veggie power and a nice light base. Plus, I love the green with the orange sweet potatoes!
A tangy dressing made of white wine vinegar, honey, olive oil, and garlic ties it all together.
This salad is perfect as a dinner party side dish, but I also enjoy it as a healthy meal all on its own! If you want to bulk it up a bit, add a handful of roasted chickpeas for extra protein and crunch.
If you love this pomegranate salad…
Try my broccoli salad, farro salad, kale salad, Brussels sprout salad, or roasted beet salad next!
Sweet Potato & Pomegranate Salad
You'll love this festive pomegranate salad! The juicy pomegranate seeds are a delicious match for crunchy, toasty pistachios, hearty sweet potatoes, and tangy feta cheese.
Recipe type:
Salad, side dish
Ingredients
2 medium sweet potatoes, cubed, plus olive oil, salt & pepper for roasting
2 cups baby salad greens (baby kale, spinach, arugula, etc.)
⅓ cup pomegranate seeds
⅓ cup crumbled feta
¼ cup toasted pistachios, chopped
Handful of chopped cilantro
2-3 scallions, chopped, white and green parts
For the dressing:
2 tablespoons extra-virgin olive oil
½ garlic clove, minced
2 teaspoons honey
1 teaspoon sherry vinegar or white wine vinegar
Sea salt and fresh black pepper
Instructions
Roast the sweet potatoes: Preheat your oven to 400 degrees. Drizzle the sweet potato cubes with some olive oil, salt, and pepper, and roast in the oven for 20-30 minutes, or until the edges start to turn a darker brown.
Make the dressing: Whisk together the olive oil, garlic, honey, vinegar, salt, and pepper. Taste and adjust.
Assemble the salad with the roasted sweet potatoes, greens, pomegranate, feta, pistachios, cilantro, and scallions. Toss lightly in the dressing and serve.