This gorgeous pomegranate salad is perfect for the holiday season! Filled with a cornucopia of colorful produce, it's a fresh, festive side dish.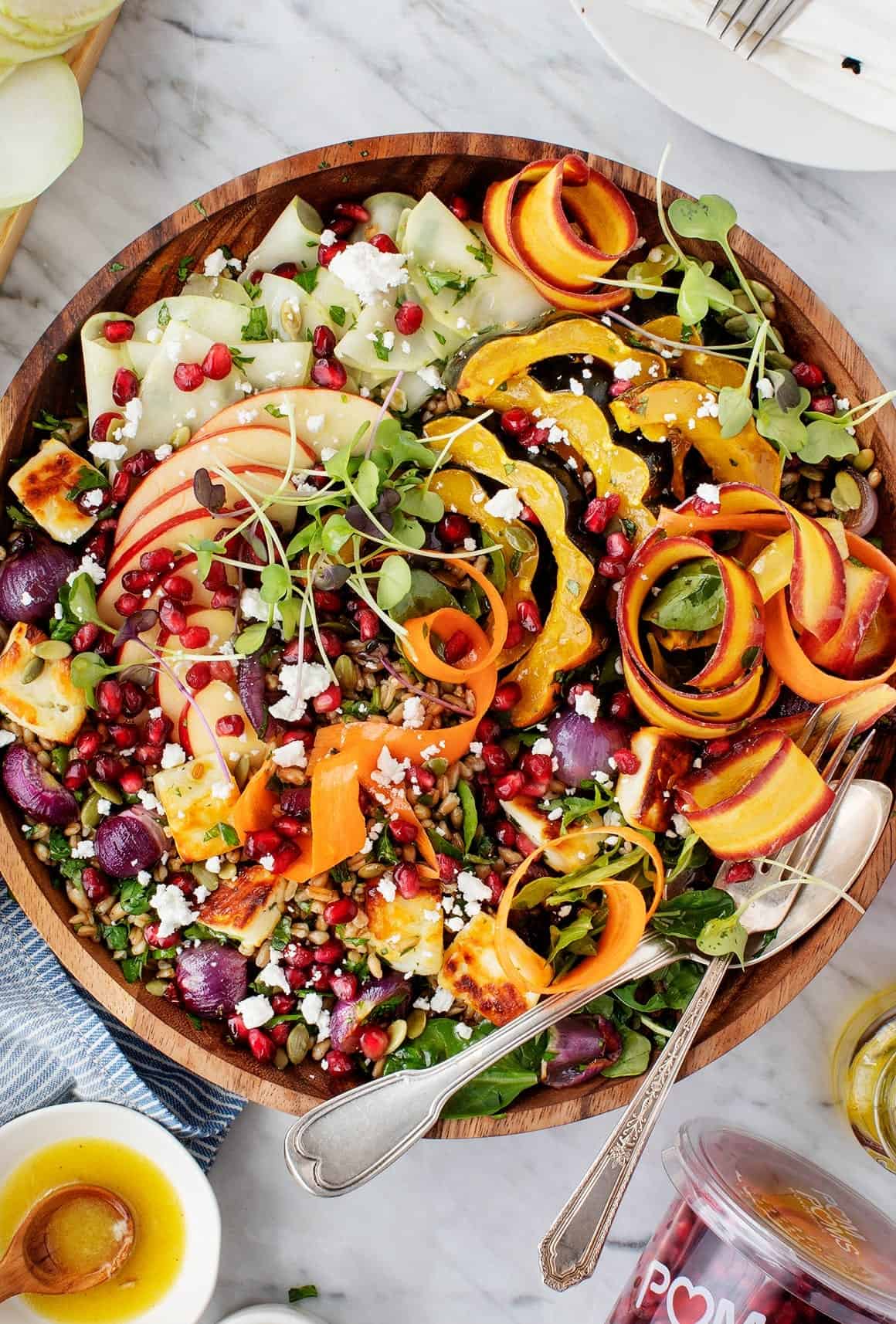 This pomegranate salad recipe is the perfect way to add a little color to any fall or winter meal. As we approach Thanksgiving, I feel like foods become more and more brown. I know – we all love cheesy, bready things, but if I've found one calling in life (er.. in blog-life), it's to find and bring forth the colorful foods of every season.
Here, I pack as many as I can into one stunning salad. This pomegranate salad has apples and squash, onions and greens, carrots and kohlrabi, and pomegranates, of course! We flipping love pomegranates. They add vibrancy to any dish. I love sprinkling pomegranate arils on everything throughout the fall and winter, especially over hearty salads like this. In addition to being delicious, they're known for their antioxidant goodness, and they're a good source of fiber – like we needed more reasons to love pomegranates.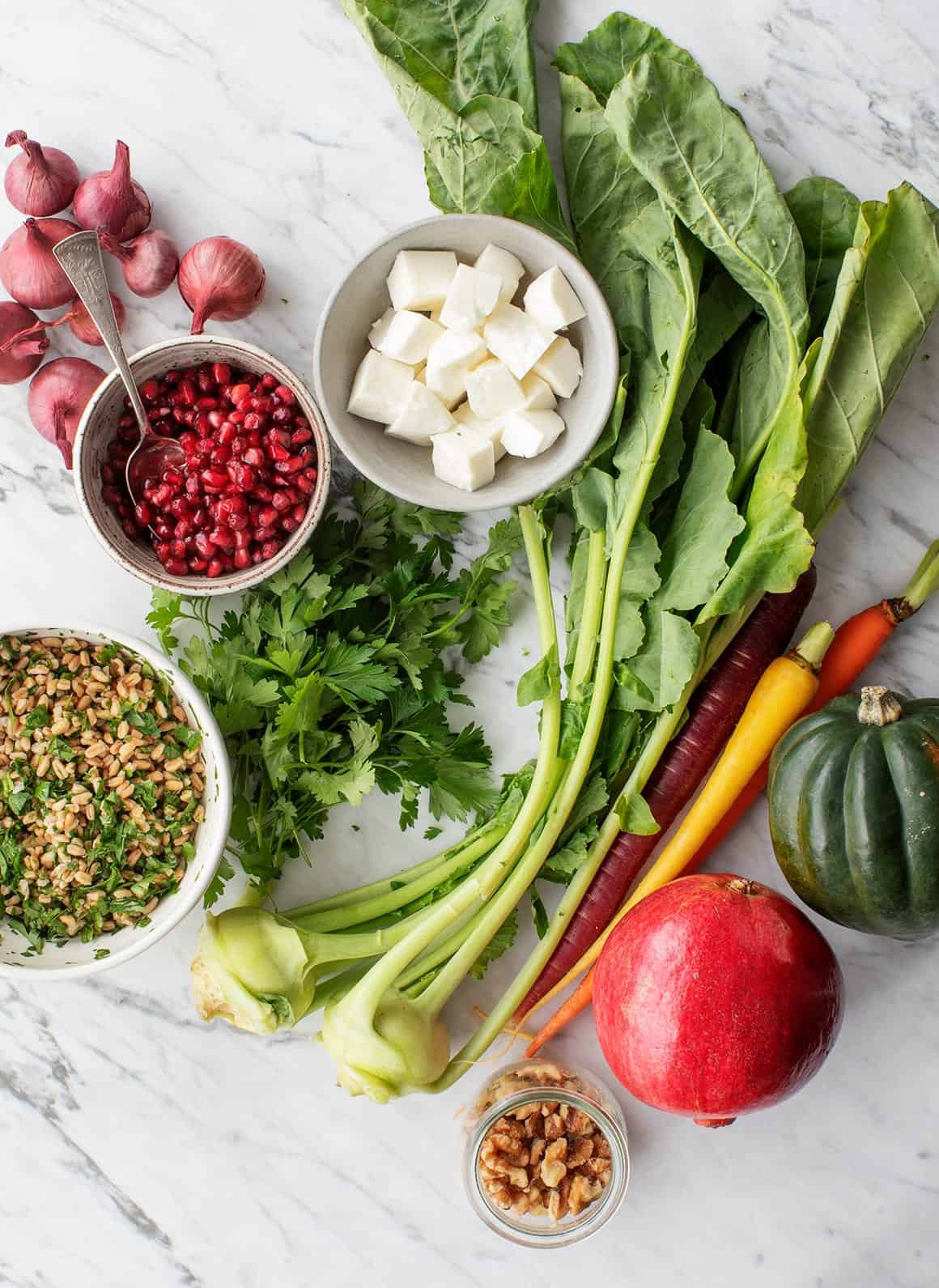 Pomegranate Salad Recipe Ingredients
I like to think of this pomegranate salad in three parts: the cooked components, the raw components, and the dressing:
The cooked components include acorn squash, cipollini onions, farro, and halloumi cheese. I roast the squash, onions, and halloumi, and I cook the farro on the stove using this method. The roasted veggies give the salad a sweet, caramelized flavor, which contrasts wonderfully with the hearty, savory halloumi. If you can't find cipollini onions, feel free to substitute a regular red onion in their place. To make this recipe gluten-free, omit the farro, or use quinoa or wild rice instead.
The raw components give the salad lots of pop and crunch. They include tangy feta cheese (goat cheese would be great too!), crisp carrot ribbons, shaved kohlrabi, baby greens, fresh herbs, apples, walnuts, and pomegranate seeds!
The salad dressing ties the whole thing together. It's tangy mix of apple cider vinegar, Dijon mustard, maple syrup, and extra-virgin olive oil. It tastes fantastic with the sweet roasted squash, onions, apples, and pomegranates!
Together, these components combine to make a salad that's hearty and satisfying, but bright and poppy too. I think you're going to love it!
Roast the squash, onions, and halloumi, cook the farro, and whisk together the dressing. Then, slice up the raw ingredients. When all the components are ready, assemble the salad, and serve!
Pomegranate Salad Serving Suggestions
Thanks to the halloumi, feta, farro, and roasted squash, this pomegranate salad is hearty enough to be a meal on its own! Make it for a light and healthy dinner, or prep the components ahead of time for lunches all week.
Of course, it's also a fantastic fall or winter side dish. Serve it alongside eggplant Parmesan, creamy mushroom polenta, a cozy soup, or one of these hearty pasta recipes:
In addition, this pomegranate salad would be a great recipe to add to a Thanksgiving or holiday menu. Pair it with traditional side dishes like green bean casserole, sweet potato casserole, mashed potatoes, mac and cheese, and roasted Brussels sprouts. If you're looking for more holiday sides, check out this post, and don't forget the pie for dessert!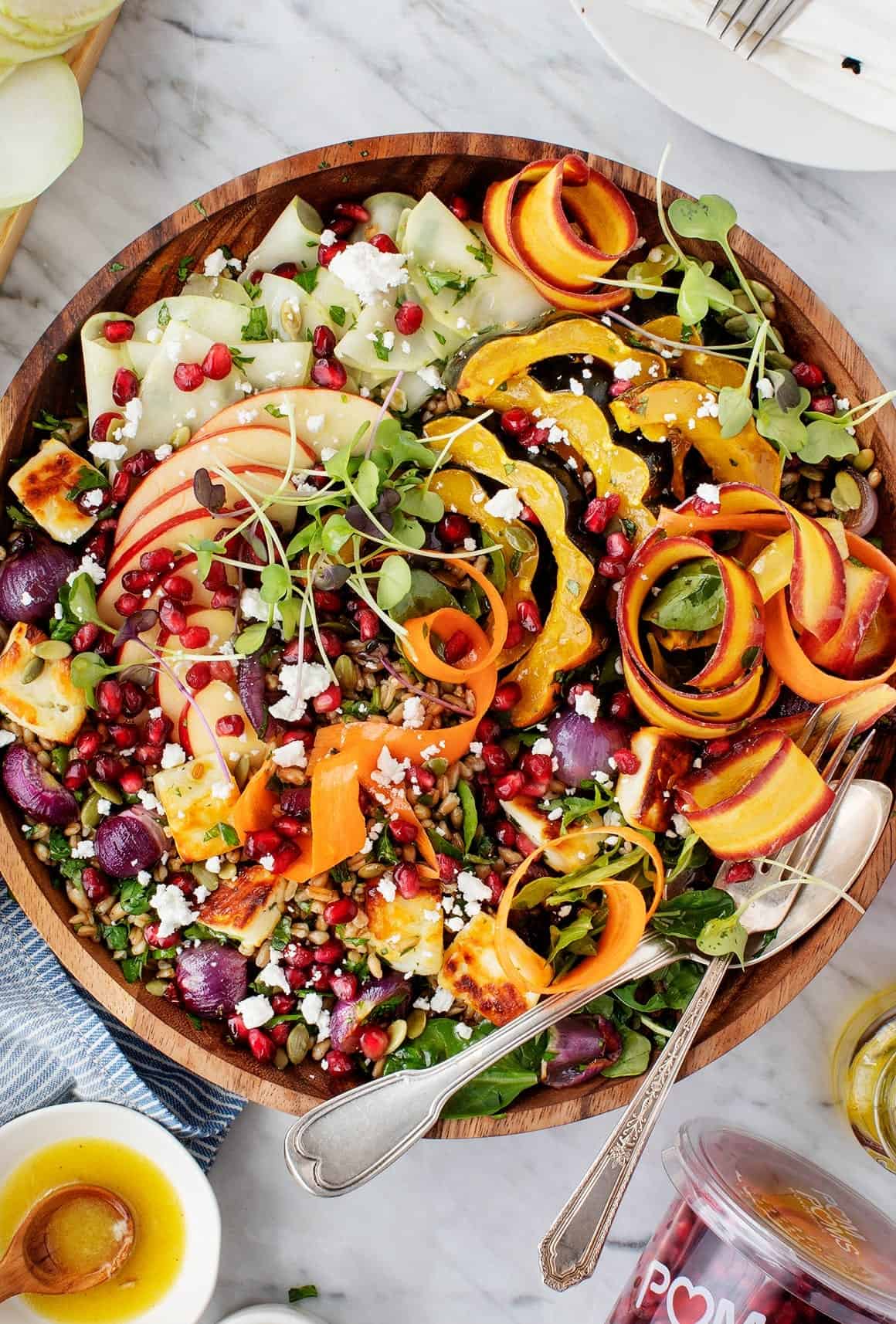 More Favorite Fall and Winter Salad Recipes
If you love this pomegranate salad, try one of these delicious salad recipes next:
Pomegranate Salad with Cider Dressing
I love this pomegranate salad for a Thanksgiving feast, but it would be delicious for any fall or winter dinner. Serve it as a side dish, or enjoy it as a meal on its own!
Ingredients
For roasting
1 acorn squash, cut in half, seeds removed, sliced into ¼-inch pieces
1 cup halved cipollini onions or shallot wedges
8 ounces halloumi, cubed
Extra-virgin olive oil, for drizzling
Sea salt and freshly ground black pepper
Dressing
¼ cup extra-virgin olive oil
2 tablespoons apple cider vinegar
1 garlic clove, minced
½ teaspoon Dijon mustard
½ teaspoon maple syrup
½ teaspoon sea salt
Freshly ground black pepper
For the salad
1½ cups cooked farro
1 cup finely chopped fresh herbs (parsley and/or cilantro)
Handful of mixed salad greens
2 small kohlrabi bulbs, peeled and sliced paper thin (or 2 additional carrots)
2 carrots, peeled into ribbons
½ apple, thinly sliced
2 tablespoons toasted walnuts or pepitas
⅓ cup pomegranate arils
¼ cup crumbled feta cheese
Handful of microgreens (optional)
Fresh lemon juice, to taste
Instructions
Preheat the oven to 425° and line 2 baking sheets with parchment paper. Place the squash and onions on one, and the halloumi on the other. Drizzle the squash, onions, and halloumi with olive oil and sprinkle with salt and pepper. Roast 20 to 30 minutes or until the squash is tender, the onions are soft, and the halloumi is golden brown around the edges.
Make the dressing: In a small bowl, whisk together the olive oil, vinegar, garlic, mustard, maple syrup, salt, and pepper to taste. Set aside.
In a small bowl, toss the kohlrabi with a drizzle of the dressing and toss to coat. In a medium bowl, combine the farro, herbs, and about ¼ of the dressing.
Assemble the salad on a large platter with the farro, mixed greens, squash, onions, halloumi, kohlrabi, carrots, apple, and the walnuts or pepitas. Drizzle with the remaining dressing, as desired, and sprinkle the pomegranate arils and feta cheese on top. Season to taste. I like to add a good squeeze of lemon at the end, or just before serving for extra pop. Top with the microgreens, if using.
Special thanks to POM Wonderful for partnering on this post!