This creamy polenta recipe comes together in a flash, thanks to one simple prep step. Serve it as a side dish, or add flavorful toppings to make it a meal.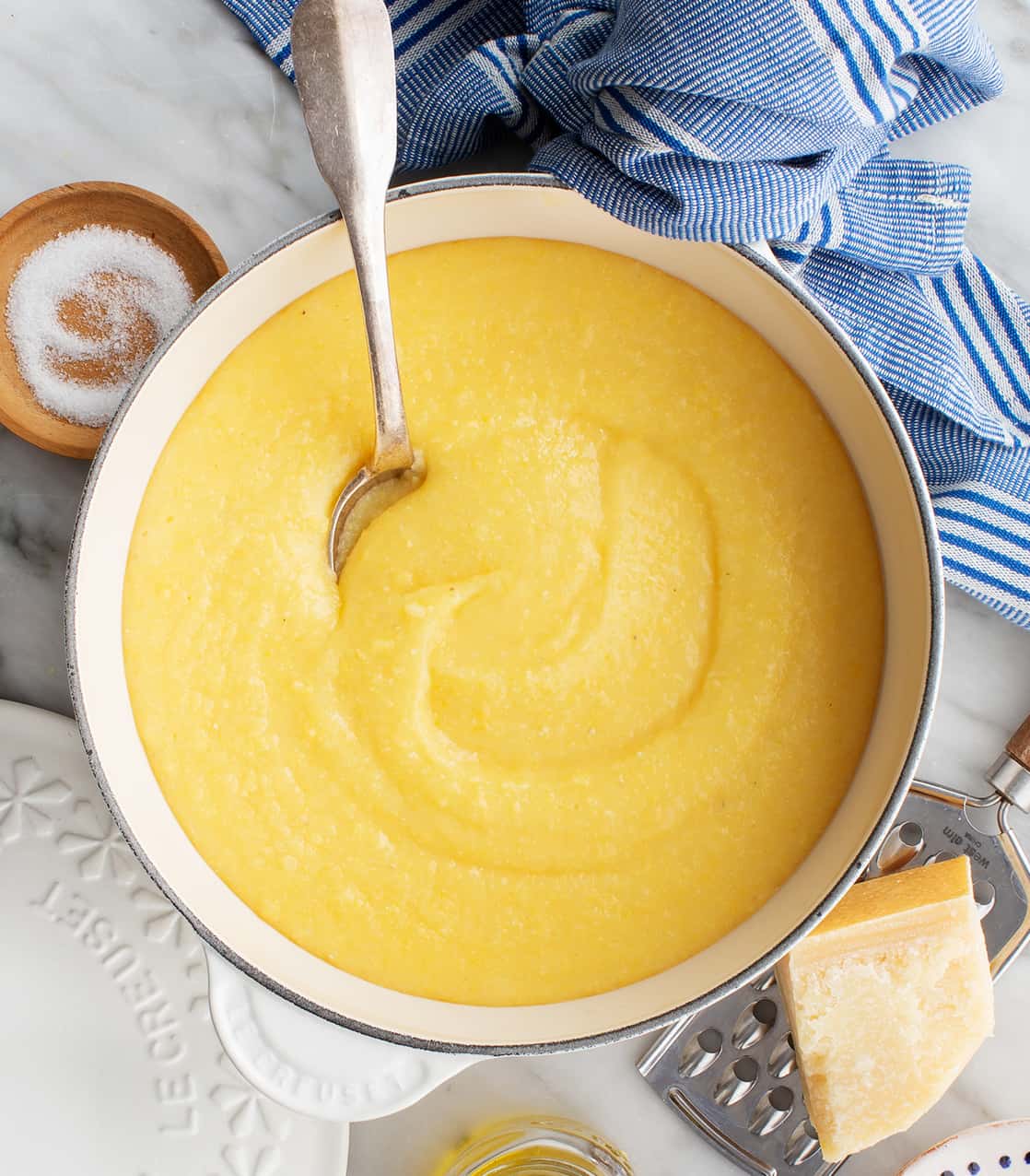 Everyone raves about Italian pasta and pizza, but if you ask me, polenta deserves just as much love. A north Italian porridge made of coarsely ground cornmeal, polenta is wonderfully creamy, with a lightly sweet, buttery corn flavor. Unlike oat porridge, it's not a traditional breakfast food. Though I do eat it for breakfast on occasion (see page 49 of Love and Lemons Every Day!), I most often enjoy this smooth, savory porridge for dinner. Topped with cheese, herbs, cooked vegetables, or a flavorful sauce, it transforms into a mouthwatering comfort food.
Below, you'll find my go-to method for making creamy, soft polenta in no time, plus my favorite ways to serve it. Try it once, and it'll have a permanent place in your rotation of potatoes, pasta, and bread. It's simple, healthy, and, most importantly, delicious.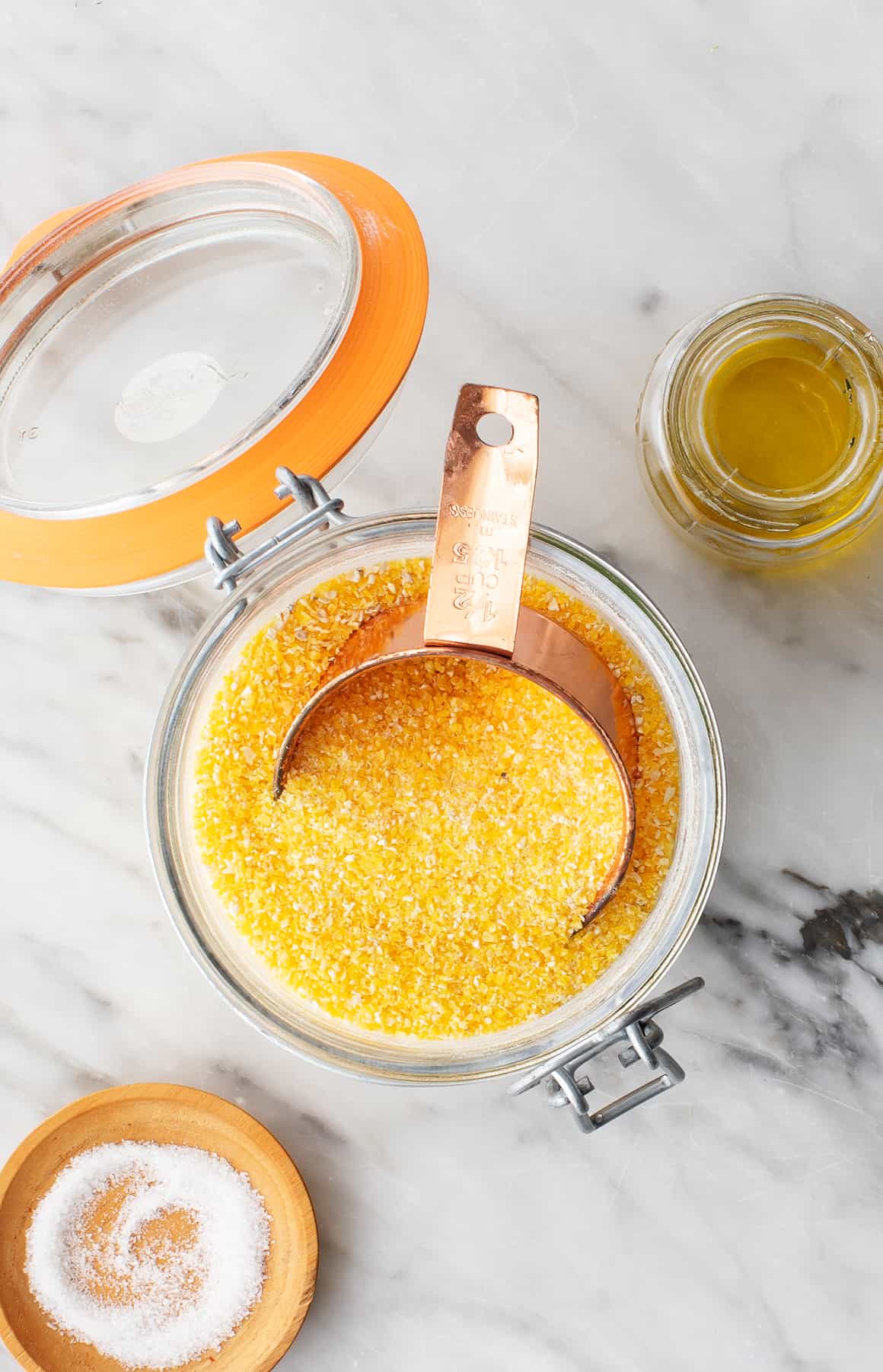 How to Make Polenta
Polenta has a reputation for being a finicky dish – it can take up to an hour of stirring over the stove, and it's easy to end up with a lump-filled mess instead of a smooth porridge. But when I want polenta, I want it now, so I developed an easy method for making creamy "instant" polenta.
Before I start cooking, I pulse the cornmeal in the blender so that the granules are less coarse. Made with this fine cornmeal, polenta is extra creamy, and it cooks in a fraction of a time. Once you try this method, you won't make it any other way! Note: this method works perfectly with Bob's Red Mill's Coarse Ground Polenta.
After you pulse the cornmeal in the blender, sift through it with your fingers to break up any clumps. Then, bring 3 cups of water to a simmer in a saucepan, and gradually add the polenta, whisking constantly.
Add an additional cup of water to the pan and continue to cook, stirring, for 15 minutes. Reduce the heat as needed if the polenta starts to boil. If the porridge becomes too thick, stir in up to 1/2 cup more water.
Turn off the heat and add a glug of olive oil and a pinch of salt. Let it stand, covered, for 5 minutes before you eat. Enjoy!
Polenta Recipe Tips
Sift through the blended cornmeal before you cook it. After you pulse the cornmeal in the blender, the fine grounds will have a tendency to stick together. To avoid ending up with large lumps in your cooked polenta, sift through the blended cornmeal with a fork or your fingers to break up any clumps.
Whisk constantly as you pour the cornmeal into the boiling water. Lumps are the biggest pitfall in making polenta, but it's easy to avoid them. Pour the cornmeal into the water gradually – NOT all at once – and whisk constantly as you do it. The constant whisking will evenly disperse the cornmeal grounds in the water, so they won't have a chance to clump together.
It'll thicken as it sits. Cooked polenta thickens quickly, so if you don't plan to eat it right away, you'll likely need to thin it before you serve it. Reheat the thickened polenta on the stove over low heat, adding more water or olive oil, as needed, to thin it to your desired consistency. Make sure to taste and adjust the seasonings before you serve it. After you add the extra liquid, it'll likely need another pinch of salt.

Polenta Serving Suggestions
Polenta is a fantastic blank canvas for flavorful toppings. Most simply, I enjoy it as a side dish with a shower of grated Parmesan cheese and freshly cracked black pepper. On occasion, I'll add roasted chickpeas or toasted pine nuts for crunch. Otherwise, I'll top it with a cooked veggie and a punchy sauce to make it a meal on its own:
Cooked veggies are the perfect way to add hearty texture, richness, and flavor to creamy polenta. Try pairing it with roasted broccoli, Brussels sprouts, tomatoes, butternut squash, or cauliflower, with grilled mixed vegetables or zucchini, or with sautéed mushrooms.
A punchy sauce is key for transforming this from a side dish into a show-stopping entrée. I especially like it with homemade marinara sauce, pesto, or chimichurri.
How do you like to serve polenta? Let me know in the comments!
More Cooking Basics
If you loved learning how to make polenta, try making one of these healthy cooking components next:
Creamy Polenta
This creamy, soft polenta is a delicious side dish or entrée! Because I pulse the cornmeal in the blender before I cook it, it comes together in no time, so it's perfect for busy nights.
Instructions
In a blender, pulse the dry polenta to make the granules less coarse. This gives the polenta a creamy texture and helps it cook faster. Remove from the blender and run your hands through the dry polenta to make sure there aren't any lumps.

In a medium pot, bring 3 cups of water to a high simmer. Slowly whisk in the polenta. Add 1 more cup of water and simmer for 15 minutes, stirring frequently. If your polenta is very thick, whisk in the remaining ½ cup water. The polenta should be creamy.

Turn off the heat and whisk in the olive oil and sea salt. Cover and let stand for 5 minutes. Season to taste and serve hot.
Notes
Note: Polenta will thicken as it sits. If you are not serving it immediately, you can reheat it by whisking in more water or olive oil to make it smooth and creamy again.
*I use Bob's Red Mill