Poblano peppers spice up this sweet & savory homemade cornbread stuffing recipe. Not a fan of spice? Don't worry. It's just as good without them.
What are your family's Thanksgiving traditions? We always have a turkey, of course, along with green beans, mashed potatoes, and sweet potatoes. Oh, and there's always Jello (and not for dessert… it's "dinner Jello"). But my favorite part is the stuffing. I'm a huge fan of traditional versions made with crusty bread (see here and here), but this year, I'm changing things up by adding this lightly spicy poblano cornbread stuffing to our Thanksgiving table.
What's in This Cornbread Stuffing Recipe?
This homemade cornbread stuffing is a delicious mix of classic stuffing ingredients plus a few extras for a spicy twist:
Onions, celery, carrots & sage are the aromatic base. They add traditional flavor to this unconventional cornbread stuffing recipe.
Poblano peppers spice it up.
Scallions, cilantro, and Mexican oregano are my Southwestern accents, playing off the heat of the peppers.
White wine makes it deliciously tangy.
Corn kernels add crunch and sweet pops of flavor.
Melted butter makes it rich & moist.
Dried currants dot it with sweet, chewy bites.
Thinly sliced kale adds pretty flecks of green and extra nutrients.
And maple syrup combines with the peppers to make it delectably sweet & spicy.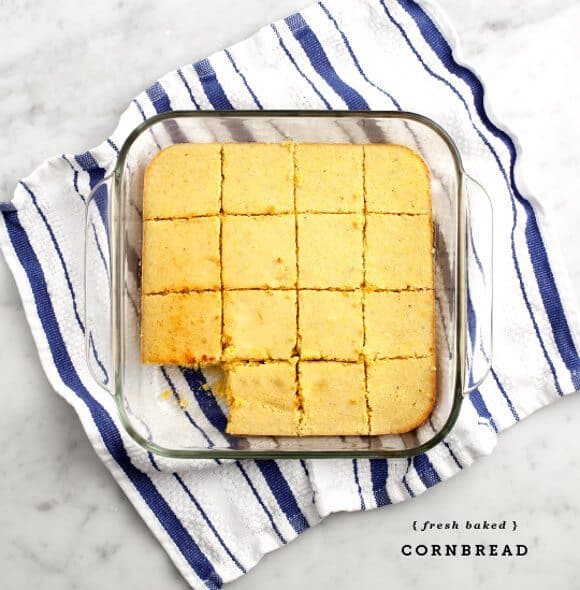 Homemade Cornbread Stuffing Tips
I've tested this recipe through and through. In my opinion, these three steps lead to the ultimate cornbread dressing success:
Prep in advance. Thanksgiving day is always hectic around here, and it's a bit of an extra step to have to make the cornbread. To make things easy, I like to bake it a day or two in advance. (And it's ok if you sample a piece). In a pinch, store bought cornbread will work too.
Spice to your level. As always when you're working with chiles, make sure to start with less and then add more to taste, depending on your preferences and the heat of your peppers. Each pepper has a different heat level, so it's best to proceed with caution.
Broil it! I made this recipe as a cornbread dressing, cooking it in a baking dish outside of the turkey. If you go this route, turn on the broiler for the last few minutes that it's in the oven. This way, it'll develop a nice golden brown crust on top but stay soft & moist in the middle.
Cornbread Stuffing Recipe Variations
I love this recipe as written – it's spicy, fresh, and even a little sweet – but feel free to change it up! Here are some suggestions:
Skip the spice! If you want a traditional cornbread stuffing, omit the poblano and oregano, and substitute parsley for the cilantro. Dried cranberries would be delicious instead of the currants in this variation.
Make it smoky. Use this cornbread recipe to add smoky flavor to your stuffing. The smokiness comes from chipotles in adobo sauce, which are also spicy. If you go this route, add less poblano so that the spice level isn't overwhelming. You can always add more to taste.
Switch the greens. Use another hearty green, like collards, instead of the kale.
Vary the veggies & herbs. To me, scallions and celery are stuffing essentials, but finely diced butternut squash or sweet potato would be excellent autumn substitutes for the carrot! A teaspoon or two of thyme leaves would also be great here.
Let me know what variations you try!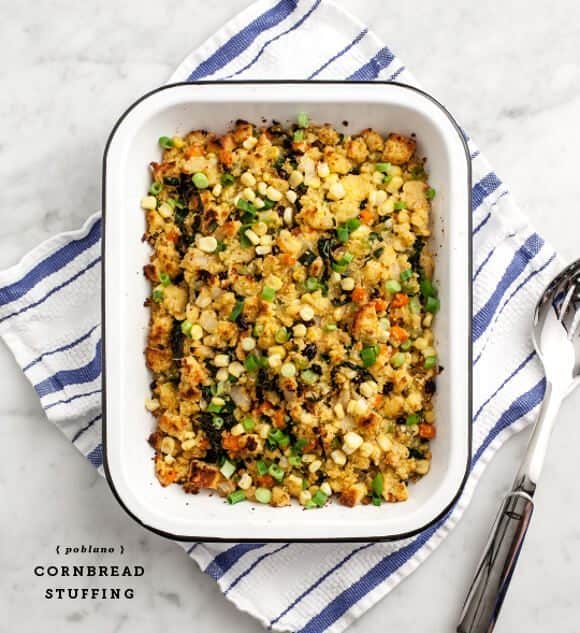 If you love this cornbread stuffing recipe…
Be sure to try some of my other favorite Thanksgiving side dishes like Brussels sprout salad, roasted Brussels sprouts, roasted beets, stuffed squash, and apple pie.
Poblano Cornbread Stuffing
This gluten-free cornbread stuffing recipe is a spiced up twist on the Thanksgiving classic. Soft & moist, it's a delicious addition to your holiday table.
Ingredients
for the cornbread:
1 cup cornmeal
½ cup all purpose gluten free blend (or regular all purpose)
½ cup almond flour (or whole wheat flour)
2 teaspoons baking powder
½ teaspoon salt
1 cup almond milk
¼ cup extra-virgin olive oil
¼ cup maple syrup
for the stuffing:
1 batch cornbread
2 tablespoons extra-virgin olive oil
1 medium yellow onion, chopped
½ cup chopped carrots
½ cup chopped celery
¼ -1/3 cup chopped poblanos or jalapeños (depending on spice level)
2 garlic cloves, minced
Scant ¼ cup chopped fresh sage
1 tablespoon dried oregano
¼ cup white wine (or 1 tablespoon white wine vinegar)
½ cup corn (frozen works fine)
½ cup chopped scallions
¼ cup dried currants
½ cup thinly sliced kale
Sea salt and fresh black pepper
½ cup almond milk, unsweetened
¼ cup melted butter (or vegan earth balance butter)
1½ tablespoons maple syrup
½ cup chopped cilantro (reserve some for garnish)
Instructions
Preheat oven to 350.
First, make the cornbread: Whisk together the cornmeal, flours, baking powder, and salt. In a separate bowl, whisk together the almond milk, olive oil, and maple syrup.
Using a large spoon, mix both together (do not overmix).
Pour into a greased 8×8 baking dish and bake for 25 minutes or until a toothpick comes out clean.
For the stuffing: In a large skillet heat the oil over medium heat. Add the onions and cook for a few minutes until they start to soften. Add the carrots, celery, and pinches of salt and pepper, and continue cooking until the vegetables soften, about 5 minutes. Add the poblanos, garlic, sage, and oregano and cook a few minutes more. Deglaze the pan with the white wine. Add the corn, scallions, currants, and kale with some more salt and cook for just another few minutes, until the kale wilts down. Remove the pan from the heat and set aside.
Whisk together almond milk, melted butter, and maple syrup. Set aside.
Crumble the cornbread into a large bowl, add the cooked veggies from the pan, and toss it all together. Pour the almond milk mixture on top and toss again. Mix in the chopped cilantro. Taste and adjust seasonings, keeping in mind that it will taste (a lot) less spicy once it's baked.
Pour into a greased 11×9 (or similar) pan and bake for approximately 15-20 minutes. You want the inside to remain soft, and the outside just slightly crisped. I turned my broiler on for the last 2-3 minutes to get a nice golden crust.
Notes
*Alternatively, you could stuff this in the turkey and/or bake some separately if you have vegetarian guests.