Learn how to make poached eggs perfectly every time! With firm whites and runny yolks, they're delicious on avocado toast, grain bowls, and more.
There's rarely a week that goes by without me making poached eggs. In fact, "Put a poached egg on it," is one of my tried-and-true mottos. If I'm making toast, a salad, or a grain bowl, and it just needs a little extra something (e.g., protein), I pop a poached egg on top. Breakfast, lunch, and dinner = solved.
Poached eggs might seem fancy, but they're actually really simple to make at home. My method for how to poach an egg takes minutes, uses basic equipment, and requires 3 ingredients. Better yet, the eggs always come out with firm, yet delicate, whites and tempting runny yolks. Try it once, and you'll be making perfect poached eggs in no time!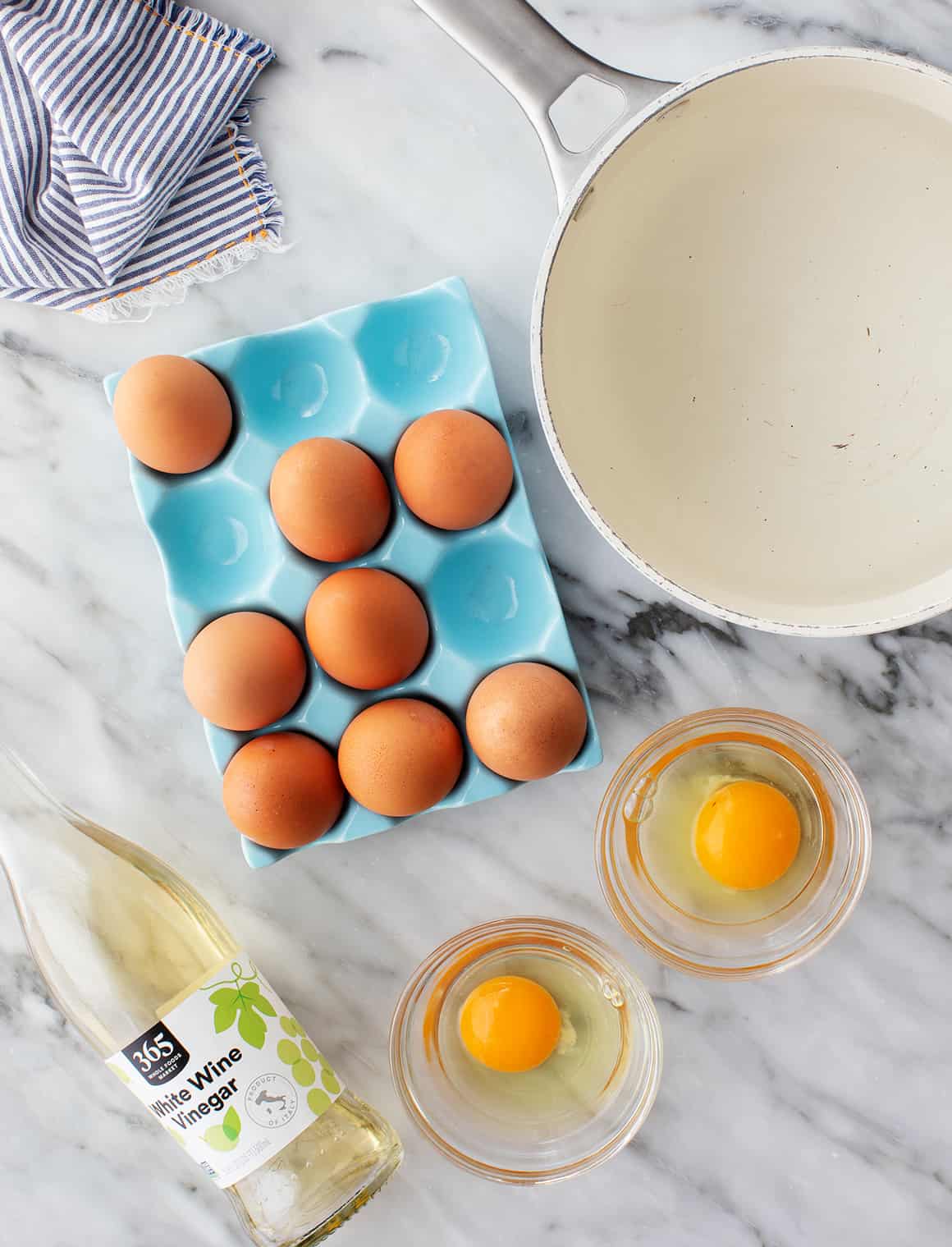 How to Poach an Egg
My method for how to poach an egg is super simple! Here's how it goes:
First, crack an egg into a small bowl or ramekin. This step will allow you to gently slip the egg into the boiling water later on. You'll also know that the yolk is intact.
Next, bring a medium pot of water to a gentle boil. Bubbles will be forming on the bottom of the pot and rising to the surface, and the water will be steaming, but it won't be bouncing and bubbling rapidly. Adjust the heat so that it maintains this simmer.
Then, add a tablespoon of white wine vinegar and stir. Stir the water in a circular motion to create a vortex at the center of the pot. Carefully pour the cracked egg into the center of the vortex, and gently stir again.
Finally, simmer. Set a timer for 3 1/2 minutes. Some egg white may rise to the surface of the water as the egg cooks. That's ok! Just skim it off the top and continue cooking. When the timer goes off, use a slotted spoon to remove the egg from the hot water and lightly tap it with your finger to test for doneness. Feel free to return it to the water if you prefer a firmer yolk. When the egg is cooked to your liking, it's ready to eat.
Poached Eggs Recipe Tips
Start by cooking one at a time. Poaching eggs isn't hard, but it can take a little practice to work out the technique. I recommend cooking one at a time until you're really comfortable. Then, try poaching two at once! I wouldn't go beyond that, though. If you add more eggs to the pot, it'll be too crowded.
Don't skip the vinegar. Trust me, I've tried it. The vinegar is essential for helping the egg coagulate in the simmering water. Without it, the white and the yolk will separate as the egg cooks. No thanks!
Strain the eggs, if you like. Have you ever noticed that an egg white has two parts? There's a thick circle or oval surrounding the yolk and a thinner, more watery section on the outside. This watery white is what becomes wispy when you make poached eggs. It doesn't bother me, but if you want your poached eggs to have perfectly rounded whites, you can crack them into a fine mesh strainer. After the thin whites fall away, carefully transfer the egg to a small bowl and proceed with the recipe.
Gentle is key. I'm laughing at myself right now because I just realized that the recipe below has the word "gentle" in it three times. I'm leaving it in, though, because when you're learning how to poach an egg, being gentle is essential. Don't bring the water to an aggressive boil. Don't plop the egg in, and don't stir too hard. If you do, the egg may break apart. However, if you work gently, you'll make perfect poached eggs without a hitch.
Poached Eggs Serving Suggestions
With their delicate whites and rich, runny yolks, poached eggs are delicious on their own. Sprinkle them with salt and pepper and enjoy them as they are, with good crusty bread for sopping up any runaway yolk.
But your options for serving them don't end there! Here are a few more tasty ways to use them:
Top them onto avocado toast. Does anyone else get hungry just from looking at the photo above?
Make eggs Benedict. Once you make a perfect poached egg, you're well on your way to whipping up eggs Benedict! Grab some English muffins, and find my recipe on page 41 of Love & Lemons Every Day.
Add them to a salad. If I want to bulk up a serving of my Avocado Salad, Brussels Sprouts Salad, or Panzanella, I slip an egg on top!
Or a grain bowl. Poach the egg instead of soft-boiling it in this Power Bowl Recipe.
Serve it over grains and veggies. For a quick meal, pile poached eggs onto couscous, wheat berries, farro, or quinoa, with sautéed kale, asparagus, or roasted broccoli on the side. The runny yolk will act like a sauce, bringing everything together. Yum!
How do you like to serve poached eggs? Let me know in the comments!
More Favorite Egg Recipes
If you loved learning how to poach an egg, try one of these easy egg recipes next: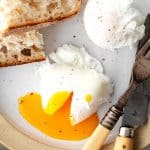 Poached Eggs
Learn how to make poached eggs perfectly every time! With firm whites and runny yolks, they're delicious on their own or over avocado toast, grain bowls, sautéed greens, and more. See the post above for additional serving suggestions.
Ingredients
1

large

egg

1

tablespoon

white wine vinegar

Pot of water
Instructions
Crack the egg into a small bowl.

Bring a medium pot of water to a gentle boil. Add the vinegar and stir the water so that it moves in a circular motion. Gently drop the egg into the water, give the water one more gentle stir, and cook 3 1/2 to 4 minutes.

Scoop the egg out with a slotted spoon and test for doneness, and serve.