These easy plant-based recipes will satisfy any craving! They include vibrant grain bowls, hearty veggie burgers, noodles, sushi, and more.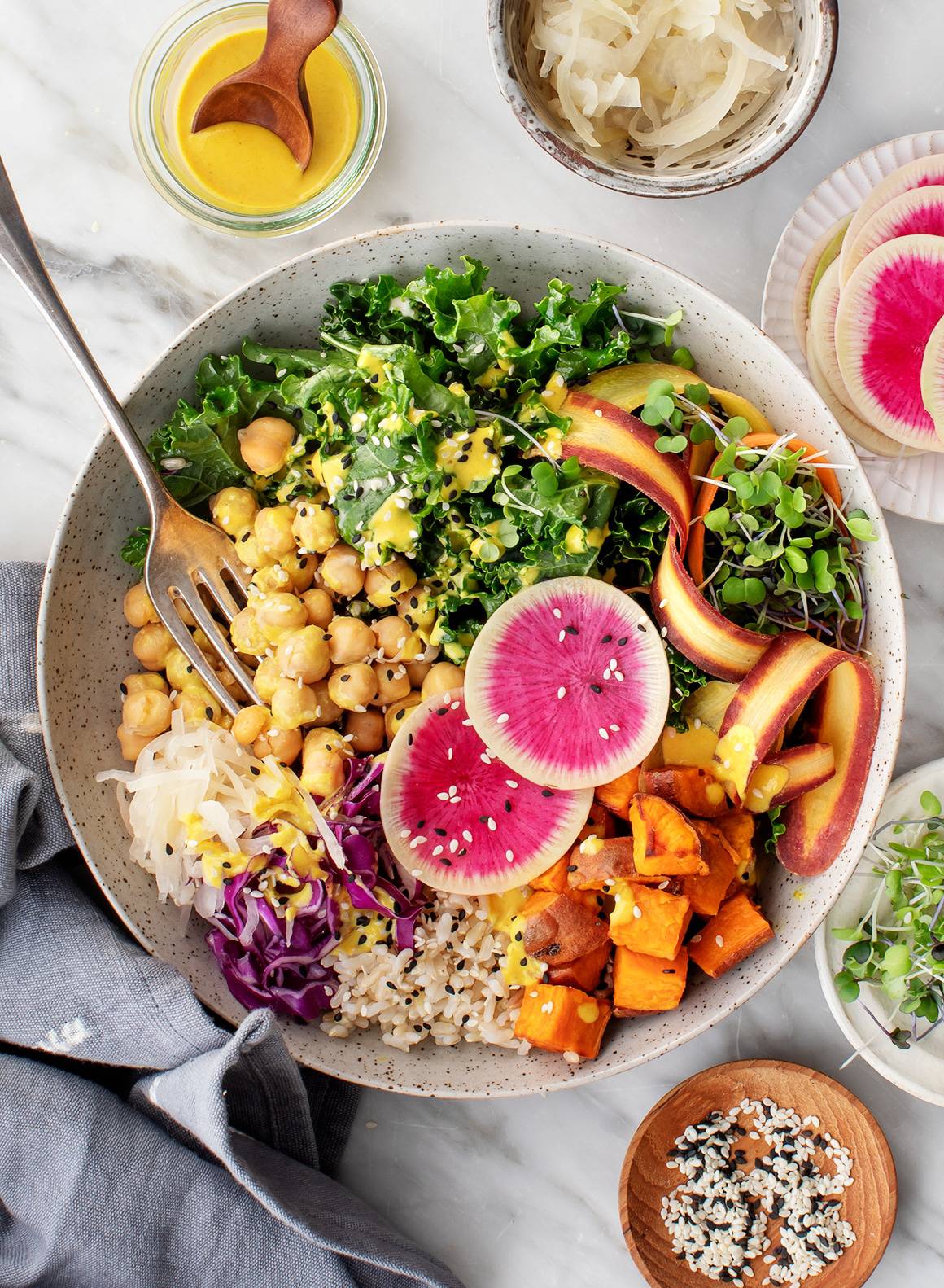 I'm popping in today to highlight some of my favorite plant-based recipes! If you saw my post over the weekend, you know that I get tons of questions about plant-based eating at this time of year. It makes sense – in the last few years, plant-based diets have gotten a lot of press. They're said to be better for your health and better for the planet. What's not to love?
Well, many people don't know where to start. Sure, they know that they should eat whole grains, veggies, fruits, and legumes. But while these components are nutritious, they don't add up to delicious, satisfying meals on their own.
That's where these plant-based recipes come in! They take the building blocks of a plant-based diet – the aforementioned veggies, grains, etc. – and transform them into dishes that are exciting, filling, and fun to eat. Below, you'll find vibrant grain bowls, hearty veggie burgers, tasty sandwiches, noodles, sushi, and more. Whether you're a longtime vegan or experimenting with plant-based recipes for the first time, you're sure to find something you love!
Bowl Plant-Based Recipes
These colorful bowls check all the plant-based boxes! They've got protein, they've got whole grains, they've got veggies. Best of all, they taste fantastic.
Best Buddha Bowl
Cozy roasted sweet potatoes, chickpeas, and brown rice make this bowl hearty and satisfying. I round it out with massaged kale, radishes, carrots, and cabbage, but all sorts of veggies would work here. Experiment with roasted cauliflower, broccoli, or butternut squash!
Kimchi Brown Rice Bliss Bowls
I could eat this healthy vegan bowl every night of the week! Savory grilled tempeh, kimchi, and peanut sauce pack it with bold flavor.
Adzuki Bean Bowls
No adzuki beans? No problem. This refreshing grain bowl is great with black beans too!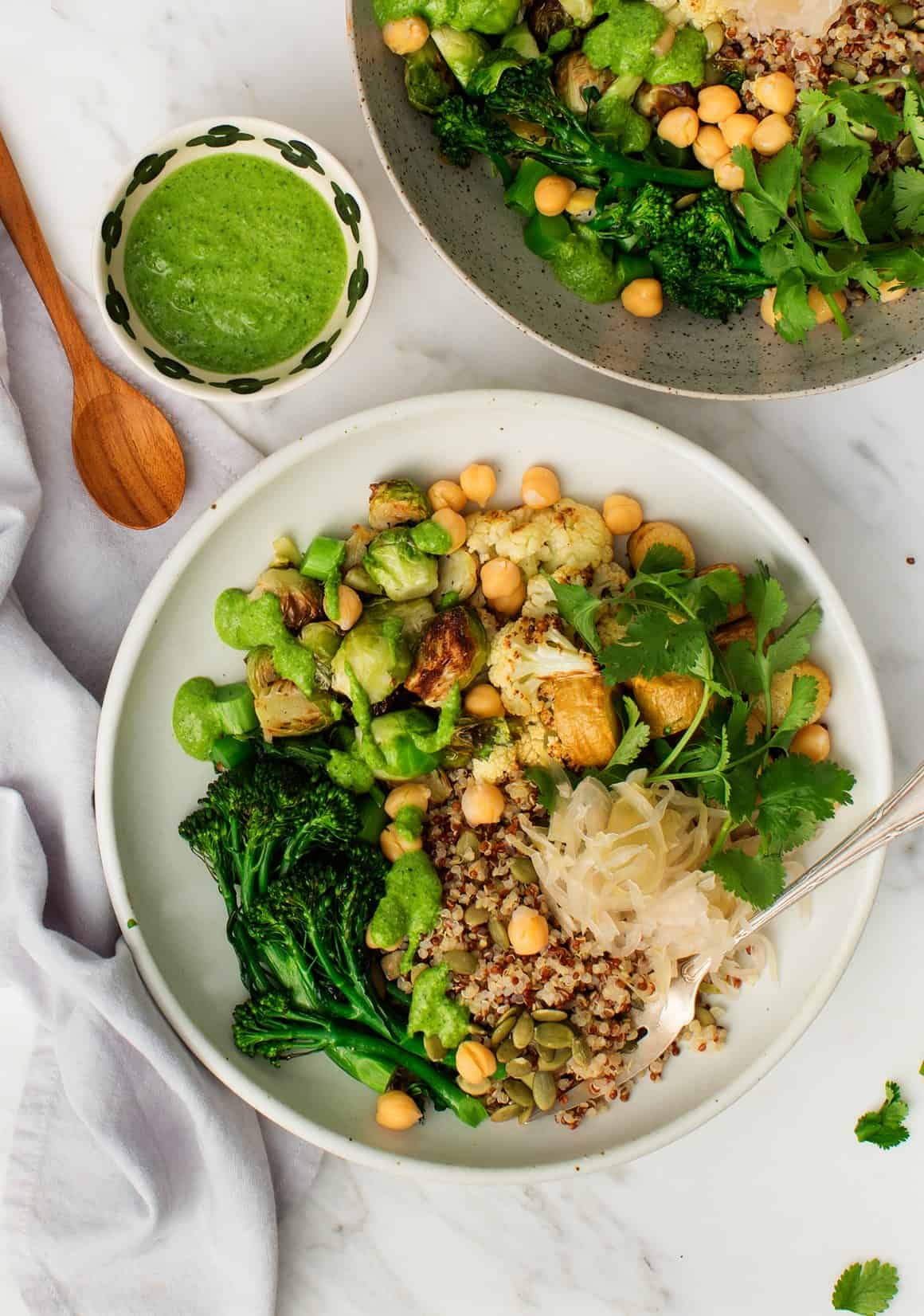 Roasted Veggie Grain Bowl
There's a lot to love about this bountiful bowl – roasted veggies, hearty quinoa, and pepitas for crunch. But the best part is the sauce. It's a super-green, super-yummy kale pesto that you're going to want to drizzle on everything.
Cauliflower Rice Kimchi Bowls
Cauliflower rice acts as the base of this grain-free grain bowl. I love to make this recipe when I'm craving a healthy reset. It's light and fresh, but baked tofu, shiitake mushrooms, and a coconut-ginger-lime sauce make it flavorful and satisfying.
Macro Veggie Bowl
When we lived in Austin, I loved eating at a macrobiotic restaurant called Casa de Luz. This recipe is my at-home version of one of their dynamic bowls, complete with steamed veggies, brown rice, sauerkraut, mung beans, and a sunny turmeric-tahini sauce.
Plant-Based Recipes for Burgers and Sandwiches
You don't need meat to make a hearty burger or a substantial sandwich! These plant-based recipes for burgers and sandwiches are fun, delicious main dishes for dinner or lunch.
Best Veggie Burger
When I say best, I mean it. This plant-based burger is hearty, savory, smoky, and satisfying. Oh, and it's grill-able too!
Portobello Mushroom Burger
Plant-based recipes don't get easier than this. Douse portobello mushroom caps in balsamic and tamari, and grill them until they're juicy and charred. Then, pile them into hamburger buns with all the fixings, and eat!
Crispy Baked Falafel
Take one bite of this crispy baked falafel, and you'll immediately go back for another. Decked out with pickled onions, tahini sauce, fresh herbs, and veggies, it's an unbeatable plant-based meal.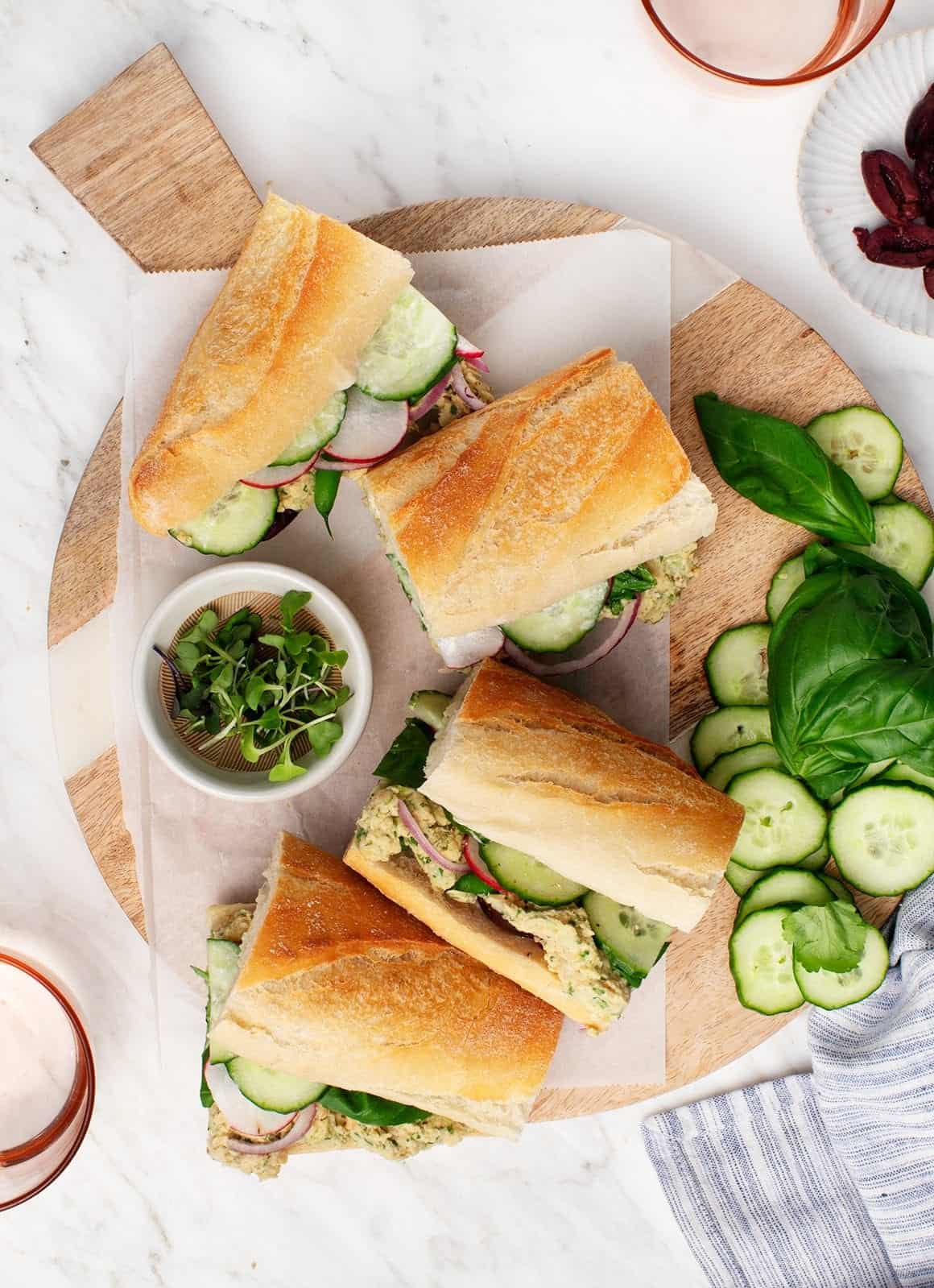 Chickpea Salad Sandwich
Tahini adds richness to this mayo-free chickpea salad. I like to stuff it into sandwiches with olives for briny flavor and blanched green beans for crunch.
Crispy Shiitake BLT, page 171 of The Love & Lemons Cookbook
Crispy shiitake bacon replaces the meat in this plant-based riff on a BLT. Serve it on toasted whole grain bread with a big slather of vegan mayo.
Veggie-Centric Plant-Based Dinner Recipes
But…aren't plant-based recipes always "veggie-centric?" Ok, yes. But in this category, plants are really at the center of the plate. Slabs of cauliflower become hearty "steaks." Roasted spaghetti squash replaces pasta. Baked sweet potato transforms into a creamy sauce. Seriously, what can't vegetables do?
Cauliflower Steaks with Lemon Salsa Verde, page 145 of Love & Lemons Every Day
I use cauliflower 2 ways in this elegant entree. First, I roast the "steaks." Then, I blend more cauliflower into a luscious, lemony sauce. Assemble plates with a swoosh of the sauce and a "steak," and sprinkle bright, briny salsa verde on top!
Stuffed Acorn Squash
A tempeh and mushroom filling makes this stuffed acorn squash a satisfying main dish. Don't skip the pomegranate arils on top – they offer a sweet, bursty contrast to the savory filling.
Twice Baked Sweet Potatoes
How do you make a puffy baked sweet potato even more delicious? Top it with a bright broccoli salad and a to-die-for sauce! Seriously, you're going to love the sauce here. It's a creamy, cozy blend of baked sweet potato flesh, cashews, and rosemary. Yum!
Stuffed Poblano Peppers
Tomatillo salsa adds zesty flavor to these super-veggie stuffed peppers. Cauliflower, bell pepper, and spinach round out the rice and bean filling.
Mediterranean Stuffed Eggplant, page 179 of Love & Lemons Every Day
I tested this recipe two ways: grilled and baked. I loved the two versions so much that I included them both in the book. Save the grilled version for the summer, and make the baked one when it's cold out!
Spaghetti Squash with Chickpeas and Kale
Sun-dried tomatoes and fresh rosemary add depth to this comforting plant-based recipe. I posted it over 6 years ago, but it's still one of our most popular recipes. Trust me, you don't want to miss it!
Noodles and Sushi
I'm obsessed with these plant-based recipes for noodles and sushi, and I think you will be too! Punchy, flavorful sauces make all these dishes satisfying and fun to eat.
Sesame Soba Noodles
These yummy noodles are one of my favorite plant-based recipes! Feel free to vary the veggies with the seasons. I love snap peas and radishes in the spring, but cucumber, carrots, shaved cabbage, and sautéed mushrooms are great here too.
Maki Sushi
Roasted shiitake mushrooms add rich flavor to these veggie sushi rolls. They're fantastic on their own, but they're even better with carrot-ginger sauce for dipping!
Radish "Noodles" with Cashew-Coconut Sauce, page 161 of Love & Lemons Every Day
Spiralized daikon radishes act as the "noodles" in this veggie-forward bowl. Can't find multicolored daikon? Don't worry about it. Use zucchini noodles instead!
Peanut Noodle Kale Bowls, page 147 of The Love & Lemons Cookbook
Need dinner on the table in under 30 minutes? Make these peanut noodles! If you're gluten-free, you can still enjoy them. 100% buckwheat soba noodles and brown rice pasta both work perfectly here.
Substantial Salads
Say goodbye to sad salads forever! These bountiful salads are flavorful and filling enough to be meals on their own.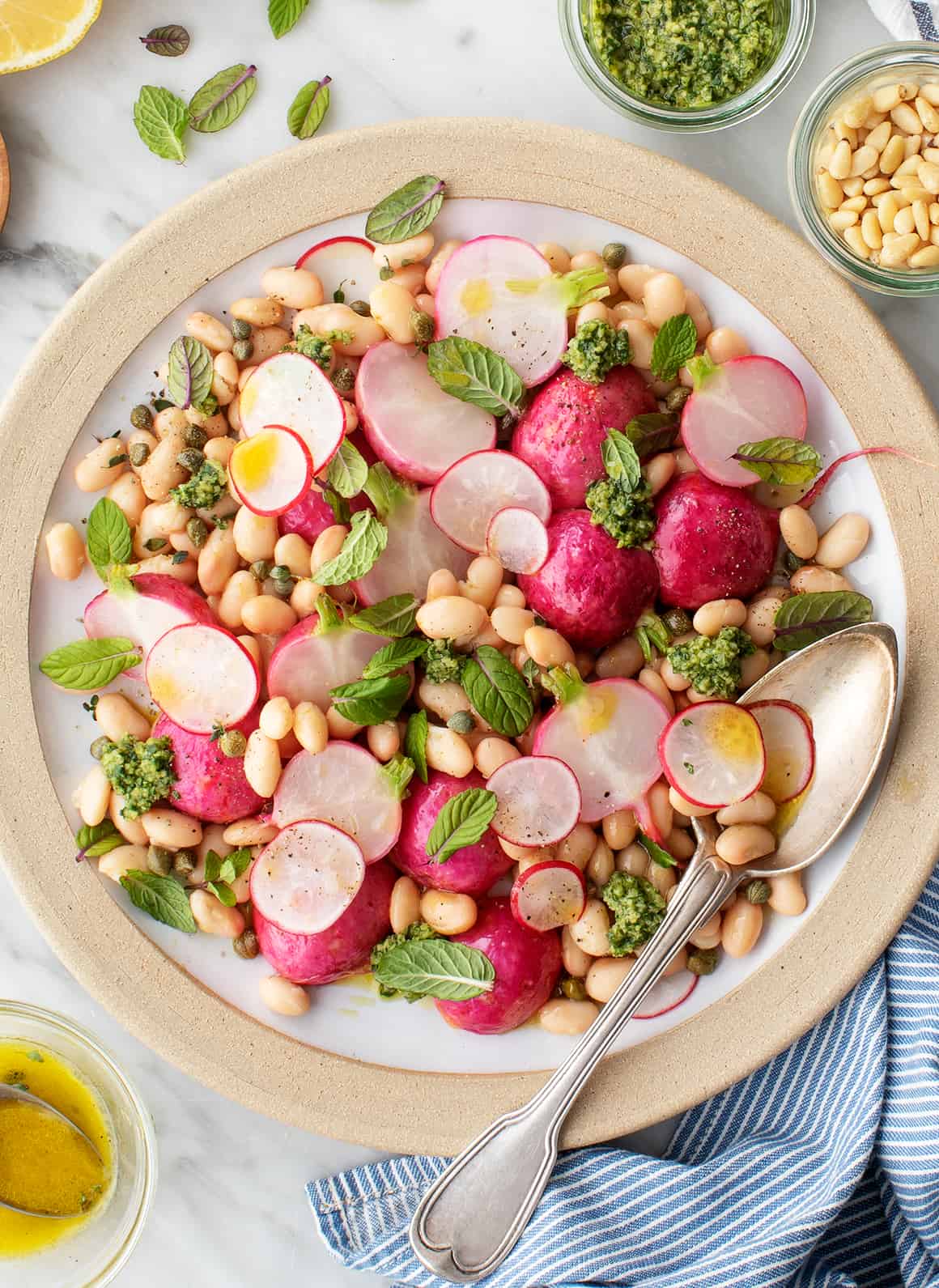 Radish Salad
The next time you get a bunch of radishes with lush greens, don't toss those tops! Instead, blend them into a lemony pesto, and dollop it over this roasted and raw radish salad.
Kale Salad with Carrot Ginger Dressing
This energizing salad is one of my go-to plant-based meals. Creamy avocado plays off toasted seeds and crispy roasted chickpeas, dried cranberries add a touch of sweetness, and a brilliant carrot-ginger dressing ties it all together.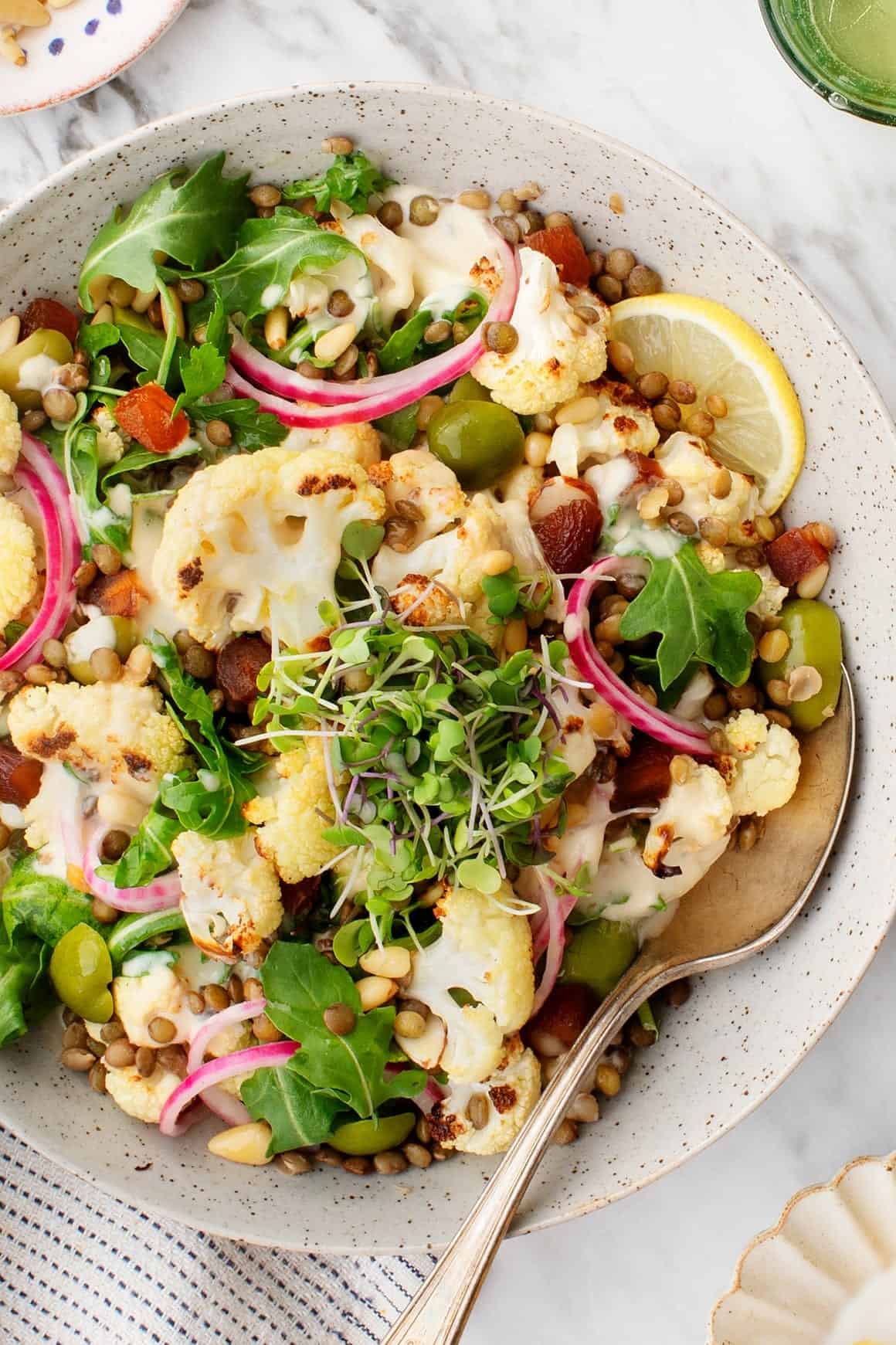 Roasted Cauliflower Salad
Thanks to French green lentils, briny olives, bright pickled onions, and dried fruit, this salad is bursting with enticing textures and flavors. I love to make it for lunch, but it's a show-stopping dinner side dish, too!
Healthy Taco Salad
You won't find any meat or cheese in this plant-based taco salad, but don't worry – you won't miss them one bit! Crispy tortilla strips, shiitake-walnut taco "meat," and a creamy cilantro lime dressing make it an irresistible weeknight meal.
Hearty Soups and Stews
I saved the best for last! Hearty soups and stews might be my favorite category of plant-based recipes. They're easy to make without animal products, and they're soothing and nourishing. You'll have them on repeat throughout the fall and winter!
Butternut Squash Soup
Fresh sage and rosemary add rich autumnal flavor to this vegan butternut squash soup. On cold nights, there's nothing I crave more.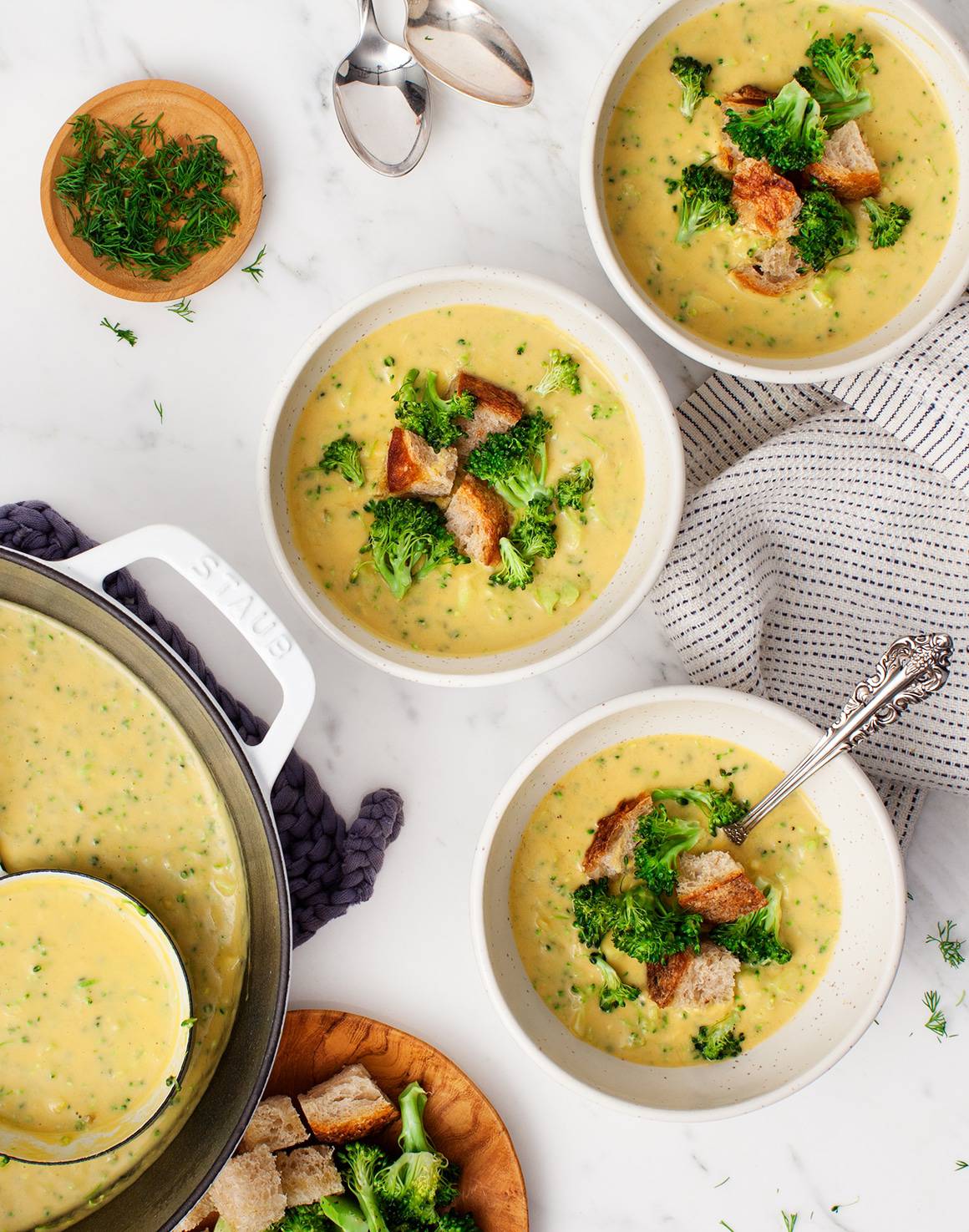 Vegan Broccoli Soup
My dairy-free riff on classic broccoli cheese soup! Its thick, creamy texture comes from blended potato, carrots, and cashews, and fresh dill, apple cider vinegar, and nutritional yeast create its savory, cheesy flavor.
Best Lentil Soup
This curried lentil soup is one of our weeknight favorites! It's made with simple ingredients, and it's easy to make, but it's still richly flavorful.
Easy Coconut Curry
Served over rice, this comforting curry is a filling, flavorful, and surprisingly quick meal. It's everything I want on a weeknight!
Easy Vegetarian Chili
How could I make a list of plant-based recipes without including veggie chili?! Top this smoky, spicy stew with creamy avocado and pickled onions for pop.
Tomato Basil Soup
Roasted tomatoes infuse this warming soup with rich, savory flavor. Serve it with toasted baguette, or top it with homemade croutons for crunch!
Cream of Mushroom Soup
This creamy soup tastes decadent, but it's secretly healthy. Blended cauliflower – not nuts or dairy – creates its luscious texture.
More Favorite Plant-Based Recipes
Love what you're seeing here? You'll find even more plant-based recipes in these posts:
Plant Based Recipes: Buddha Bowls
These buddha bowls are one of our favorite plant based recipes!
Ingredients
1

large sweet potato

,

cubed

Extra-virgin olive oil

,

for drizzling

1

watermelon radish or 2 red radishes

2

medium carrots

1

cup

shredded red cabbage

Squeeze of lemon

8

kale leaves

,

chopped

2

cups

cooked brown rice or quinoa

1

cup

cooked chickpeas or cooked lentils

¾

cup

sauerkraut or other fermented veggie

2

tablespoons

sesame seeds or hemp seeds

Turmeric Tahini Sauce,

for serving

Microgreens

,

optional

Sea salt and freshly cracked black pepper
Instructions
Preheat the oven to 400°F and line a large baking sheet with parchment paper.

Toss the sweet potatoes with olive oil, salt, and pepper, and spread onto the baking sheet. Roast for 20 minutes, or until golden brown.

Thinly slice the radish into rounds (this is best done on a mandoline), and use a vegetable peeler to peel the carrots into ribbons.

Toss the radish slices, carrots, and shredded cabbage with a squeeze of lemon. Set aside.

Place the kale leaves into a large bowl and toss with a squeeze of lemon and a few pinches of salt. Use your hands to massage the leaves until they become soft and wilted and reduce in the bowl by about half.

Assemble individual bowls with the brown rice, chickpeas, kale, carrots, radishes, cabbage, sweet potatoes, sauerkraut, sesame seeds, and microgreens, if using. Season with salt and pepper and serve with the Turmeric Tahini Sauce.