This 7-ingredient pico de gallo recipe comes together in under 10 minutes, and it's the perfect zesty, fresh topping for your favorite Mexican dishes!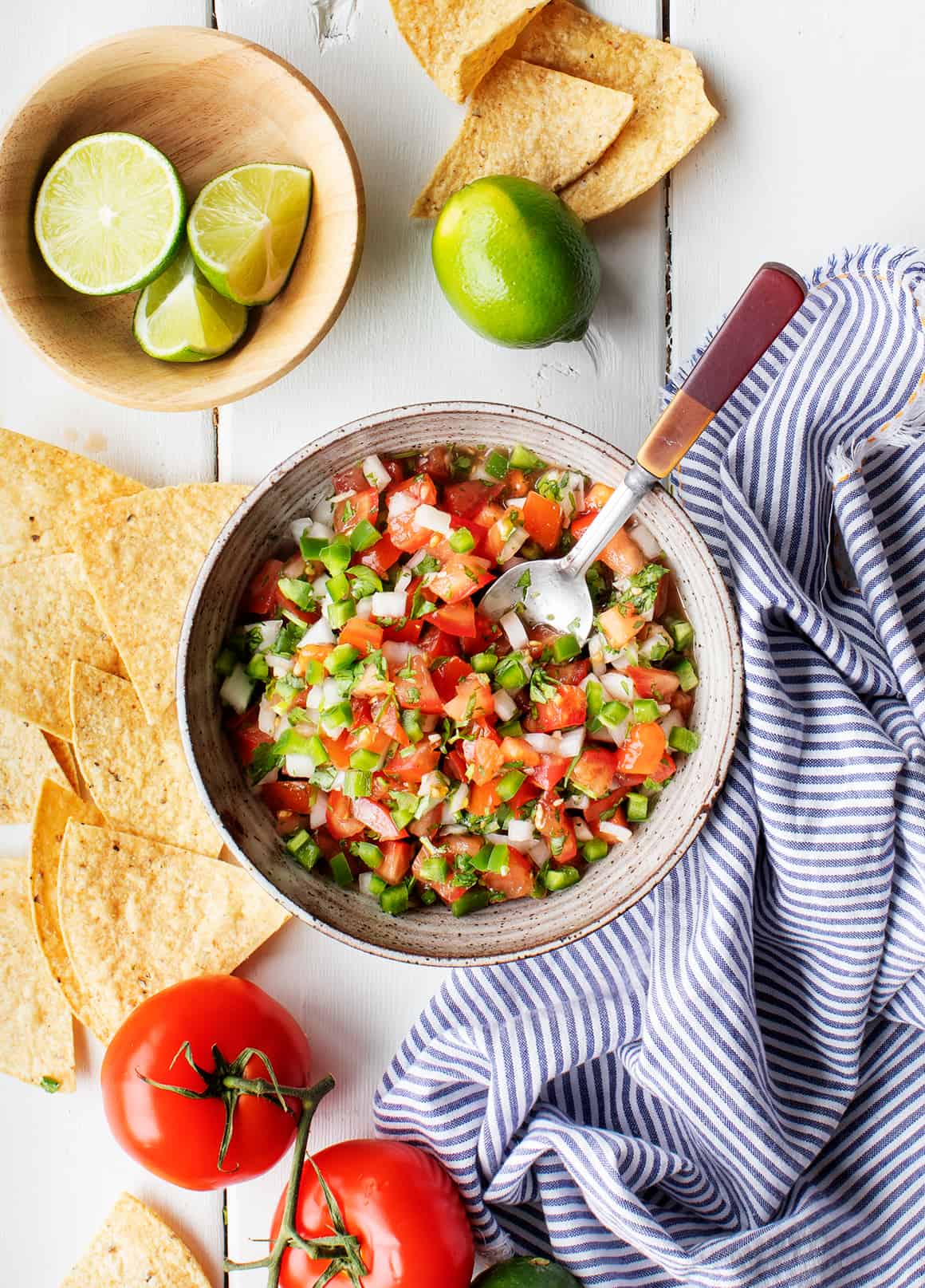 In my opinion, pico de gallo is the perfect finishing touch for everything from tacos to burrito bowls. It's also delicious spooned onto sizzling hot grilled vegetables. And whenever I have any leftover pico, I like to stir it into my scrambled eggs the next morning to make a quick migas-style breakfast. I hope you enjoy this versatile condiment!
What is pico de gallo?
Translated into English, the Spanish phrase "pico de gallo" literally means "rooster's beak." I'm not sure why it's also the name for a fresh salsa made from finely chopped white onion, tomatoes, jalapeño, cilantro, and lime, but I can tell you that pico de gallo is an easy, fresh dip & condiment you definitely want in your repertoire! Also called "salsa fresca," it's simple to make, and it's a delicious, zesty topping for popular Mexican dishes like tacos, burritos, nachos, and more.
How to Make Pico de Gallo (+Tips!)
This pico de gallo recipe is one of the easiest recipes I know! To make it, just finely dice the tomatoes, onion, cilantro, and jalapeño, and toss them with minced garlic, lime juice & zest, and salt. Once you've mixed everything together, season to taste and serve! Here are a few tips for extra pico success:
Use the tomato flesh, not the seeds and juices. You don't want your pico to be too watery, so make sure to leave out tomatoes' seedy pulp as you toss this together. I used tomatoes on the vine in my pico, but roma tomatoes or plum tomatoes are both good choices, as they're less juicy than other varieties. You could also use quartered cherry or grape tomatoes.
 Eat it right away, or prep it ahead of time and store it in the fridge for several days. Just know that the mixture will get juicier as the tomatoes marinate in the lime and salt. I recommend using a slotted spoon or fork to top it onto tacos, etc., in order to leave most of the juices behind.
As with all simple recipes, the quality of the final dish will depend on the quality of your ingredients. Pico de gallo is perfect for summer, when fresh tomatoes are in peak season. Look for the best ones you can find to make this recipe. For great salsa, steer clear of bland, watery winter tomatoes.
Easy Recipe Variations
I love using traditional pico de gallo as a starting point for other fun dips and even summer salads! Here are some of my go-to ways to change it up:
Add diced avocado or sprinkle crumbled Cotija cheese on top for a creamy element.
Swap the tomatoes for a fruit like mango, pineapple, watermelon, peaches, or strawberries.
Use red onion or sliced scallions instead of white onion.
Toss in fresh corn kernels or diced red bell pepper for crunch.
Season it with pinches of ground cumin or coriander.
Add 1 cup fresh corn kernels, 1 1/2 cups black beans, and 1 teaspoon cumin to make a black bean corn salad.
Let me know what other variations you try!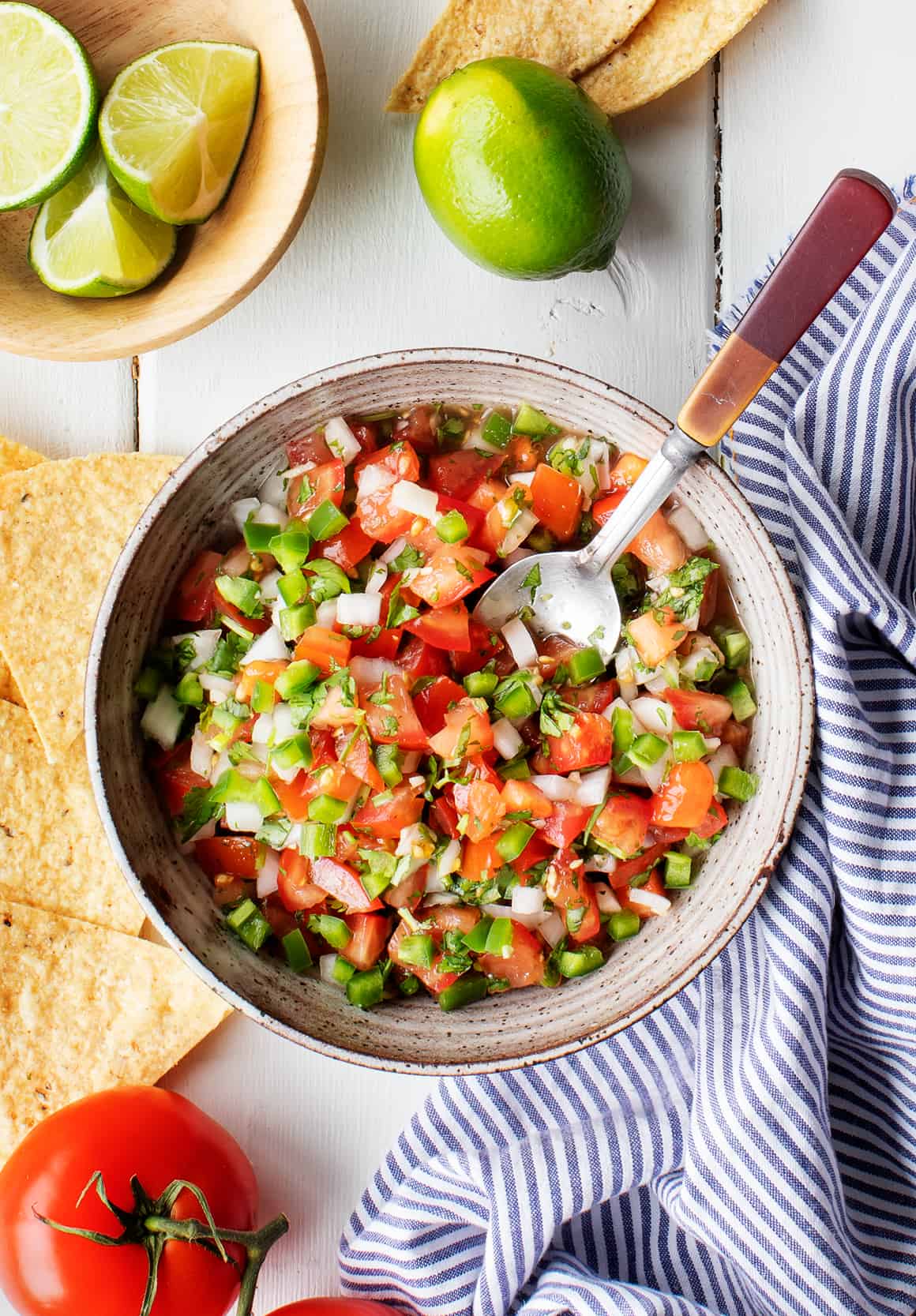 Pico de Gallo Serving Suggestions
You can serve this fresh salsa with tortilla chips as an appetizer, but I like it best as a condiment with Mexican food. Try topping it onto tacos, nachos, taquitos, or burritos, or make your own burrito bowl with the pico, cilantro lime rice, guacamole, tomatillo or mango salsa, and black beans.
And I always recommend margaritas to drink! Enjoy!
For more salsas and appetizer ideas, check out this post!

Pico De Gallo
This fresh pico de gallo recipe is so easy to make! Use it as a zesty topping for Mexican dishes or enjoy it on its own with tortilla chips.
Ingredients
2

cups

diced tomato

,

3 to 4 small tomatoes

3/4

cup

diced white onion

1/2

cup

chopped fresh cilantro

1/4

cup

fresh lime juice

2

garlic cloves,

minced

1

jalapeño pepper

,

stemmed and diced

1/2

teaspoon

sea salt,

more to taste
Instructions
In a small bowl, combine the tomato, onion, cilantro, lime juice, garlic, jalapeño, and salt. Stir to combine. Chill until ready to use.

Serve with chips, for dipping, or see additional serving suggestions in the post.