Looking for new picnic food ideas? You're in the right place. With recipes for sandwiches, wraps, salads, and more, we've got something for everyone!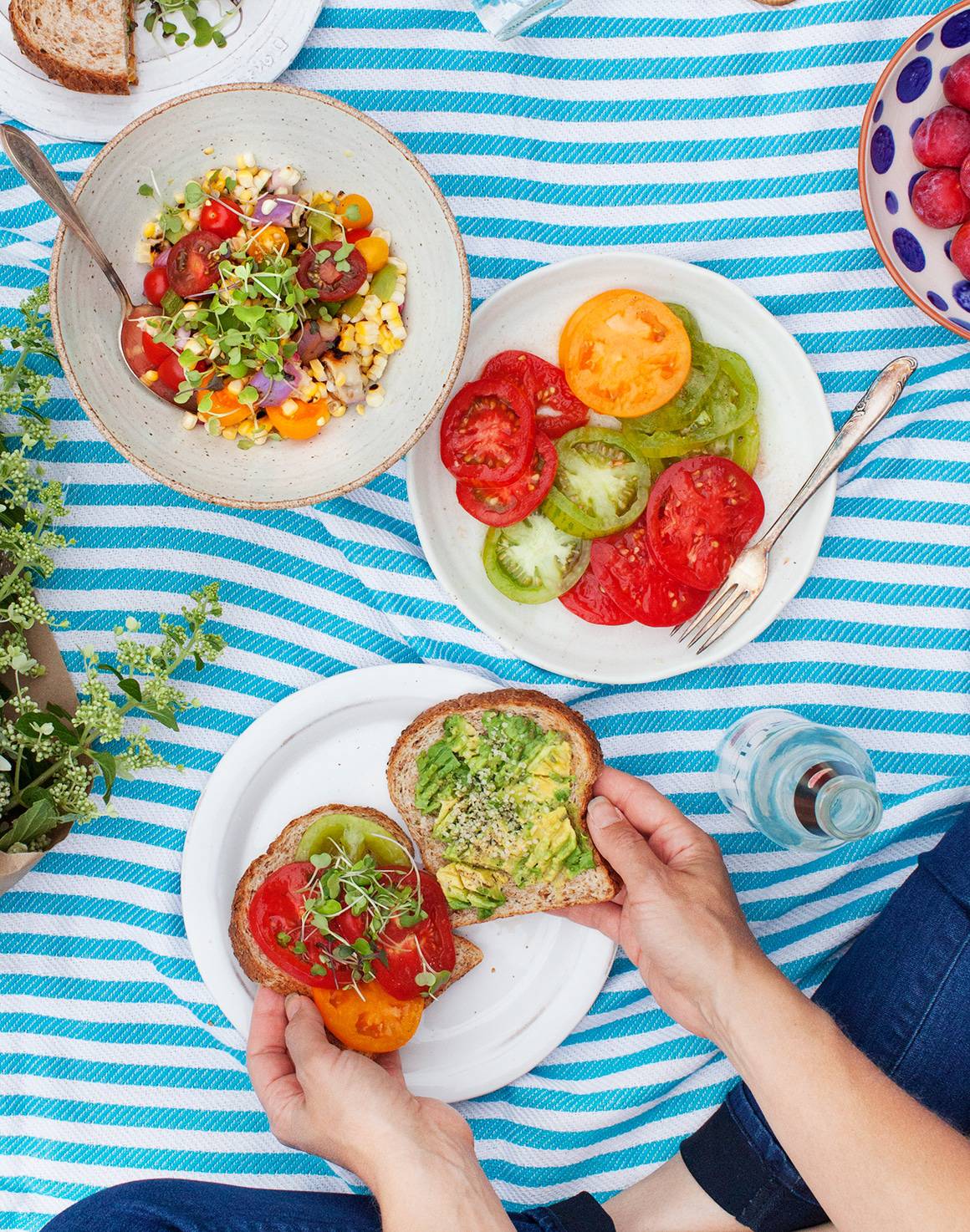 It's picnic season! Your blanket's ready, your cooler's out, and you can't wait to get outside. Now, all you need is good picnic food to take with you.
In my experience, the best picnic food ideas aren't just delicious – they're simple, too. They're dishes that you can make ahead knowing that they'll still taste great when you're ready to eat. They're easy to pack in a cooler or a bag, and you only need a few utensils to serve them. No utensils? Even better!
Jack and I don't have any big travel plans this summer, but we are anticipating going on lots of picnics here in Chicago. If you're also looking forward to packing a picnic and heading outdoors, check out the 50+ easy picnic food ideas below. With everything from sandwiches and wraps to salads, side dishes, and sweets, you're bound to find something you love. Happy picnicking!
Sandwich Picnic Food Ideas
Sandwiches are the best picnic food out there! They're compact, so they don't take up too much space in a cooler or bag, and you can eat them with your hands. To pack them, wrap them in a reusable sandwich wrap or foil so that they hold together until you eat.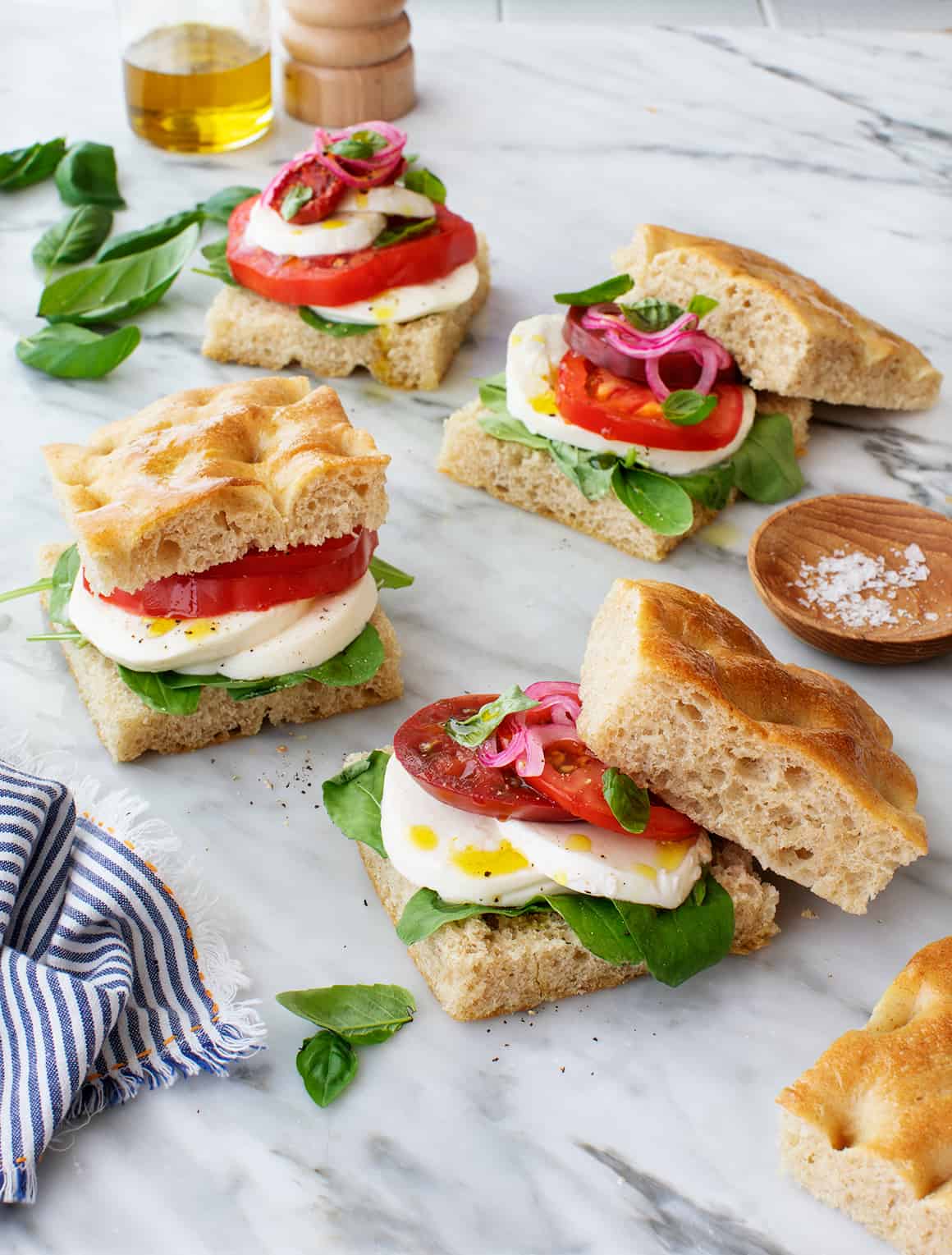 Caprese Sandwich
Good picnic food doesn't have to be complicated, and this Caprese sandwich is here to prove it. Juicy tomatoes, creamy mozzarella, and fresh basil fill it with delicious flavor and texture.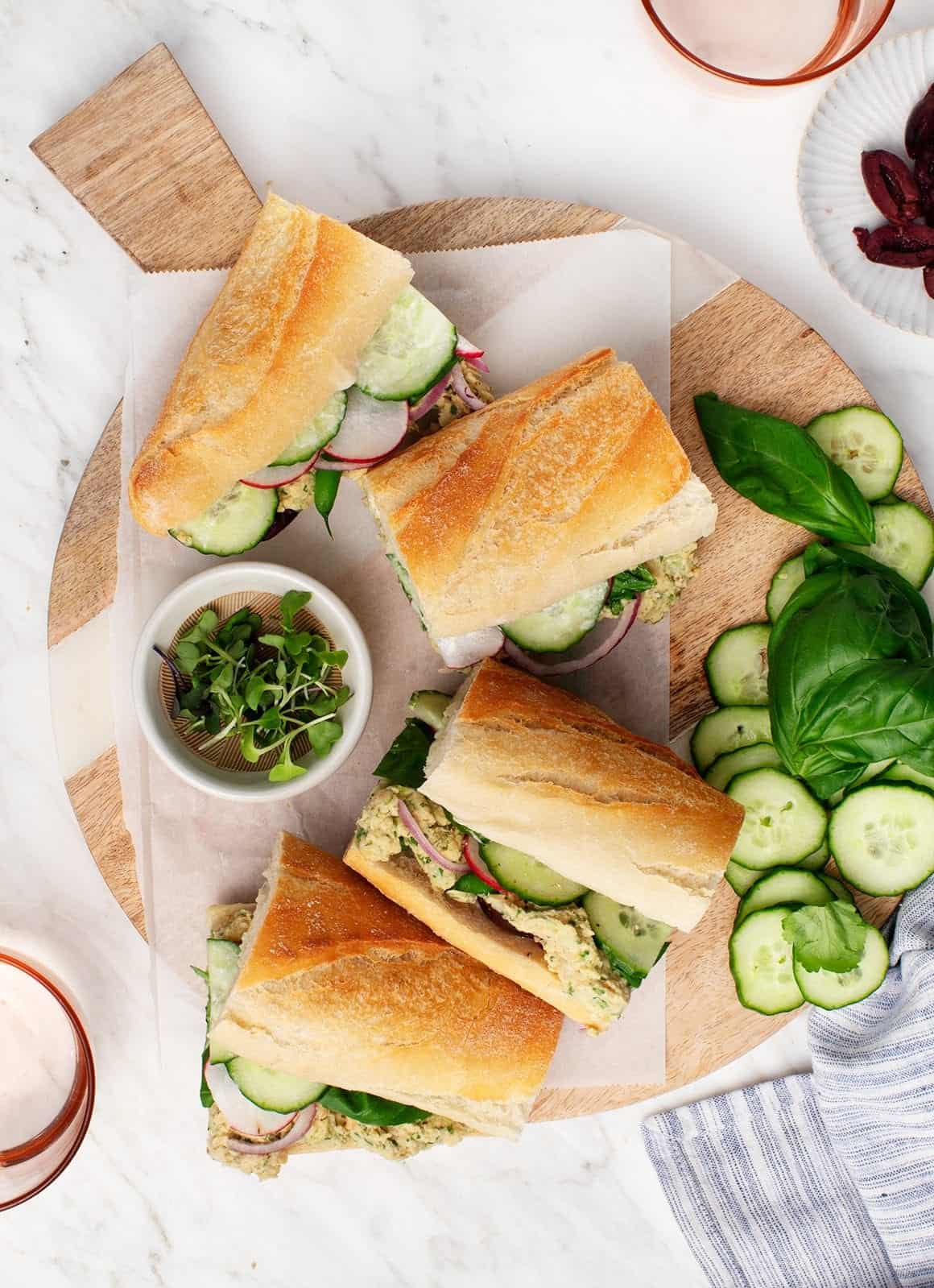 Chickpea Salad Sandwich
Skip the chicken salad, and make chickPEA salad instead! This creamy vegan sandwich filling contrasts perfectly with crisp veggies and soft baguette.
Tomato, Basil, and Artichoke Picnic Sandwich
Here's a rare sandwich that actually improves as it sits. Make it in the morning on the day of your picnic, or even the night before, so that the tomato and artichoke juices have time to mingle before you eat.
Best Egg Salad
When I say "best," I mean it. Made with Dijon mustard, lemon, capers, chives, and dill, this egg salad is fresher and more flavorful than any other version I've tried. If you don't eat eggs, swap in crumbled tofu to make it vegan.
Heirloom Tomato Sandwich
When tomatoes are at their peak, there's no better way to show them off than in a simple sandwich.
Vegetarian Club Sandwich
You won't miss the meat in this vegan riff on a club sandwich! It's piled high with savory marinated tempeh, fresh veggies, avocado, and two flavorful spreads.
Romesco Cauliflower Sandwich
There's a lot to love about this hearty sandwich: caramelized roasted cauliflower, juicy tomatoes, crusty bread. But the real star is the sauce. A creamy, tangy blend of roasted red peppers, tomatoes, almonds, and red wine vinegar, it makes this sandwich irresistible.
Best Wrap and Roll Picnic Recipes
Like sandwiches, wraps and rolls are easy picnic food ideas that don't require utensils. If you're concerned that a wrap won't hold together when you take it on the go, tightly roll it in foil before you head out the door.
Avocado Summer Rolls
These peach, herb, and avocado-filled rolls are fantastic on their own, but do yourself a favor and pack the coconut-basil dipping sauce too. Its fresh, surprising flavor makes them really exceptional.
Fresh Spring Rolls
How do you eat peanut noodles without utensils? Stuff them into spring rolls! Again, dipping sauce will only make these guys better. This easy peanut sauce is my #1 choice.
Spinach Hummus Wrap
This hummus wrap is easy picnic food at its best. Slather the hummus onto a tortilla, pile in the veggie fillings, and roll it all up. Because the veggies here are crisp, not watery, this wrap stays fresh for hours. It'll taste great whenever you eat!
Chickpea Shawarma Wraps
Make these chickpea shawarma wraps once, and they'll have a permanent place on your picnic food menu. Thanks to pickled red onions, spicy zhoug, and tangy yogurt sauce, they're bursting with bright flavor.
Quinoa Veggie Wrap
I'd happily eat any wrap stuffed with quinoa and fresh veggies, but a slather of kale pesto makes this one something special.
Chickpea Salad Lettuce Wraps
Instead of assembling these wraps ahead of time, I recommend packing the chickpea filling, pickled onions, sauce, and lettuce leaves separately. This way, the lettuce will stay nice and crisp, and you'll be able to customize your wraps when you eat.
Easy Bean and Pasta Salads
These salads are perfect picnic recipes because they're great for making ahead. If you can, reserve some fresh herbs to add at the last minute (I like to pack them in a separate container or baggie). They'll add a punch of fresh flavor and take your picnic food to a whole new level.
Easy Pasta Salad
My go-to pasta salad recipe! Filled with feta, herbs, and a whole lotta lemon, it's bright, fresh, and delicious.
Vegan Pasta Salad
This vegan pasta salad is just as good as any I've had with meat or dairy. The creamy, no-mayo dressing is rich and tangy, and artichoke hearts and olives fill it with briny flavor.
Broccoli Pasta Salad
I make this recipe with part zucchini noodles. It feels like you're filling up on pasta, but really, it's mostly veggies!
Cherry Tomato Couscous Salad
Cherry tomatoes 2 ways? Yes, please! You'll find a delectable mix of umami roasted tomatoes and juicy raw ones in this bountiful summer salad.
Orzo Salad
Fresh herbs, feta, and a zesty Greek dressing load this fan favorite salad with flavor. To make it gluten-free, replace the orzo with quinoa or brown rice, or use your favorite gluten-free pasta.
Chickpea Salad
This vibrant, protein-packed salad tastes best after it has a few hours to marinate in the fridge, so it's a perfect recipe to make ahead for a picnic.
Radish Salad with Radish Green Pesto
If you have a bunch of radishes with good greens attached, this recipe is the best way to use them. It features radishes two ways – roasted and raw – with a bright, nutty radish green pesto dolloped on top.
Fruit and Veggie Salads
Green salads are great at home, but when it comes to picnic food, they're not your best option. Instead, choose a salad made from hearty ingredients that won't wilt (and might even improve) when they're dressed ahead of time. The recipes below would all be terrific.
Best Broccoli Salad
If you can, make this salad a day in advance. The broccoli softens and absorbs the lightly creamy, tangy dressing as it sits, so it tastes even better after a night in the fridge.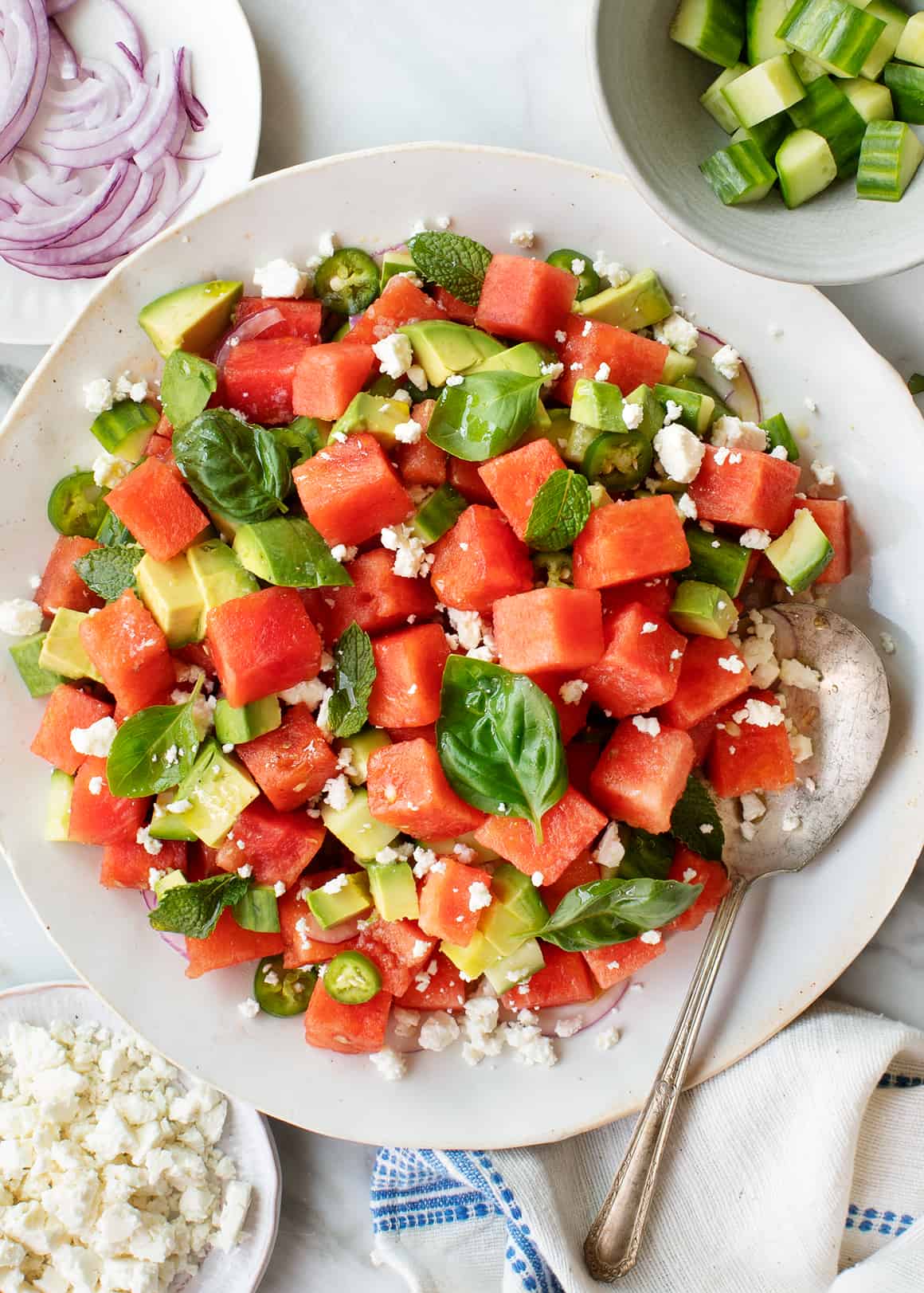 Watermelon Salad with Feta
With feta, avocado, mint, and lime, this refreshing salad is the perfect mix of savory and sweet.
Cucumber Salad
Cucumbers have never tasted this good! Tossed in a tangy, nutty dressing with lots of fresh herbs, they're completely irresistible.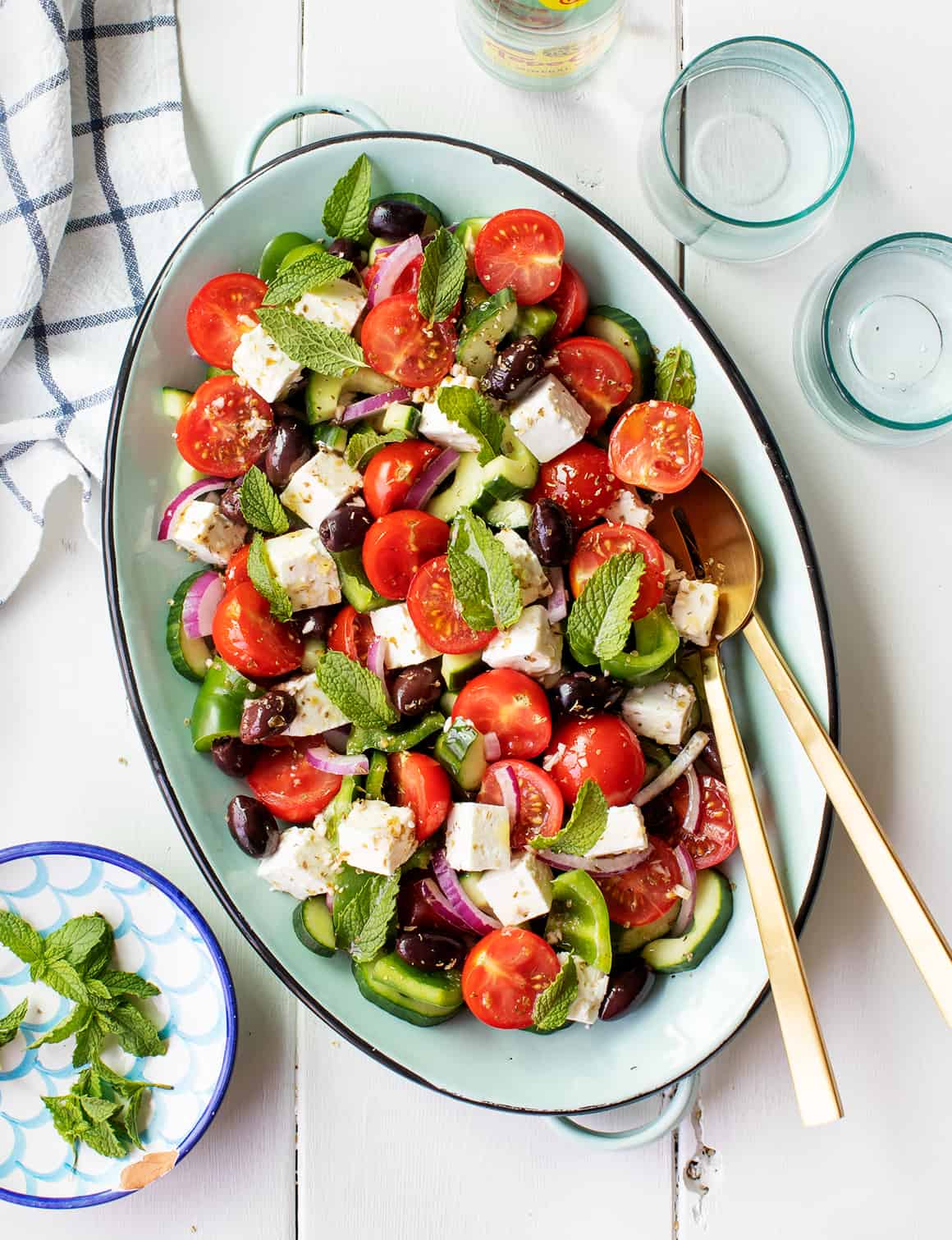 Greek Salad
My mom's picky about the recipes she adds to her regular rotation, but this one made the cut. A handful of simple ingredients packs it with fresh flavor.
Best Potato Salad
My take on the classic! I mix in chopped dill pickles and a splash of pickle brine for a burst of tangy flavor.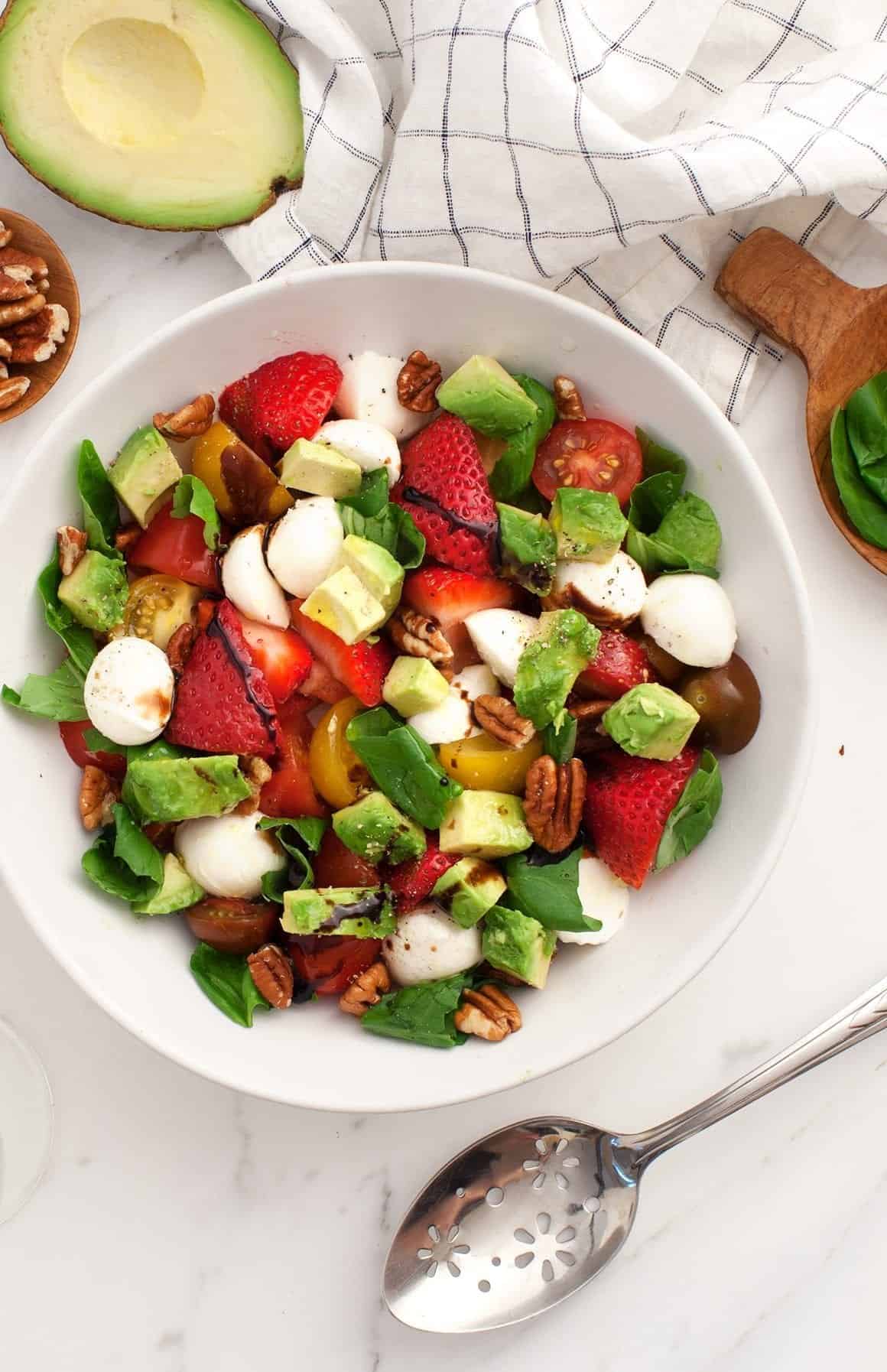 Strawberry Salad with Balsamic
We all love tomatoes and basil, but for my money, strawberries and basil are equally good. Put them all together, and you've got an unbeatable summer salad.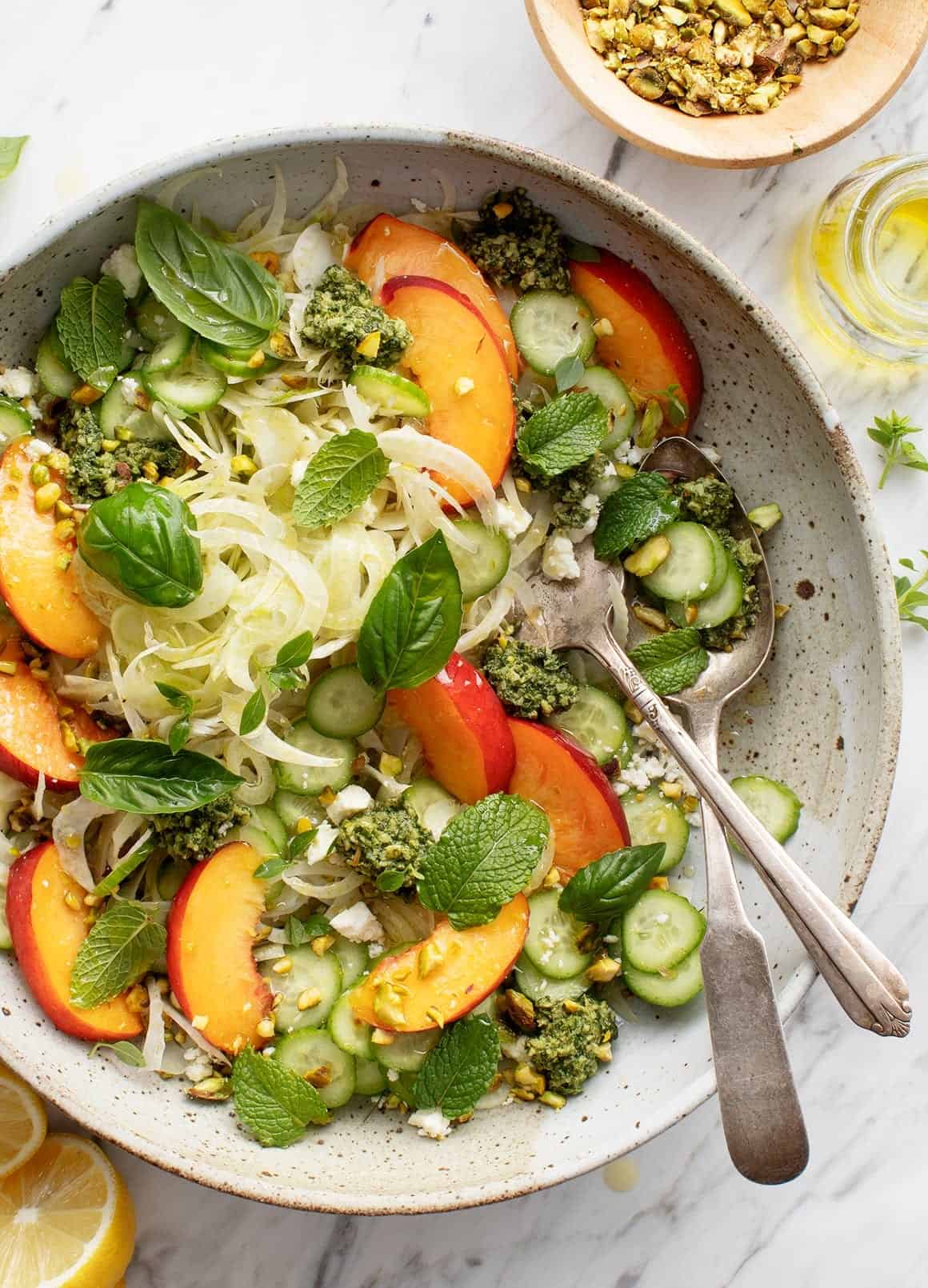 Shaved Fennel Salad
This recipe calls for feta cheese, but if you're vegan, feel free to skip it. Topped with pesto, pistachios, basil, and mint, the salad has plenty of flavor without it.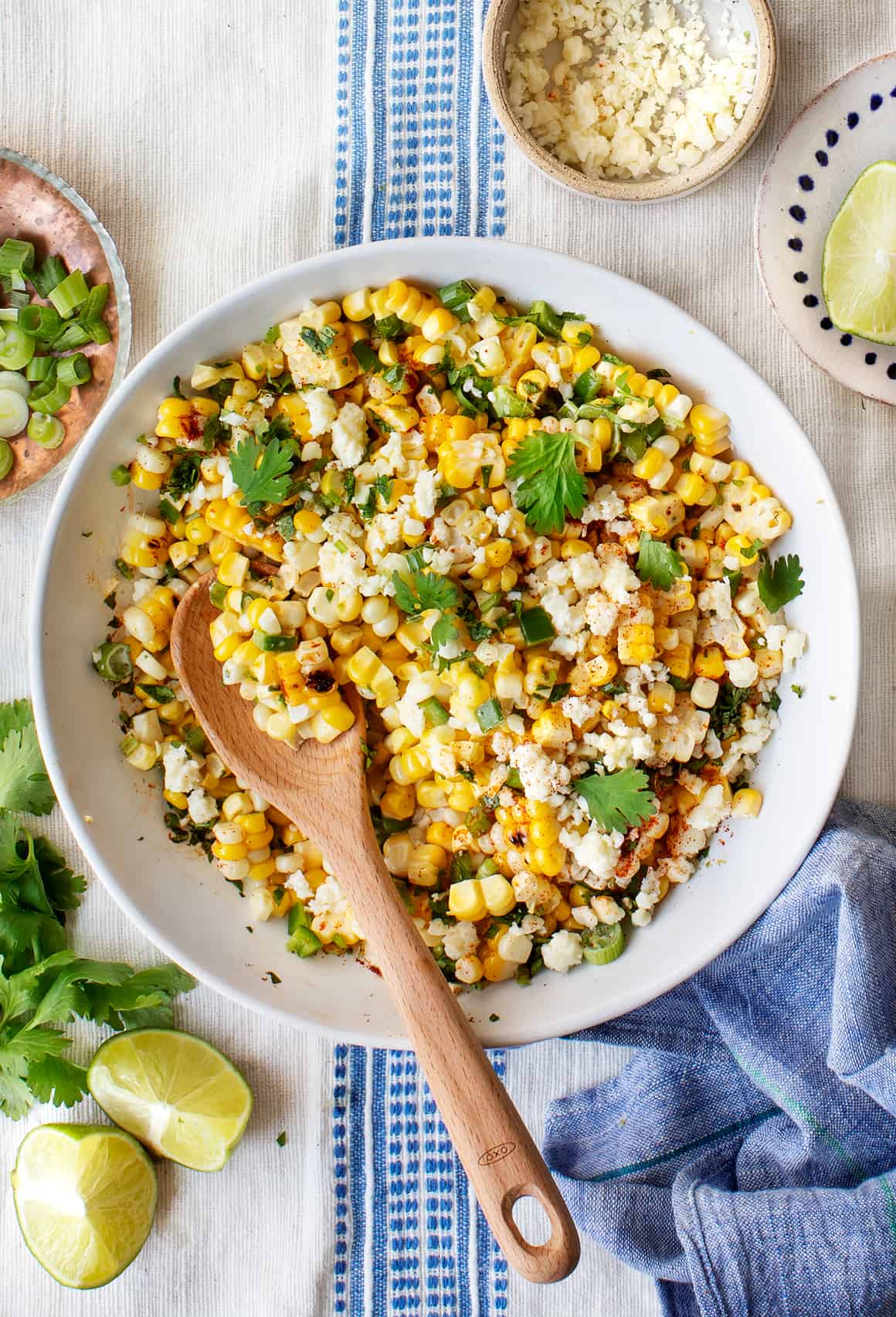 Mexican Street Corn Salad
This creamy, smoky salad gets better as it sits, so it's a perfect make-ahead picnic food!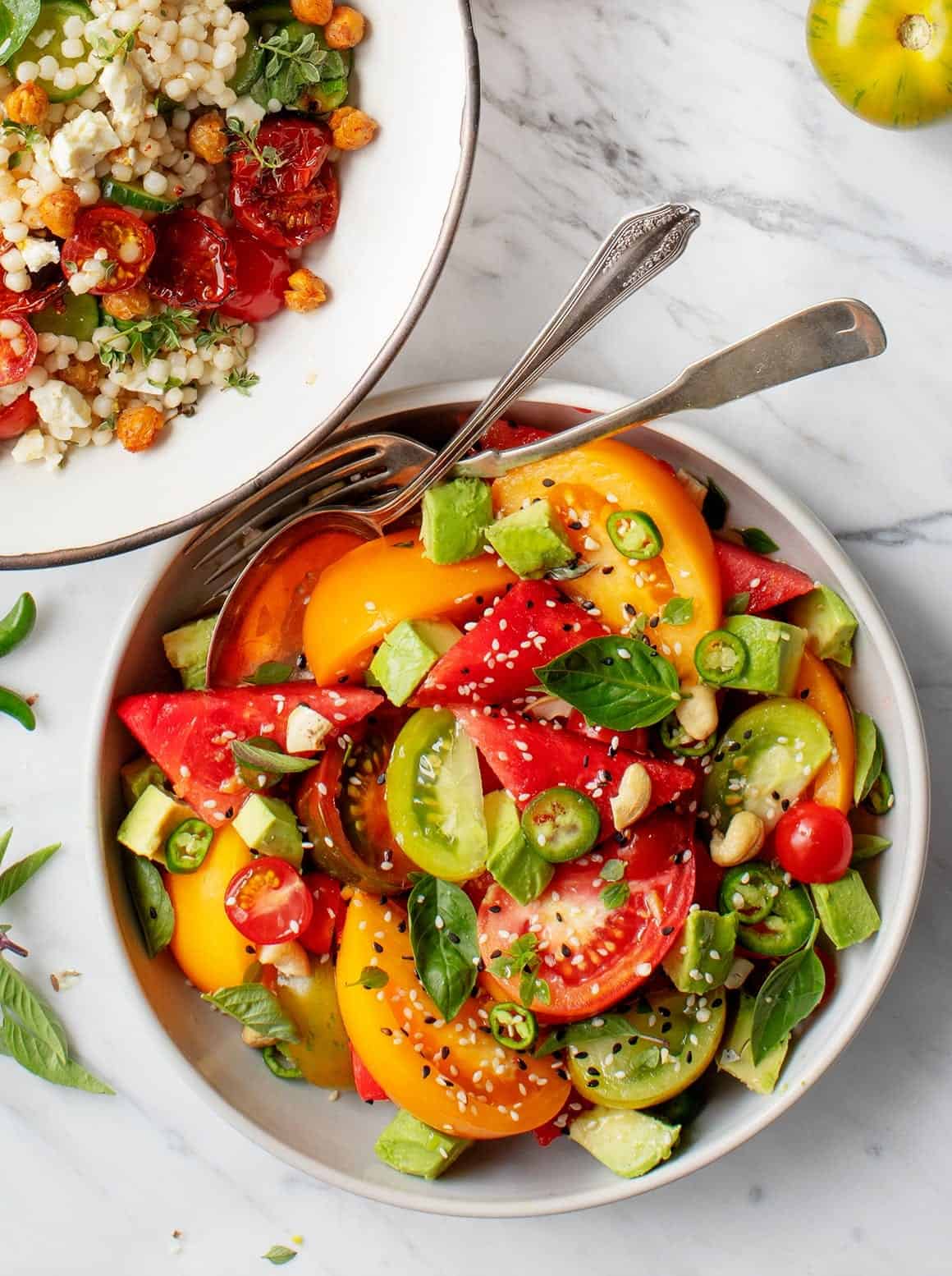 Watermelon Tomato Salad
Watermelon and tamari might be an unexpected combination, but they make this salad sweet, savory, and exciting to eat.
Rainbow Kale Salad
Filled with hearty veggies and a vibrant carrot-ginger dressing, this energizing salad could pass as a main or side dish.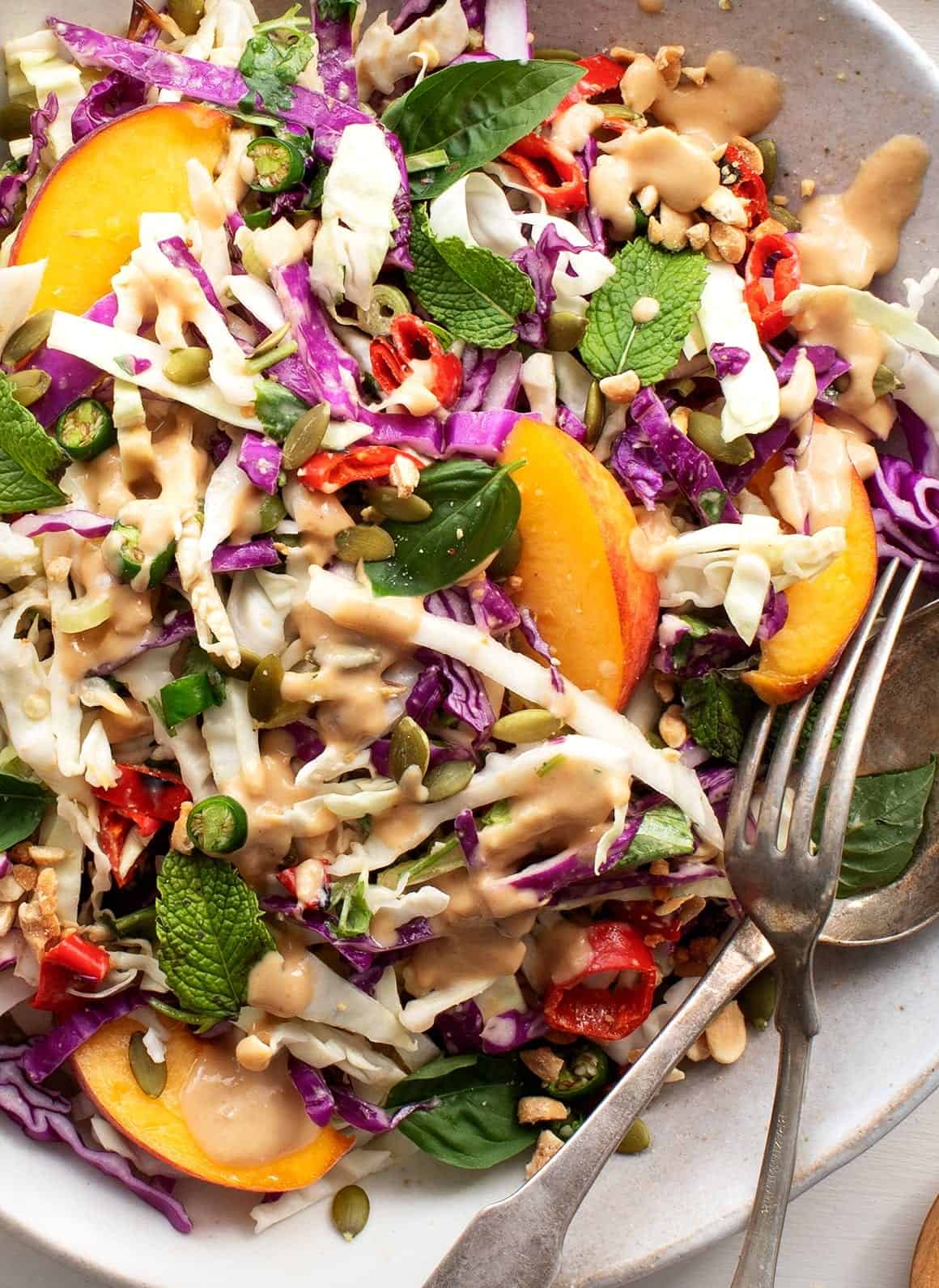 Asian Slaw
This colorful slaw has it all: juicy peaches, spicy chiles, fresh herbs, and crunchy toasted nuts. A savory miso dressing takes it over the top!
Appetizer Picnic Recipes
You've made your sandwiches and prepped your salad, but you feel like your picnic needs a little something more. Pack cheese and crackers, fresh fruit, or any of the recipes below for a fun, flavorful appetizer or side dish.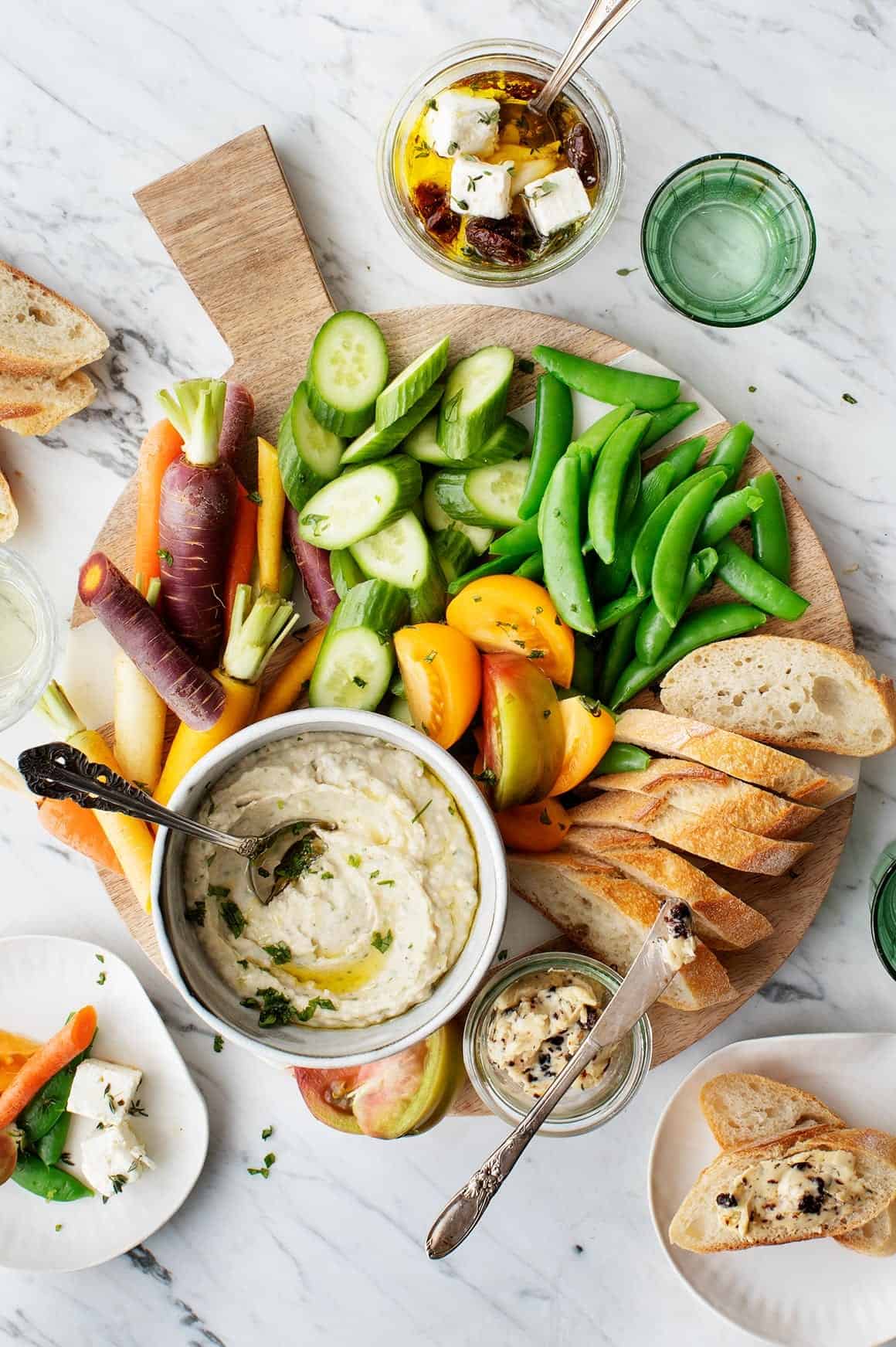 Ultimate Crudité Platter
Serve this board as an appetizer, or make it the main event! Filled with white bean dip, tart cherry compound butter, marinated feta, and a rainbow of veggies, it would be a delicious picnic on its own.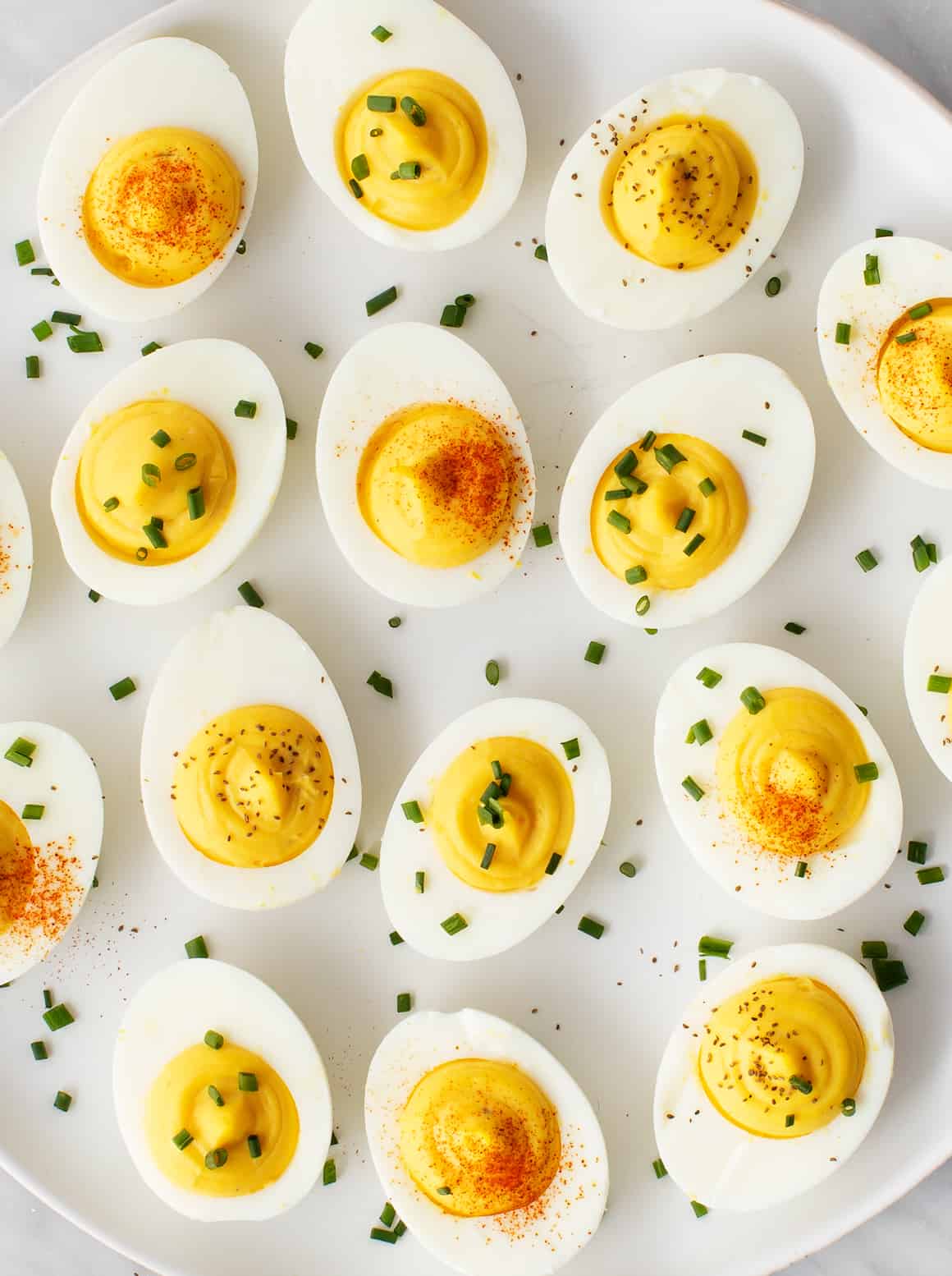 Best Deviled Eggs
Get ahead with your picnic food prep by cooking the hard boiled eggs a day or two in advance. Then, assemble the deviled eggs a few hours before you eat. Make the recipe as written, or blend pickled jalapeños into the filling for a tangy, spicy kick!
Caprese Skewers
These cute little skewers transform Caprese salad into a fun, bite-sized picnic food! Keep them traditional with cherry tomatoes, basil, and mozzarella, or add diced peaches for a sweet twist.
Rosemary Focaccia Bread
If your picnic food menu centers around a cheese board or a salad, good bread on the side is a must. This focaccia would be a great choice – it's chewy and rich, but surprisingly easy to make.
Salsas
Nothing says summer like fresh salsa and a big bag of tortilla chips.
Tomatillo Salsa
This tangy tomatillo salsa is simple to make (just roast and blend!), and it has an amazing zesty flavor. If you have any extras, save them to dollop onto tacos the next day!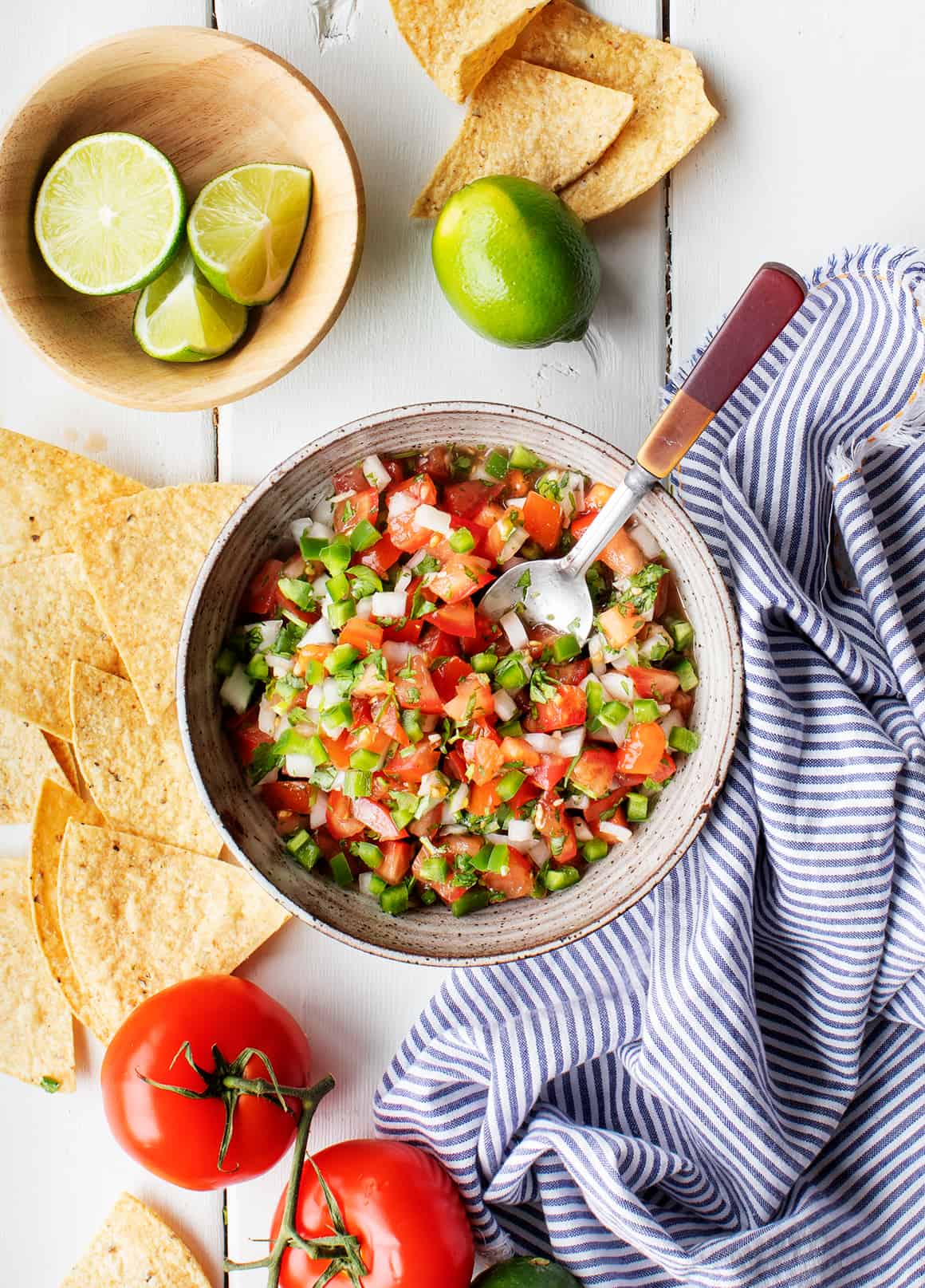 Pico de Gallo
Better tomatoes = better pico, so make this refreshing salsa while you can. It's best during summertime, when tomatoes are at their most flavorful.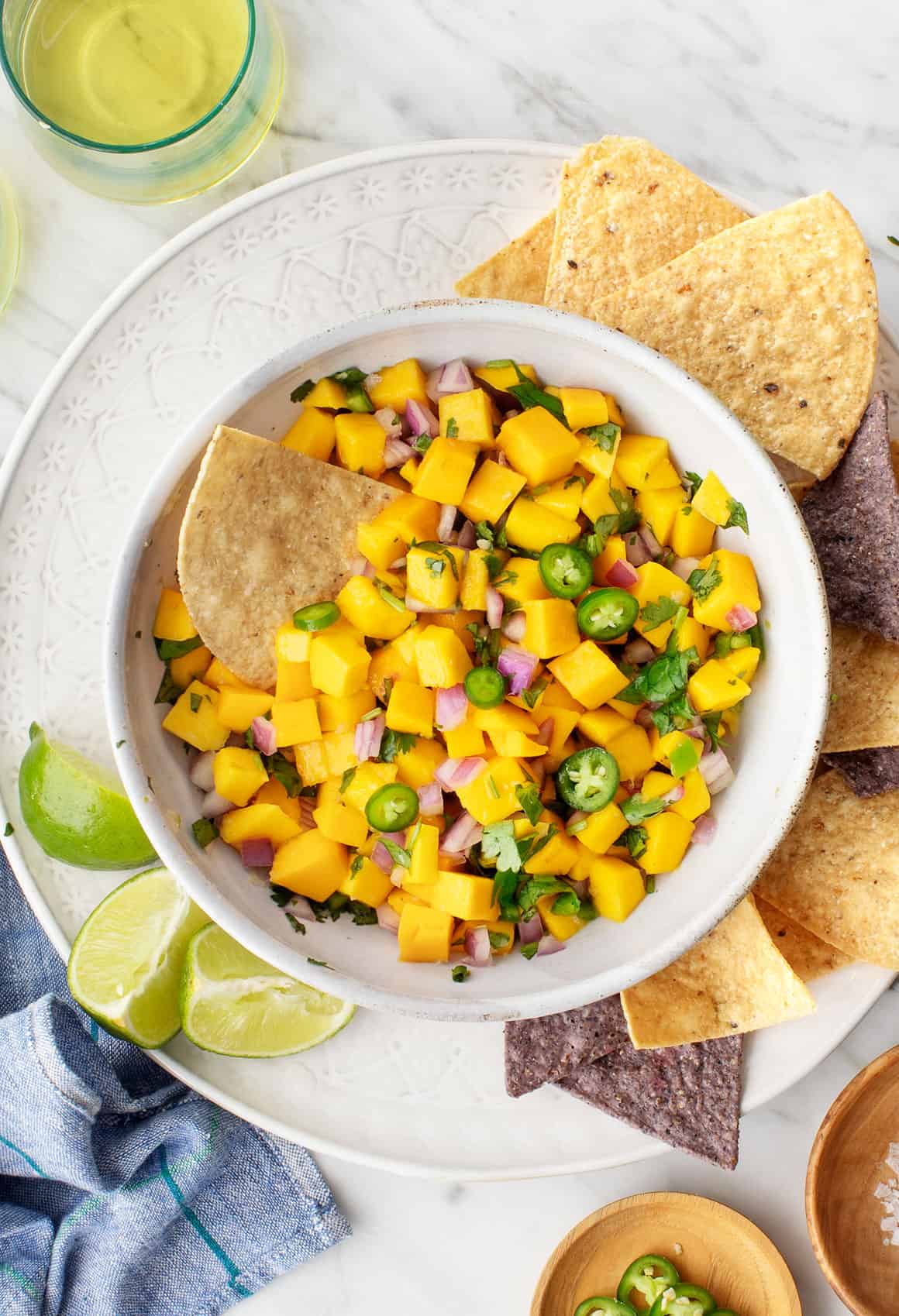 Easy Mango Salsa
Is it possible for a recipe to be too simple? You only need 7 ingredients and 5 minutes to make this sweet and spicy mango salsa.
Pineapple Salsa
Tip: if you don't feel like breaking down a whole pineapple, use pre-cut fruit to make this recipe in minutes! I like to dice all the ingredients really finely so that I get a little of everything in each bite.
More Dip Picnic Food Ideas
Not in the mood for a salad? Pack a big tub of veggies to enjoy with a flavorful dip.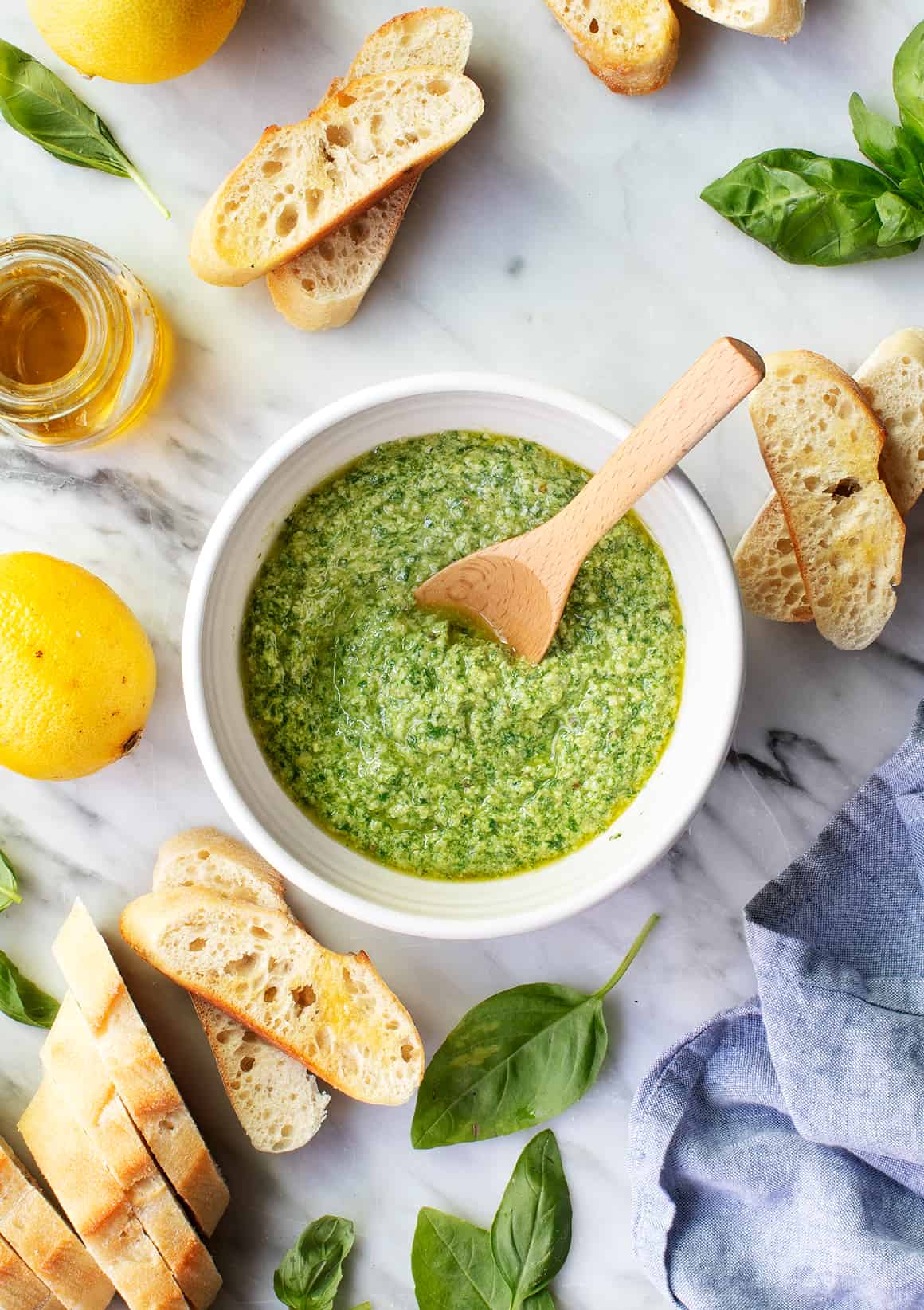 Pesto
So often, we toss pesto with pasta or dollop it onto pizza but forget how fantastic it is on its own. When I have an abundance of summer basil, I like to pack a jar of pesto (or vegan pesto) in my picnic basket to spread onto crackers or good crusty bread.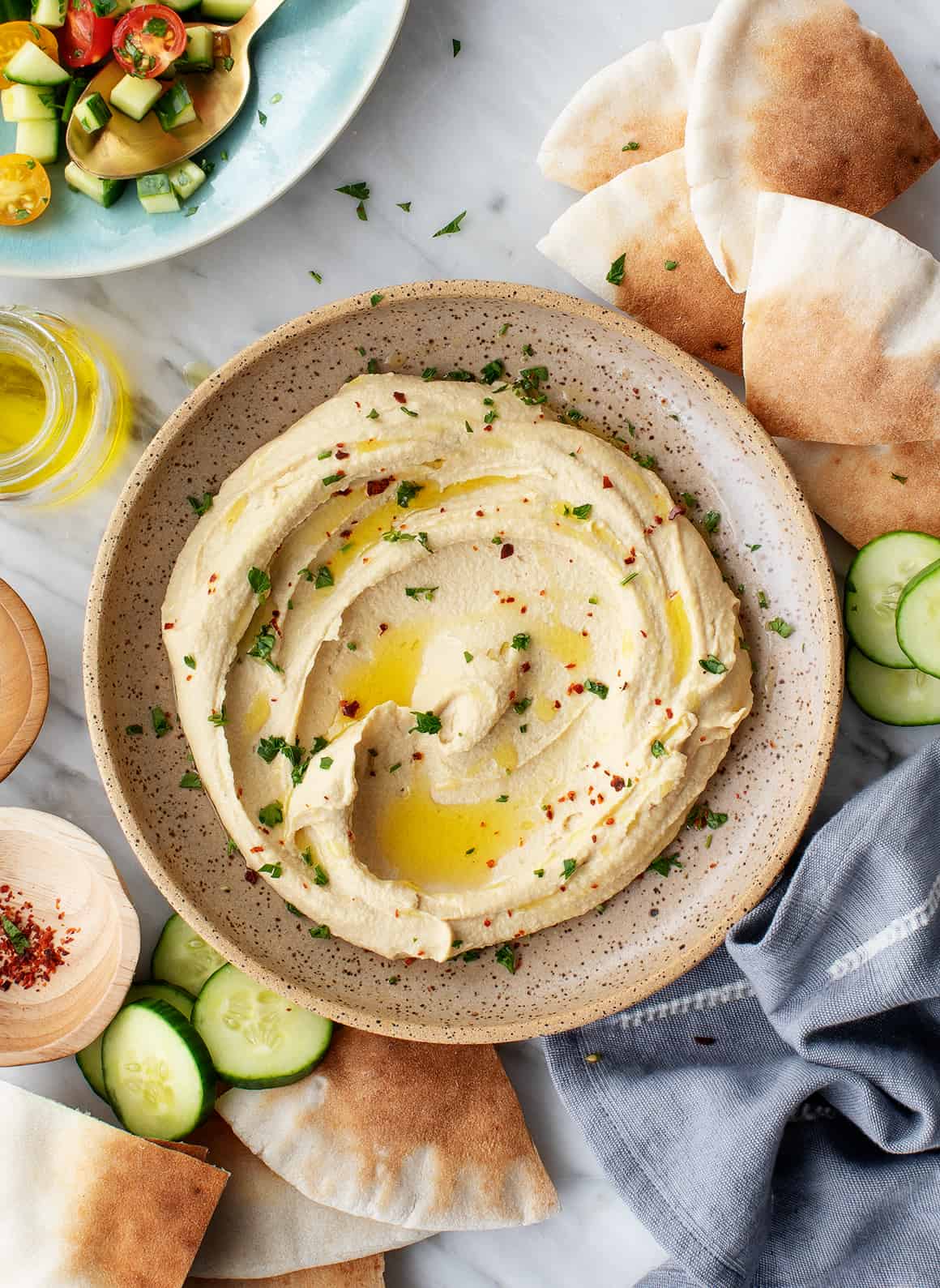 Best Hummus
7 ingredients. 5 minutes. 1 amazing dip. You'll never buy it at the store again!
Baba Ganoush
I make this silky, smoky dip as much as I can when eggplant is in season. You'll often find me enjoying it straight off a spoon, but it's delicious with fresh pita and veggies too.
Red Lentil Hummus
Red lentils blend into a dip that's every bit as rich and creamy as one made with chickpeas. I spice it liberally with turmeric, cumin, coriander, and cardamom, so it's bursting with curry flavor.
White Bean Dip
If you're looking for quick and easy picnic food ideas, this zesty dip could be the thing for you. It only calls for 5 basic ingredients, and you likely have all of them in your pantry already.
Best Picnic Food Ideas for Dessert
Fresh fruit like berries, cherries, peaches, or melon is one of my favorite picnic food ideas for dessert, but if I'm craving something more decadent, I bake! The recipes below include cookies, bars, brownies, and loaves – baked goods that you can pick up and enjoy without a knife or fork.
Best Homemade Brownies
These rich, fudgy homemade brownies are even better on the second day, so they're perfect for making ahead and packing for a picnic.
Perfect Oatmeal Cookies
Softy, chewy, and warmly spiced, they're everything an oatmeal cookie should be.
Vegan Chocolate Chip Cookies
You don't have to be vegan to fall for these chocolate chip cookies! They have soft middles, crispy edges, and plenty of chocolate in every bite.
Best Peanut Butter Cookies
Jack and I have eaten more of these peanut butter cookies than we'd like to admit. They have chewy middles, crumbly edges, and a sweet, nutty flavor. Oh, and they're vegan too!
Lemon Cookies
These bakery-perfect cookies would be a lovely addition to a picnic, but if you're anything like me, you won't want to share them! They're so delicious that I could easily devour them all myself.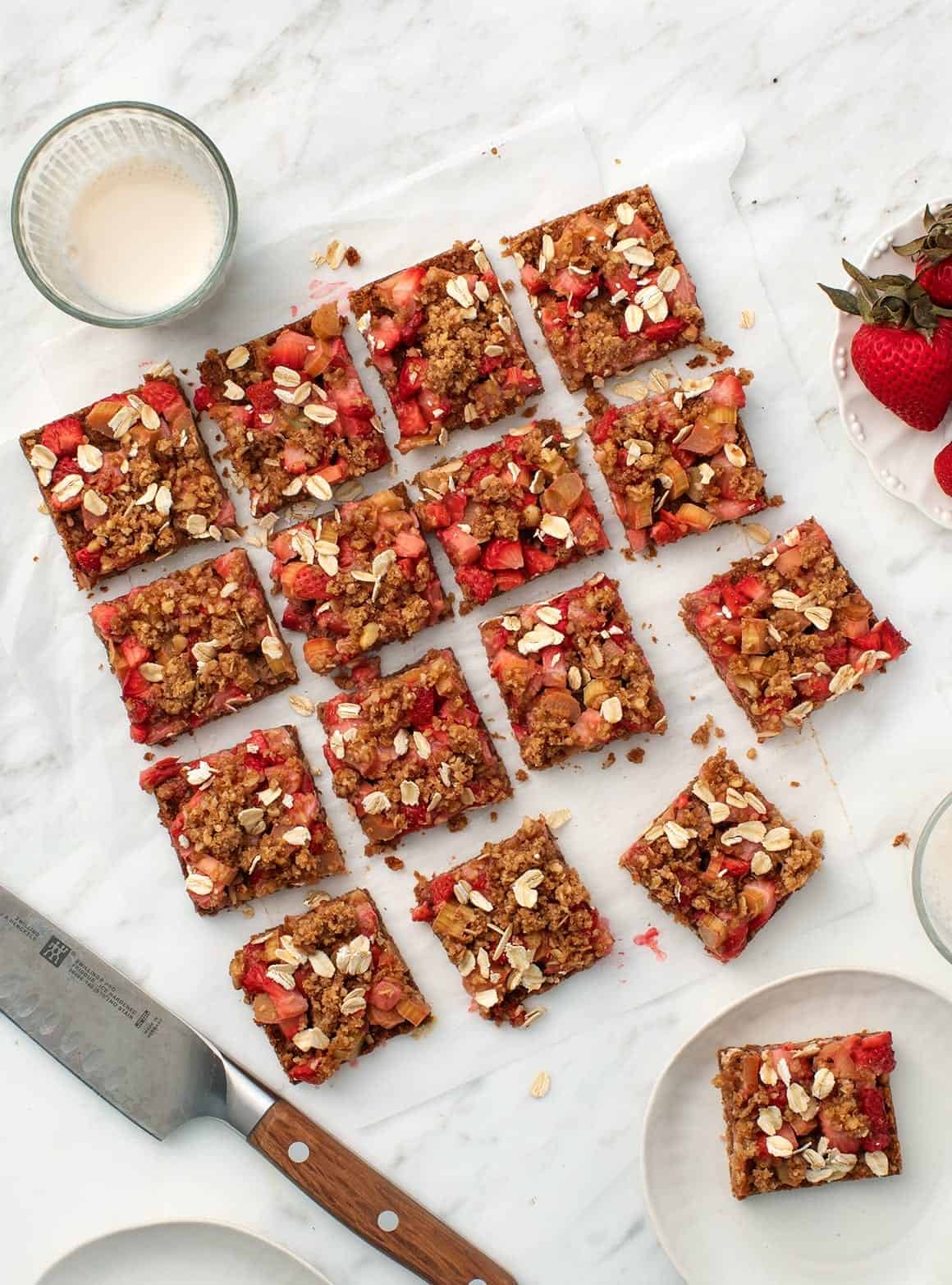 Strawberry Rhubarb Bars
When strawberries and rhubarb are in season, these crispy, nutty little bars are the best way to end a picnic. Made with coconut oil, whole rolled oats, and almond flour, they're vegan and gluten-free!
Chocolate Zucchini Bread
If you have zucchini in your kitchen, make this chocolate zucchini bread whether you're heading out on a picnic or not. It's so moist and fudgy that you won't be able to resist reaching for a second slice!
51 Easy Picnic Food Ideas: Heirloom Tomato Sandwiches
These tomato avocado sandwiches are easy to wrap up and take as picnic food!
Ingredients
2

avocados

1/2

lemon

8

slices

toasted bread

3

heirloom tomatoes

,

sliced

Butter lettuce

,

arugula or microgreens

Sea salt and freshly ground black pepper

sprinkle of hemp seeds

,

optional
Instructions
Lightly mash the avocados with a few pinches of sea salt and a squeeze of lemon.

Assemble the sandwiches with the toasted bread, avocado, tomatoes, lettuce, and hemp seeds, if using. Season with salt and pepper.