Make these pickled jalapeños once, and you'll be hooked. Sweet & spicy, they're great on tacos, burgers & more, or on their own straight from the jar!
If you've been reading the blog for a while, you know that I'm a huge fan of pickled onions. They're tangy, they're sweet, they're salty – really, they're just darn good. For the longest time, they've been my favorite way to add a bright pop of color and flavor to salads, tacos, sandwiches, and more. But lately, pickled onions have been playing second fiddle to a new quick-pickle favorite: pickled jalapeños!
These guys are the perfect blend of spicy, salty, and sweet. And if you're not a fan of spicy foods, they're still worth a try. The longer you leave them in the fridge, the sweeter and less spicy they become. All you need to make them is 6 ingredients and 10 minutes, so let's get pickling!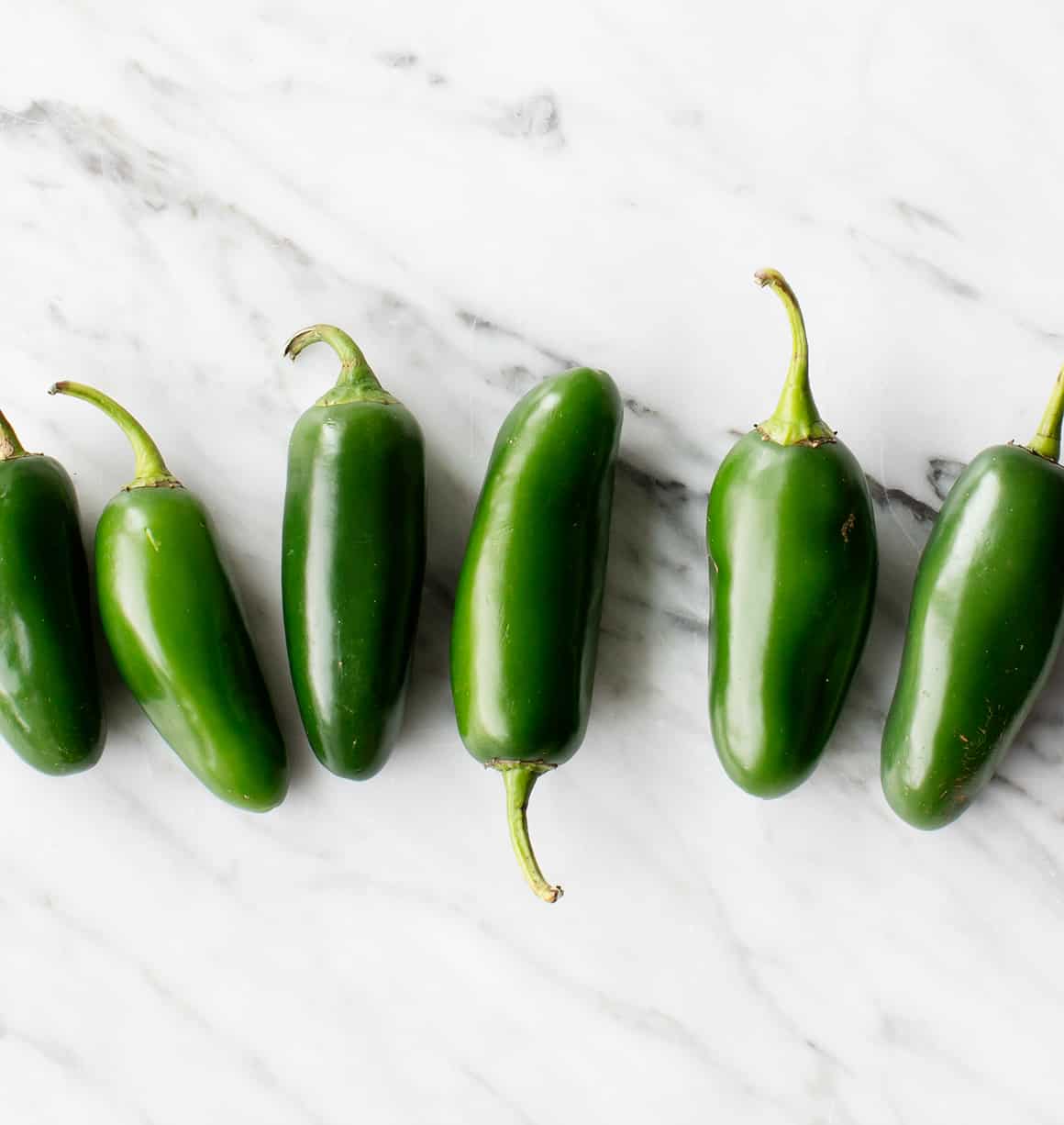 How to Pickle Jalapeños
If you've ever made another type of quick pickle at home, making this pickled jalapeño recipe is no different. If you haven't, don't worry. The process is super easy. Here's what you need to do:
Slice your jalapeños and stuff two mason jars full of pepper slices. Then, add a smashed garlic clove to each mason jar.
Next, make the brine by simmering vinegar, water, sugar, and salt over low heat until the sugar dissolves.
Pour the brine over the jarred peppers, let them cool to room temperature, and store them in the fridge for up to two weeks!
That's it! If you're feeling fancy, you could add a pinch of cumin seeds, peppercorns, mustard seeds, or a bay leaf to your brine, but I like this quick pickled jalapeño recipe best just how it is.
How to Use Pickled Jalapeños
I made a huge batch of these pickled jalapeños last week, and let me tell you, I've been putting them on everything – quick sandwiches, toss-together grain bowls, salads, eggs, you name it. I urge you to try adding them to anything you're making that could use a sweet, tangy pop of spice, but if you're looking for specific recipes, here are some ideas:
Love these pickled jalapeños?
Try making pickled red onions, pineapple salsa, cilantro lime dressing, or tomatillo salsa to add another extra pop of flavor to your favorite dishes.
Pickled Jalapeños
These pickled jalapeños are the perfect sweet & spicy addition to salads, tacos, burgers, and more! The longer they sit it the fridge, the sweeter and milder they'll become.
Ingredients
10

jalapeños

,

thinly sliced

2

whole garlic cloves

,

peeled

1

cup

white distilled vinegar

1

cup

water

⅓

cup

cane sugar

1

tablespoon

sea salt
Instructions
Divide the jalapeños into 2 (16-ounce) lidded jars and place a garlic clove in each jar.

In a small saucepan over low heat, simmer the vinegar, water, sugar, and salt, stirring occasionally, until the sugar is dissolved, about 5 minutes. Pour the brine over the jalapeños. Let cool to room temp, then cover and chill for at least 30 minutes. Store in the fridge for up to 2 weeks.