Learn how to make quick pickled carrots! Crunchy, tangy, and refreshing, they're a delicious snack or addition to salads, appetizer boards, and more.
Pickled carrots don't get as much love as dill pickles or pickled red onions do, and I'm really not sure why. They can add crunch to a salad, acidity to a sandwich, or unexpected depth to a simple crudité platter.  They're even great straight from the jar. Dripping with fridge-cold brine, pickled carrots are snappy, tangy, earthy, and sweet. You won't find a more refreshing snack.
So, if you've never tried pickled carrots before, make this recipe! It's insanely easy—the prep takes under 15 minutes—and it's so delicious. These quick pickled carrots keep for up to 2 weeks in the fridge, but you'll polish them off way sooner, trust me.
Pickled Carrots Recipe Ingredients
Here's what you'll need to make this quick pickled carrots recipe:
Carrots, of course! You can leave small, slender carrots whole. Quarter or halve large carrots vertically so that the brine can season them fully throughout. Trim the pieces to whatever length will fit in your jars.
Garlic – For savory bite.
Black peppercorns – They add a peppery kick.
Cumin and coriander seeds – I LOVE these earthy, warming spices with carrots. To bring out their flavor, toast them before adding them to the brine.
Distilled white vinegar and water – They give the brine its body. The vinegar adds acidity, and the water balances it.
Cane sugar – Readers often ask me about skipping or reducing the sugar in pickle brine. Technically, you can, but for the best-tasting pickles, I urge you not to. The sugar balances the vinegar and salt, giving the pickled carrots a mellower, more nuanced flavor. Plus, much of it stays in the brine, so by eating the pickles, you won't be eating the full amount of sugar!
Sea salt – It helps preserve the carrots and perfects the balance of tangy, sweet, and salty flavors.
Find the complete recipe with measurements below.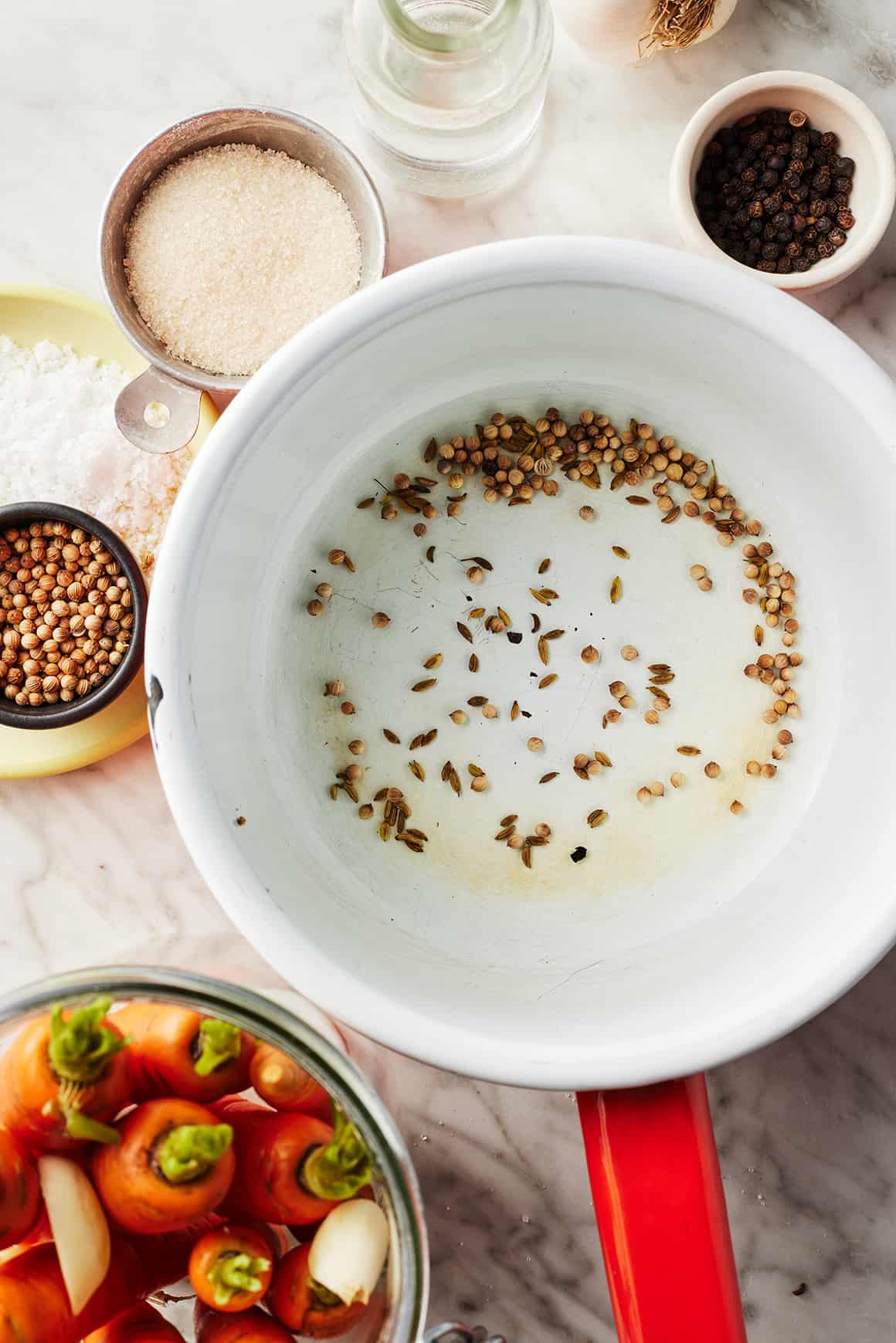 How to Make Quick Pickled Carrots
This recipe is for quick pickled carrots. Sometimes called refrigerator pickles, quick pickles are not canned or processed to be shelf-stable, so they need to be stored in the fridge and eaten within a few weeks. The great thing about them, though, is that they're really simple to make! Here's how I do it:
First, prep the carrots. Wash them well (no need to peel!) and cut them into sticks that will fit into 2 (16-ounce) or 3 (10-ounce) glass jars with lids. Pack the carrots into the jars and add the garlic and peppercorns.
Next, toast the spices. Add the cumin and coriander to a dry saucepan over medium-low heat and toast, stirring often, until fragrant, 30 seconds to 1 minute. Divide the spices among the jars.
Then, make the brine. To the same pot, add the vinegar, water, salt, and sugar. Heat it over medium, stirring, until the sugar and salt dissolve, about 1 minute.
Pour the brine over the carrots, and set them aside to cool to room temperature. Then, cover the jars and pop them in the fridge!
Now for the hard part: waiting! It takes 3 days for these pickled carrots to develop their addictive sweet and tangy flavor. I always try sampling one sooner because I have zero restraint around tangy foods, and they're better on the third day every time. So try to forget about them—just let them hang out in the back of your fridge for a few days, and they'll be ready to eat!
Find my favorite ways to use pickled carrots below.
How to Use Pickled Carrots
The simplest way to eat pickled carrots is straight from the jar as a snack, but it's by no means your only option. Here are a few other ways I love to use them:
Pile them on a crudité platter. The pickled carrot sticks look adorable, and everyone will appreciate the tangy pop of flavor!
Stuff them into a sandwich. Thinly slice them and layer them onto my chickpea salad sandwich or veggie club sandwich for crunch.
Sprinkle them over a salad. I love adding chopped pickled carrots to a simple green salad for bold, bright flavor.
Add them to a grain bowl. Try one of these rice bowl recipes, or build your own bowl with a grain, protein, fresh vegetables, and pickled carrot slices!
How do you like to use quick pickled carrots? Let me know in the comments!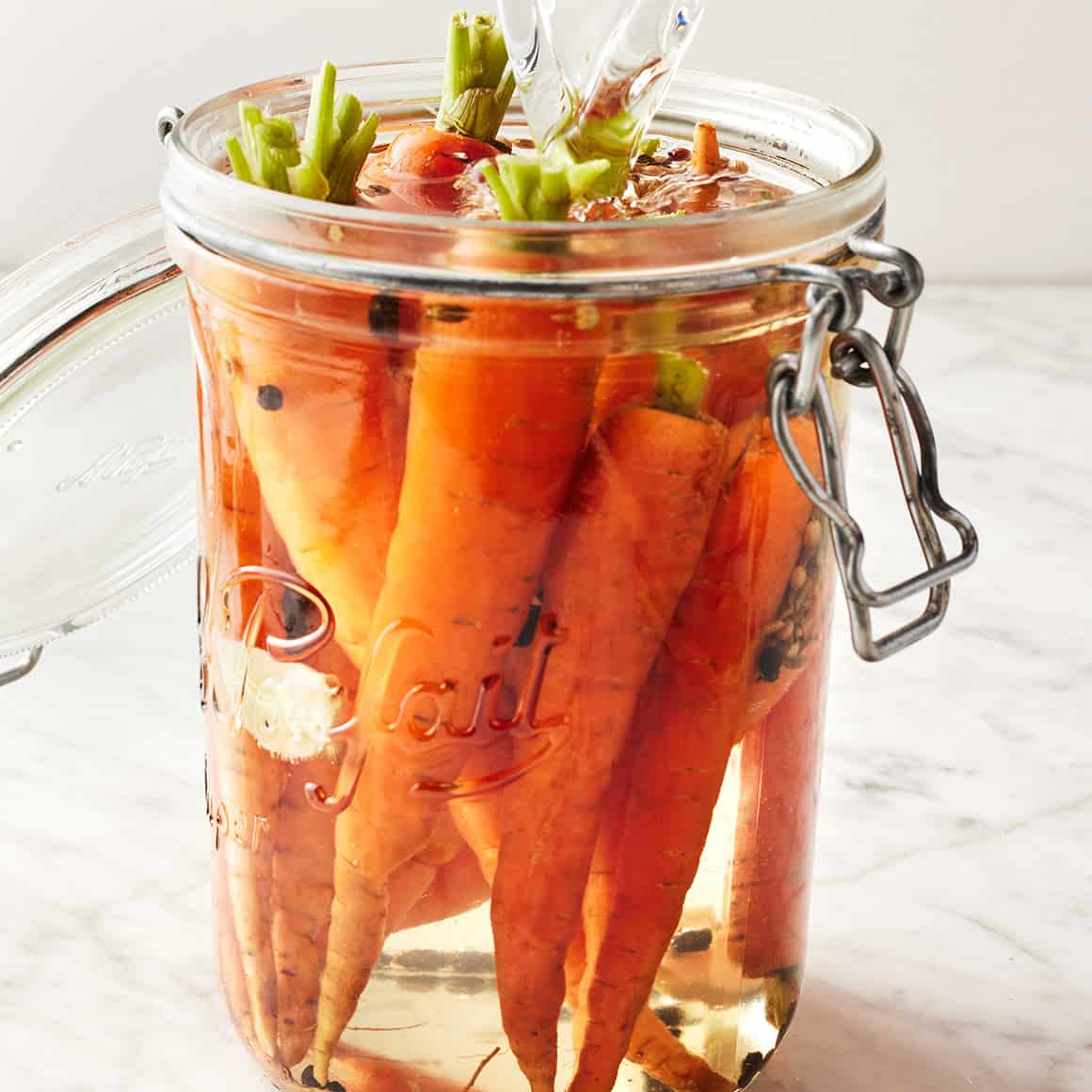 More Favorite Homemade Pickles
If you love these pickled carrots, try one of these quick pickling recipes next:
Quick Pickled Carrots
These quick pickled carrots are crunchy, tangy, and refreshing! Enjoy them as a snack or add them to a salad or appetizer board. Find more serving suggestions in the blog post above. Note that the pickled carrots have the best flavor after at least three days in the fridge.
Ingredients
1

pound

carrots

,

sliced into sticks according to the size of your jars

2

garlic cloves,

halved

1

teaspoon

black peppercorns

1

heaping teaspoon cumin seeds

1

heaping teaspoon coriander seeds

1

cup

distilled white vinegar

1

cup

water

2

tablespoons

cane sugar

1

tablespoon

sea salt
Instructions
Divide the carrots between 2 (16-ounce) jars or 3 (10-ounce) jars. Divide the garlic and peppercorns among the jars.

Heat a medium saucepan over medium-low heat and add the cumin and coriander seeds. Toast, stirring often, for 30 seconds to 1 minute, or until fragrant. Divide the spices among the jars.

Place the vinegar, water, sugar, and salt in the saucepan and heat over medium heat. Stir until the sugar and salt dissolve, about 1 minute. Pour over the carrots.

Set aside to cool to room temperature, then cover the carrots and store in the fridge. They will be ready to eat after 3 days and will keep for up to 2 weeks.