Garlic, shallot, and fresh dill amp up the flavor in this simple pickled asparagus recipe. Crisp, tangy, and refreshing, it's a delicious spring snack.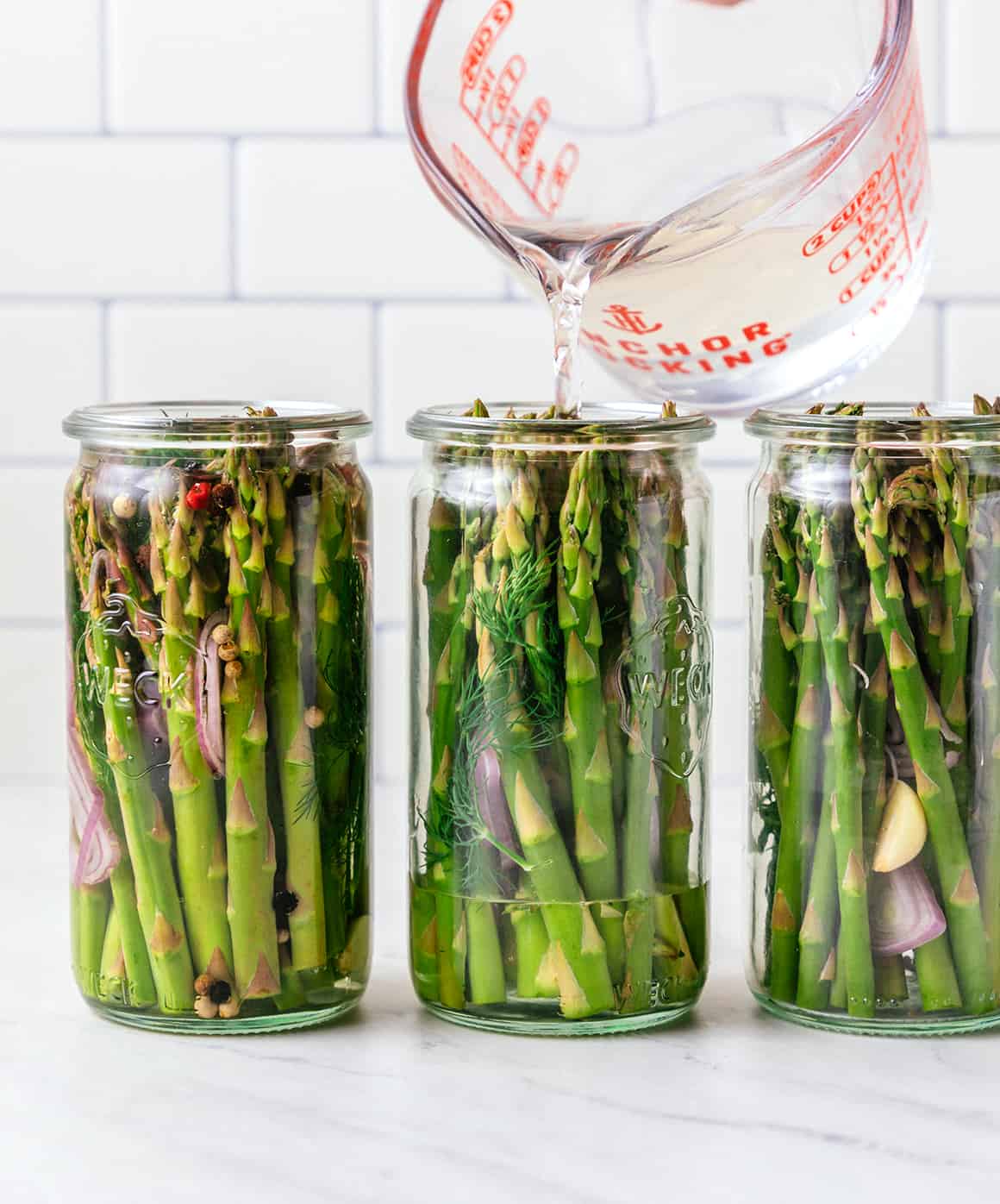 Right now, I have three jars of this quick pickled asparagus lined up in my fridge, which, for me, is both a blessing and a curse. The blessing is that the slender, green spears are absolutely delicious – crisp, grassy, tangy, salty, and sweet. The curse is, well, pretty much the same thing. Every time I open the fridge, I promptly forget what I'm looking for. Seconds later, I find myself standing at the counter, downing spear after spear of pickled asparagus as a refreshing (and surprisingly addictive) spring snack. …oops?
As you start to work your way through different asparagus recipes this season, I hope you'll add this pickled asparagus to the mix. It's quick and easy to make, and it's a lovely showcase for the asparagus's snappy texture and fresh taste. Serve it as an appetizer, add it to a grain bowl, stuff it into a sandwich, or down it as a snack. No matter how you eat this pickled asparagus, I think you're going to love it.
Pickled Asparagus Recipe Ingredients
Here's what you'll need to make this pickled asparagus recipe:
Fresh asparagus, of course! Look for a bunch with thin to medium-sized spears. Tougher, thicker spears won't become as tender or as flavorful when you pickle them.
Distilled white vinegar and water – They make up the base of the brine. White wine vinegar would work nicely here too.
Cane sugar – Don't skip it! Its sweetness is necessary to balance the vinegar's tang.
Salt – It helps preserve the asparagus and adds yummy salty flavor.
Shallot and garlic – They give the pickles complexity and depth. The shallot adds an oniony sweetness, while the garlic brings a nice bite.
Fresh dill – For sour, savory flavor.
And whole peppercorns – For a peppery finishing touch! Use a mix of colors, or stick with all black.
Find the complete recipe with measurements below.
How to Make Pickled Asparagus
In case you're new to making pickled vegetables at home, I want to give you a quick overview of the pickling method we're using here. It's called quick pickling, which means that we're soaking the asparagus in an acidic brine rather than fermenting it with salt. We're also not canning the pickles, which means that you'll need to store them in the fridge. They should keep for about 2 weeks, though if you're anything like me, you'll polish them off way faster than that.
Here's how you'll make them:
First, prep the asparagus. Start by trimming off any tough, woody ends. Then, cut the tender asparagus spears into pieces that will fit vertically in your canning jars. While you're at it, thinly slice the shallot and peel and halve the garlic.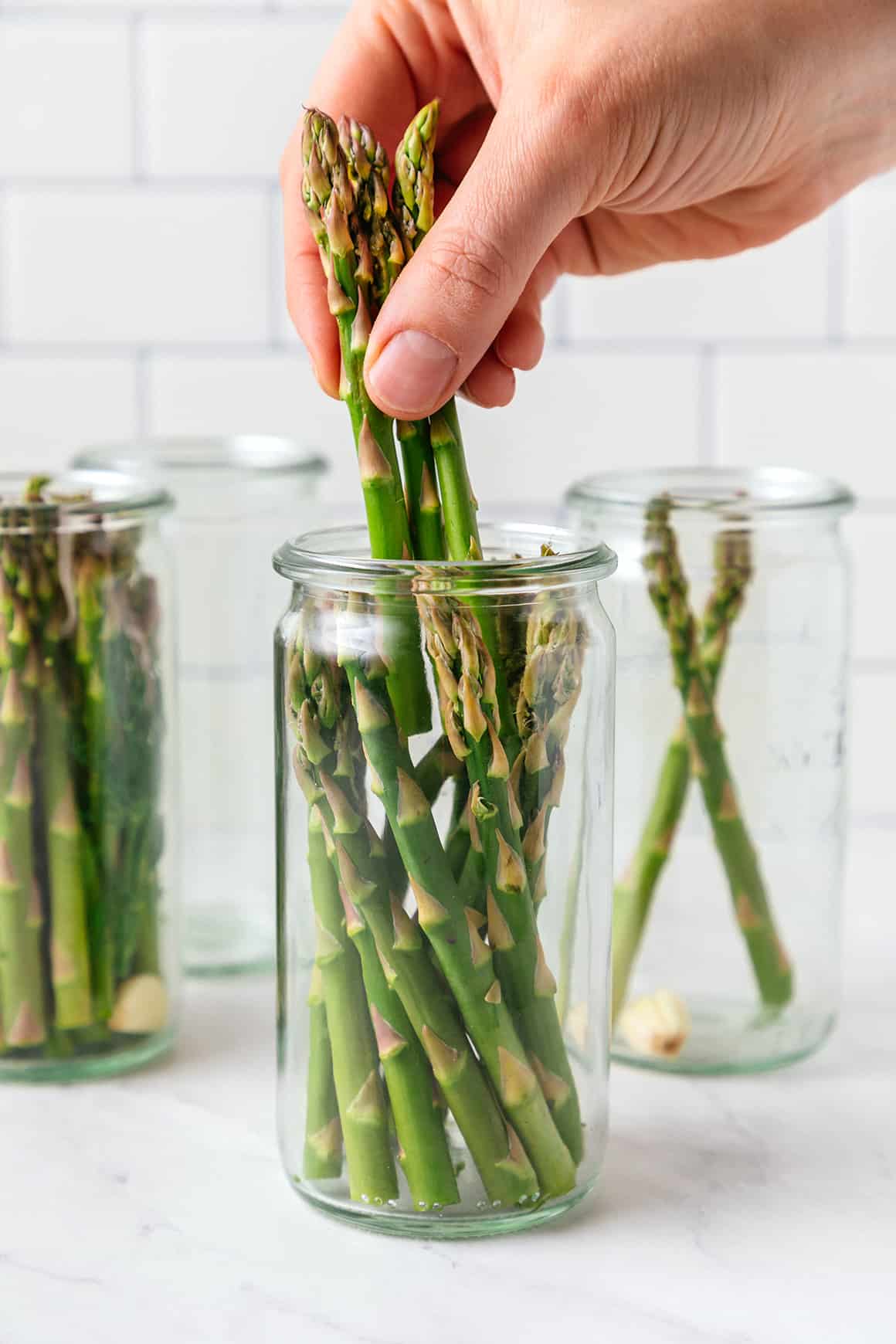 Arrange the asparagus, shallot, garlic, and dill in your jar(s). I like to use these 11.5-ounce jars, though regular Mason jars or a large quart jar would work fine here too. Note that you may need more or less brine depending on the size of your jars.
Then, make the pickling liquid. Heat the vinegar, water, sugar, and salt in a medium saucepan over medium heat. Stir until the sugar and salt dissolve. Pour the hot brine over the vegetables, making sure they're fully submerged, and sprinkle in the peppercorns. Allow to cool to room temperature.
Finally, cover and chill. When the pickles are cool, transfer them to the fridge. They'll be ready to eat the next day.
That's it!
Pickled Asparagus Serving Suggestions
Clearly, I love eating this pickled asparagus as a snack straight out of the fridge. But there are all sorts of other ways you can use it, too! Here are a few ideas to get you started:
What are your favorite ways to eat pickled asparagus? Let me know in the comments!
More Favorite Pickling Recipes
If you love this pickled asparagus, try one of these quick and easy pickling recipes next:
Pickled Asparagus
Crisp, tangy, salty, and sweet, this quick pickled asparagus is a delicious spring appetizer or snack! Find my favorite ways to serve it in the post above.
Instructions
Trim and discard the woody ends of the asparagus, then trim the asparagus spears so that they fit vertically in your jars. Divide among 2 (11.5-ounce) jars or equivalent. Gather any tender scrap pieces and tuck those into the jar (if there's room), along with the shallot, garlic, and dill. The amount of asparagus and brine used may vary based on the size and shape of your jars.

Heat the vinegar, water, sugar, and salt in a medium saucepan over medium heat. Stir until the sugar and salt dissolve, about 1 minute. Pour the hot brine over the asparagus, making sure it's fully submerged, then sprinkle in the peppercorns. Let cool to room temperature, then cover and chill overnight. Store pickled asparagus for up to two weeks in the fridge.