On shoot days, we seem to dirty every dish in the kitchen. Read on for more about our photography process, how we make a mess & how we clean up!
I get a lot of questions about what the behind-the-scenes of running a food blog looks like. People ask if we eat everything (we do!), how I decide what to make (what sounds good/what's in season!), and what kind of equipment we use (more on that later). But we have one well-kept secret: what a mess we make while testing, re-testing, and shooting recipes. We typically shoot two to three recipes twice a week, and by the time a shoot is over, the kitchen is filled with dirty dishes. It's not glamorous, but cleanup one of the biggest parts of the job.
While I absolutely adore my Sub-Zero refrigerator, Wolf cooktop, and Wolf oven, our hardest working kitchen appliance is definitely the dishwasher. With all of the recipes we test and shoot, we go through a TON of dirty dishes. It feels like plates, bowls, pots, and pans are always strewn about the kitchen. We've owned a number of dishwashers in the past, but our new Cove dishwasher is simply the best. Dishes come out sparkling clean (and dry!), helping us easily clean up one day's mess before we start again the next day.
Pictured above: After.
Pictured below: Before.
How many dishes get used while we shoot?
Quite a few. To explain why, I'll use a white bean dip as an example.
Initially, we'd blend it up in the food processor, using measuring spoons to make sure we add the correct amount of each ingredient. If we take an ingredient shot first, we'd measure each ingredient into its own little bowl before making the dip. After blending the dip, we would transfer it to a bowl before we shoot, then there's another bowl (a prettier one) to style it in for the actual photo. Then, I often change my mind and use up one to three more bowls trying to find just the right one for the picture. So far, that's at least eight dirty dishes. There's probably a more streamlined way of doing this, but I'll let you know when I figure it out.
Repeat for the other components of the recipe, and you can see how even a simple recipe shoot yields a pile of dishes. Multiply that by two to three recipes shot per day… and now I've lost track of how many dishes we've used. Incidentally, this is nothing compared to the chaos of creating a cookbook, but that's another post for another day.
Pictured above: the mess for a simple strawberry recipe, and the beginning of a peach cobbler setup.
Pictured below: Annie doing her part of the cleanup, patrolling for any food that has fallen on the floor.
Why we love our Cove Dishwasher (so many reasons!)
It fits any and every sized dish. This is great for me because for food photography, every dish I own is mismatched. The middle rack is height adjustable and tilts to accommodate different dish, pan, and glass sizes – any part of the dishwasher you can adjust has a bright green tab.
You don't have to wash your dishes before you wash the dishes. Three spray arms are strategically placed throughout the dishwasher, which means no pre-washing or re-washing is necessary. Even if I load my mismatched dishes a bit haphazardly, they all get clean. It's kind of crazy.
It has tons of custom wash and dry modes. We especially like the extra dry and extended dry cycles so that we can empty the dishwasher, immediately put the dishes away, and start again. There's also a "top rack only" option that lets you run a half load, which we often use when I'm cooking for just the two of us. I also appreciate the delicate cycle because it treats my handmade ceramics and vintage dishes kindly.
There's an app for that! Jack enjoys starting wash cycles from the app on his phone because he's techy like that, and I enjoy that he has the app because it tells you how much longer a wash cycle will take. You can even tie the app to your Amazon account and it will automatically order dishwashing detergent when supplies are low through Amazon Dash Replenishment Services.
It's nearly silent.
It lights up inside! This seems like a small detail, but the LED lighting inside makes loading and unloading easier when you can see your dishes. There's also a status light at the bottom right corner which lights up red when the dishwasher is running and green when a wash cycle is complete.
It's reliable. Since this is what I do for work, it's extra frustrating when an appliance breaks. In our previous home, I shot our first cookbook with a broken fridge and had a cookie-less Christmas when my oven was broken – I never want things like that to happen again. We were super impressed while visiting the Sub-Zero, Wolf, and Cove manufacturing facilities in Madison last year, where we saw just how rigorously all of their appliances are stress-tested to perform for over 20 years of daily use. Their service is also second-to-none – the Cove comes with the best warranty of any dishwasher and if you call them, you actually speak to someone who works at the home office and lives in Madison, Wisconsin.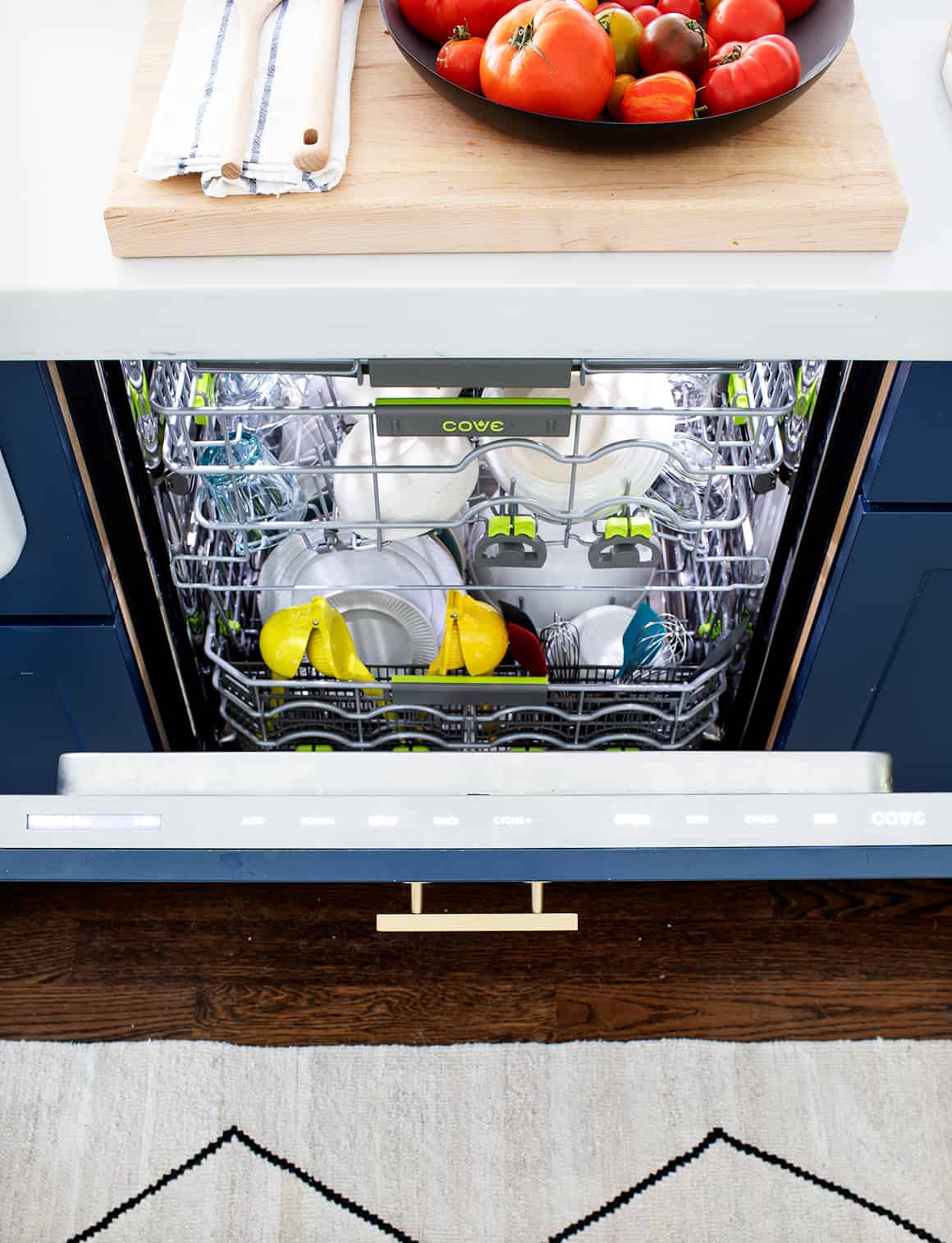 I hope you've enjoyed these sneak peeks behind the scenes – now to go unload the dishwasher 🙂
Special thanks to Sub-Zero, Wolf, and Cove for partnering on this post!
Our appliances:
Sub-Zero 36″ over-and-under refrigerator/freezer
Wolf 36" professional gas cooktop
Wolf 30" E series transitional built-in double oven