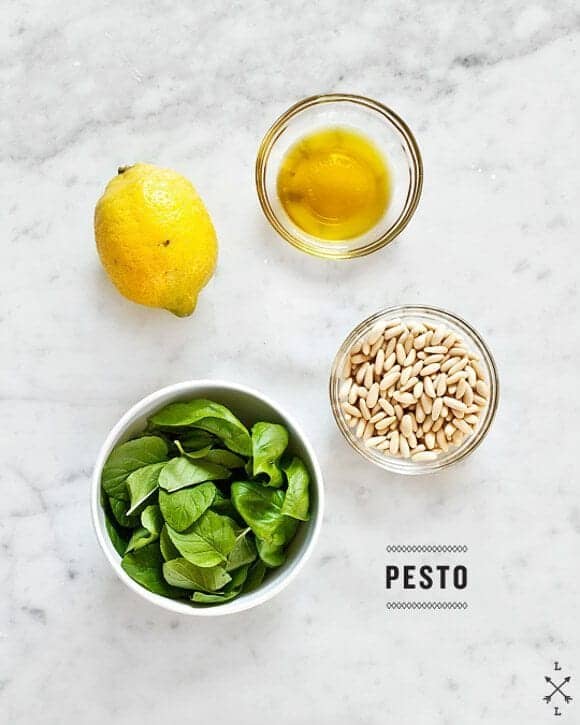 We've been making a lot of pesto lately. It's great just to have on hand, especially for lazy summertime cooking. Dollop it on grilled vegetables, fish, meats, tofu, pasta, salads, eggs, toasted bread, pizza, sandwiches… you get the idea. It makes anything an instant tasty meal whether you really felt like cooking or not.
I have little sticky notes all over my kitchen scribbled with the various ingredients we've been subbing in (yes, that's my organization "system"). Finally it occurred to me that I'm not going to send you to the store for a specific recipe. Instead, I'll share a basic recipe and then offer some ideas of how you can change it up.
But the first thing you need to do is go look in your kitchen and see what you already have. You probably already have some kind of nuts, herbs, or greens to use as a starting point. More often than not, if I make a pistachio pesto, it's not because I'm trying to be fancy… pistachios just happened to be the nut I had that day. If I have some arugula in the fridge that's getting close to its last days, I'll use that. I have two huge basil plants, so a basil combo is a common go-to for me.
I'm sure there are a million more ideas than the ones I've listed here, if you have a favorite, feel free to share!

Pesto, Many Ways
Serves:
Around 1 cup pesto
Ingredients
For basic pesto:
2 big handfuls basil
¼ cup toasted pine nuts
Zest and juice of 1 small lemon
1 garlic clove
¼ – ½ cup olive oil*
Sea salt and fresh black pepper
To vary the herb or veggie, try 1 handful of basil and 1 handful of one of these:
Mint
Cilantro
Parsley
Arugula
Spinach
Or 1 handful of basil and about 1 cup of any of these:
Kale (blanch it first)
Zucchini (raw, cut into cubes)
Artichoke hearts
Sun dried tomatoes
Roasted red pepper
½ an avocado
Stems of green vegetables (boiled until soft)
Switch around the nuts with**:
Walnuts
Pistachios
Almonds
Pecans
Hazelnuts
For something extra:
Parmesan cheese
Nutritional yeast
Red pepper flakes
Roasted or poached garlic instead of raw garlic
Splash champagne vinegar or balsamic vinegar (or more if you don't have a lemon)
Splash agave or honey, if it tastes too acidic
Instructions
Blend all the ingredients, except the olive oil, in a food processor***. Drizzle in the olive oil last while the food processor is running. If you don't have a spout on your processor, just put it in last.
Taste and adjust, adding more of any of the ingredients you used along the way until you create something you like. Every day I make a pesto, it's slightly different. My lemon may have been more tart or sweet than another day, my garlic might have been more pungent, or my basil might be sweeter depending on what season it's growing in.
Notes
*If you want a thinner pesto, add more olive oil. If you want to go lighter on the oil, add some water instead. Also, if you have leftover pesto, it'll thicken a bit the next day. Add water or more olive oil to thin it out. I find that I can keep pesto for about 3 days, covered, in the fridge. The one exception (given the choices above) is if you use an avocado. Avocado pesto will last only about 1 extra day.
**Use unsalted nuts so you can adjust the salt level. Toast lightly and let cool before blending into the pesto.
***For a chunkier pesto, use a mortar and pestle. This way, you may need to use fewer ingredients depending on how large yours is.