This soba noodle bowl loaded with green veggies, herbs, and zesty, sweet, and spicy peanut sauce makes a healthy 30-minute weeknight dinner. Gluten-free.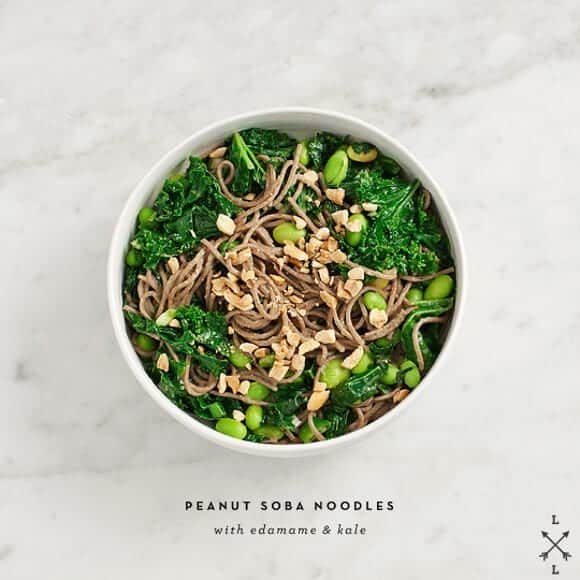 I admit, this picture is minimal, even for us. I mean, is there even a bowl here? Modern art was not exactly what we were going for… we were just hungry. Sometimes we spend a lot of time on our photos, other times, it's "Got it? Look good? Is it clear? Yes. Great, let's eat…"
In front of my computer the next morning is when I sit alone shaking my head and go, "If only we woulda… Next time we should really…" and then I take a break and enviously pin other people's photos. But really, I'd rather spend time figuring out new recipes than tediously trying to figure out… "With the fork? Without the fork? With the napkin? That napkin is really wrinkled… Ditch the napkin." I'm sure our photos, over time, will evolve… but in the meantime, we've gotta eat…
Styling (or lackthereof) aside, this a super delicious bowl of peanut-y green food. And feel free to throw in whatever vegetables you like or happen to have on hand. The sauce is completely versatile. I was just in a green mood that day.

loosely adapted from the Tastespotting the blog

Peanut Soba Noodles with Kale
Ingredients
8 ounces soba noodles or rice noodles
1 tablespoon extra-virgin olive oil
1 pound kale, chopped (5 or 6 large leaves)
1 cup edamame, cooked and shelled
3-4 scallions, chopped
¼ cup chopped basil leaves
¼ cup chopped cilantro leaves
1 lime, for squeezing
¼ cup crushed peanuts
For the sauce:
2 tablespoons peanut butter (creamy or crunchy)
1.5 tablespoons soy sauce or tamari
1 tablespoon mirin
2 garlic cloves, minced
1 tablespoon minced ginger
½ teaspoon honey, agave, or brown rice syrup
Zest of 1 lime
½ teaspoon sriracha, to taste
1 tablespoon sesame oil
¼ to ½ cup water, as necessary to thin sauce
Instructions
Bring a pot of water to a boil and cook noodles according to package directions. Set aside.
Make the sauce: Whisk together the peanut butter, soy sauce, mirin, garlic, ginger, honey, lime zest, sriracha, and sesame oil, adding water as needed to reach your desired consistency. Taste and adjust seasonings. Set aside.
In a large skillet, heat the olive oil. Add the chopped kale and cook for about 30 seconds, tossing it as you go to bring wilted leaves from the bottom to the top. Add the edamame and scallions. Cook, stirring, for about 30 more seconds. (Alternatively, blanch the vegetables in boiling water and transfer them to an ice bath to stop the cooking process.)
Pour the dressing and noodles into the skillet and toss with the vegetables. (If your skillet isn't large enough for this, transfer to a large bowl.)
Taste and adjust seasonings and stir in the basil and cilantro. Squeeze the lime on top and garnish with the chopped peanuts.