Learn how to make peach jam with this easy recipe! Slather it onto toast, dollop it onto ice cream, or top it onto tacos for a surprising sweet twist.
A few weeks ago, I had dinner with my friend Grace, and she brought me the most delicious homemade blackberry jam. Since making jam isn't really my jam, I asked her if she would come over and share a recipe for the blog. I love peaches, and they were in peak season, so we decided on spicy peach jam. And last weekend, we jammed. Well, technically, she jammed. I watched. Jack took pictures.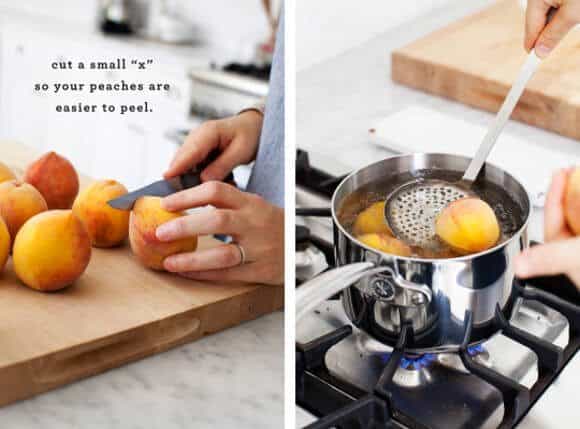 How to Make Peach Jam
Canning aside, I was surprised how easy this peach jam recipe was. It looks long but, really, the most time consuming part is macerating the peaches overnight. The hands-on steps went pretty quickly. Here's what you need to do:
Peel – Cut a small x in the bottom of the peaches and blanch them for a minute or two. Transfer them to an ice bath, and when they're cool enough to handle, slip off the skins.
Cut & mix – Pit the peaches and slice them into thin strips. In a large bowl, mix them thoroughly with a little sugar, white wine, and the chiles, if using.
Macerate – This step is easy! Just let the mixture chill for 2-3 days in the fridge.
Cook – Strain the macerated peach mixture over a large bowl. Then, make a syrupy base for the jam by simmering the strained juices with lemon juice and Granny Smith apples or pectin until they thicken. Remove the apple slices and stir in the remaining peach mixture, cooking for another 15 minutes or so.
Can – If you want to store your jam at room temperature, can it! Fill hot, sterile jars with the peach jam, leaving about 1/4″ of space at the top. Twist on the lids and boil for 10 minutes in a hot water bath.
Store – If you've canned your peach preserves, they'll last for up to a year in a cool, dark place. Otherwise, refrigerate them for up to a month!
What to Do With Peach Jam
I love the sweet & spicy combination of fresh peaches and chiles, but if you don't want your jam to be spicy, go ahead and leave the chiles out. That way, you can use it as you would any other fruit preserves – on peanut butter sandwiches or dolloped onto morning yogurt, oatmeal, or overnight oats.
But the spicy jam is really excellent – I urge you to give it a try. I've been eating this peach jam on toast all week – the peach flavor is especially delicious with a slather of ricotta or almond butter. It would also be yummy topped onto ice cream or frozen yogurt, and it would be a fancy, unexpected addition to tacos too!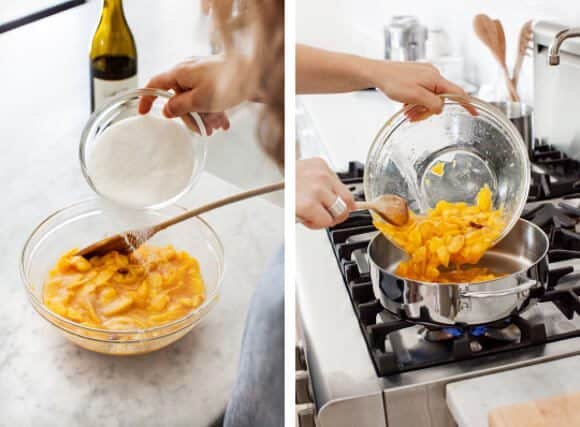 If you love this peach jam recipe…
Use more peaches in this homemade pizza, this cobbler, these summer rolls, this panzanella, this sangria, or this peach crisp!
Spicy Peach Jam
Use this sweet & spicy peach jam on toast, ice cream, or even tacos! It's a delicious summer treat.
Serves:
4 cups (or half-pint jars)
Ingredients
3 pounds ripe peaches
1½ cups sugar
1 cup lightly sweet white wine (I used a Viognier)
7 dried pequin chile peppers, stems removed
3 Granny Smith apples (or pectin)
¼ cup lemon juice
Zest from 1 small lemon (about 1 tablespoon)
Instructions
Peel: Cut a small "x" into the bottom of each peach, drop it into boiling water for a minute or two (you'll know when it's ready when you see the skin start to separate near the "x"), remove, and then drop into an ice bath. Once the peach is cool enough to handle, slip the skin off. I've also found that the ease of removing peach skins really depends on the ripeness of the fruit and how it's been grown. If the peach is overripe or underripe, it always seems like it's much harder (sometimes impossible) to remove the skins. In that case, I just cut the skin away.
Cut and mix: Add a little sugar into the bottom of a medium-sized glass (or non-metal, non-reactive) bowl. Slice each peach in half, top to bottom, and remove the pit. Cut each half into 12-16 thin slices and add to the bowl. Between each peach, add a little more sugar until you've added all the peaches and all the sugar. Then add the wine and the chiles and stir gently until combined.
Macerate (2-3 days): Let the mixture sit in the fridge for at least two days (and up to three). If you want a little extra kick, try this: on the second day, simmer the mixture again, allow to cool, and transfer back to the bowl and let it sit in the fridge for one more day. (This will infuse more spice into your jam).
Cook: (If you're canning, start preparing your boiling water bath, jars, and lids now). Pour the peach mixture into a colander suspended over a bowl and strain the juices. Transfer the juices to a preserving pan or a heavy-bottomed, wide, deep, non-reactive, uncoated sauté pan. Add the lemon juice to the pan. Cut the apples into quarters and either add straight to the pan or bundle in a cheesecloth and add to the pan. (You can substitute the apples with homemade or commercial pectin, if you'd prefer.) Bring the mixture to a boil over high heat. Continue to boil, stirring from time to time, until the liquid is bubbling thickly and reduced, about 15-20 minutes. Remove the apples and discard or save for another use. Add the peach slices, lemon zest, and any accumulated juices to the syrup in the pan. Bring to a simmer and cook over medium-high heat, stirring frequently, until the mixture is bubbling thickly and the foam subsides, about 15-20 minutes. Remove from heat and stir gently for a few seconds to distribute the fruit.
Can: (optional) Fill your hot, sterile jars to ¼" headspace, remove any air bubbles, wipe the rims, put your lids on, and process for 10 minutes in the boiling water bath.
Store: Refrigerated, the preserves will keep up to 1 month. Canned, they'll keep in a cool, dark spot for up to 1 year.
Notes
*I tend to use the least amount of sugar I can possibly get away with when making preserves. You can increase the amount of sugar in this recipe if you desire, but if you use less, it will probably affect the set. Also - I really like a loose set, but if you like a firmer set, use ½ - 1 cup more sugar and / or commercial pectin instead of the Granny Smith apples.