These crowd-pleasing party food ideas will be a hit at any celebration! They include tempting cheese boards, finger foods, delicious dips, and more.
The best party food ideas are fun. Not too fussy, not too formal. Not bland or boring. They catch your eye and draw you in, making you think, "I want to try THAT!" And when you do try it, good party food doesn't disappoint. Even if it's a tiny, one-bite finger food, it packs a punch of flavor.
You'll find my best party food ideas in the post below. They include impressive platters, tasty finger foods, delicious dips, and more. They're the recipes I make time and time again for holiday parties, cookouts, and birthday celebrations, and each one is always a hit. Whether you're hosting a gathering or looking for a dish to pass, I'm sure you'll find something you love.
Platter and Board Party Food Ideas
These platters and boards are stunning centerpieces for a party appetizer spread.
A Beautiful Cheese Board
When I'm hosting, a big, beautiful cheese board is my default party food. It's easy to put together (no cooking required!), and it offers a little something for everyone. Plus, it's so darn pretty. What's not to love?
Ultimate Crudité Platter
This colorful board is a fresh, impressive party appetizer! It features a creamy bean dip, tart cherry compound butter, marinated feta, and loads of veggies. Round it out with crackers or sliced baguette.
Sheet Pan Nachos
These loaded nachos are an EPIC party food. They're decked out with gooey vegan queso, pickled onions, avocado, pico de gallo, and plant-based taco meat. Guests won't be able to get enough!
Baked Brie with Pomegranates
This elegant appetizer is one of my favorites to serve at Christmas or holiday parties. Honey, pistachios, and pomegranate seeds create a festive, flavorful topping for the warm, melty brie.
One-Bite Party Food Ideas
These bite-sized finger foods are perfect for parties. They're cute, delicious, and easy to eat without utensils (or even plates!).
Best Deviled Eggs
A party food classic! For an extra-festive look, garnish them with fresh chives, celery seeds, or pinches of smoked paprika.
Stuffed Mushrooms
Make these 10-ingredient stuffed mushrooms for your next party, and the whole batch will disappear in minutes! I fill the meaty mushroom caps with a crispy, savory mix of panko, parsley, pine nuts, sun-dried tomatoes, and cheese.
Caprese Skewers
Caprese salad on a stick! Drizzle these refreshing bites with olive oil and balsamic glaze to take them over the top.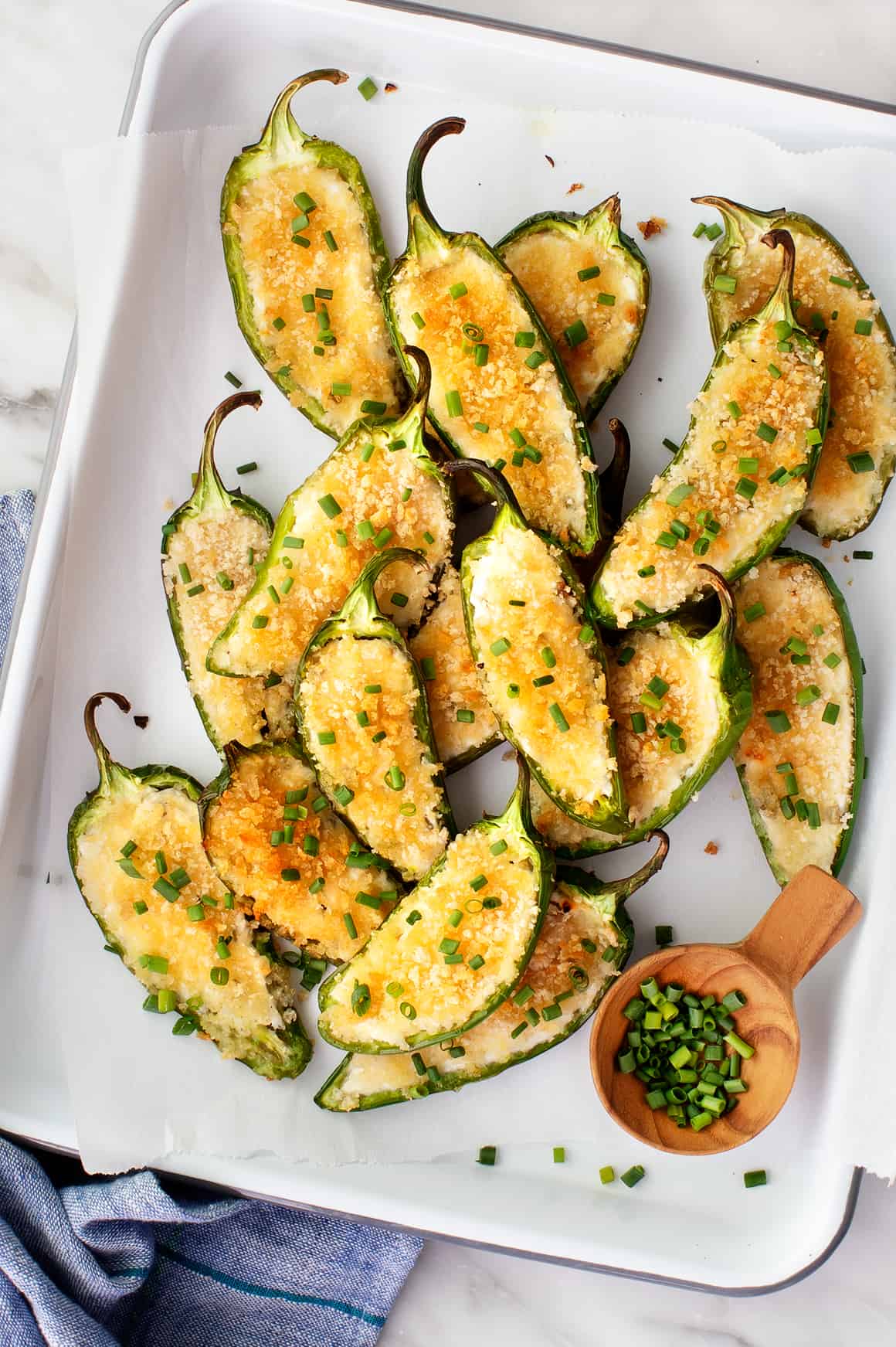 Jalapeño Poppers
A lighter riff on the classic finger food! I make the creamy, tangy filling with Greek yogurt instead of cream cheese.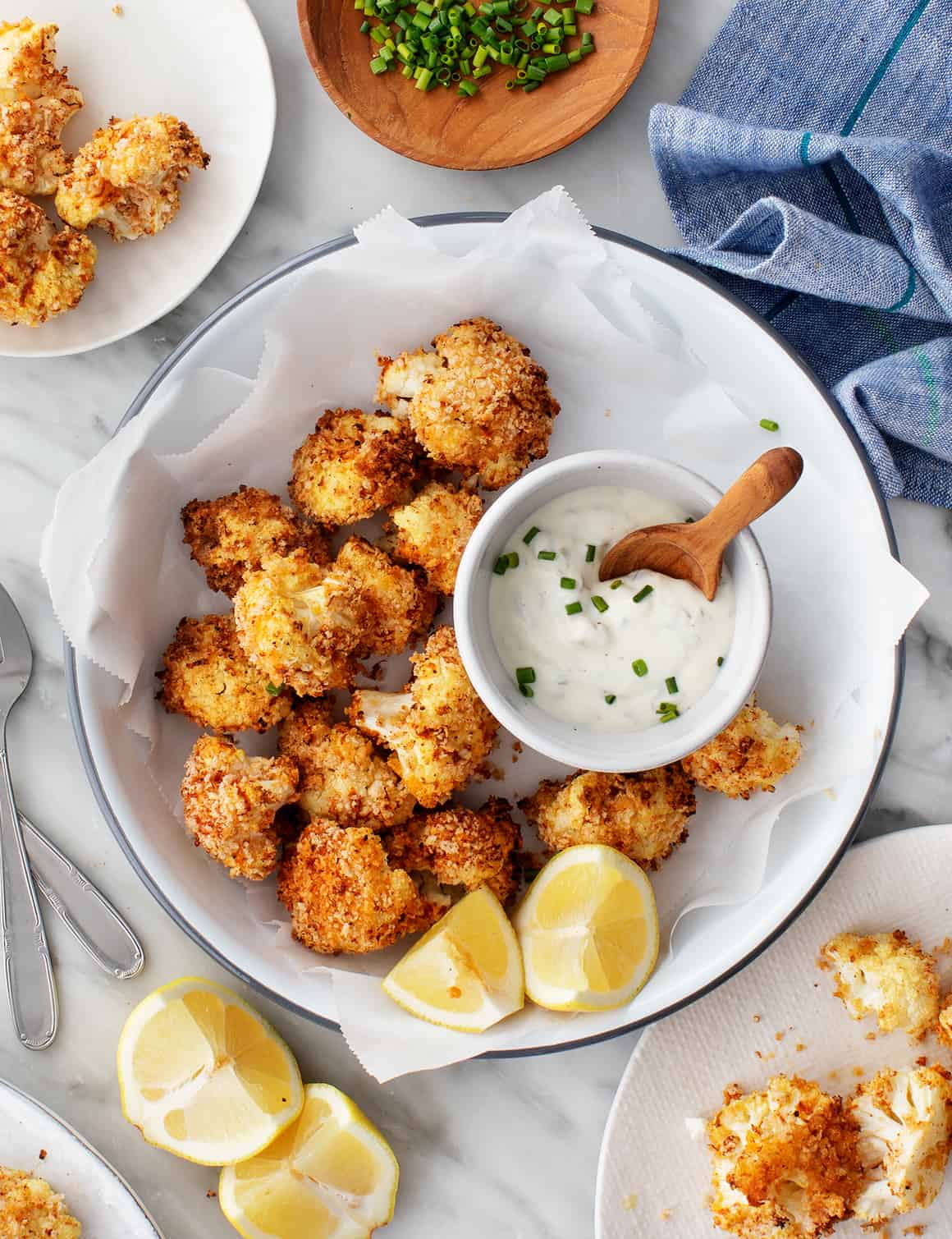 Air Fryer Cauliflower
Serve these crispy, crunchy bites with tartar sauce for an irresistible party appetizer.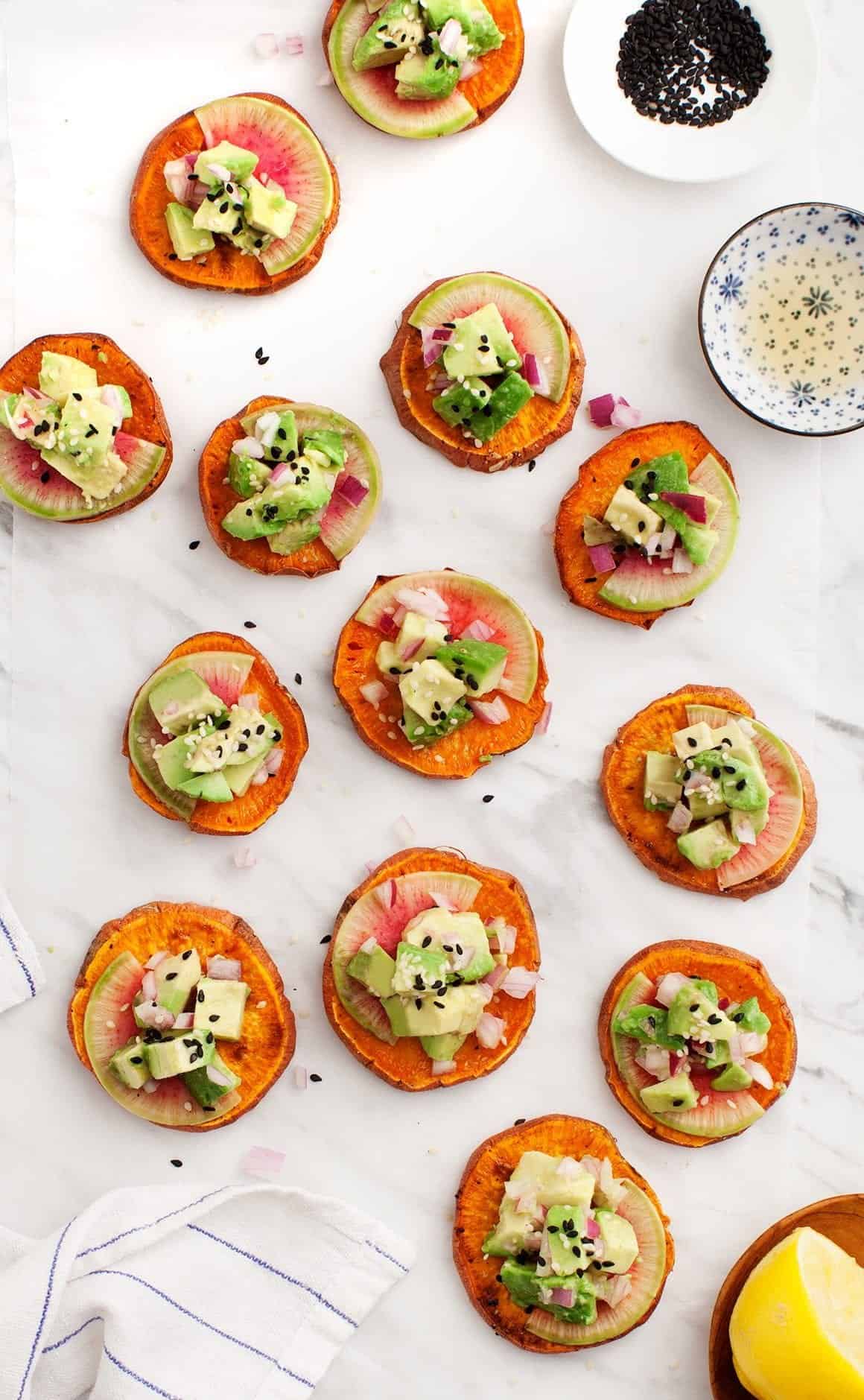 Sweet Potato Appetizer Bites
Looking for party food ideas that are equal parts cute and delicious? Make these adorable sweet potato bites! I top roasted sweet potato rounds with crisp, colorful watermelon radish and a creamy avocado "tartare."
Creamy Dip Recipes
Spinach artichoke, French onion, and more…
Spinach Artichoke Dip
My recipe delivers everything you love about the classic party dip – it's creamy, it's cheesy, and it's packed with briny artichoke flavor. BUT I lighten it up with a secret veggie ingredient. Can you guess what it is?
French Onion Dip
This creamy dip is so good that Jack and I have had fights over who gets the last bite! A plant-based riff on traditional French onion dip, it has a rich cashew base and intense umami flavor from lots of caramelized onions. Serve it with ridged potato chips for a real retro treat.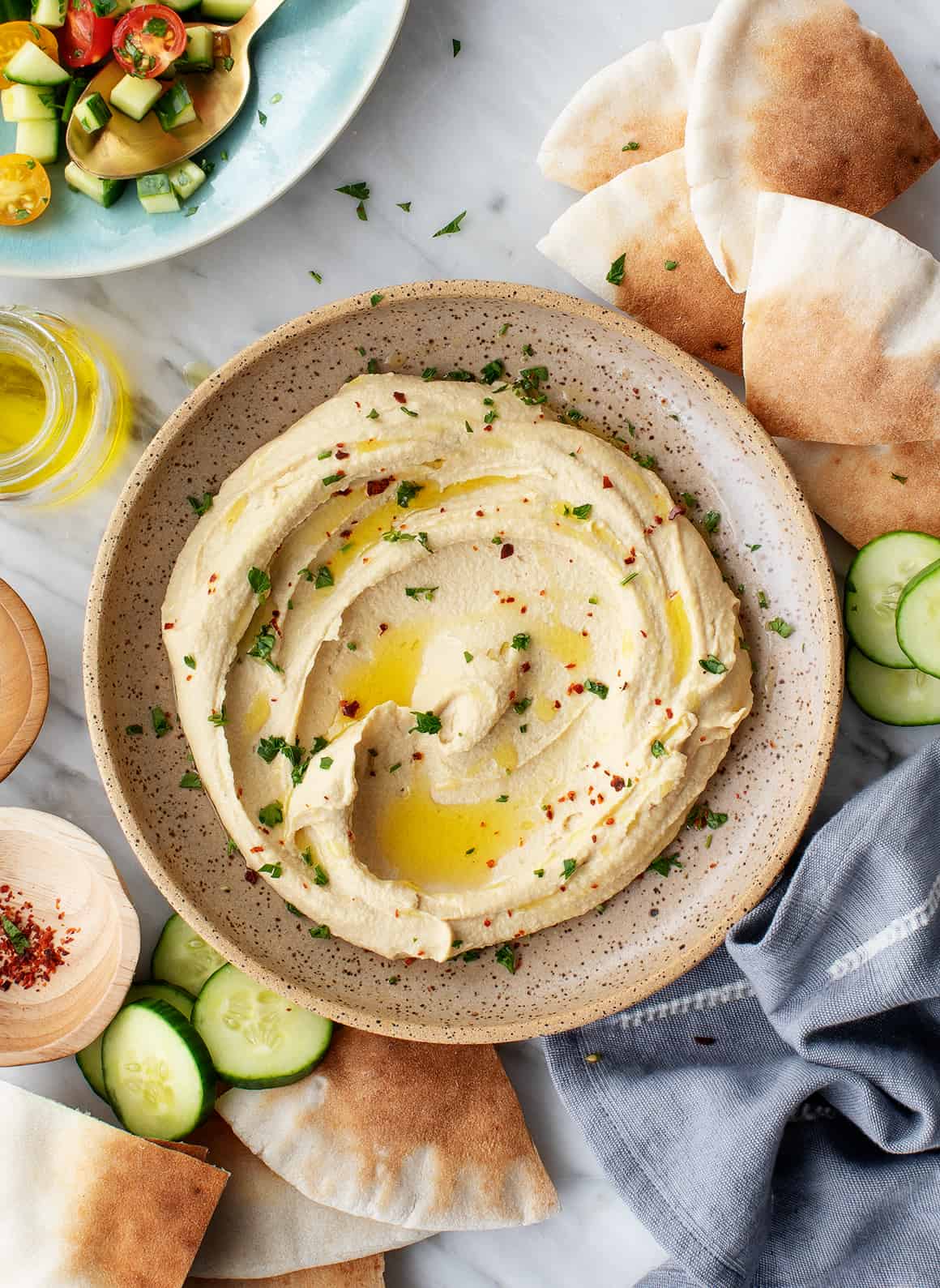 Best Hummus
SO much better than store-bought! Scoop it up with warm pita or fresh veggies.
White Bean Dip
If you're looking for easy party food ideas, you can't go wrong with this creamy, lemony white bean dip. Jazz it up by blending in fresh herbs or roasted garlic.
Salsa and Guacamole
Serve with tortilla chips!
Best Guacamole
The ultimate crowd-pleaser.
Cowboy Caviar
This zesty dip actually improves as it sits in the fridge, so it's a great one to make ahead for parties and gatherings.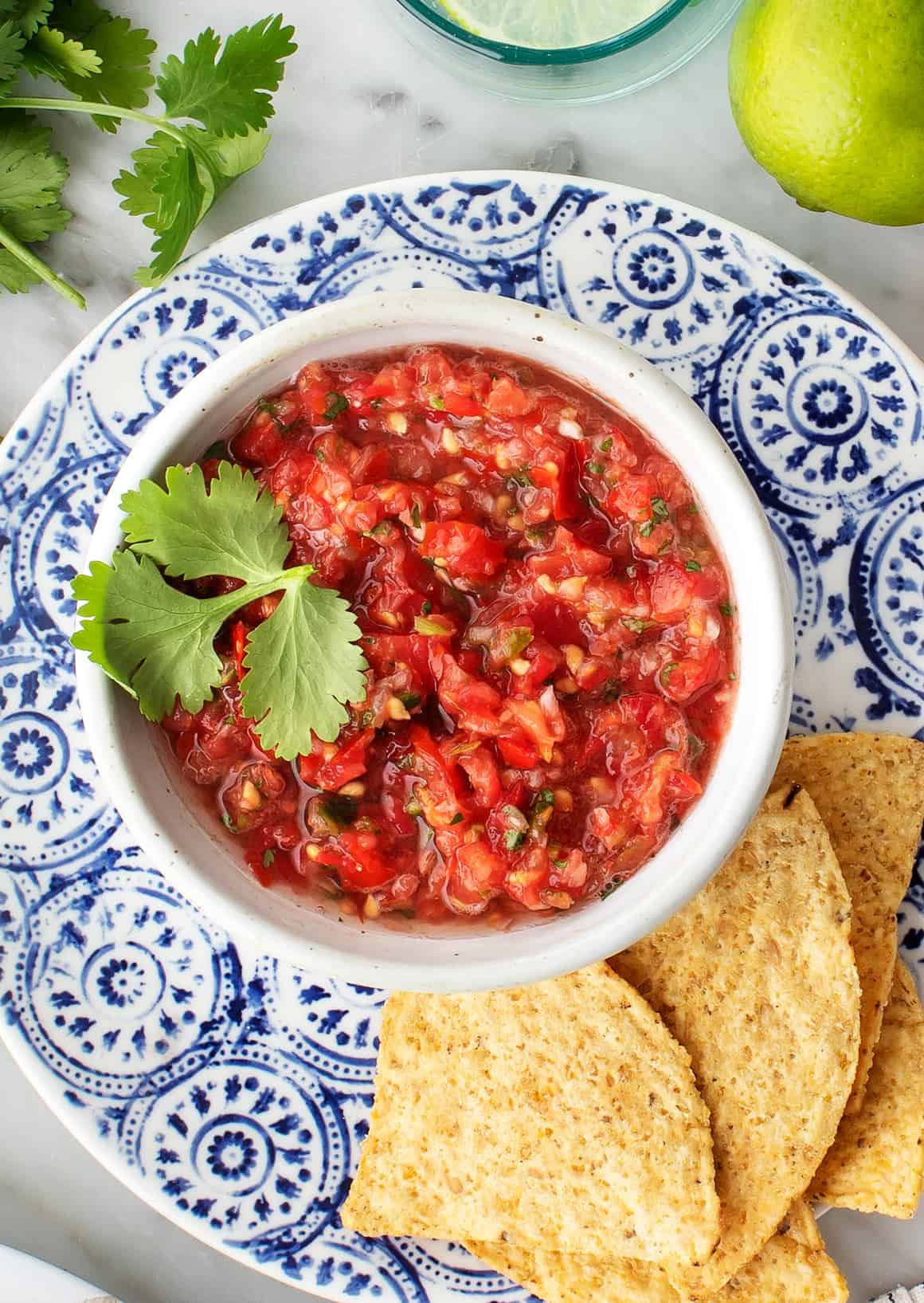 Homemade Salsa
This bright, refreshing salsa whizzes together in just 10 minutes!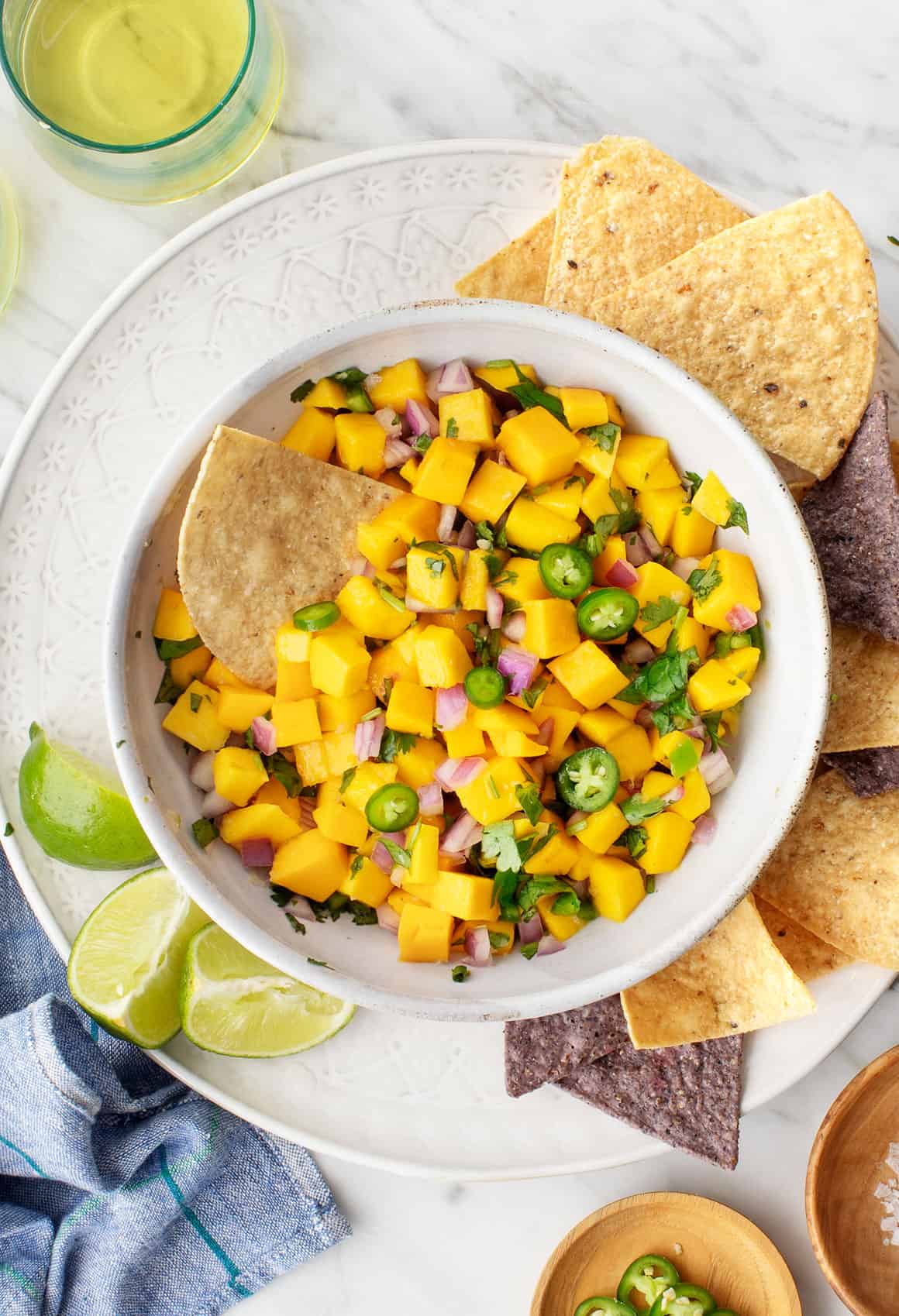 Easy Mango Salsa
This sweet and spicy salsa is such a fun party food! For a heartier variation, stir in black beans, a bit more lime juice, and an extra pinch of salt.
Tomatillo Salsa Verde
Roasted tomatillos, onion, garlic, and jalapeños add bold depth of flavor to this homemade salsa. If you're lucky enough to have leftovers, save them to spoon over tacos or a burrito.
Party Food Ideas for Bakers
If you have a knack for baking, try making one of these finger food recipes for your next party. They're guaranteed to impress guests!
Homemade Soft Pretzels
Guests will rave about these chewy homemade pretzels! Kick them up a notch by serving them with spicy mustard or cheese sauce for dipping.
Garlic Knots
If Jack's making food for a party or gathering, he's probably whipping up a batch of these garlic knots. Our friends and family always love them – they're soft, fluffy, and packed with rich, savory garlic flavor.
Heartier Party Food Ideas
If you want to offer guests more than a light bite, consider making one of these party food ideas. They're more substantial than the dips and finger foods above, and with a few extra snacks on the side, they can easily make a meal.
Homemade Taquitos
These baked taquitos crisp up perfectly in the oven. No frying necessary! They also freeze well, so if you want to get ahead, you can make and freeze a batch up to a month in advance. Reheat in the oven just before serving.
Loaded Potato Skins
These loaded potato skins may not be traditional (you won't find any cheese and bacon here…), but they're still a tried-and-true party hit. I fill them with a fresh corn and black bean salad and top them with a dollop of sunflower sour cream.
Vegan Quesadillas
Quesadillas are such an easy finger food to serve at a party or gathering. This recipe has a tasty sweet potato, poblano, and black bean filling, and it works well with regular or vegan cheese. Serve it with salsa and guac for dipping!
BBQ Jackfruit Sandwiches
Cook the saucy jackfruit filling a day or two in advance, and these sliders will be a breeze to assemble at the last minute.
Party Food Ideas: Spinach Artichoke Dip
This spinach artichoke dip is one of our favorite party food ideas!
Ingredients
3

cups

small cauliflower florets

,

¾-inch pieces

5

ounces

fresh spinach

1

14-ounce can whole artichoke hearts, drained, patted dry, and chopped

⅓

cup

chopped scallions

½

cup

whole milk Greek yogurt

1½

tablespoons

extra-virgin olive oil,

more for brushing

Heaping ½ teaspoon Dijon mustard

Scant 1 teaspoon sea salt

¾

cup

white cheddar cheese

Pinches

of red pepper flakes

Toasted baguette

,

for serving

Chopped parsley for garnish

,

optional
Instructions
Preheat the oven to 450°F and brush an 8-inch cast iron skillet lightly with olive oil.

Bring a large pot of salted water to a boil. Add the cauliflower and garlic and boil until the cauliflower is fork tender, about 8 minutes. Use a slotted spoon to scoop the cauliflower and the garlic into a blender, reserving the pot of cooking water.

Set a bowl of ice water nearby. Add the spinach to the boiling water and use a slotted spoon to immediately remove it (it'll wilt very quickly) and transfer to the ice water to cool completely. Drain and squeeze excess moisture from the spinach. Coarsely chop the spinach and add it to a large bowl with the artichokes and scallions.

Check to make sure that the cauliflower in the blender has (mostly) cooled, then add the yogurt, olive oil, mustard, and salt to the blender and blend until creamy. Add this mixture to the bowl with the spinach and artichokes and stir to combine.

Spread the spinach mixture into the skillet and top with the cheese and pinches of red pepper flakes. Bake 15 to 18 minutes, or until the cheese on top is browned and bubbling.

Garnish with parsley, if desired, and serve with baguette slices.
Notes
For this recipe, I use Stonyfield Organic Grassfed Greek Yogurt, which is super creamy. I use Sir Kensington's Dijon mustard which has a mellow mustard flavor that's not overpowering.