Everyone seems to be posting fall recipes lately, and I have one thing to say about that: too soon! It's technically still summer, and we've been enjoying the (new to us) Chicago city markets. It's so fun to get used to what grows in season here, which is a totally different climate than where we came from in Austin. There's been a plethora of amazing tomatoes, (still) tons of fresh sweet corn, peppers, eggplants, and more! In my mind, summer isn't over until the last peach is eaten, so here's a bountiful tomato, peach, and corn panzanella salad recipe that I thought would be nice for your Labor Day gatherings. At home, I've been calling this the "everything summer" panzanella.

What is Panzanella?
Panzanella is an Italian bread salad. Traditional panzanella features cubes of stale bread, plenty of ripe tomatoes, onion, vinegar, and olive oil. I keep the vinegar, oil, onion, and tomatoes in this variation, but as you can see, my "everything summer" twist is wholly unconventional. With the sweet, juicy peaches, crisp corn, and chewy chickpeas, it's a delectable showcase for late summer produce.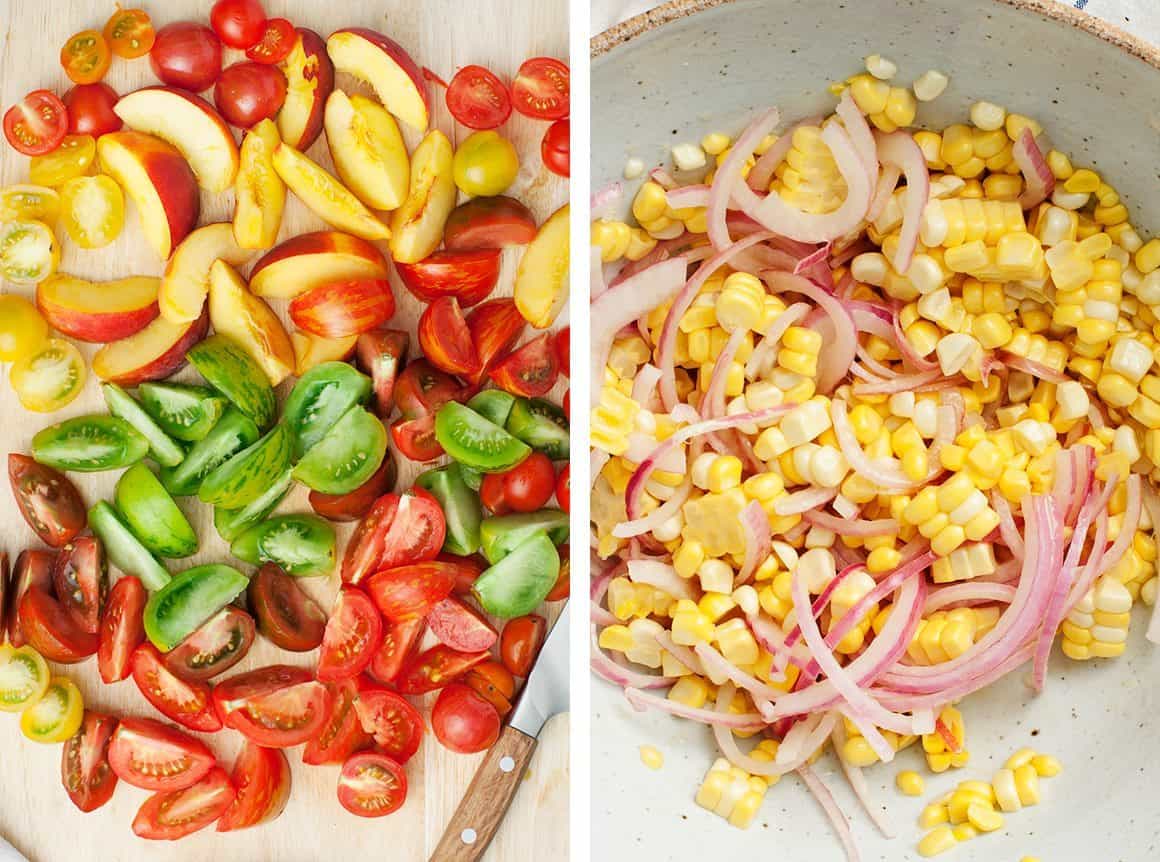 How to Make This Panzanella Salad
First, gather all of the best tomatoes, peaches, corn, and basil that you can find.
Second, find some good bread! I nabbed a gorgeous round of sourdough at the Tuesday market in Lincoln Square. You're ready to cook!
Did I mention that this is a one bowl recipe? The dressing gets stirred at the bottom of a large bowl, before everything else gets added. It couldn't be easier!
Next, add "everything summer" to the bowl – the tomatoes, peaches, corn, basil & some shaved red onion. Stir to let the peach and tomato juices mingle together.
Fold in some crusty day-old bread. Let it sit for a few minutes so that the bread can soak up some of the juices. Top with roasted chickpeas (optional for a little protein!) and plenty of sliced basil leaves.

Panzanella Salad Recipe Variations
This salad is flexible, so make it to your liking! Here are a few ideas to get you started:
If you don't like corn, skip it.
Replace the peaches with extra tomatoes, or with half tomatoes and half sliced English cucumber.
Add grilled or roasted red bell pepper.
Top it with shaved Parmesan.
Stir in some mini fresh mozzarella balls.
If you have extra time, toss your bread cubes with a bit of olive oil and bake in a 425-degree oven until they're nicely golden, about 10 minutes. The stale bread will really soak up the salad's tangy dressing, and it will hold its shape better if you want to make this salad ahead!
Let me know what variations you try!

What to Serve with Panzanella Salad
Enjoy the panzanella on its own or serve it as a side dish. It would be excellent with classic summer picnic fare like portobello burgers, black bean burgers, veggie burgers, or BBQ sandwiches. It would also be a good starter for a light summer lasagna or roasted vegetable pasta.
No matter what, pair it with some crisp white wine and savor the last bits of summer!

If you love this panzanella salad recipe…
Try my watermelon salad, pasta salad, broccoli salad, or potato salad next!
Summer Panzanella Salad
This summer panzanella is a delicious riff on the classic recipe. I add sweet peaches, crisp corn, and roasted chickpeas to make it a true celebration of summer bounty.
Ingredients
3 tablespoons extra-virgin olive oil, more for drizzling
3 tablespoons fresh lemon juice or sherry vinegar, more as desired
3 garlic cloves, minced
½ teaspoon Dijon mustard
½ cup sliced red onion
Kernels from 2 ears of fresh corn
10 small or 5 medium tomatoes, sliced into wedges
16 cherry tomatoes, sliced in half
3 peaches, pitted and sliced
4 to 5 cups cubed crusty bread
1 cup chopped fresh basil
Sea salt and freshly ground black pepper
1 cup roasted chickpeas, optional
Instructions
In the bottom of a large bowl, combine the olive oil, lemon juice or vinegar, garlic, mustard, ½ teaspoon of salt, and a few grinds of pepper. Add the onion, and corn and toss until coated. Let sit for 10 minutes while you prep everything else.
To the bowl, add the tomatoes, peaches, bread, and half the basil. Toss to combine, adding more olive oil if the bread is too dry, and more lemon, salt, and pepper, to taste. Let the salad sit for about 10 minutes so that the juices can soak into the bread. Give it a toss, then top with the remaining fresh basil and the chickpeas, if using.