This panzanella salad recipe is the ultimate showcase for late summer bounty. A tangy dressing perfectly accents fresh tomatoes, peaches & corn.
If I had to choose one ingredient that best represents summer, it would have to be the tomato! Everyone loves perfect bright, juicy summer tomatoes, and in my opinion, there's no better way to celebrate them than with panzanella!
This recipe has been a fan favorite (and one of our favorites) for awhile, so I thought I'd share it again now that all of these ingredients are in peak season. If you look closely, you'll see that there are more than just tomatoes in this panzanella. I call this one my "everything summer" panzanella because I took the liberty of tossing in a few sweet peaches and some fresh corn, in addition to a plethora of colorful heirloom and cherry tomatoes. It's basically the salad you want to make for dinner the day you come home from the farmers market with all kinds of good stuff.

What is Panzanella?
Panzanella is an Italian bread salad. Traditional panzanella features cubes of stale bread, plenty of ripe tomatoes, onion, vinegar, and olive oil. I keep the vinegar, oil, onion, and tomatoes in this variation, but as you can see, my "everything summer" twist is wholly unconventional. With the sweet, juicy peaches, crisp corn, and chewy chickpeas, it's a delectable showcase for late summer produce.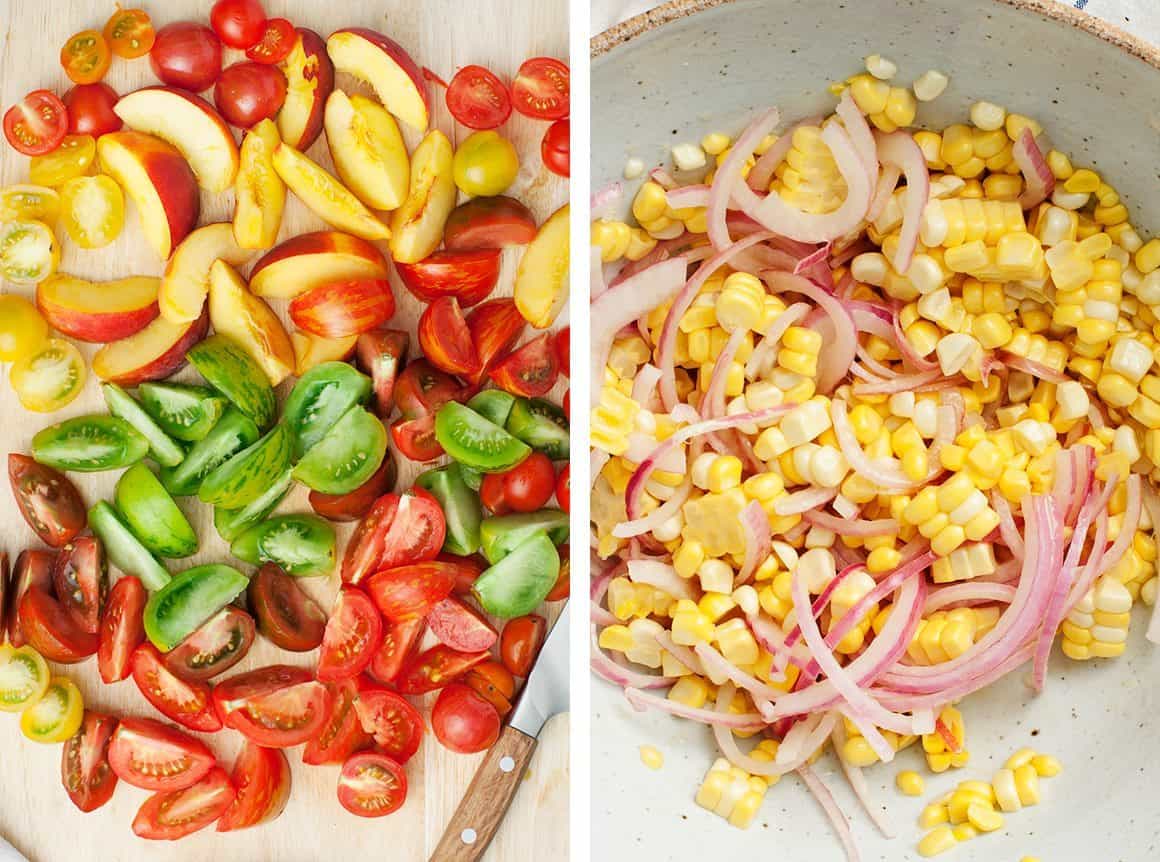 How to Make This Panzanella Salad
First, gather all of the best tomatoes, peaches, corn, and basil that you can find.
Second, find some good bread! I nabbed a gorgeous round of sourdough at my farmers market. You're ready to cook!
Did I mention that this is a one bowl recipe? The dressing gets stirred at the bottom of a large bowl, before everything else gets added. It couldn't be easier!
Next, add "everything summer" to the bowl – the tomatoes, peaches, corn, basil & some shaved red onion. Stir to let the peach and tomato juices mingle together.
Fold in some crusty day-old bread. Let it sit for a few minutes so that the bread can soak up some of the juices. Top with roasted chickpeas (optional for a little protein!) and plenty of sliced basil leaves.
Panzanella Salad Recipe Variations
This salad is flexible, so make it to your liking! Here are a few ideas to get you started:
If you don't like corn, skip it.
Replace the peaches with extra tomatoes, or with half tomatoes and half sliced English cucumber.
Add grilled or roasted red bell pepper.
Top it with shaved Parmesan.
Stir in some mini fresh mozzarella balls.
Add dollops of fresh pesto at the end.
If you have extra time, toss your bread cubes with a bit of olive oil and bake in a 425-degree oven until they're nicely golden, about 10 minutes. The stale bread will really soak up the salad's tangy dressing, and it will hold its shape better if you want to make this salad ahead!
Let me know what variations you try!

What to Serve with Panzanella Salad
Enjoy the panzanella on its own or serve it as a side dish. It would be excellent with classic summer picnic fare like portobello burgers, black bean burgers, veggie burgers, or BBQ sandwiches. It would also be a good starter for a light summer lasagna or roasted vegetable pasta.
No matter what, pair it with some crisp white wine and savor the last bits of summer!
If you love this panzanella salad recipe…
Try my watermelon salad, pasta salad, broccoli salad, potato salad, or any of these summer salads next!
Panzanella Salad
This summer panzanella is a delicious riff on the classic recipe. I add sweet peaches, crisp corn, and roasted chickpeas to make it a true celebration of summer bounty.
Ingredients
3

tablespoons

extra-virgin olive oil,

more for drizzling

3

tablespoons

fresh lemon juice or sherry vinegar

,

more as desired

3

garlic cloves,

minced

½

teaspoon

Dijon mustard

½

cup

sliced red onion

Kernels from 2 ears of fresh corn

10

small or 5 medium tomatoes

,

sliced into wedges

16

cherry tomatoes

,

sliced in half

3

peaches

,

pitted and sliced

4 to 5

cups

cubed crusty bread

1

cup

chopped fresh basil

Sea salt and freshly ground black pepper

1

cup

roasted chickpeas,

optional
Instructions
In the bottom of a large bowl, combine the olive oil, lemon juice or vinegar, garlic, mustard, ½ teaspoon of salt, and a few grinds of pepper. Add the onion, and corn and toss until coated. Let sit for 10 minutes while you prep everything else.

To the bowl, add the tomatoes, peaches, bread, and half the basil. Toss to combine, adding more olive oil if the bread is too dry, and more lemon, salt, and pepper, to taste. Let the salad sit for about 10 minutes so that the juices can soak into the bread. Give it a toss, then top with the remaining fresh basil and the chickpeas, if using.