These pantry recipes use simple ingredients, but they're still fun to make and fun to eat! Find easy, delicious ideas for soups, tacos, pastas, and more.
There's nothing I love more than making a delicious meal out of what I have on hand. It's thrilling to reach into the cupboard and pull out a can of tomatoes and a bag of dried lentils and imagine what pantry recipes I can make. Flash forward thirty minutes, and they've transformed into a creamy curried soup that's flavorful, comforting, and nourishing.
It's certainly been a stressful week for us here in Chicago, and I'm sure it has been for many of you too. When I'm faced with stressful situations, cooking is the first thing I turn to. It's soothing and meditative – a creative distraction from the buzz of the outside world. If you also find solace in the kitchen, I hope you'll cook some of these pantry recipes in the coming weeks. They all use simple ingredients like canned goods, dried grains, and long-lasting veggies (plus a few tips for subbing in frozen veggies), but they're still healthy, delicious, and even fun to eat. Jack and I have made and loved these recipes time and time again, and I hope you love them too.
How to Stock a Pantry
For me, a well-stocked pantry includes three parts of the kitchen: the cupboard, the fridge, and the freezer:
In the cupboard
Grains and pasta: My favorites are whole rolled oats, farro, quinoa, couscous, polenta, and white and brown rice. I also like to keep a few pasta shapes in the cupboard.
Canned produce: Whole peeled tomatoes, diced fire roasted tomatoes, and pumpkin puree are my top picks.
Beans and legumes: Canned and dried beans and legumes are nutrient powerhouses, and they last for months. Stock up on lentils, chickpeas, beans, and refried beans.
Fats: I use extra-virgin olive oil for almost everything, but I also keep coconut oil, toasted sesame oil, and butter on hand. Nuts, seeds, nut butters, and coconut milk are essential fats in my pantry too.
Dried fruit: My favorites are dried tart cherries, apricots, and Medjool dates. They're excellent additions to baking recipes and snacks on their own!
Baking ingredients and spices: Sea salt, black pepper, cumin, coriander, cinnamon, cardamom, smoked paprika, and red pepper flakes are a great place to start. If you like baking, keep sugar, brown sugar, chocolate chips, flour, baking soda, baking powder, and active dry yeast on hand as well.
In the freezer
Frozen vegetables: Did you know that frozen vegetables are just as – if not more – nutritious than fresh ones? I especially love to add frozen peas, spinach, and corn to soups, salads, and pastas. Frozen berries also work well in smoothies and baking recipes.
Bread and tortillas: Bread freezes perfectly, so it never hurts to have one loaf of sandwich bread and one loaf of crusty bread in your freezer. I also like to keep frozen corn and flour tortillas on hand to whip up tacos, enchiladas, or quesadillas any time.
A few freezer meals: Soups, stews, veggie patties and balls, casseroles, and baked goods all freeze well. Next time you cook, freeze any leftovers, or make a double batch, and freeze the extras!
In the fridge
Long-lasting fresh produce: Potatoes, sweet potatoes, onions, garlic, winter squash, cabbage, and root veggies all keep for weeks, so keep a good supply on hand. And of course, you always want to have a stash of lemons or limes in the fridge.
Tofu and tempeh: Both are excellent sources of plant-based protein, and they have a long shelf life.
Dairy and eggs: Cheeses, Greek yogurt, and eggs are all filled with protein and other nutrients, and they keep for several weeks in the fridge.
Flavorful extras: Dijon mustard, sun-dried tomatoes, olives, capers, pickled vegetables, tamari, and vinegars. These ingredients will all add extra dimension to your pantry cooking.
Of course, you don't need to keep all these ingredients on hand all the time. But with a mix of a few items from each category, you'll be on your way to making all sorts of delicious pantry recipes. Check out the 30+ ideas below to get started!
Bean & Legume Pantry Recipes
Lentil Soup
This curried lentil soup is one of my favorite pantry recipes. Coconut milk gives it a rich, creamy broth, and curry powder, ginger, and fire-roasted tomatoes fill it with bold flavor.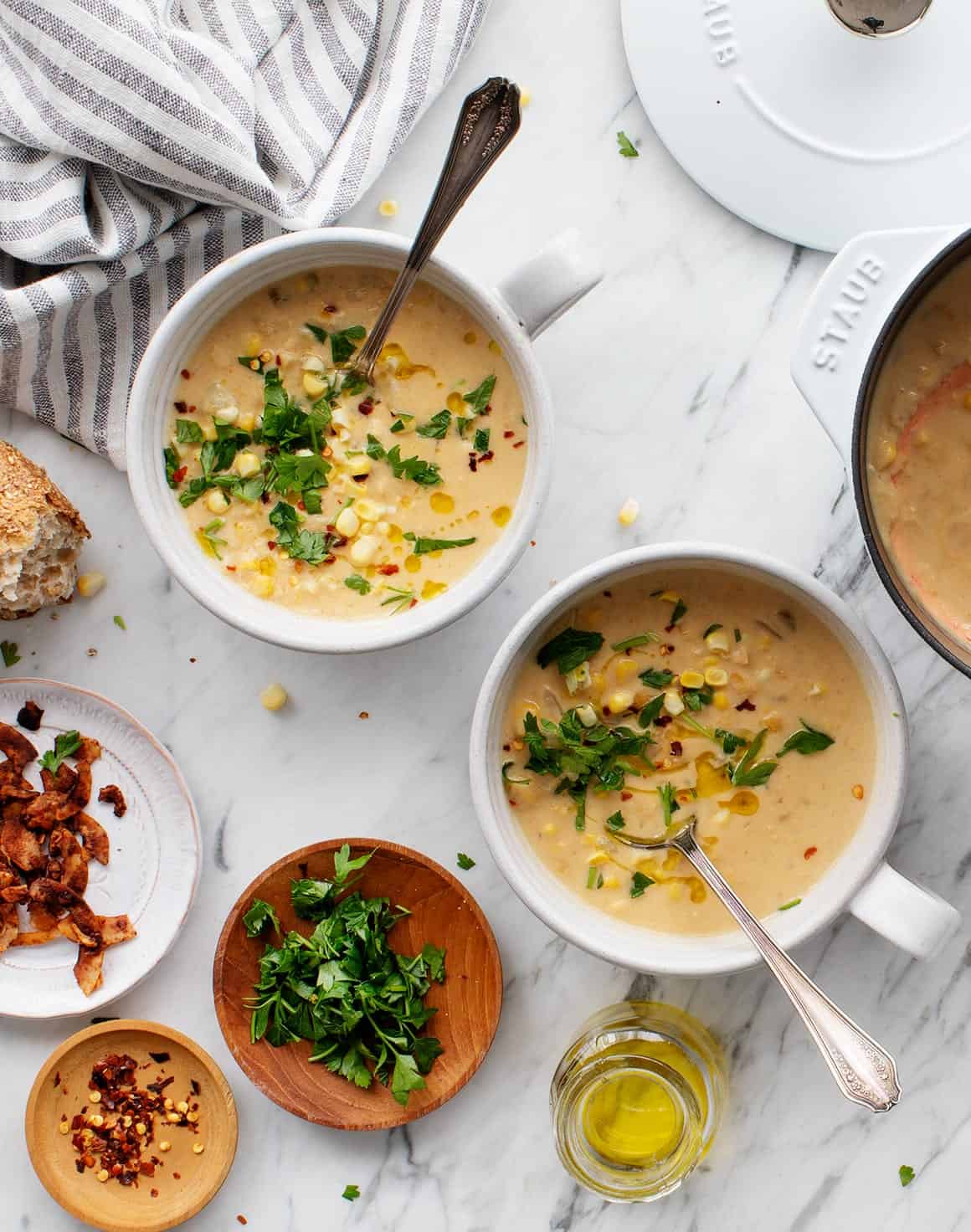 Vegan Corn Chowder
Dried yellow split peas make this soup a great source of plant-based protein. The other ingredients – like frozen corn, cashews, and apple cider vinegar – you likely have in your pantry already.
Black Bean Enchiladas
Nearly all the ingredients to these hearty enchiladas will keep for months. Their flavorful veggie filling stars black beans and butternut squash, and their sauce is just adobo sauce from a can of chipotles. If you don't have scallions on hand, use any diced onion instead, and don't forget to keep a stash of tortillas in your freezer. 🙂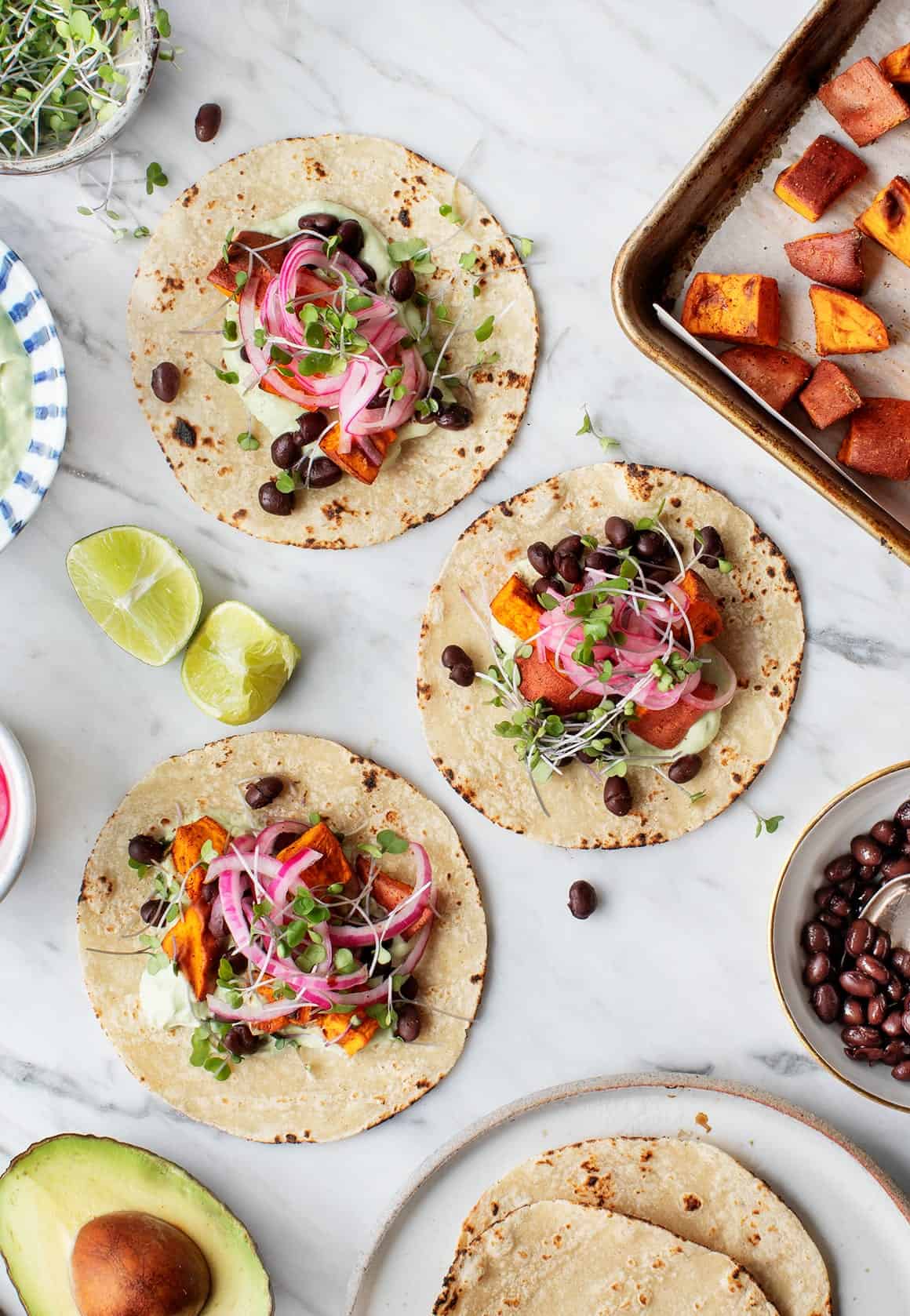 Sweet Potato Tacos
Pickled onions, roasted sweet potatoes, and black beans are all it takes to make delicious vegetarian tacos. If you don't have avocados, mix up my chipotle sauce instead of the avocado-yogurt sauce in this recipe.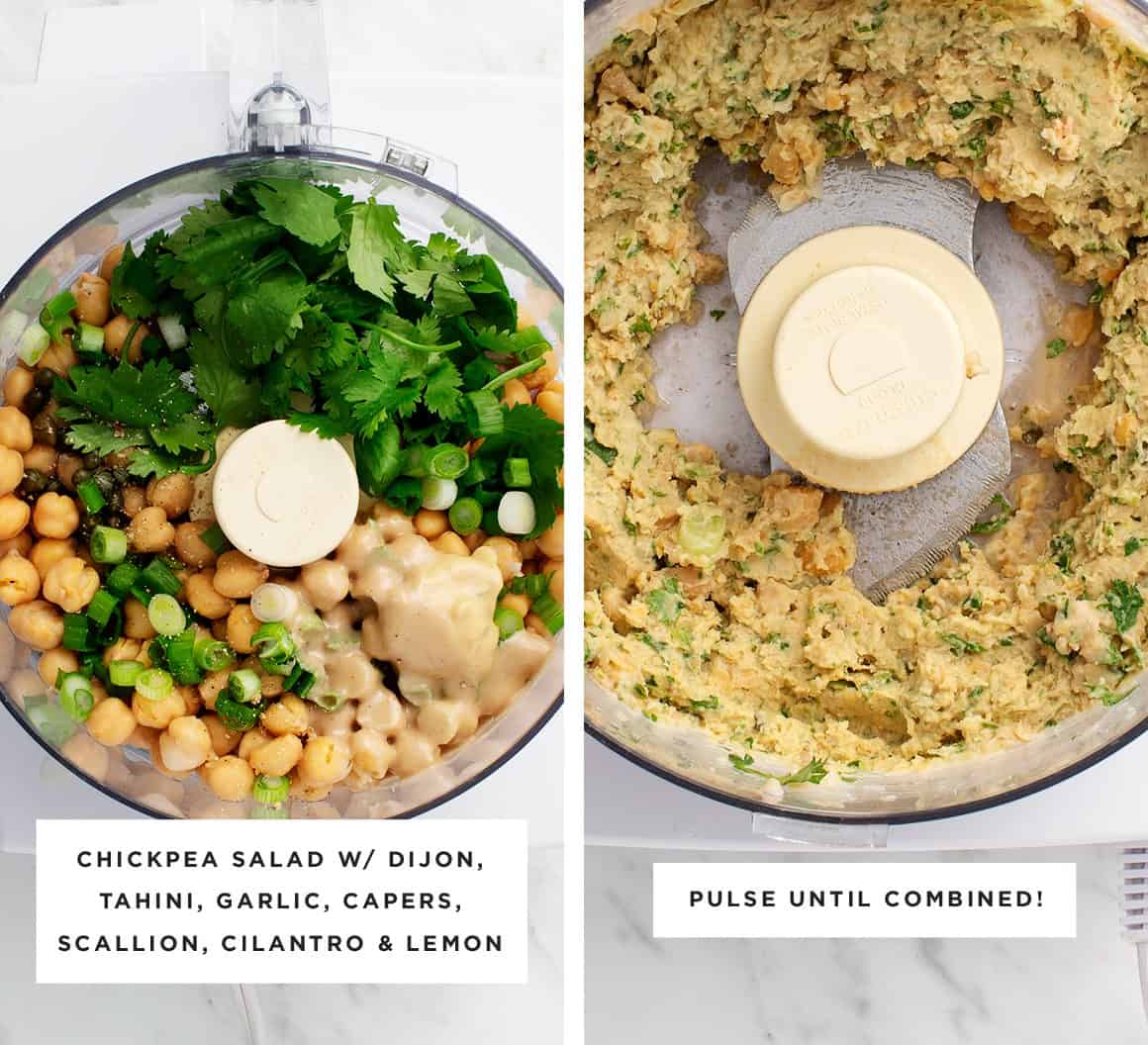 Chickpea Salad Sandwich Filling
Who needs tuna? This chickpea salad makes a sandwich that's equally good. Thanks to Dijon mustard, capers, and lemon juice, it's tangy, briny, and bright. Skip the cilantro if you don't have any.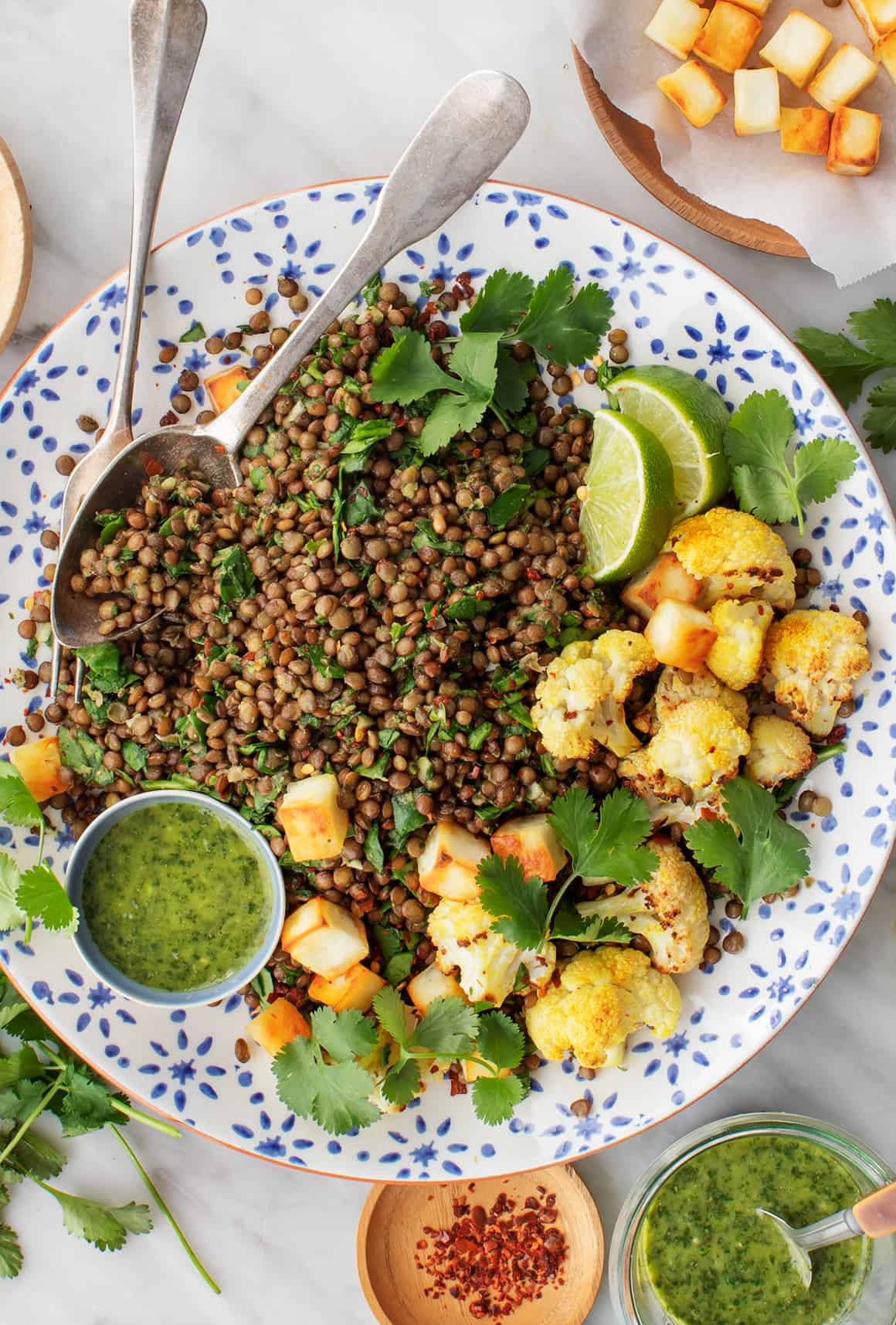 Lentil Salad
I usually serve this hearty lentil salad with turmeric roasted cauliflower, but feel free to swap in any roasted veggie in its place. If you don't have one on hand to roast, serve this salad with a side of thawed frozen peas.
Basic Pasta Recipes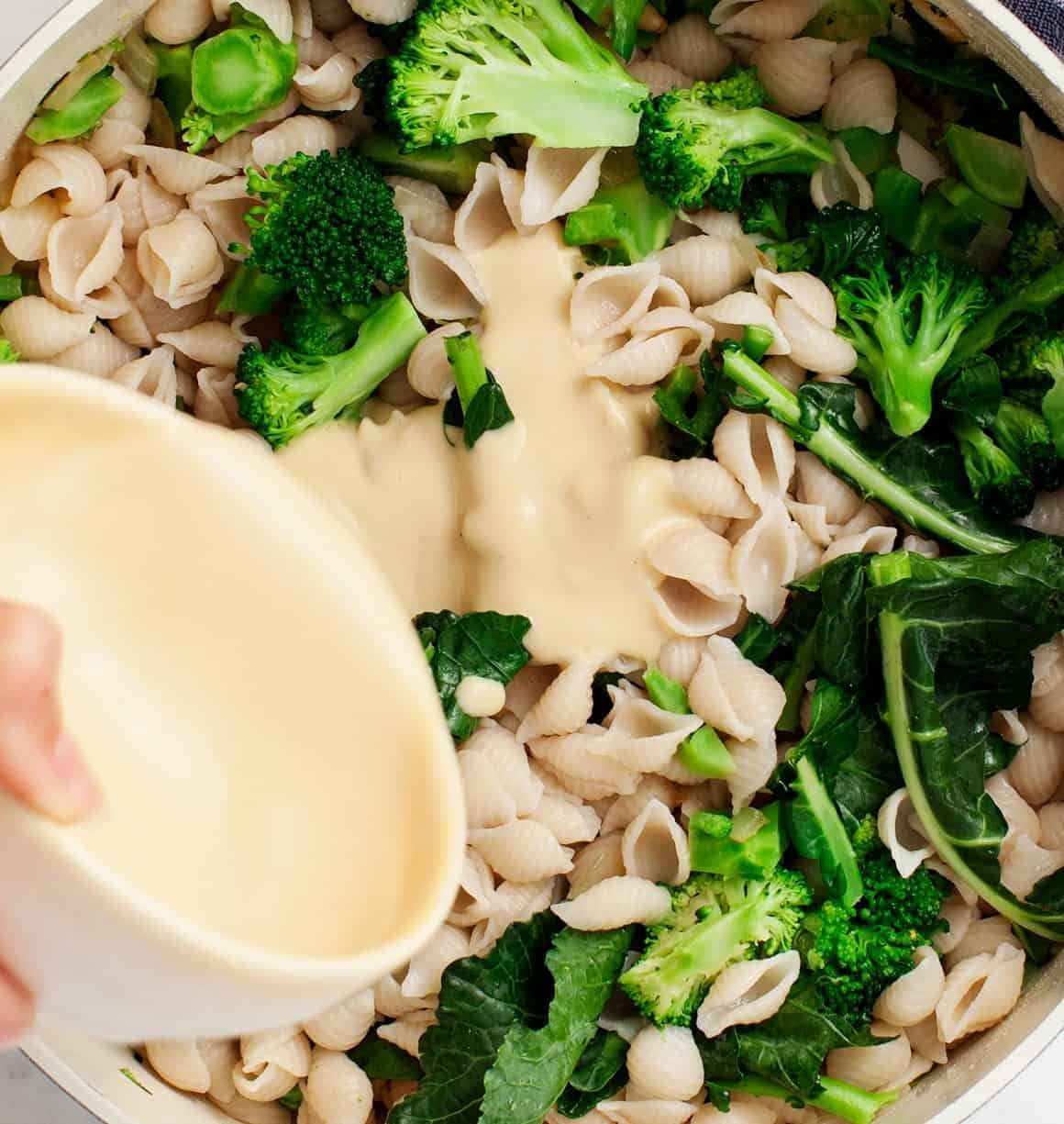 Creamy Vegan Pasta
In this recipe, basic pantry ingredients like white beans and nutritional yeast blend into a bright, velvety pasta sauce. I like to add fresh broccoli, but frozen broccoli or peas work nicely too.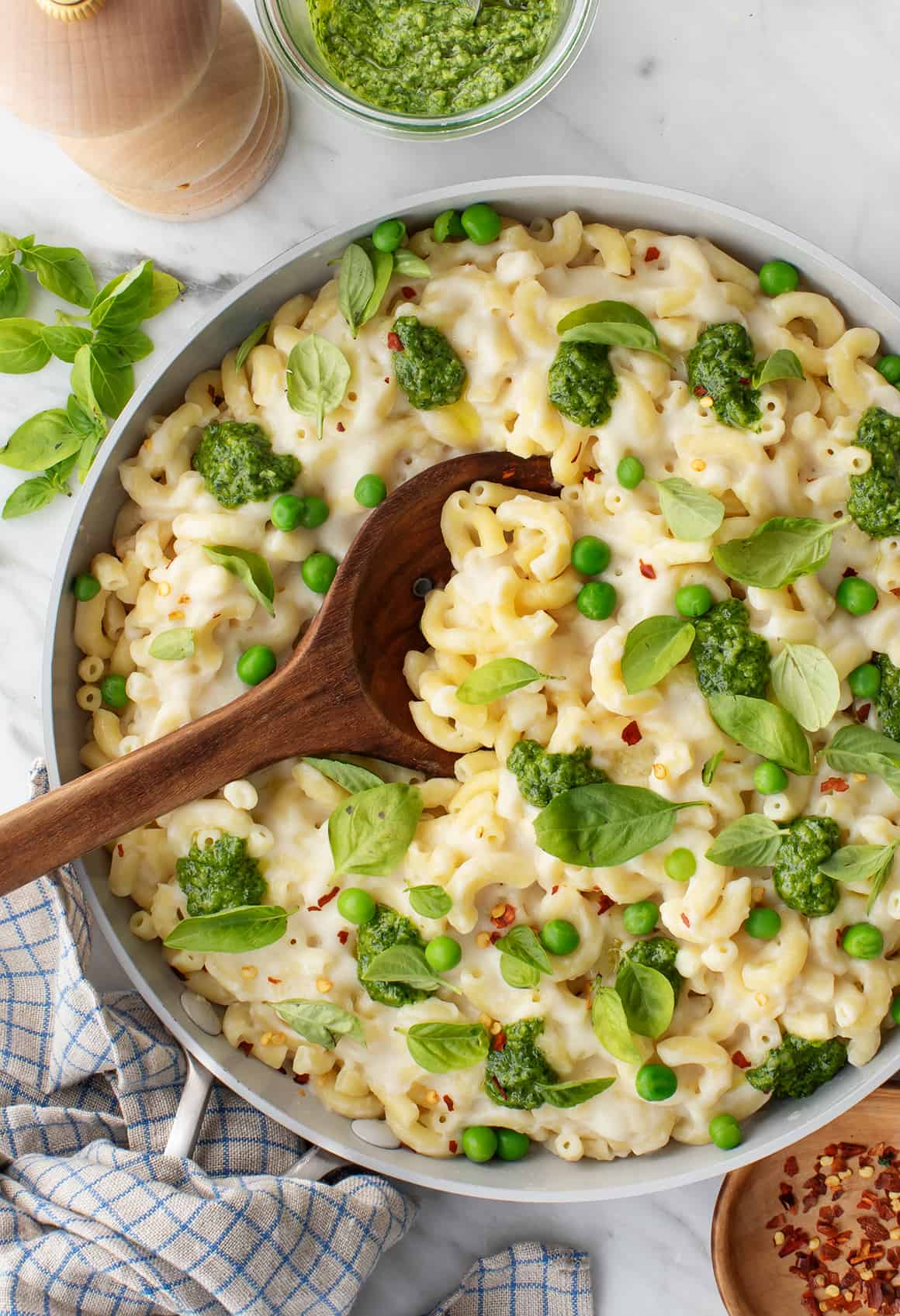 Mac and Cheese
Has anyone else been craving comfort food lately? Well, good news! It doesn't take much to make a big, creamy pot of homemade mac and cheese. For a fresh twist, brighten it up with a scoop of frozen peas. They're just as tasty and nutritious as fresh ones.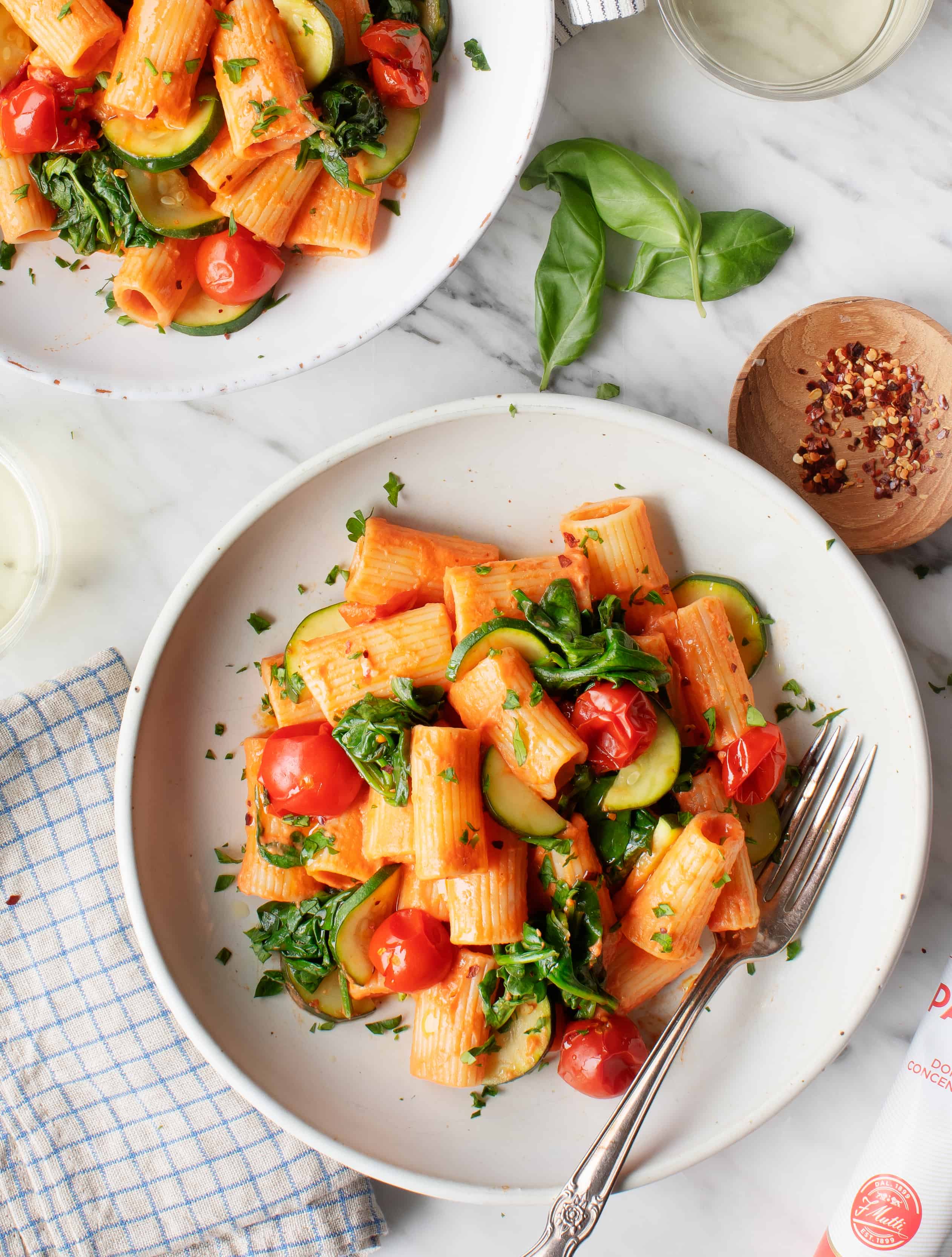 Creamy Pasta Pomodoro
I could eat this simple pasta recipe every night of the week! Cashews and marinara blend into a luscious tomato sauce that coats floppy noodles and sautéed veggies. If you're short on fresh ingredients, skip the zucchini, and substitute frozen spinach for fresh.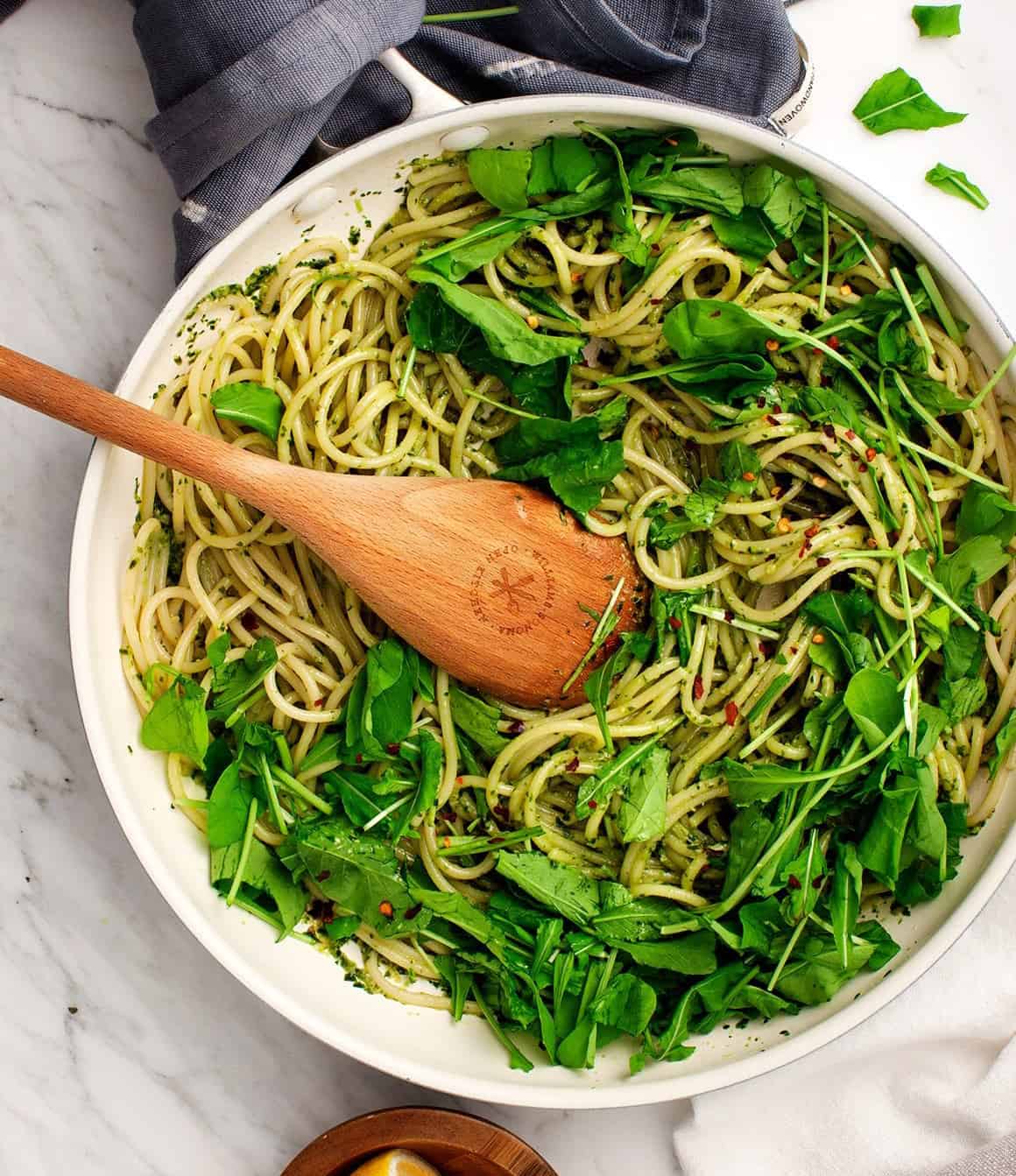 Pesto Pasta
Did you know that pesto freezes perfectly? Learn how to make it with nearly any herb or green here. Then, blend up a big batch and freeze it in ice cube trays. As long as you have pasta in the cupboard, pesto pasta will be minutes away, any night of the week.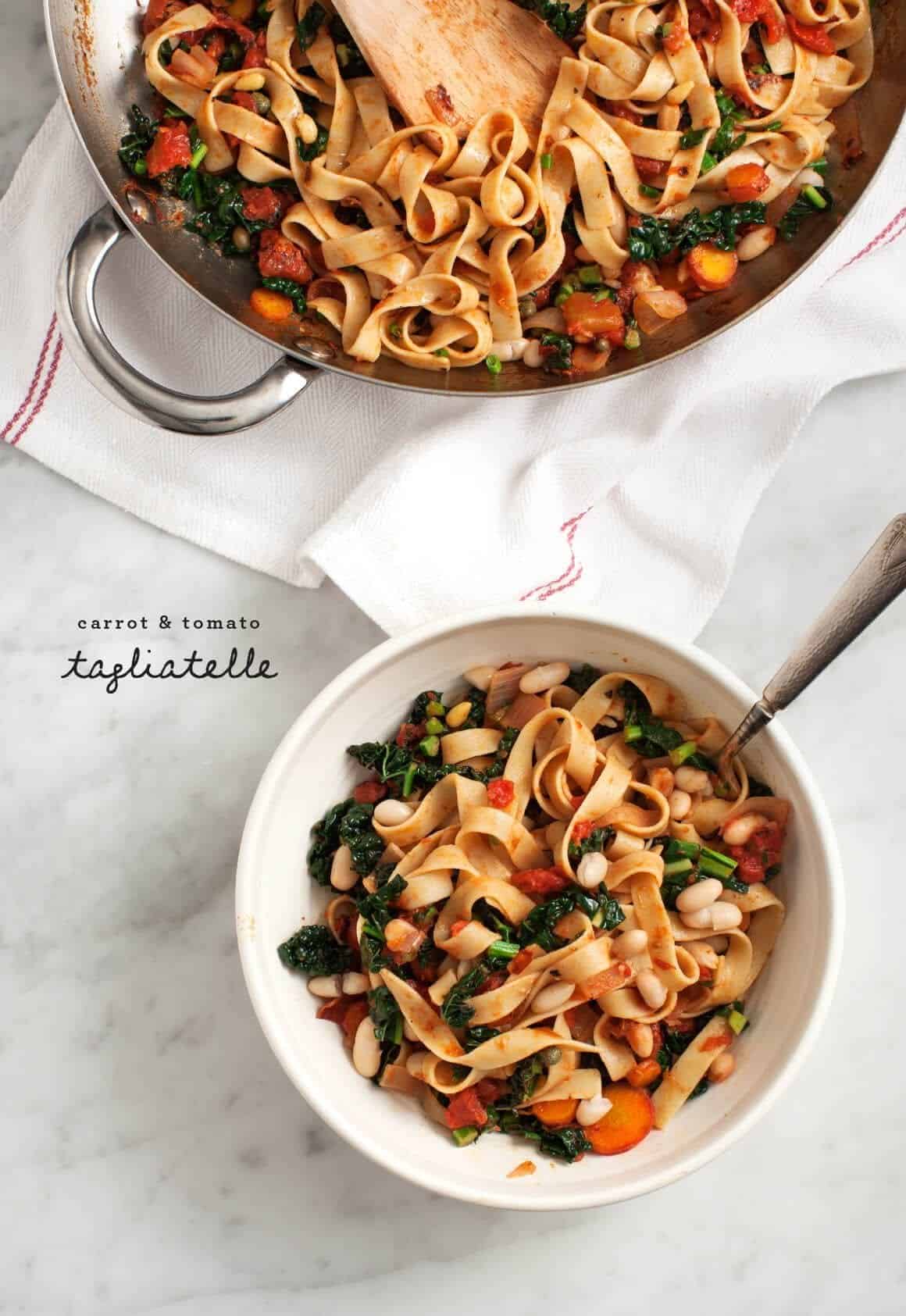 Carrot Tomato Tagliatelle
Simple pantry items like dried herbs, white beans, vinegar, and canned tomatoes pack this pasta with flavor. Luckily, most of the veggies it calls for, like carrots and shallots, will keep for days. If you don't have kale on hand, feel free to skip it, or use frozen greens in its place.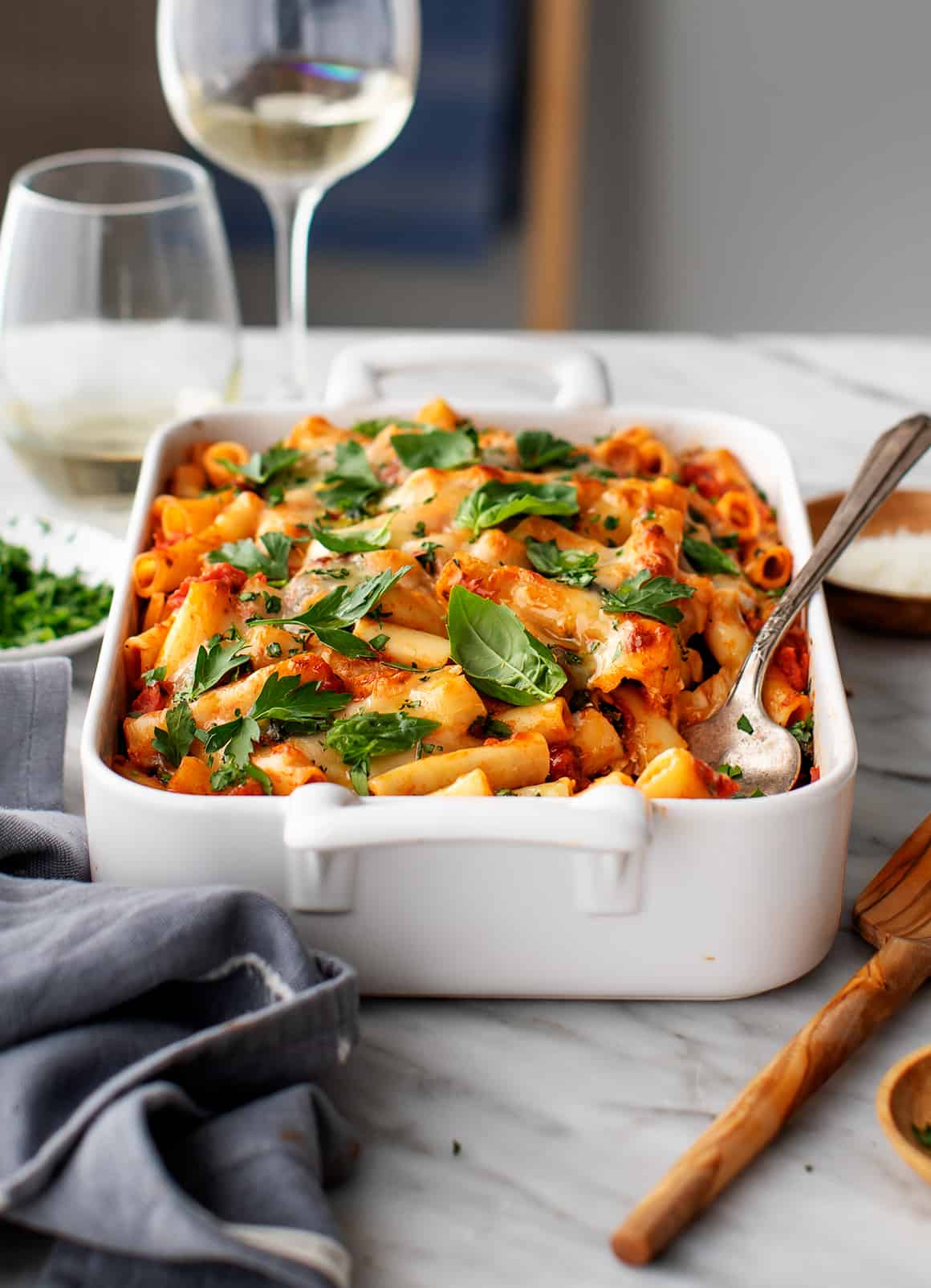 Baked Ziti
I usually make this baked ziti recipe with a pound of fresh spinach, but in a pinch, half the amount of frozen spinach can easily take its place. Tip: This whole recipes freezes well, so double it! Bake one pan off to eat right away, and freeze the other to have on hand for another day.
Grain Recipes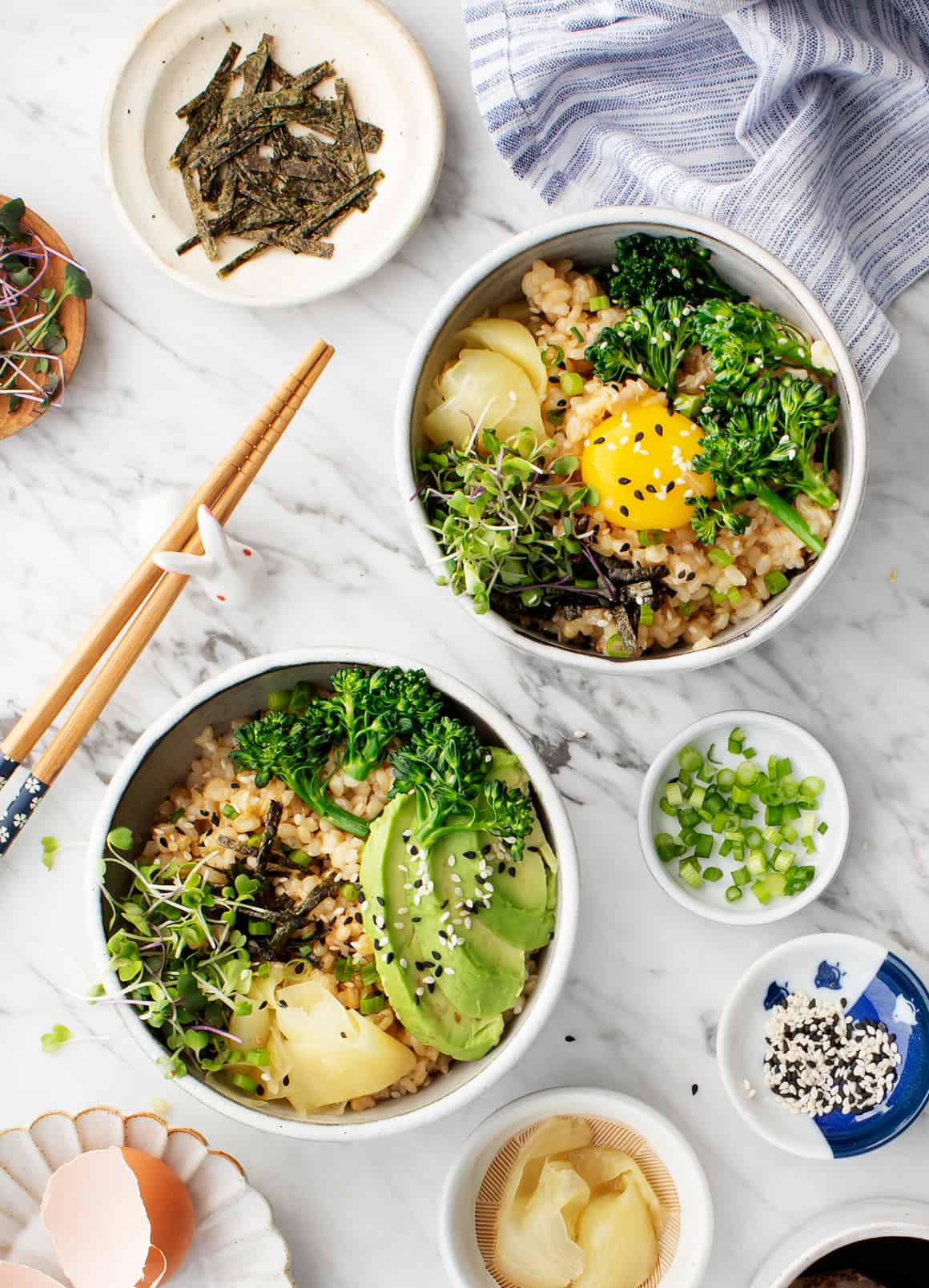 Tamago Kake Gohan
All you need is piping hot rice, an egg, and a splash of tamari to make a delicious bowl of Tamago Kake Gohan. In Japan, this dish is traditionally eaten for breakfast, but it's so good that Jack and I will happily devour it at any time of day. It's delicious with or without the fresh toppings.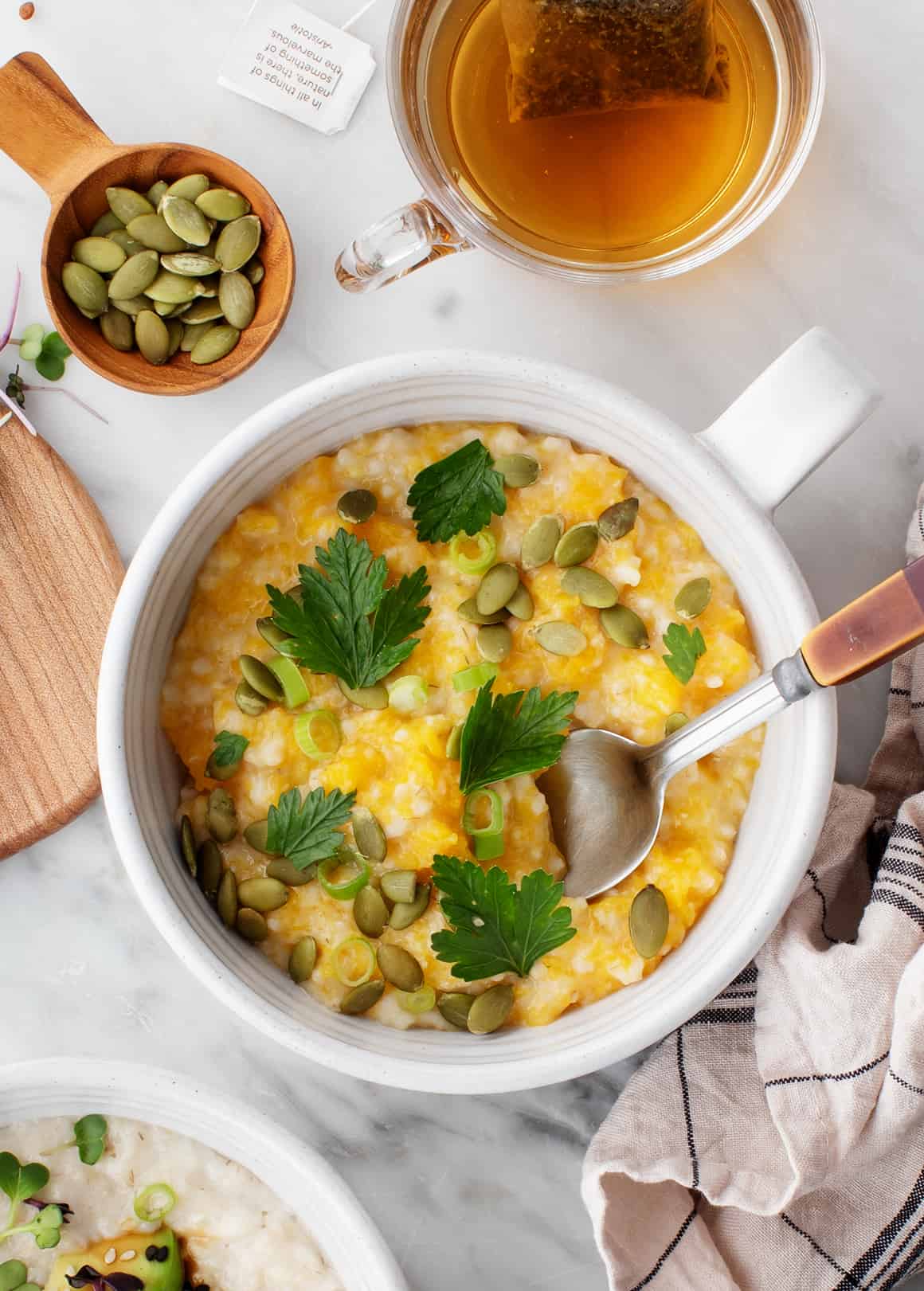 Savory Porridge
Like tamago kake gohan, this simple savory porridge is just as good for breakfast as it is for dinner. Simmer it with long-lasting fresh ingredients like ginger and winter squash, or stir a spoonful of miso paste into the oats for a super-creamy, umami twist.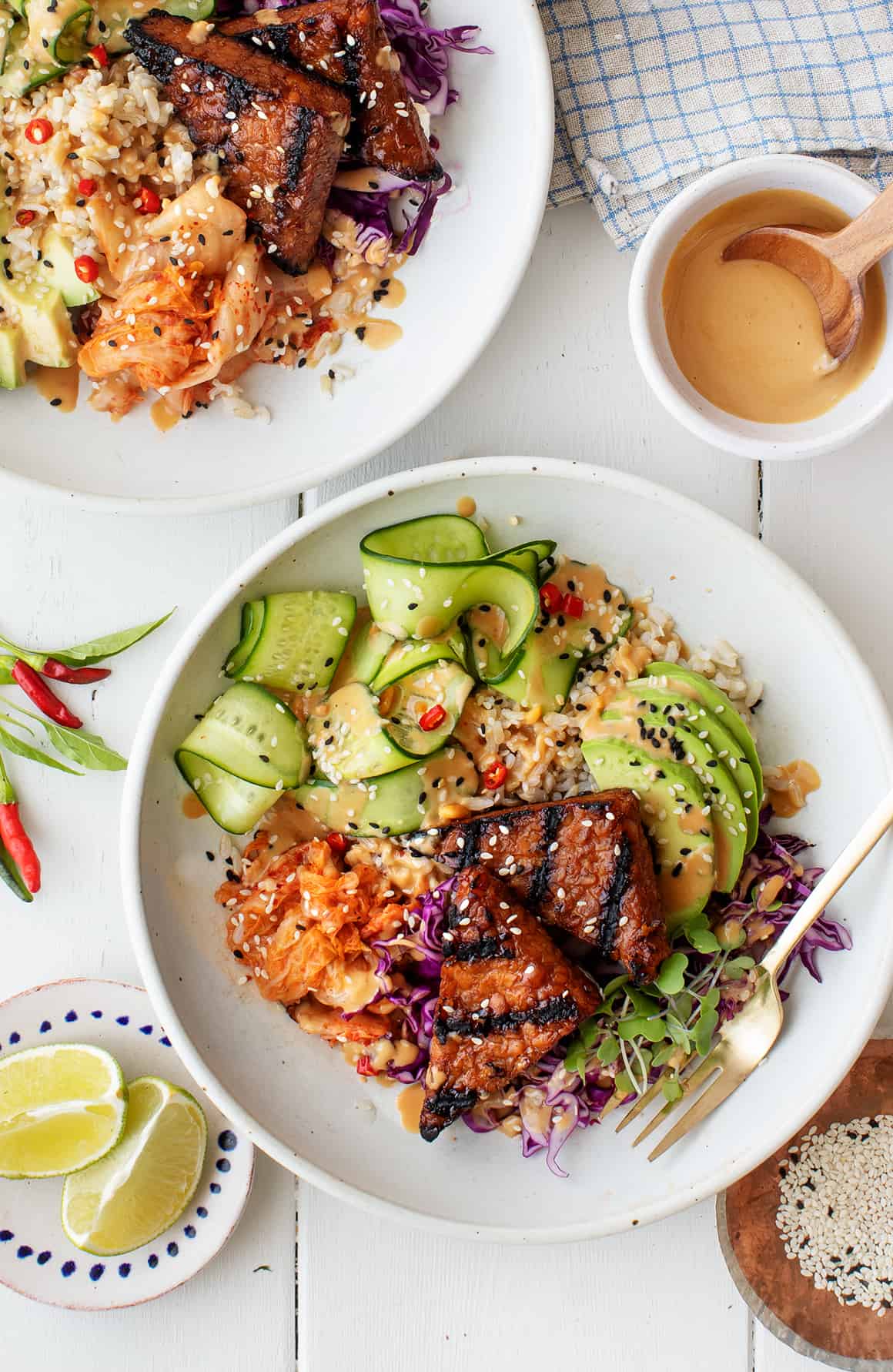 Kimchi Brown Rice Bliss Bowls
Let this recipe act as a guide to use whatever you have in your pantry. Skip the avocado, substitute another grain for the brown rice, or swap the cucumber ribbons for carrots. Its bold flavor comes from the spicy kimchi – a great pantry staple to keep on hand – and an easy 5-ingredient peanut sauce.
Canned Good Pantry Recipes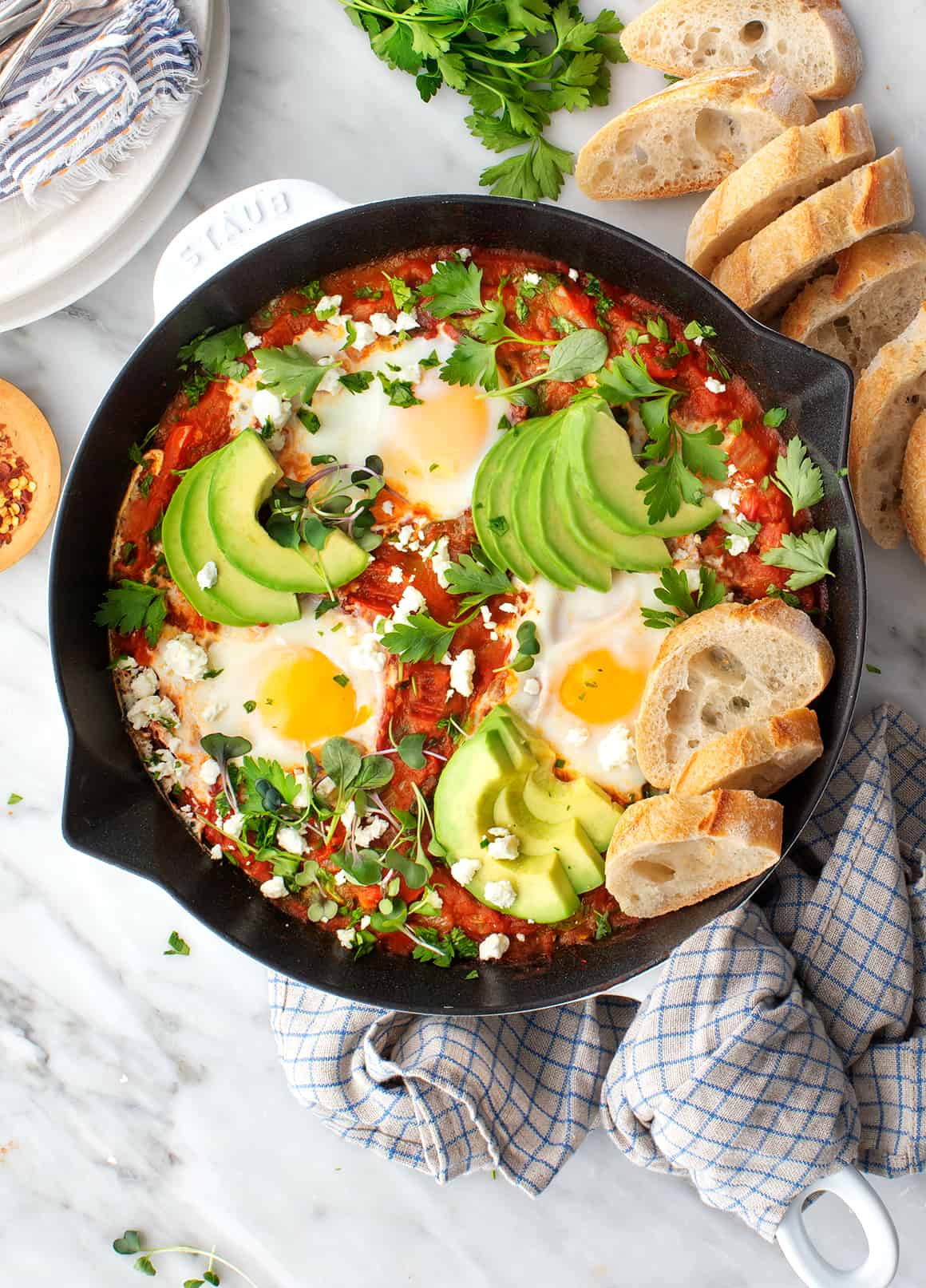 Shakshuka
Canned tomatoes and a handful of eggs are the fundamental ingredients in this saucy shakshuka. Tip: if you see a jar of harissa in the store, grab it. It will add bold flavor to this dish, and once you have it on hand, you'll start adding it to everything.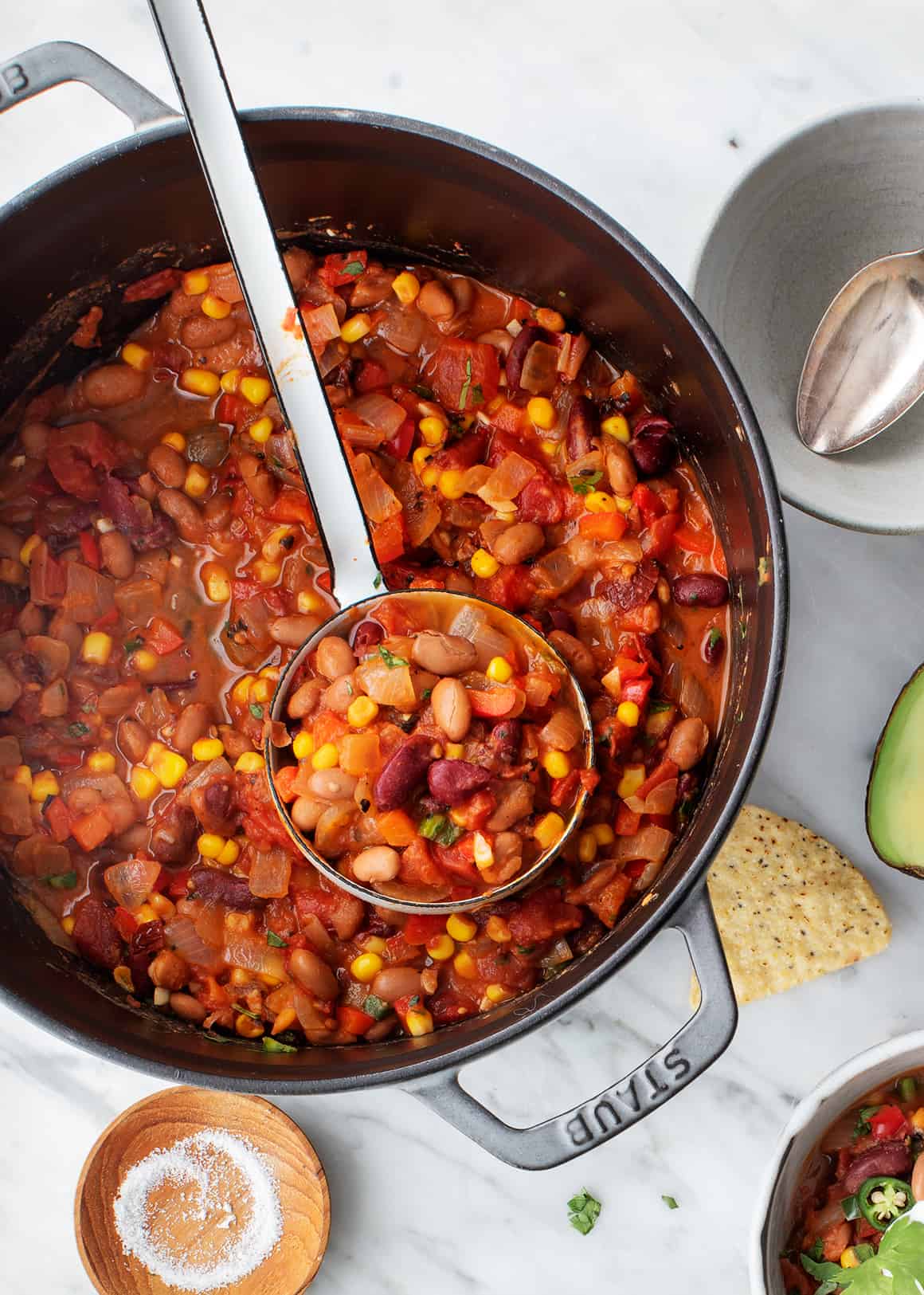 Vegetarian Chili
Veggie chili is the ultimate pantry recipe! Canned beans, tomatoes, and frozen corn combine to make a hearty, smoky stew that's just as nourishing as it is flavorful.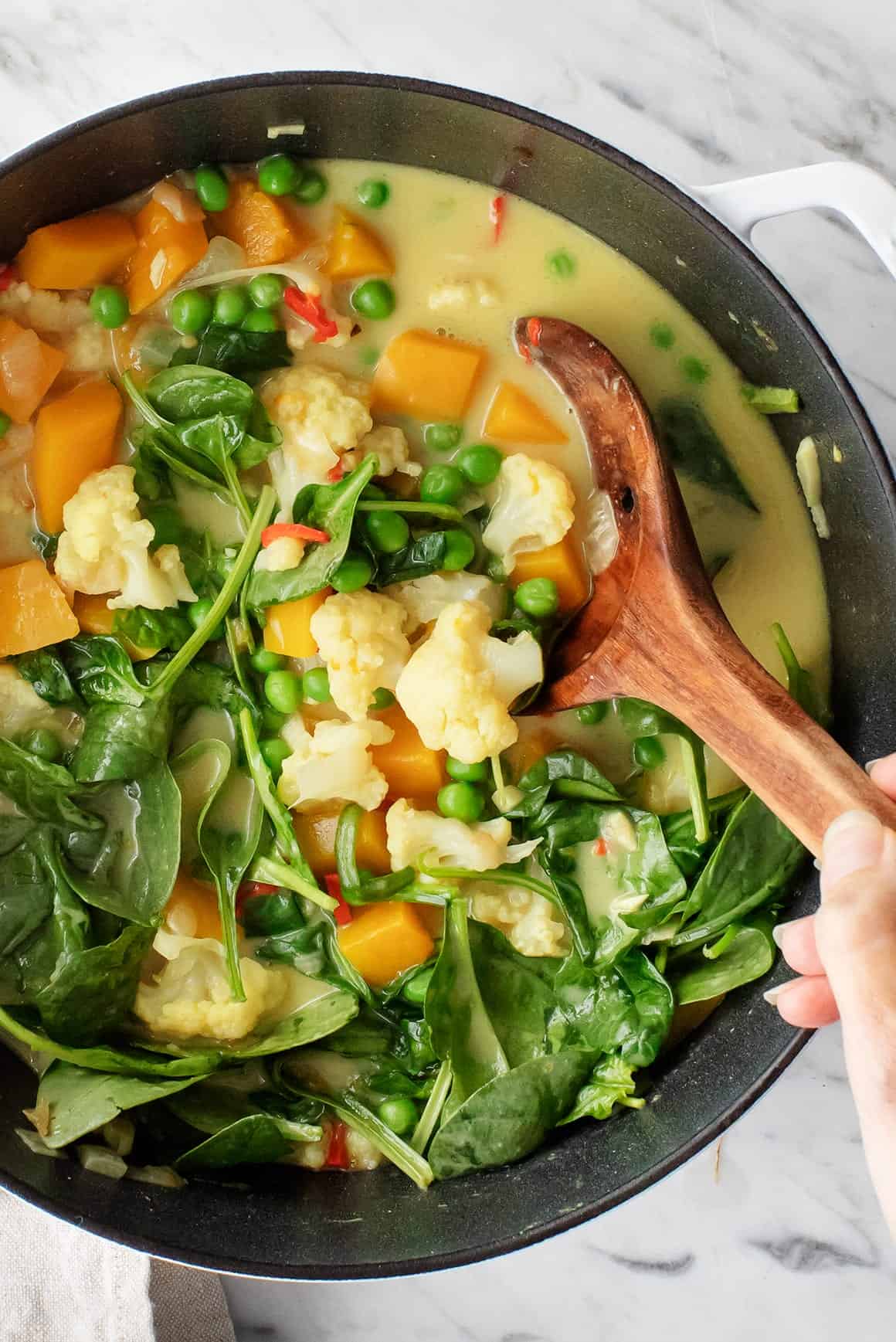 Easy Coconut Curry
Coconut milk and dried spices give this simple curry its rich flavor, so if you don't have fresh veggies on hand, don't worry. Frozen ones would be great here too.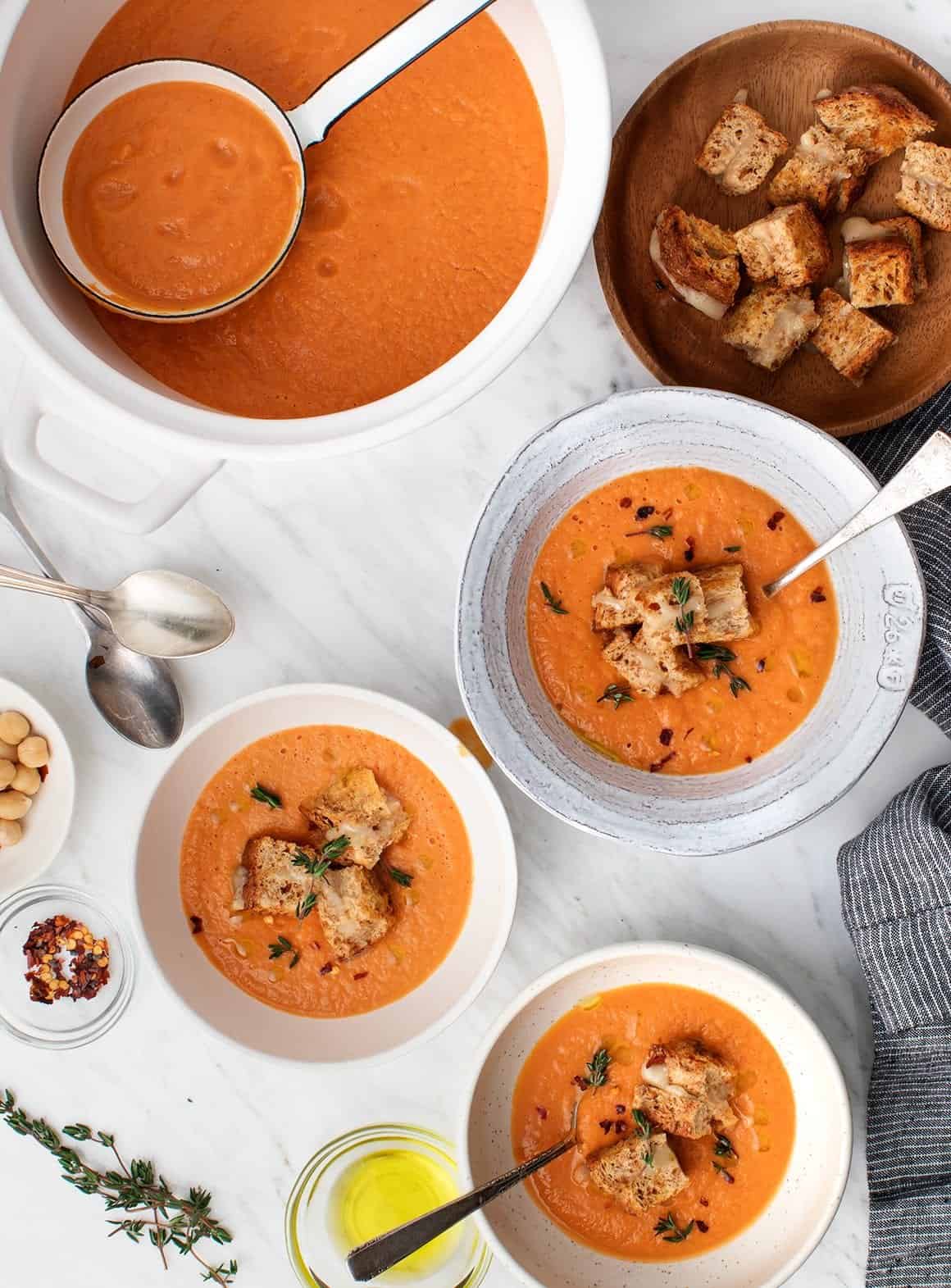 Creamy Tomato Soup
Every home cook should have a good tomato soup in their back pocket. I like to use both canned and fresh tomatoes, but if canned is all you have, go ahead and use them in place of the fresh ones. The soup will be creamy, comforting, and delicious just the same.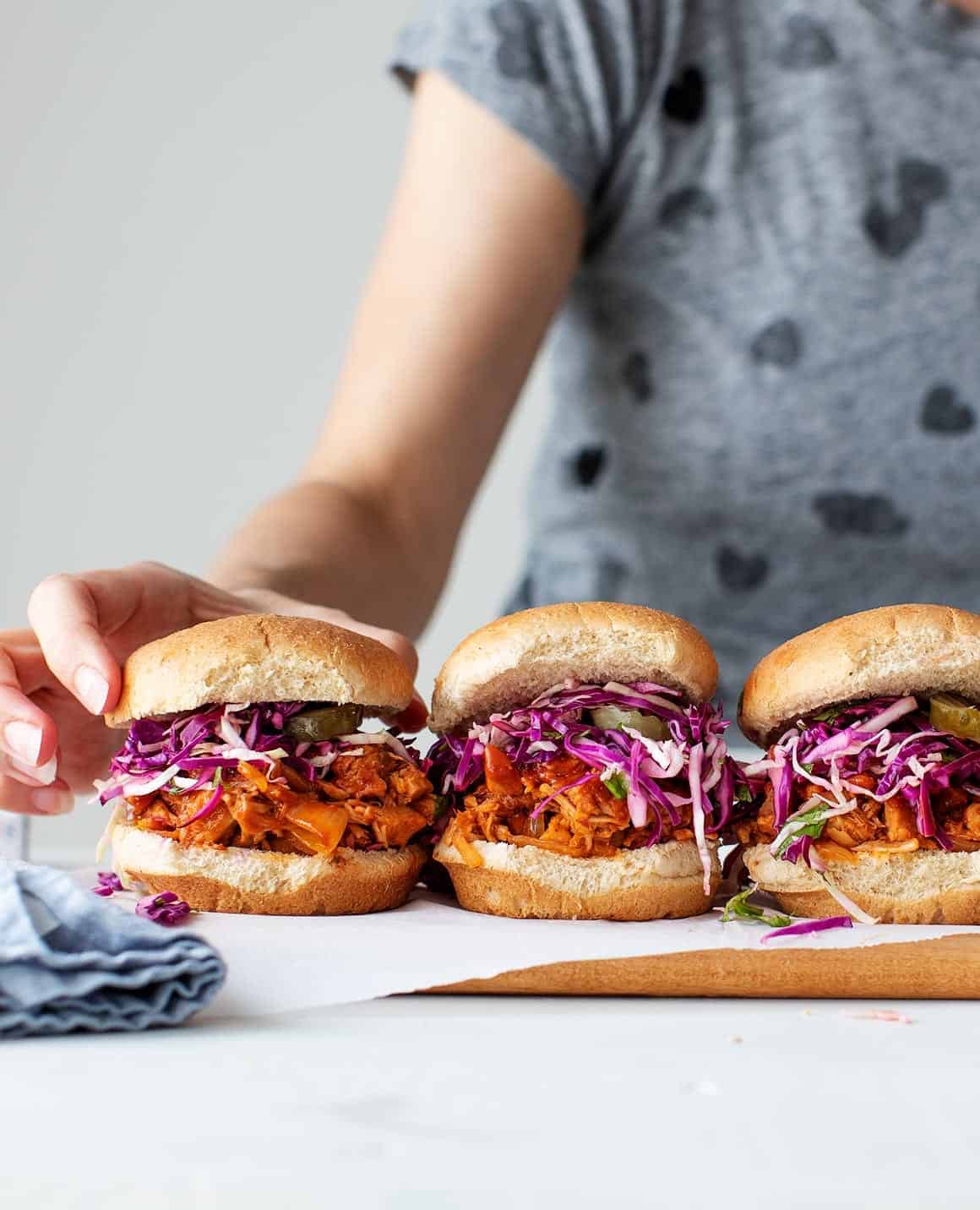 BBQ Jackfruit
Dress up canned jackfruit with a smoky BBQ sauce and sautéed onions to make a spicy, meaty sandwich filling.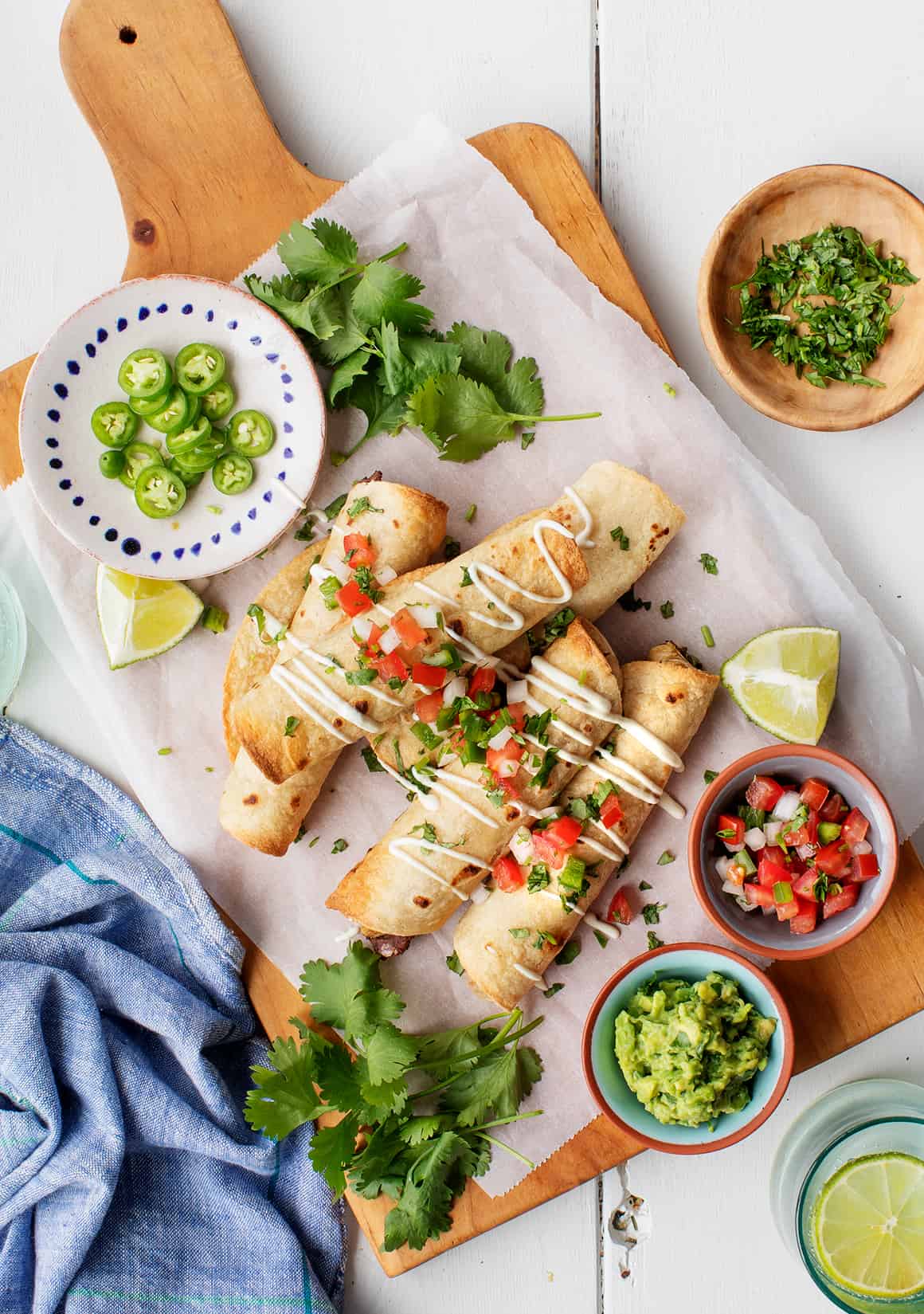 Taquitos
Here's one of those pantry recipes that's just plain FUN! Canned jackfruit, green chiles, and refried beans make up the spicy/tangy/gooey filling of these crispy taquitos. They're great right out of the oven, but they freeze perfectly too! Skip the fresh toppings and use store-bought salsa for dipping.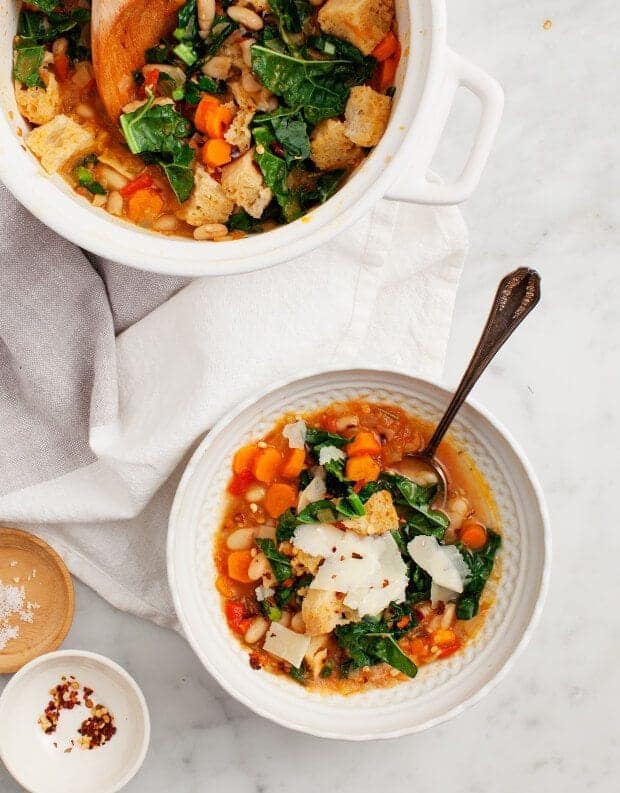 Ribollita
I like to store sliced crusty bread in the freezer, but if it goes stale, this hearty pantry soup is my favorite way to use it up.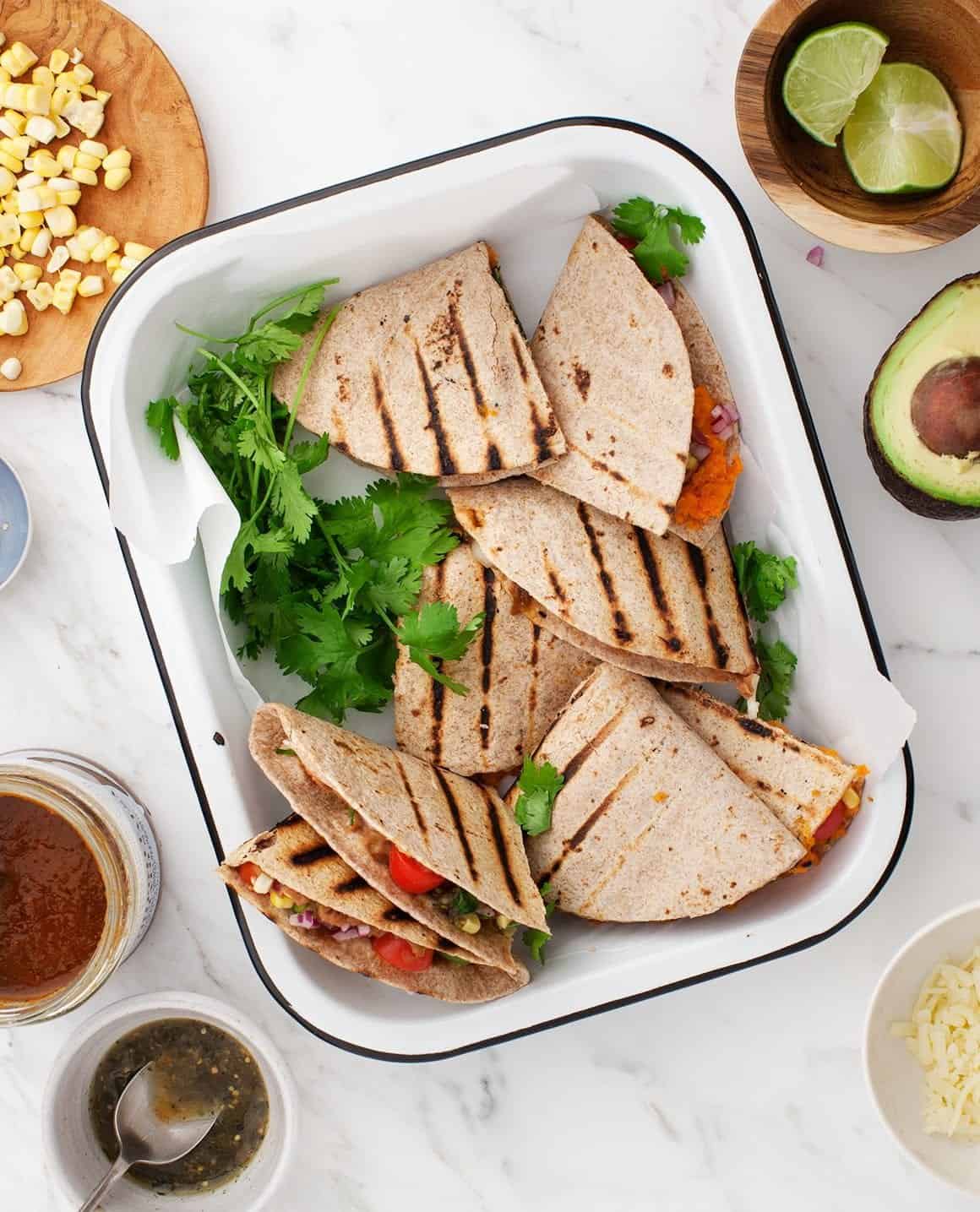 Quesadillas
Remember those tortillas you have in your freezer? Quesadillas are the simplest way to turn them into a tasty, quick meal. Stuff them with refried beans and grated cheese, and serve them with jarred salsa to take them over the top.
Vegetable Pantry Recipes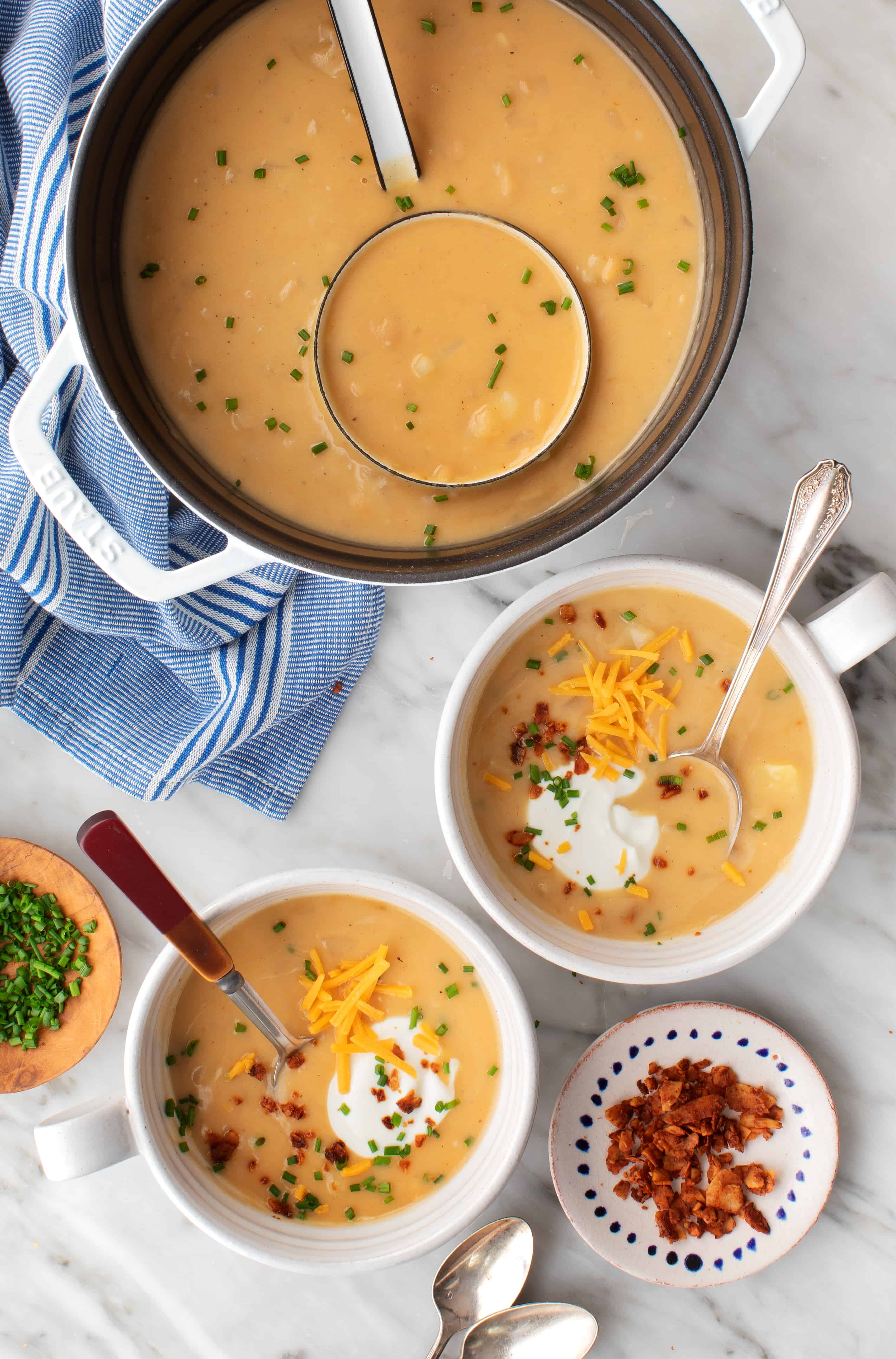 Potato Soup
This soup is creamy and comforting, and you likely have all the ingredients on hand already.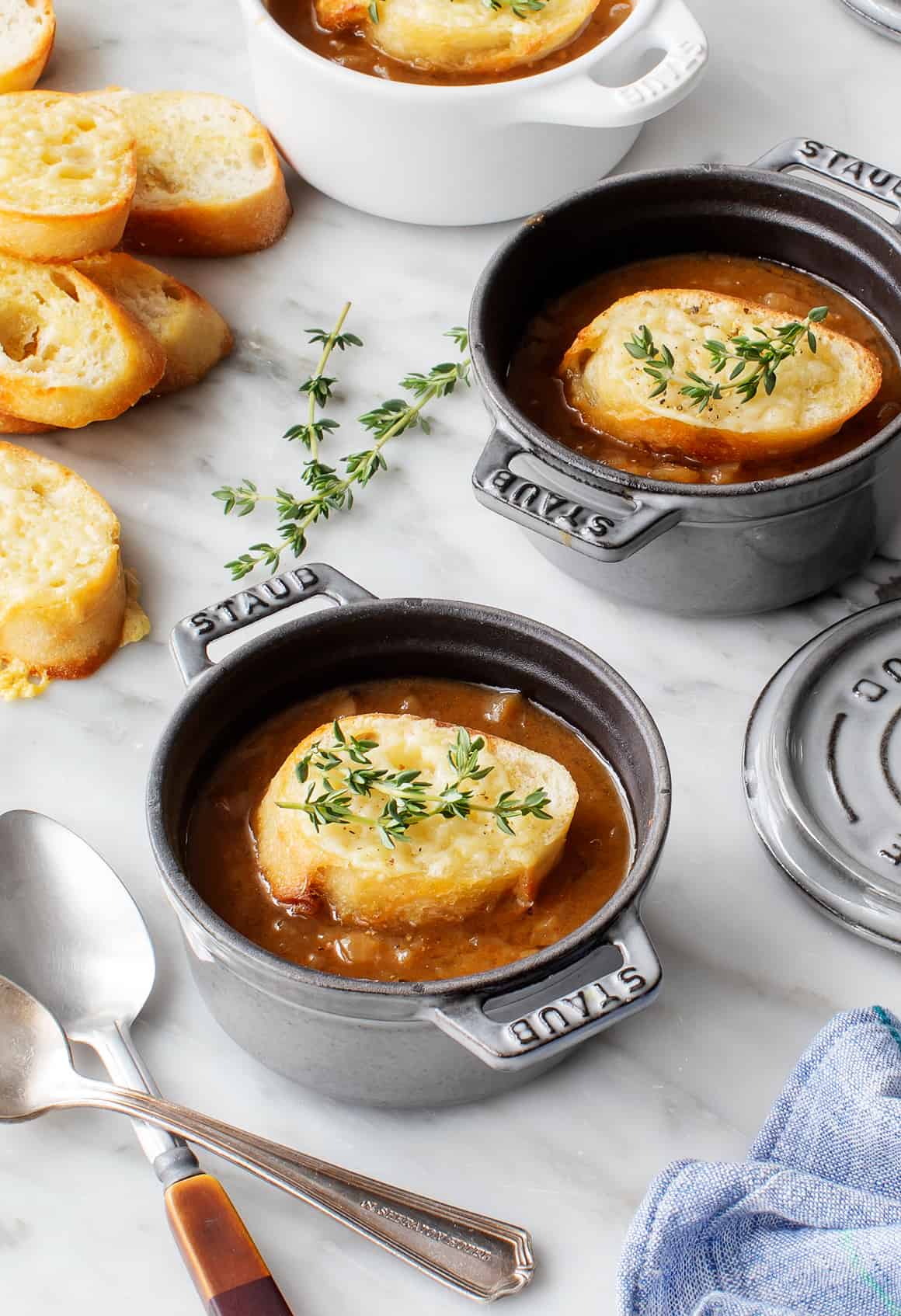 French Onion Soup
We don't often make onions the main event, but these hardy veggies pack a big punch of flavor. They give this simple 10-ingredient soup a luscious velvety texture and rich, savory taste.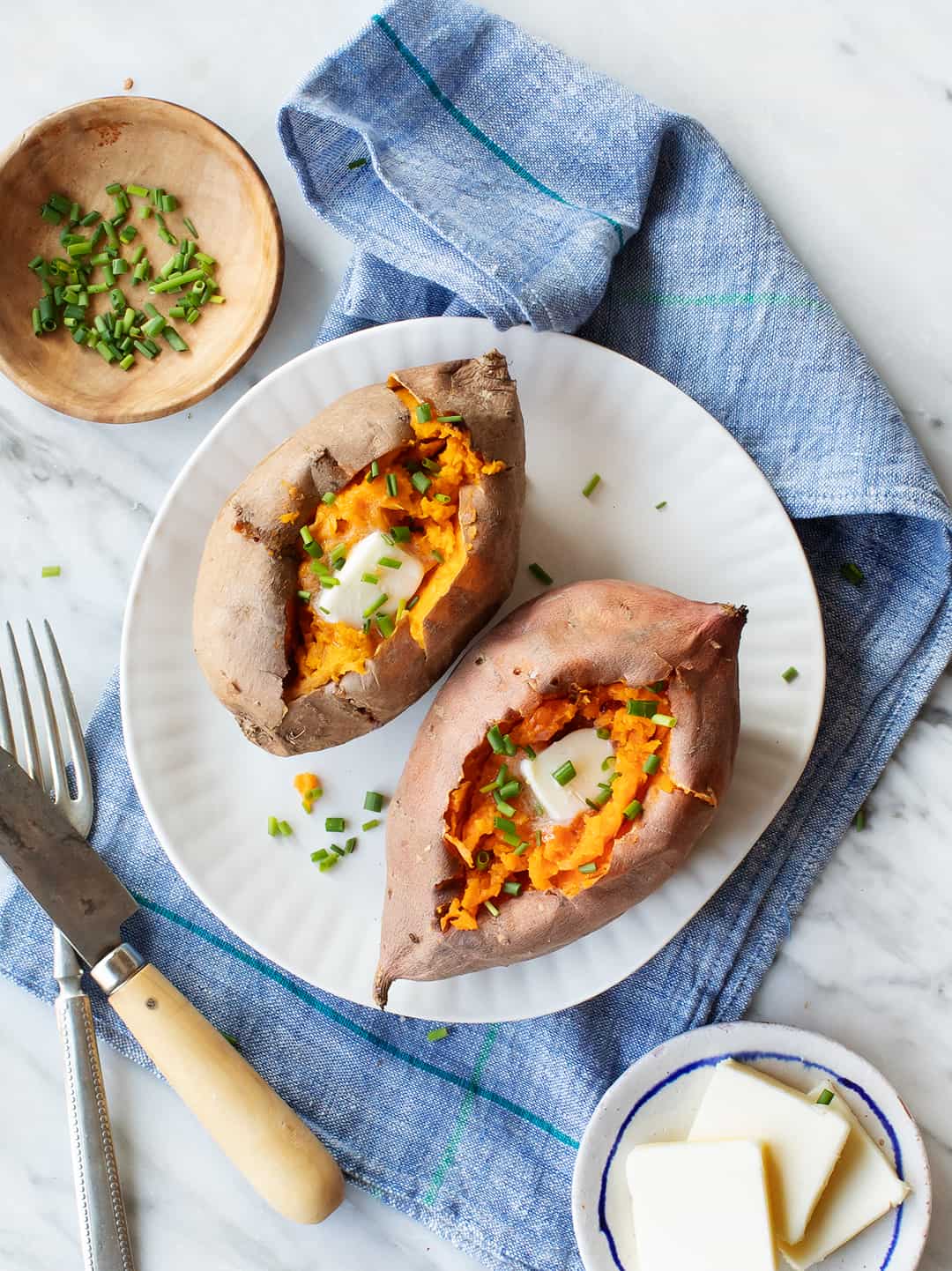 Baked Sweet Potatoes
Sweet potatoes are nutrition powerhouses, and luckily, they keep for weeks. Bake one and top it with a pat of butter, a drizzle of tahini sauce, or hummus, or stuff it with grains, beans, or veggies. Find some of my favorite fillings here.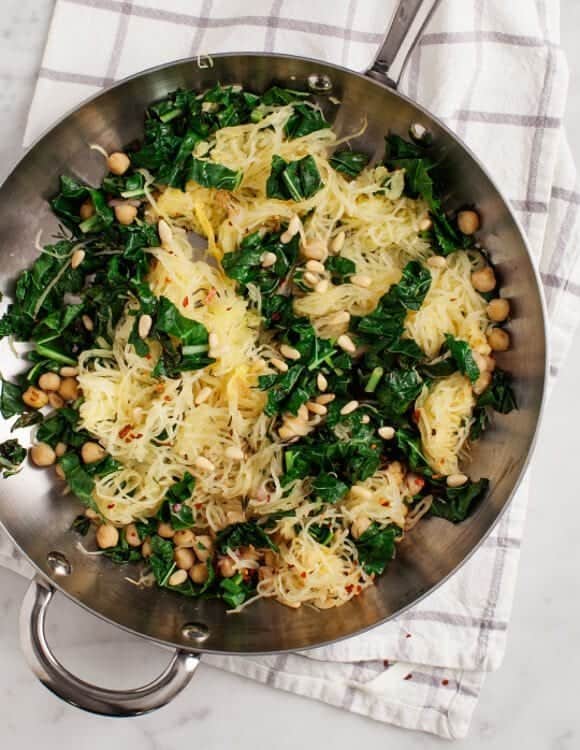 Spaghetti Squash with Chickpeas and Kale
A good spaghetti squash can keep for a month or more, so if you're looking for veggies to stock up on, this one's a great choice! To turn it into a quick and easy meal, toss it with chickpeas and flavorful basics like sun-dried tomatoes or capers. If you don't have kale on hand, skip it, or add your favorite frozen vegetables.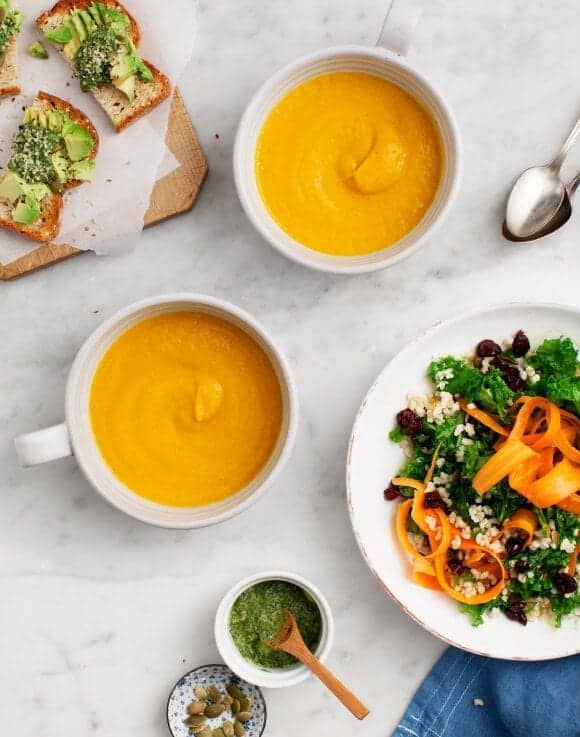 Carrot Ginger Soup
Long-lasting veggies like carrots, onions, and ginger bring this vibrant soup to life! It's just 7 ingredients, and it's light, refreshing, and delicious.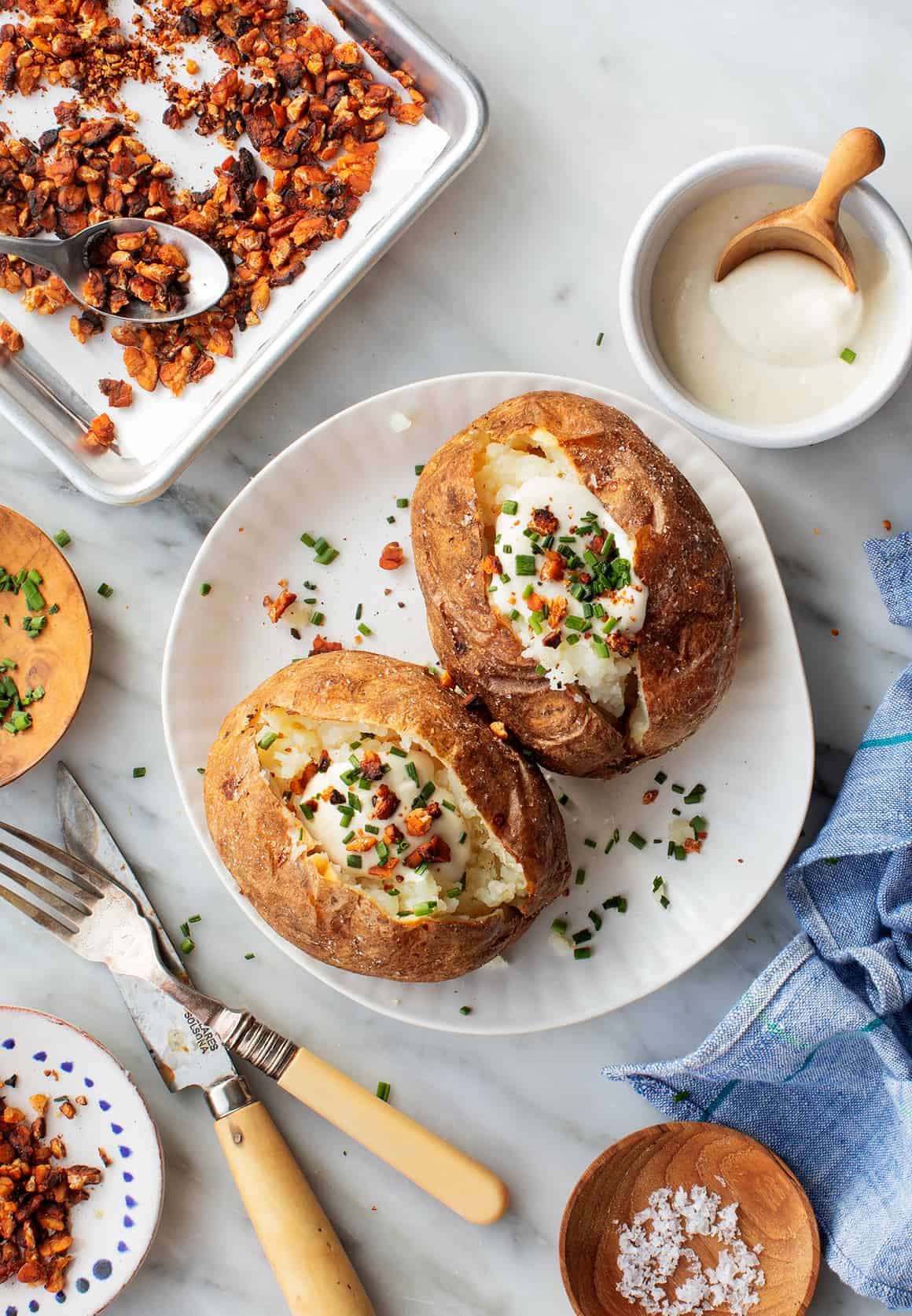 Baked Potatoes
A coating of olive oil and sea salt transforms a humble potato into a flavorful, satisfying meal. Keep it simple, and serve it with a pat of butter, or blend up this easy cashew sour cream to dollop on top.
Pantry Recipes: Curried Tomato Lentil Soup
This curried tomato lentil soup is one of my go-to pantry recipes! The ingredients are easy to keep on hand.
Ingredients
2

tablespoons

coconut oil

1

medium onion

,

chopped

4

garlic cloves,

minced

3

tablespoons

minced ginger

1

tablespoon

mild curry powder

¼

teaspoon

crushed red pepper flakes

,

more to taste

1

28-ounce can fire roasted diced tomatoes

1

cup

dried French green lentils

,

rinsed and drained

2½

cups

water

1

14-ounce can full-fat coconut milk

½

teaspoon

sea salt,

more to taste

½

cup

diced cilantro

2

tablespoons

fresh lime juice
Instructions
Heat the oil in a large pot over medium heat. Add the onion and a pinch of salt and cook until soft and lightly browned around the edges, 8 to 10 minutes, reducing the heat to low as needed.

With the heat on low, add the garlic, ginger, curry powder, and red pepper flakes and cook, stirring, until fragrant, about 2 minutes.

Add the tomatoes, lentils, water, coconut milk, ½ teaspoon salt, and several grinds of black pepper. Bring to a boil, cover, and reduce to a simmer, stirring only occasionally, until the lentils are tender, 25 to 35 minutes. If your soup is too thick, stir in 1/2 to 1 cup more water to reach your desired consistency.

Stir in the cilantro and lime juice. Season to taste with salt and pepper and serve.

Store leftover soup in the fridge for up to 4 days. If it thickens too much in the fridge, stir in a little water while you reheat it until you reach your desired soup consistency. This soup also freezes well.
Notes
Store leftover soup in the fridge for up to 4 days. If it thickens too much in the fridge, stir in a little water while you reheat it until you reach your desired soup consistency. This soup also freezes well.