In 2015, I had the amazing opportunity to visit vineyards all over the Rhone Valley. I loved every bit of it – the hilltop views, the lavender fields, the food, the wine (of course)… the only thing missing was my better half, Jack, who was stuck at work. This past fall we not only got to go to Beaujolais together, but it happened to fall on the week of our wedding anniversary. It was picture perfect, except the little mishap in the beginning where we missed our flight.
Oops.
We scrambled to get on a flight the next day, landed in Paris, ran to catch an Uber to make our train, and suddenly, after nearly 24 hours of not sleeping, we were here: Château du Moulin-à-Vent, the first stop of our Beaujolais experience. This chateau was like a picture out of an oil painting. It was dark and stormy outside, but we cozied up to the wine inside and breathed a big sigh of relief that we made it. Now I will breathe a sigh of relief, as Jack wanted to tell the rest of the story. Here he goes!
Our first meeting with ​at Château du Moulin-à-Vent was the perfect way to start our trip. It was very emblematic of the Beaujolais region as a whole – the chateau was beautiful, steeped in tradition, and humble all the the same time. The current owner, greeted us with their wine and a few of the traditional foods and pastries of the region, including the pink pistachio pastries pictured above.
He was more than happy to tell us about the chateau, the windmill that the region was named for, and how they tend to the grapes. But he seemed most proud of various old artifacts from the chateau's past. His family only recently bought the property, but he has been scouring ebay for old menus, invitation cards, and other pieces of the chateau's past. It feels like everyone in this region seeks to maintain a connection to the past, even those who have only recently arrived.
The next day, we were hosted by Jean-Luc Longère for a hike through his vineyards. We were in Beaujolais just after most growers had harvested their grapes, but there were still plenty on the vines, and we were able to try them. For some reason, I expected the grapes to be bitter, but they were delicious.
As we hiked, Jean-Luc pointed out his vines, and his friends' vines as we just walked out in the open. Jeanine asked if his grapes were organic, to which he replied "well, yes, but not officially… I like to spend my time in the vines and not in the office doing paperwork." Then he pointed out how his soil had grass growing through it and explained that many of the winemakers find that letting things like grass and other life into their soil is better than "dead" soil and pesticides. But again, the paperwork…
We then arrived to something that seemed out of The Bachelor – a small table in the middle of the vineyard where we were to have lunch. He opened his backpack and out came wine and a picnic lunch prepared by his Michelin star chef friend Romain Barthe of Auberge de Clochemerle. While we were enjoying the food (including the one of the best sandwiches I've ever had) and Jean-Luc's wine, I jokingly asked if he could point out which grapes went into that bottle. Without missing a beat, he said "the ones about 5 meters behind you." 
Note: if you come to Beaujolais, you must call up Jean-Luc and have this same hike and picnic experience. Call at least 3 days in advance to book it.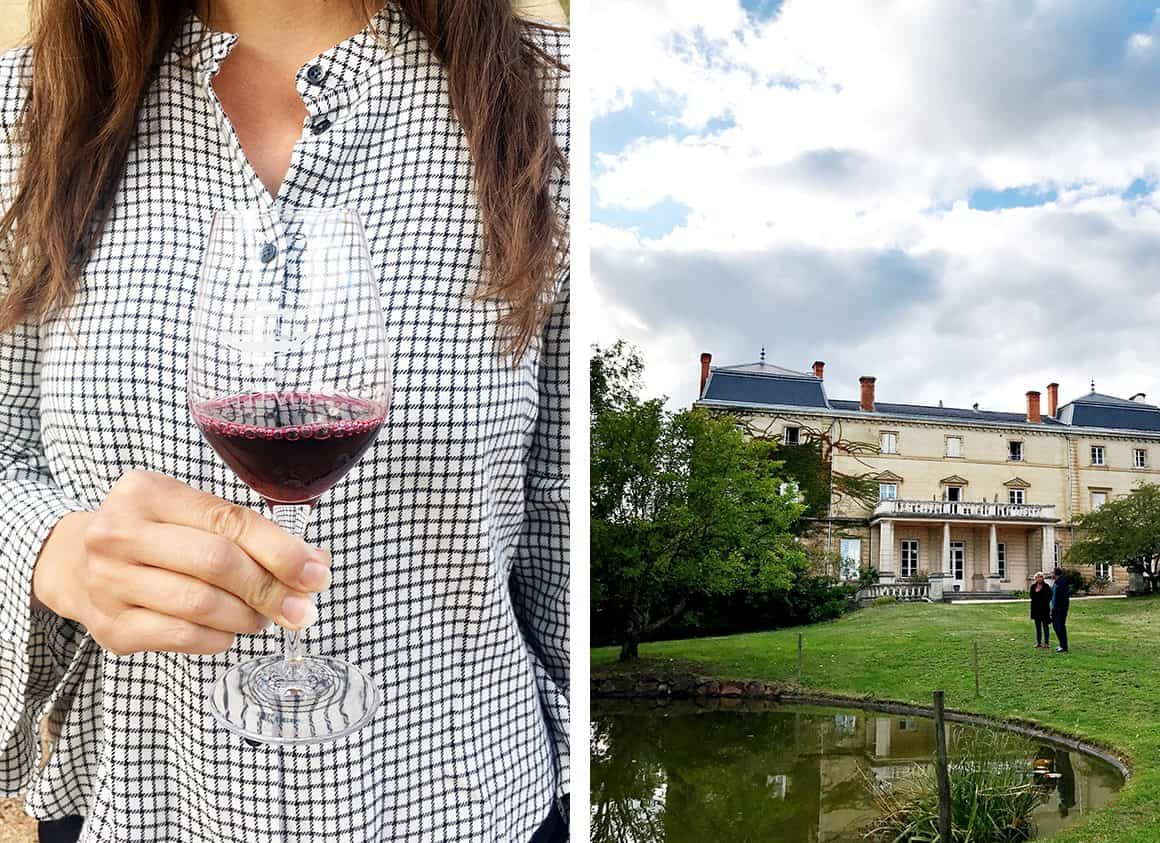 The first few nights of our trip we stayed at the Château de Bellevue (pictured above – see more on instagram here), who both bottle their own wine and run a bed and breakfast.
At every turn, each view looked like a postcard. We wandered through the above entryway, through Château Thivin, to emerge to this dreamy back yard view…
Not bad, huh? Mont Brouilly is the largest hill in Beaujolais and the vineyards all around it in Côte de Brouilly gave us some of our most breathtaking vistas on the trip.
These sorts of views were always stunning, but never really got boring. Even though the region is relatively small with a shared history, I felt like everywhere we went was beautiful but distinct. In fact, that's how their wine is – they have four completely different types of soil that yield very different wines, but largely one type of red wine grape – Gamay. It's fascinating to see how one people, one grape, and one region can be both so alike and so different over the span of about 35 miles.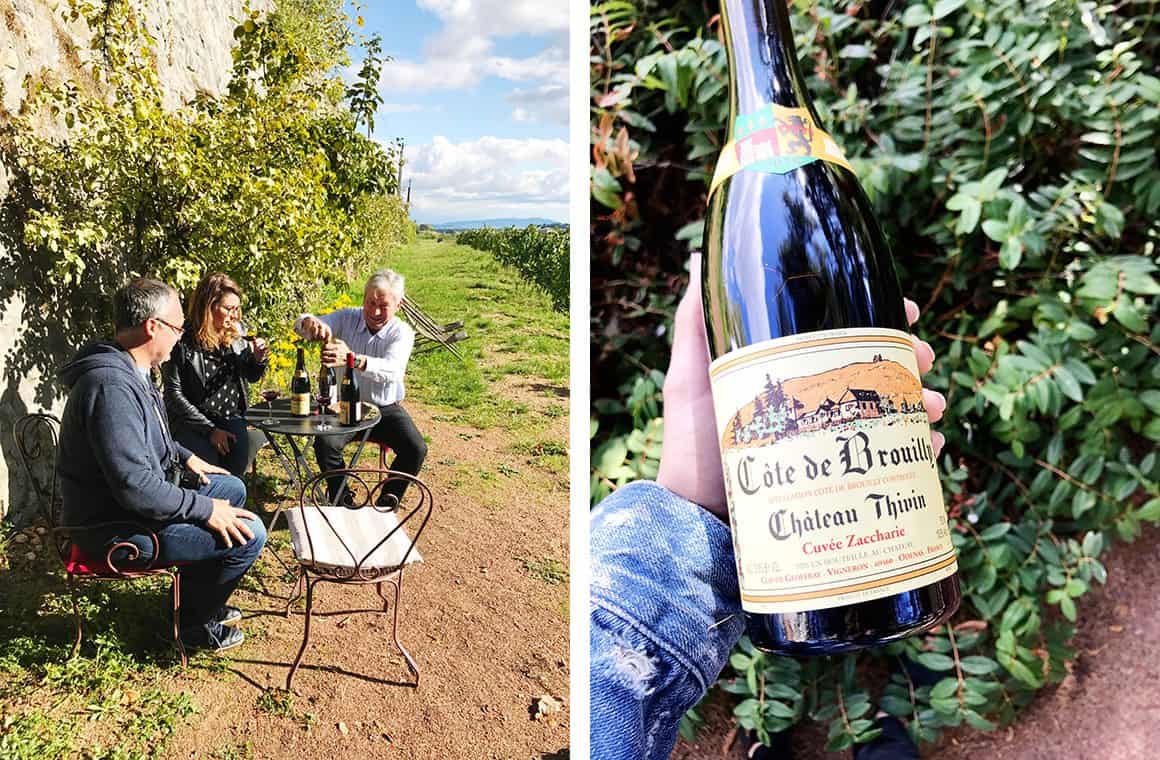 This is Château Thivin, where we met Claude Geoffray, one of the nicest people I have ever met. He welcomed us into his home, where I got to hear wine singing for the first time.
What does this mean? He took me down into the cellar where I noticed a bunch of wine barrels, each with a single leaf placed on top. This piqued my interest – we had seen plenty of wine barrels on this trip, but none with leaves like this, so I asked him about it. Since the harvest had just happened, he had the wine in aging in barrels for a few weeks. He took the leaf off of a barrel and it was covering a hole. When I leaned over and listened inside, I could hear the wine bubbling. Aggressively, like a low hum. This was the wine singing, and I'd never heard anything like it. I asked why he put leaves on top, to which he said that's what his father and their fathers did – they put a Gamay leaf over the hole. Does it do anything? Who knows, but they did that so he does that.
We all then sat, talked, thumbed through some old family photo albums, and admired the countryside. All while tasting his wine, of course.
Pictured above: The future Love and Lemons garden.
Everything in Beaujolais looks like a painting. This is the town of Oingt (pronounced wahnt, I think) in the Golden Stones region of Beaujolais. Remember how I said everything is distinct here? Well it's true. It turns out that a lot of the stone and soil in certain parts of the region is gold-colored, so a few towns, like Oingt, are totally built out of it, and it's beautiful.
We had a great lunch in town at La Table du Donjon. It's a great way to end a stroll through the town and the restaurant has a stunning view.
The final night, we stayed at Château du Bagnols, which is an ancient castle on a hill that's been renovated into a 5-star stunning boutique hotel. We had a fantastic dinner that night at their Michelin Star restaurant, 1217, where they must have known about my weakness for mushrooms, because I don't think I've had a better mushroom tart. We wished we didn't have to leave.
We finished the stay with a lovely walk on the grounds.
Also, in case you thought we only drank wine on the trip – we had plenty of pastries too. Breakfast of French champions.
Of course, our final morning, we just couldn't get enough castle time, so we hit one more giant ancient castle, Chateau Montmelas (and one more 9:30am wine tasting!) before rushing off to the train station.
Beaujolais was an absolute dream. It's small enough to be approachable, but distinct enough to never be boring. Nothing ever felt "touristy" and the people were so genuine and welcoming. The views are stunning, the people friendly, the food fantastic, and the wine is like nothing you've ever had before. Jeanine and I fell in love with the Gamay grape, and we recommend bringing an extra suitcase, as the wine is ridiculously affordable for how good it is.
We got to explore, eat, drink, learn about people, and see views that are as amazing as any view we've seen. We were welcomed into peoples' homes with open arms, a sincere smile, and a bottle of wine. What's better than that?
If you're in Paris or Lyon for a bit and want to take a few days to relax with some of the nicest people on the planet, head on over. Or if you want to rent a car and take a week out to learn about a life you wish you could live, do that too. Either way, I'm sure we'll be back one day, leaving with bags at least 8 bottles heavier than when we started.
Other favorite recommendations (not pictured):
Au 14 Février in Saint-Amour
Michelin Starred French-Japanese(!) restaurant – one of our favorite dinners of the trip!
Chataeu De Pizay
A hotel with a gorgeous garden that felt like a scene from Alice and Wonderland, wine tasting, and a fun interactive game to test your wine-tasting palate.
Domaine JG Chasselay
Inspiring tour and tasting with Clair Chasselay, an award winning female winemaker. I really wish we got better pictures, because she was a fantastic host and taught us a lot about the science behind the wine-making process.
Dinner at Calad'in Comptoir – Super nice owner, fantastic food, and just a great local spot.
+33 4 74 68 56 04
400 Route Nationale 6, La Chartonnière, 69400 Gleize
Domaine Jean-Jacques Paire
A fun wine museum with an amazing collection of bottle openers :). We loved our tasting with Jean-Jacques. Even though we thought we knew how to taste wine, we didn't – but JJ was a great, funny teacher!
Special thanks to Atout France, Inter Beaujolais, Air France, and Rail Europe for sending us on this trip of a lifetime.