Make this fresh, fun orzo salad recipe for your next picnic! With lots of fresh herbs, juicy mango, and crisp veggies, it's summer food at its finest.
A few weeks ago we spent some time in Chicago visiting my family. In between some pretty indulgent meals (we finally got to the Girl & the Goat!), I did most of the cooking. At each meal, my mom and my sister would ask: "So is this recipe on the site?"
And, um, well, no. They never are… mostly because I find it liberating to cook in someone else's kitchen with no camera in sight. There are no notes to be taken, and certainly no recipes to follow. I love digging through the fridge to see what's there and what ingredients could potentially go together. This colorful orzo salad was especially refreshing for the heat wave that happened to be going on. Crunchy cucumbers, red onions, fresh herbs, and sweet mango… summer was made for big juicy salads like this.
So mom, here's the recipe! Or, a least, a similar version of it…
Orzo Salad Recipe Ingredients
I used these key ingredients to make this dish a fun, fresh summer salad:
Whole wheat orzo is the base of this salad. If you can't find whole wheat orzo, regular orzo will work in its place.
Chickpeas add protein and hearty texture.
Mango makes for sweet, juicy bites.
Diced cucumber and red pepper add fresh, crunchy texture.
Red onion and garlic fill out the flavor and add extra crunch.
Fresh herbs and arugula bring unique summery flavors and add lots and lots of green.
Pine nuts finish it with a toasty crunch.
Tahini makes the creamy, dairy-free base of the dressing, while lemon juice & sherry vinegar brighten it up. I also add cumin and sweet paprika for a little spice.
Orzo Salad Recipe Variations
Like most salads, this one is flexible. The recipe listed is vegan, but I topped it with crumbled feta when I made it for my family. If you have other summer veggies on hand, try adding them. Halved cherry tomatoes or thinly sliced radishes would be great additions. Spinach or soft baby greens could sub in for the arugula, and toasted sliced almonds would be just as good as pine nuts. For a fun twist, roast your chickpeas to add extra crunch. Have fun using what you have on hand to make a salad you love!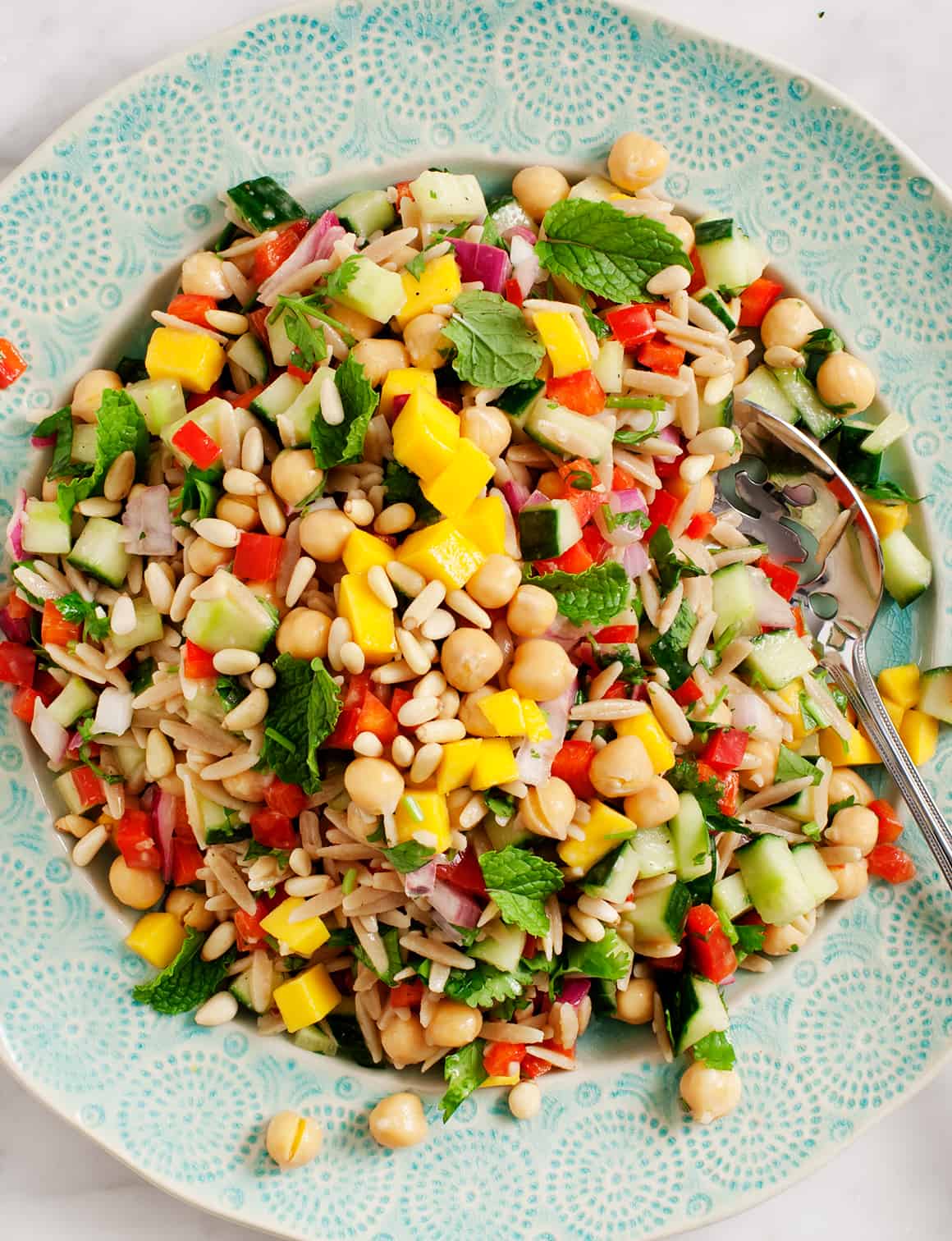 Orzo Pasta Salad Serving Suggestions
This is a great accompaniment to whatever you're grilling! It's the perfect cookout side to serve with veggie burgers, black bean burgers, jackfruit sandwiches, or portobello veggie dogs.
It's also plenty filling on it's own – chickpeas and hearty whole wheat orzo make it a complete meal. It would be especially great for picnics and make-ahead lunches. (It's one of those that actually tastes better the second day).
If you love this orzo salad recipe…
Try making this summery slaw or this pasta salad next! If you have leftover orzo, use it in these stuffed peppers.
Rainbow Orzo Salad
This orzo salad is one of my go-to dishes to bring to a picnic. It's even better on the second day, and it's a wonderful combination of the best fresh veggies and herbs summer has to offer.
Recipe type:
Salad, side dish, main dish
Ingredients
1 red pepper, diced
1 ripe mango, cubed
1 small cucumber, chopped (1½ cups)
½ small red onion, diced (1/3 cup)
1 small garlic clove, minced
1 (14-ounce) can chickpeas, drained and rinsed
½ chopped fresh herbs (mint, basil, and/or cilantro)
½ cup uncooked orzo
Extra-virgin olive oil, for drizzling
1 packed cup arugula
¼ cup toasted pine nuts
for the dressing:
2 tablespoons tahini
2 tablespoons extra-virgin olive oil
2 tablespoons fresh lemon juice
1 tablespoon sherry or white wine vinegar
½ teaspoon cumin
½ teaspoon sweet paprika
2 tablespoons water
½ teaspoon sea salt, more to taste
freshly ground black pepper
Instructions
In a large bowl, combine the red pepper, mango, cucumber, red onion, garlic, chickpeas, herbs, salt, and several grinds of fresh black pepper.
Cook the orzo according to the package directions or until al dente. Drain, gently rinse, toss with a little olive oil oil and set aside to cool to room temp before adding to the salad.
Make the dressing. In a small bowl, stir together the tahini, olive oil, lemon juice, vinegar, cumin, sweet paprika, salt and pepper. Add a few tablespoons of water until it's a drizzle-able consistency.
Add the orzo, dressing, and arugula to the salad and toss to coat. Season to taste and top with toasted pine nuts.
Notes
Serve a slightly bigger group by doubling the amount of orzo (and make extra dressing). This salad is also delicious with crumbled feta cheese on top.

Store leftovers in the fridge for up to 2 days. It's a great make-ahead salad for lunch the next day.
plate: Anthropologie Old Havana Dinner Plate