This okonomiyaki recipe proves that weeknight dinners don't have to be boring! It cooks in a flash, and it's healthy, delicious, and super fun to make.
When you think of pantry recipes, okonomiyaki might not be the first thing that comes to mind. It certainly wasn't for Jack and me. Over the last few weeks, we cooked our way through a whole slew of bean recipes, rice recipes, and pasta recipes before it dawned on us that we had everything we needed to make this popular Japanese street food right in our kitchen!
Jack and I first tried okonomiyaki on a trip to Japan nearly ten years ago, and we've loved it ever since. If you're not familiar with it, it's sort of a frittata-like Japanese savory pancake made with cabbage, scallions, and assorted meat or seafood (Jack often calls it a cabbage hashbrown). This homemade version isn't entirely authentic, but it's healthy, delicious, and so darn easy to make. If you're looking for a fun cooking project that doesn't require hours in the kitchen, you have to try this okonomiyaki recipe!
Okonomiyaki Ingredients
The first time I tried okonomiyaki, Jack and I were in Hiroshima. In Hiroshima-style okonomiyaki, layers of fried vegetables, meat, seafood, noodles, and eggs top a thin flour pancake. It's delicious, but it's tricky to replicate on a regular stove at home.
Instead, my recipe is a riff on Osaka or Kansai-style okonomiyaki. In this style, the ingredients are all mixed together. Typically, they include cabbage, green onion, and some combination of meat and seafood like pork belly, octopus, squid, or shrimp. Of course, my recipe is vegetarian, so you won't find any meat or seafood here.
Instead, I mix together lots of shaved cabbage, scallions, and panko breadcrumbs. Then, I tie it all together with a few beaten eggs. It's super easy and super tasty too. 🙂
Toppings
Once you've cooked your okonomiyaki, it's time for the fun part: the toppings! In Japan, it's traditionally topped with okonomiyaki sauce, drizzles of Kewpie mayo, dried seaweed flakes, and bonito flakes. At home, I like to use these ingredients:
Vegan Worcestershire sauce – Traditional okonomiyaki sauce contains oyster sauce, so it isn't entirely vegetarian. Instead, I top mine with Annie's vegan Worcestershire sauce. It actually has a fairly similar ingredient list to regular okonomiyaki sauce, but it's entirely plant-based! Its sweet umami flavor is fantastic in this recipe. If you can't find it, use a drizzle of tamari or soy sauce instead.
Mayo – If you can find Kewpie mayo, I highly recommend using it here. It's made with rice vinegar, so it really complements the Japanese flavors in this recipe. Otherwise, Sir Kensington's is my go-to because it has great flavor as well.
Nori – Nori keeps for months in the pantry, so I almost always have it on hand. Its umami flavor really takes this recipe over the top.
Pickled ginger – It adds a sweet, tangy pop of flavor.
Sesame seeds – Sprinkle them on top of the pancake to add toasty, nutty crunch.
Extra scallions and microgreens – Because I can never resist topping anything with fresh garnishes!
Use all of these toppings, or just choose a few. Then, dig in, and enjoy!
Okonomiyaki Recipe Tips
Shred the cabbage finely. These come out best when they're made with really thin shreds of cabbage. If your cabbage is too chunky, they won't hold together well, and they'll have a denser, less delicate texture. I always use my mandoline when I make this recipe. If you don't have one, finely shred the cabbage in a food processor or with a sharp knife.
Don't pack it down too much. When you add the mixture to your skillet, gently press it down with a spatula until it's about 1/2 inch thick. Your goal is just to get the loose mixture to come together. Don't press it down too much, or your okonomiyaki will be dense.
Eat it right away. Like many egg-based dishes, okonomiyaki is best hot off the stove.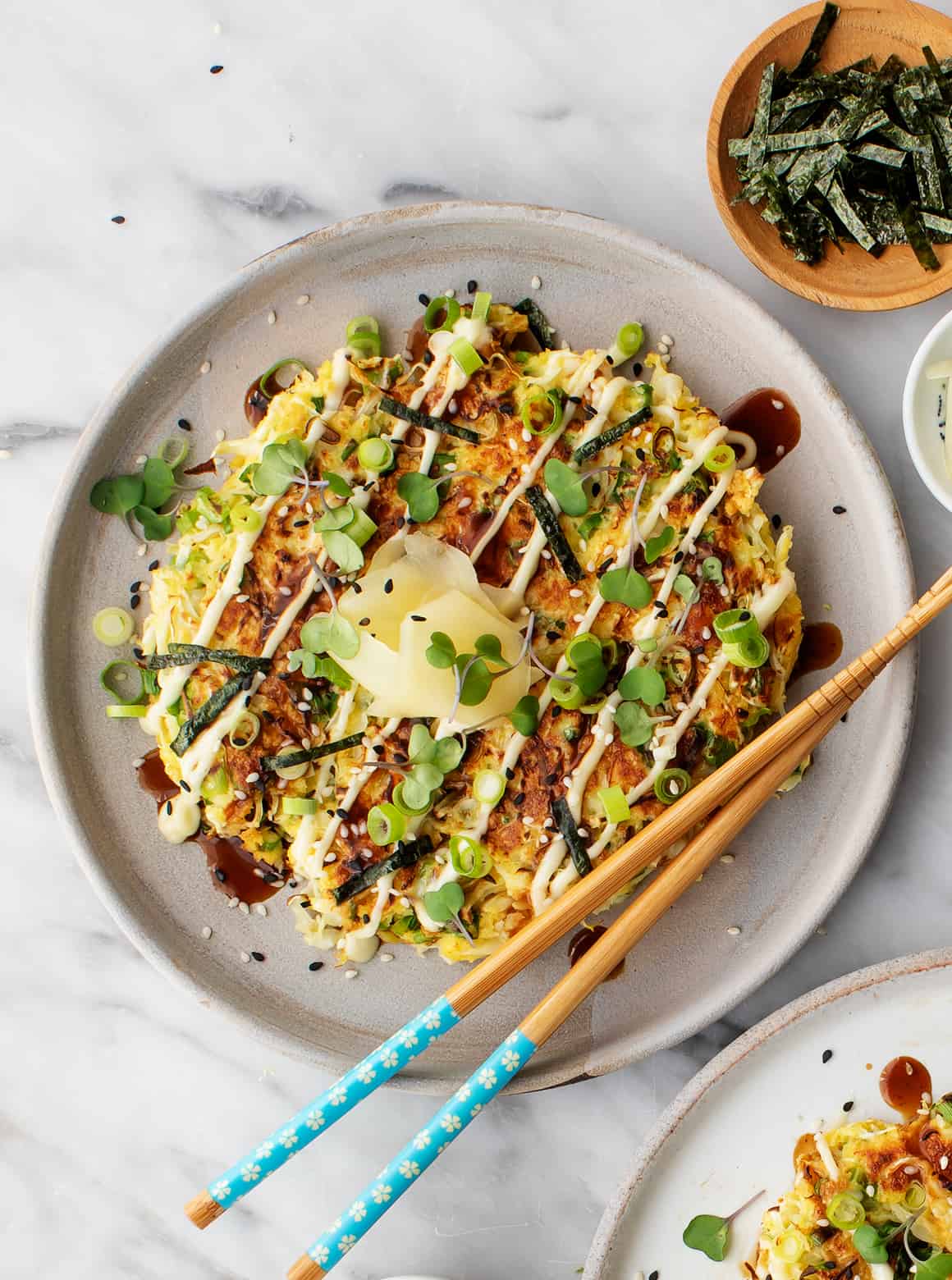 More Favorite Japanese-Inspired Recipes
If you love this okonomiyaki recipe, try one of these Japanese-inspired recipes next:
Okonomiyaki
This okonomiyaki recipe is SO easy and fun to make! It's a frittata-like savory Japanese pancake with a cabbage hashbrown-like texture.
Ingredients
for serving:
Vegan Worcestershire sauce

,

(Annie's recommended)

Mayo,

(Sir Kensington's or Kewpie recommended)

Sesame seeds

Pickled ginger

½

sheet nori

,

sliced**

½

cup

microgreens

,

optional
Instructions
In a large bowl, combine the cabbage, scallions, panko, and salt. Gently mix in the eggs. (Note: the mixture will be very loose and cabbagey, not like a flour pancake batter. If it's very dry, let it sit for 10 minutes).

Heat a nonstick skillet over medium heat. Brush the skillet with olive oil and use a ¼ measuring cup to scoop the cabbage mixture into the skillet. (It's ok if it doesn't seem cohesive, it'll bind together as the egg cooks). Flatten gently with a spatula so that the mixture is about 1/2 inch thick. Cook 3 minutes per side, or until browned, turning the heat to low as needed. Repeat with the remaining mixture, wiping out the skillet and brushing more oil, as needed.

Drizzle the okonomiyaki with Worcestershire sauce and thin strips of squeezed mayo. Top with sesame seeds, pickled ginger, and nori. Sprinkle with microgreens, if desired. Serve hot.
Notes
*I like to shred my cabbage on a mandoline to get thin, even-sized shreds.
**Use scissors to cut nori into thin strips.