You can eat cookies for breakfast! These breakfast cookies, made with oats & almond flour are a healthy, wholesome way to start the day.
Here's how much I love these breakfast cookies: after I finish typing this post, I'm going to go downstairs to the kitchen to make more. I like to store stashes of these breakfast cookies in the freezer because they're a perfectly portioned daily breakfast for me. The freezer is also a great way to hide them from Jack, who would otherwise eat one every time he walks past the kitchen counter. 🙂
These healthy breakfast cookies are both vegan and gluten-free. They have fiber from the oats, protein and healthy fats from the almond butter, and they're naturally sweetened with maple syrup. Who wants to eat a bowl of oatmeal when you can eat a cookie for breakfast!? Ok, if you're an oatmeal lover, maybe don't answer that.
This breakfast cookie recipe is a revamped version of my Carrot Quinoa Oatmeal Cookies. They have been a fan favorite (and family favorite) for years now. This time: blueberries! lemon zest! I just love these bright late-summer flavors in combination with the almond butter and cozy cinnamon. These blueberry cookies also happen to be less time consuming to make than the carrot cookies because tossing in blueberries is a lot quicker than grating carrots!
Other fillings options for your breakfast cookies
Blueberries are the star of this recipe, but here are some other yummy mix-in's that I also enjoy:
Use dried fruit such as tart cherries or cranberries
Add chocolate chunks (skip the lemon zest)
Change up the spices – cardamom and nutmeg are delicious in addition to the cinnamon
These cookies get lightly crisp on the bottom, but as you'll see, they're pretty puffy – more like a muffin top than a flat/crispy oatmeal cookie. They're big and substantial, but not too dense and not at all dry. Almond butter binds them together, giving them a wonderfully nutty flavor and texture. You could also use other nut butters such as peanut butter or cashew butter.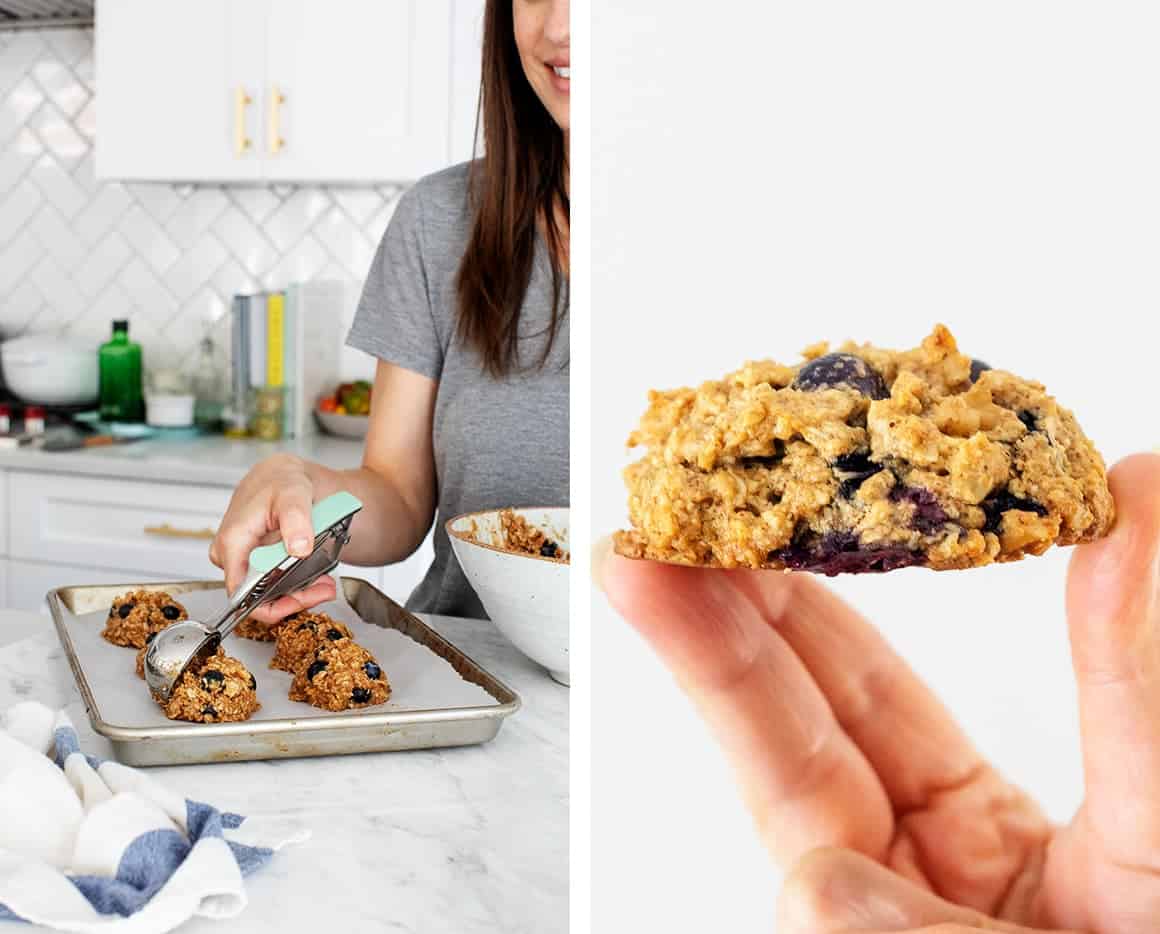 If you love breakfast cookies, try these carrot or pumpkin ones next! And if you're an oat/berry fan, try this baked oatmeal or these overnight oats.
Happy baking!

Blueberry Oatmeal Breakfast Cookies
These Blueberry Oatmeal Breakfast Cookies are my favorite make-ahead breakfast! Soft & puffy like muffin tops, they're delicious, vegan, and gluten-free.
Recipe type:
Breakfast, Snack
Ingredients
2 tablespoons ground flaxseed + 5 tablespoons warm water
1 cup oat flour (made from 1¼ cups whole rolled oats)*
1 cup (additional) whole rolled oats
½ cup almond flour
zest of 1 lemon (about ½ tablespoon)
½ teaspoon baking powder
½ teaspoon baking soda
½ teaspoon cinnamon
½ teaspoon sea salt
½ cup almond butter
¼ cup coconut oil, melted
½ cup maple syrup
⅓ cup walnuts
¾ cup fresh blueberries
Instructions
Preheat the oven to 350°F and line a large baking sheet with parchment paper.
In a small bowl, combine the flaxseed and warm water and set aside to thicken for 5 minutes.
In a large bowl, stir together the oat flour, the additional 1 cup rolled oats, almond flour, lemon zest, baking powder, baking soda, cinnamon, and salt.
In a medium bowl, combine the almond butter, coconut oil, and maple syrup and stir well to incorporate. Stir in the flaxseed mixture.
Add the wet ingredients to the bowl of dry ingredients and fold in just until combined. Fold in the walnuts and blueberries.
Scoop ¼ cup of batter for each cookie onto the baking sheet. Bake 20 to 22 minutes, or until browned around the edges. Cool on the pan for 5 minutes and then transfer to a wire rack to finish cooling.
When cookies are completely cool, they can be stored in an airtight container or frozen.
Notes
*To make the oat flour, use a food processor or a blender to process the 1¼ cups rolled oats into a fine flour and measure out one level cup.

If you are gluten free, be sure to use certified gluten free oats.