If you're wondering, "What is nutritional yeast?", you're in the right place! Read on to learn about what this tasty umami ingredient is and how to use it.
One of the most common questions readers ask me is, "What is nutritional yeast?". I get it! At one time, this funky, flaky yellow powder seemed like a totally out-there ingredient to me. But today, it has a permanent place in my pantry. I use it for making "cheesy" vegan sauces and dips, punching up popcorn, and adding savory flavor to soups, scrambles, and more.
Because so many of you have asked about nutritional yeast, I thought it deserved a post of its own. Below, you'll find my Nutritional Yeast 101, complete with info on what nutritional yeast actually is, how to use it, and my favorite nutritional yeast recipes.
What is Nutritional Yeast?
Nutritional yeast (affectionately called "nooch") is a deactivated form of Saccharomyces cerevisiae, commonly known as baker's or brewer's yeast. The key word here is deactivated. Don't try putting nutritional yeast in your next loaf of bread or batch of bagels. It won't make them rise! Even though they come from the same fungus, instant yeast and nutritional yeast are never interchangeable.
So why eat nooch? Well, it first gained popularity in the 1960s and 70s for its health benefits; it was touted as a good source of protein and vitamin B12 for people on vegetarian and vegan diets. While nutritional yeast is rich in B vitamins on its own, most of the nooch you'll find in stores today has been fortified with additional vitamins and minerals, such as B12 and folic acid.
How to Use Nutritional Yeast
But the reasons to eat nooch go beyond its health benefits! Its flavor is nutty and savory, making it a delicious addition to all sorts of dishes. Most often, it's used to add cheesy flavor to plant-based recipes, like my Vegan Mac and Cheese. There, it creates the umami that Parmesan or cheddar cheese would add to regular mac.
You'll find some of my favorite nutritional yeast recipes in the next section. I hope you try them, but I also hope you experiment with other, simpler, ways to use nooch too. Try tossing it with popped popcorn, butter or oil, and salt for a crave-worthy snack, or sprinkle it over simply cooked veggies for a kick of savory flavor. I love it on roasted Brussels sprouts, broccoli, and cauliflower!
Nutritional Yeast Recipes
Looking for ways to use up that bag of nooch? These recipes are all delicious:
Creamy Butternut Squash Pasta
Roasted garlic, shallots, and nooch add rich, nutty flavor to this cozy autumn dish.
Vegan Parmesan Cheese
Get ready to sprinkle this savory, umami powder over everything! I like to make a big batch and freeze it to have on hand at all times.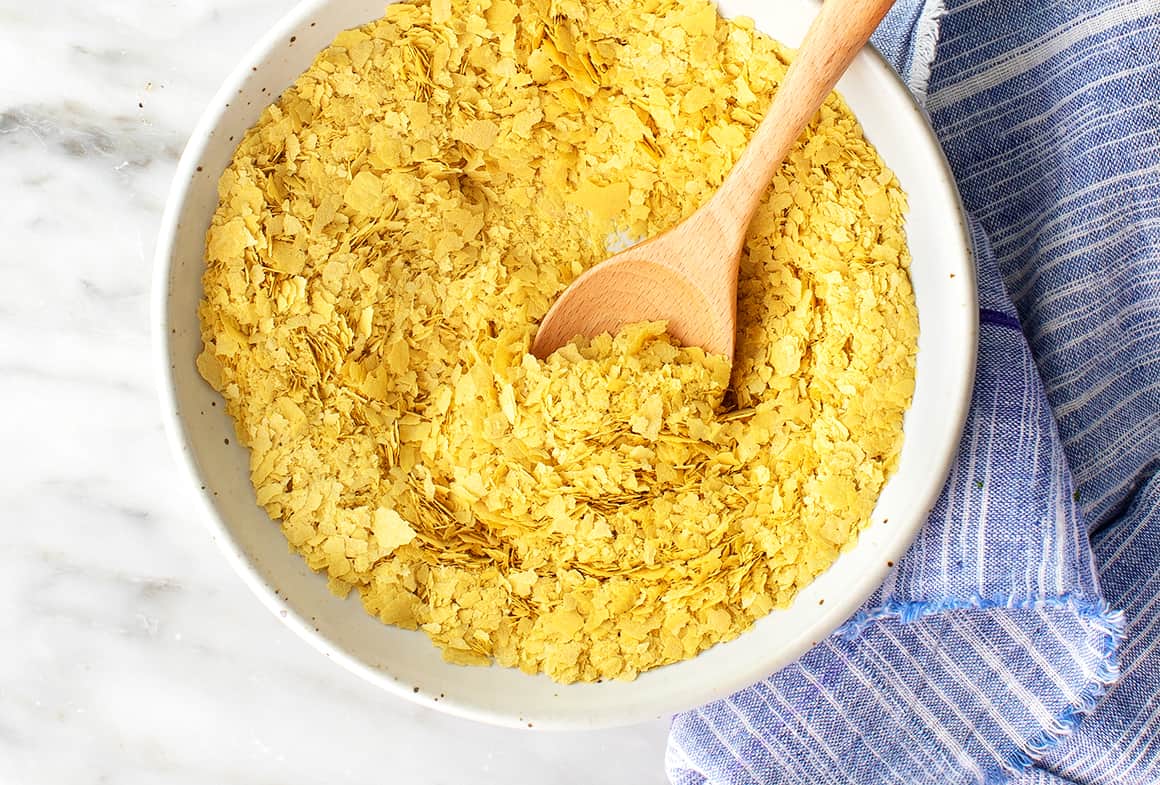 More Plant-Based FAQs
Curious about plant-based eating? Check out one of these posts next:
Nutritional Yeast Popcorn
In this recipe, nutritional yeast adds savory, cheesy flavor to simply popped popcorn. Beware: it makes for a highly addictive snack!
Ingredients
¼

cup

sunflower oil

,

or any neutral oil

½

cup

popcorn kernels

3

tablespoons

melted butter

½ to 1

teaspoon

sea salt

⅓

cup

nutritional yeast flakes

,

optional
Instructions
In a large pot with a lid, heat the oil over medium heat. Add a few of the corn kernels. As soon as they start to pop, add the rest of the kernels and remove the pot from the heat for 30 seconds, so that all the kernels gently come to the same temperature.

Put the pot back on the heat with the lid on, but just partially off center, venting so that some of the steam can escape. (Too much steam can make the popcorn soggy.) Shake the pan as the popcorn pops so that it doesn't burn on the bottom. Once the popping slows down, transfer the popcorn to a large bowl.

Drizzle the butter over the popcorn, sprinkle with salt, nutritional yeast flakes, and toss.
Notes
Note: for a less flaky coating, pulse the nutritional yeast flakes in a blender until powdery.
I consulted this New York Times article by Becky Hughes and this NPR article by Tove Danovich while writing this post.